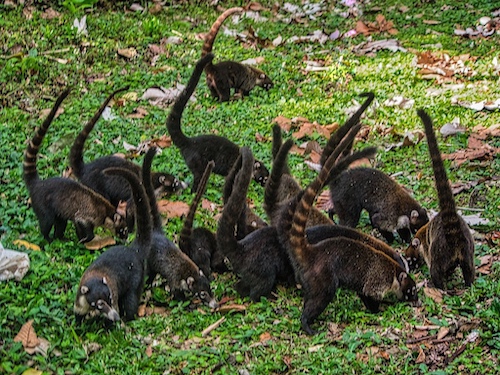 When I visited Costa Rica recently, on several occasions we ran across groups of White-Nosed Coati (Nasua narica). These curious creatures are related to raccoons although they have many idiosyncratic differences. The White-Nosed Coati (Nasua narica), also known as the coatimundi is a member of the family Procyonidae which includes three other species of Coati, raccoons and ringtails. Unlike raccoons, Coati are active during the day although they will sometimes forage at night. Local Spanish names for the species include pizote, antoon, and tejón, depending upon the region. Coati females and young males up to two years of age are gregarious and travel through their territories in noisy, loosely organized bands made up of four to 25 individuals, foraging with their offspring on the ground or in the forest canopy. Males over two years become solitary due to behavioural disposition and collective aggression from the females and will join the female groups only during the breeding season. Coatis are common, with habitants ranging from hot and dry regions to humid rainforest or even Cold Mountain slopes, including bushy areas and grasslands. They can be easily seen in all part of Costa Rica and and the countries national parks.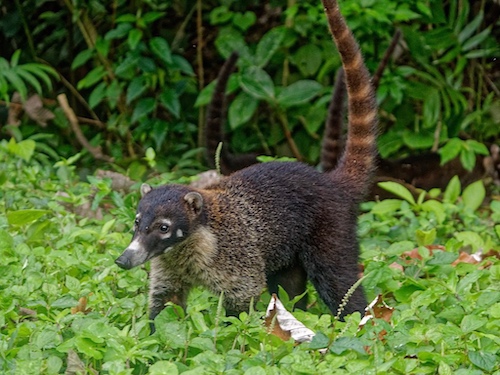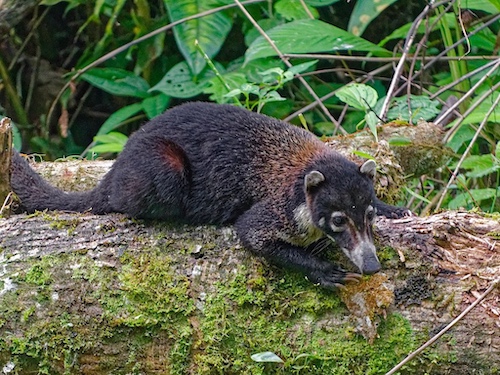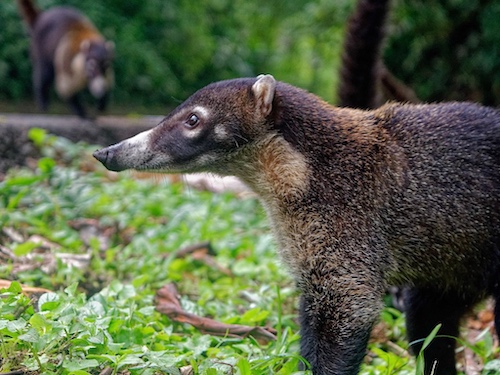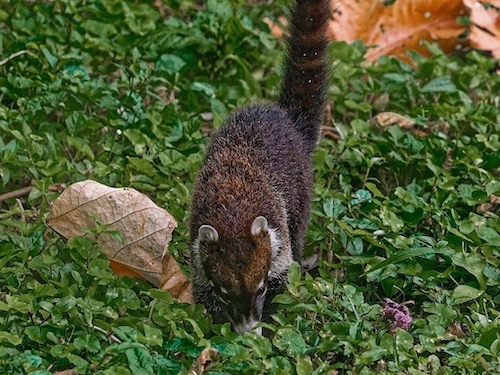 The White-Nosed Caoti weighs about 8.8–13.2 lb (4–6 kg). However, males are much larger than females. On average, the nose-to-tail length of the species is about 3.6 ft (110 cm) with about half of that being the tail length. Coatis have bear- and raccoon-like paws, and coatis, raccoons, and bears walk plantigrade (on the soles of the feet, as do humans). Coatis have fairly large non-retractable claws which are great for digging and climbing trees. Coatis also are, in common with raccoons, double-jointed and their ankles can rotate beyond 180°, they are therefore able to descend trees head first. While Coati spend most of their days on the ground, they sleep in trees and will not hesitate to climb trees for foraging. The coati snout is long and somewhat pig-like, part of the reason for its nickname "the hog-nosed raccoon". It is also extremely flexible, it can be rotated up to 60° in any direction. They use their noses to push objects, rub parts of their body and to root out food in the ground. The facial markings include white markings around the eyes and on the ears and snout.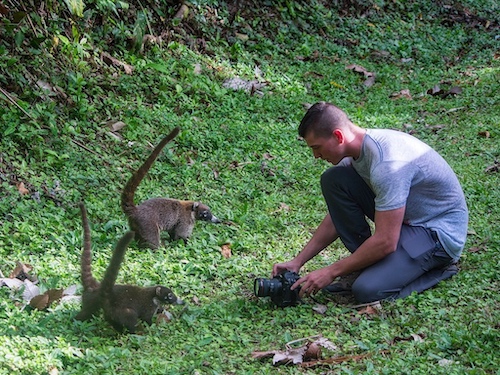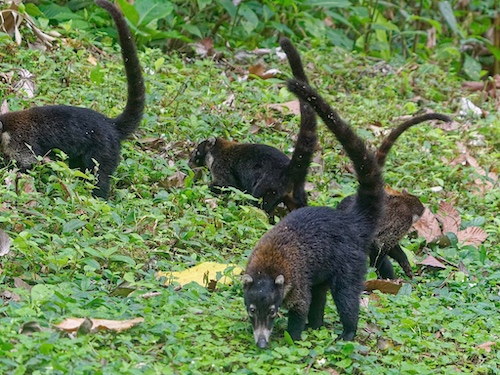 The Coati is an omnivore just like its cousin the raccoon, meaning it eats just about anything it can find. In the forest, they love to eat tarantulas, lizards, rodents, birds, eggs, fruits and berries. Because tourists often feed them, they don't seem very afraid of humans. Many people view them as pests, especially in cities, as they also get into garbage cans and raid campsites. Sometimes due to habitat loss, but other times because they are curious little creatures that enjoy causing mischief and eat everything they can find. They can be tamed easily, and have been verified experimentally to be quite intelligent. They make terrible pets though people persist in trying. As they become older they may bite and generally tear up the house if left uncaged.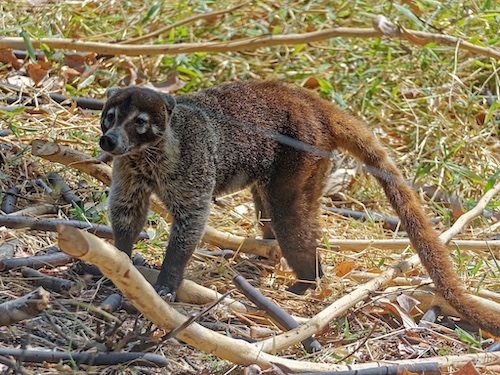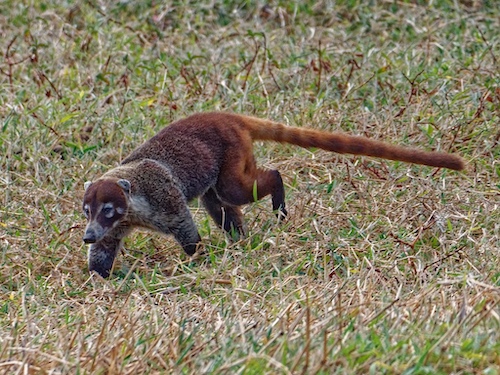 We ran across a single male on the side of the road and he was much more skittish than the members of groups we had seen before. In breeding season, an adult Coati male is allowed to enter into the group of females and immature males in the start of the breeding season, leading to mating. After mating, the pregnant females leave the group, make a nest on a rocky place or on a tree and having a gestation period of around 11 weeks, provide 3–7 kits. After six weeks of birth, the Coati females and their infants rejoin the group. Females are sexually mature at the age of two, while males sexually mature at the age of three. Generally, the mature males leave the group after about two years. We saw Coati only while we were in Guanacaste and the White-Nosed Coati from Guanacaste are notable for having two litters per year.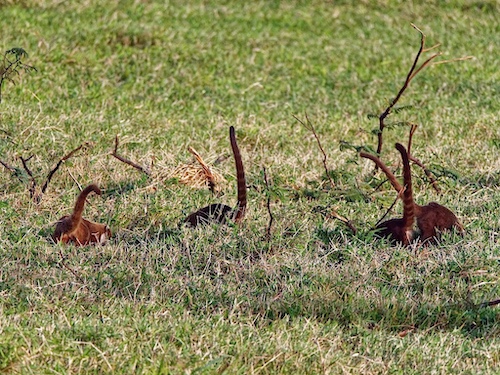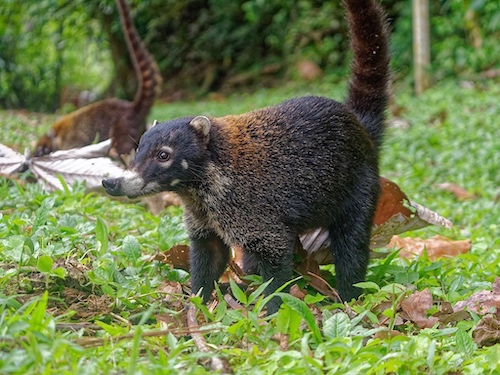 All coatis share a slender head with an elongated, flexible, slightly upward-turned nose, small ears, dark feet, and a long, non-prehensile tail used for balance and signaling. When we visited the Wood Stork rookery, we spotted a group rooting around by the bobbing tails moving around in the foliage. Generally the tails are always upright and serve the same function as leaders of tourist groups with a flag, keeping the group together in taller stands of vegetation. They use many vocal signals to communicate with one another, and also spend time grooming themselves and each other with their teeth and claws. During foraging times, the young cubs are left with a pair of babysitters, similar to meerkats.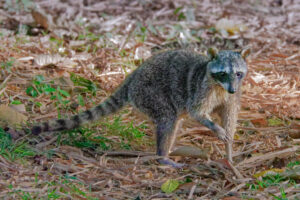 They also have the more familiar raccoons in Costa Rica as seen above. As always, I hope you enjoyed the post, Coati can be fascinating and friendly little creatures, just be a little careful not to get too close.
References:
White Nosed Coati. National Zoo
The Coati is Part Raccoon, Part Monkey, and Part Pig