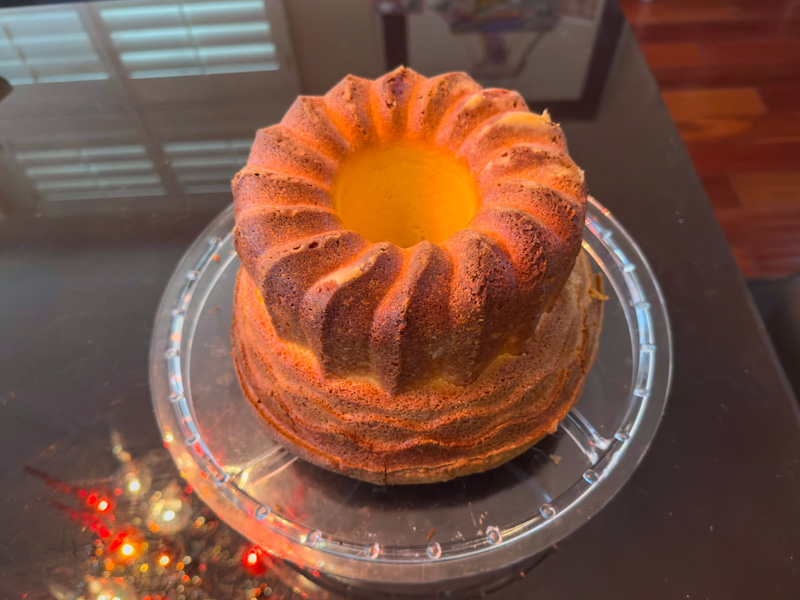 Pound cake is a type of cake traditionally made with a pound of each of four ingredients: flour, butter, eggs, and sugar. Pound cakes are generally baked in either a loaf pan or a Bundt mold. It is believed that the pound cake is of northern European origin and dates back to the early 1700s. A recipe for pound cake appears in The Art of Cookery by Hannah Glasse, published in 1747. The first U.S. cookbook, American Cookery, published in 1796, has a recipe for pound cake. As I was browsing the Internet looking for something tasty, I came across this recipe for Cream Cheese Pound Cake from "All things Mama". Pound Cakes have been around for a long time. And I think the reason why they never go out of style, is that they're just a great tasting cake. This Cream Cheese Pound Cake is no exception. It has a lovely golden brown crust that is sweet and so wonderfully crisp on the day it's made. And I like how it contrasts so beautifully with the buttery yellow interior that's soft and moist and rich with cream cheese, butter, and eggs. Vanilla is the flavoring in this pound cake, along with the sour creme, which provides a little tanginess. Often a little lemon zest is used in place of the sour cream.

Ingredients:
1 ½ cups butter, softened
8 oz. cream cheese, softened
2 ½ cups sugar
½ cup sour cream
1 tablespoon vanilla extract
6 large eggs
3 cups flour
1 tablespoon cornstarch
¾ teaspoon baking powder
¼ teaspoon salt
It is important when making this pound cake to have the cream cheese, butter and eggs at room temperature as this enables the maximum amount of air to be beaten into the batter. The sour cream adds additional moisture to the cake without thinning the batter. The result is an extra tender, velvety, moist pound cake with a fine crumb. The boost of acidity that sour cream adds to the cake batter softens the strands of gluten, which also makes for a softer, more tender cake.
Instructions:
Preheat oven to 325℉ and grease and flour a 9" bundt pan. Set the pan aside for now.
Beat the butter, cream cheese and sugar in a large bowl until light and fluffy. You can use an electric hand mixer or a stand mixer with a paddle attachment. Be sure to scrape down the sides of the bowl several times so there are no clumps of butter or cream cheese.
Add the sour cream and vanilla to the bowl and mix again.
Add the eggs one at a time, mixing on low speed after each addition. Make sure you are still scraping down the sides of the bowl so your batter will be nice and smooth.
Add the flour, cornstarch, baking powder, and salt and mix well.
Pour the batter into the prepared bundt pan, making it even throughout the pan.
Bang the pan on the counter twice to help pop any air bubbles in the batter. You want the cake to be dense with no air pockets!
Bake the cake for about 80 minutes. Check the cake after about 40 minutes to see if it is getting too brown. If it starts to look dark, loosely cover the pan with a piece of aluminum foil to prevent the direct heat from the oven from making it too brown. When the cake is fully cooked, a toothpick inserted into the center of the cake will come out cleanly.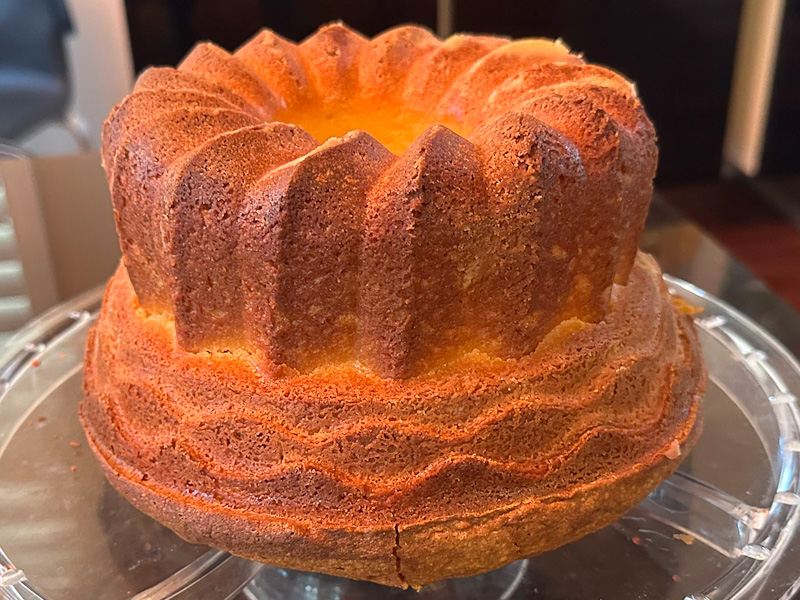 Let the cake cool in the pan for about 1 hour then flip the cake onto a metal cooling rack or serving platter. Cream cheese pound cake does not need to be refrigerated. You can store it at room temperature in an airtight container for up to 4–5 days. You can refrigerate it for up to one week (but wrap it up in plastic wrap to make sure it keeps).
References: