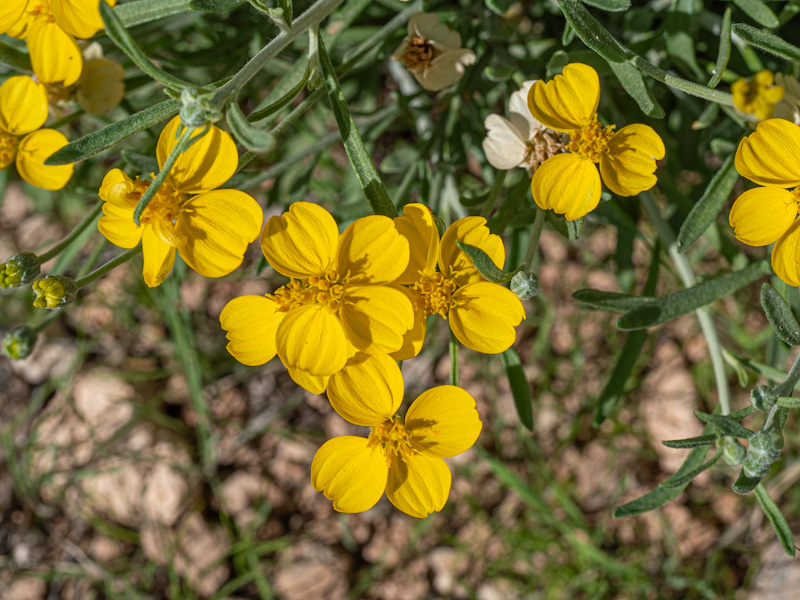 Common Names: Cooper's Paper Daisy, Whitestem Paperflower, White-stem Paper-flower, Yellow Paper Daisy
Synonyms: Psilostrophe cooperi, Riddellia cooperi
Taxonomy: Asteraceae (Daisy/Sunflower)
Habit: perennial shrub
Size: up to 20 inches
Flowers: yellow
Bloom: Feb, Mar, Apr, May, Jun, Jul, Aug, Sep, Oct, Nov, Dec
Leaves: alternate
Fruit: cypsela
Description:
The stems rise from a woody base to form that a nearly spherical form. It is a low, spreading bush with pale green, hairy foliage. It is drought deciduous, dropping its leaves in times of drought. The linear leaves are alternate. The daisylike flower heads have 3 to 8 deeply toothed golden-yellow ray florets. The flower heads are often bunched together at the tops of the stems in a rounded spray. The ray flowers persist for a time and then dry and become papery while maintaining their yellow color. The 3 toothed corollas of the dried ray flowers fold back over the phyllaries.
Distribution: AZ, CA, NM, NV, UT
Seen: NV (Red Rock Canyon)
Habitat: deserts and mesas, 2000-5000 feet