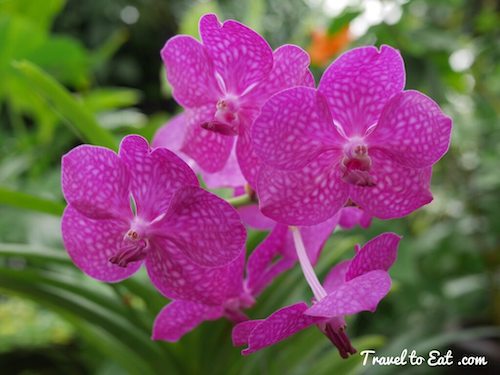 During my visit to the San Francisco Conservatory of Flowers, I was struck by the beautiful collection of orchids and decided it was worthy of a post. It is pretty safe to say that there is no flower more widely coveted than the Orchid. With their delicate, sculptural beauty and historical rarity, orchids carry an unrivaled suggestion of refinement. The exotic flowers are now cultivated in a wide variety of colors and delicately shaped blossoms, making them beautiful both on their own and as an addition to arrangements, but they retain their association with very special occasions. Different cultures throughout history have believed in the healing, disease-fighting and protective properties of the orchid. In traditional Chinese medicine the orchid is used to help cure coughs and lung illnesses. The ancient Greeks associated it with virility, and the Aztecs drank a mixture of the vanilla orchid and chocolate to give them power and strength. One in ten flowering plants in the world are orchids and the Conservatory of Flowers has a nice collection of orchids including a renowned collection of Pleurothallid Orchids. I have attempted to group them by genus although some may be incorrectly grouped. Unfortunately, they are often not labeled in the Conservatory.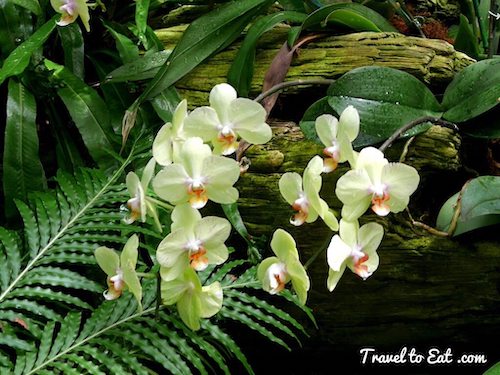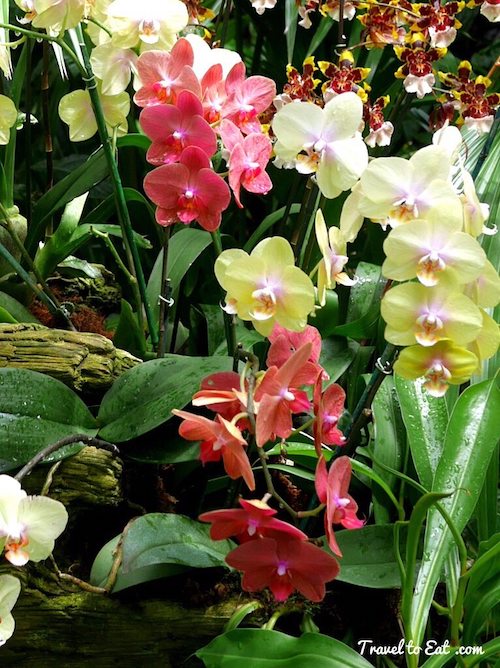 Vanda is a genus in the orchid family (Orchidaceae) which, although not large (about fifty species), is one of the most important florally. This genus and its allies are considered to be the most highly evolved of all orchids within Orchidaceae. The Vanda orchid has some of the most magnificent flowers in the orchid family. The genus is made up of warm-growing plants with colorful flowers. Growers have hybridized the Vanda in efforts to get a flower that's the biggest, showiest, and most colorful. The blue and purple species are the best known Vandas, but there are a wide range of other colors, which makes for striking hybrid combinations that are popular in the floral trade.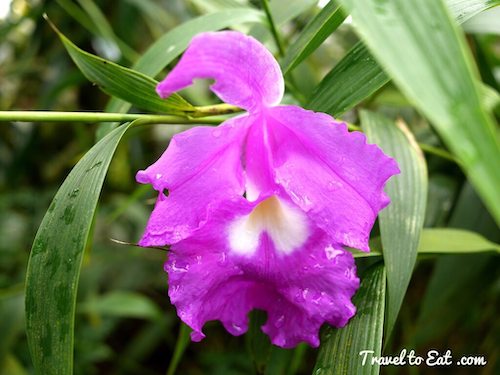 Sobralia is a genus of about 125 orchids (family Orchidaceae) and one of the two genera of the subtribe Sobraliinae (the other is Elleanthus). Sobralia macrantha, commonly known as the Large-Flowered Sobralia, is a species of orchid found from north-central and southern Mexico to Central America.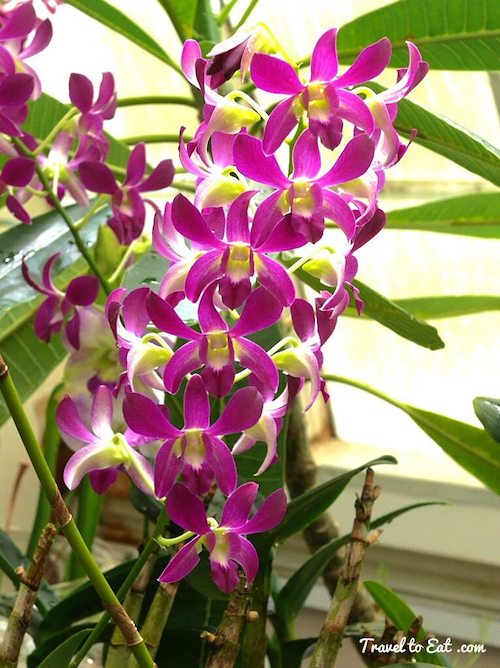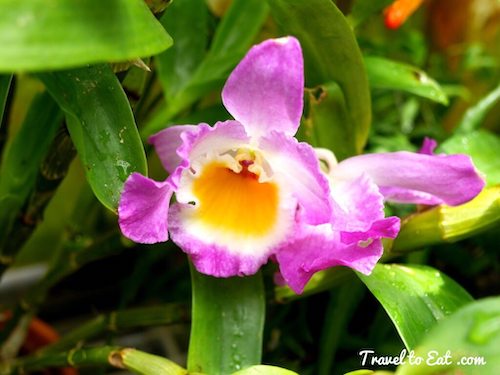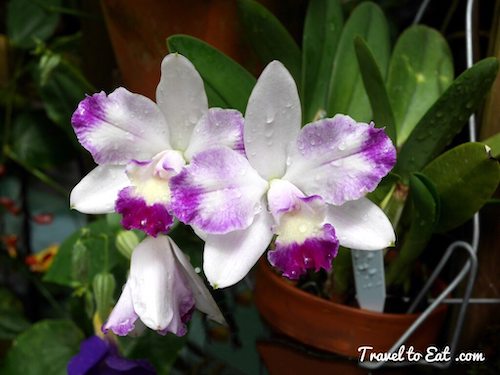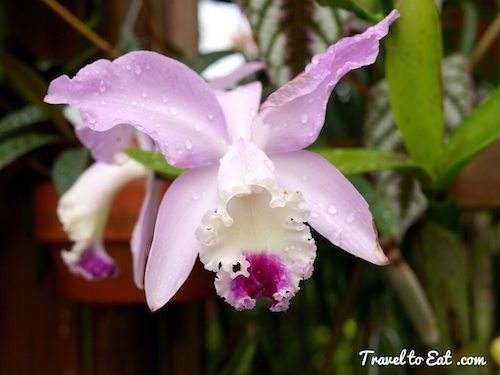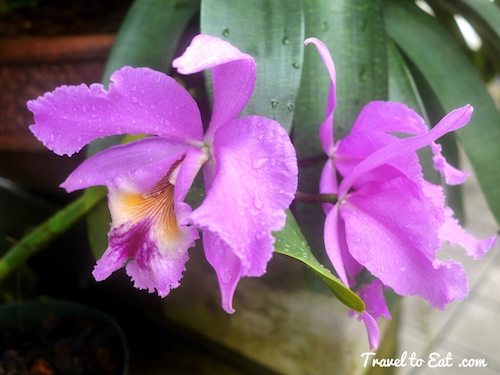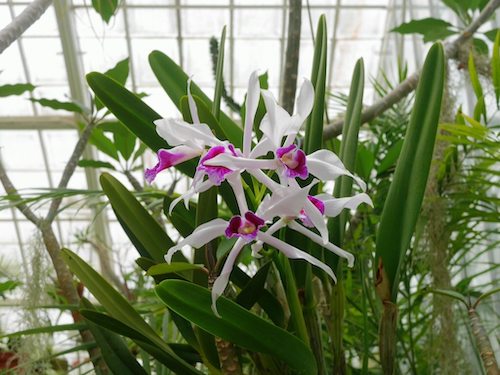 Cattleya is a genus of 113 species of orchids from Costa Rica to tropical South America. The genus was named in 1824 by John Lindley after Sir William Cattley who received and was the first to bloom a specimen of Cattleya labiata. It would be another 70 years before they would be rediscovered in the wild because of a mixup in the assumed location of the plants. The typical flower has three rather narrow sepals and three usually broader petals: two petals are similar to each other, and the third is the quite different conspicuous lip, featuring various markings and specks and an often frilly margin. At the base, the margins are folded into a tube. Each flower stalk originates from a pseudobulb. The number of flowers varies; it can be just one or two, or sometimes up to ten.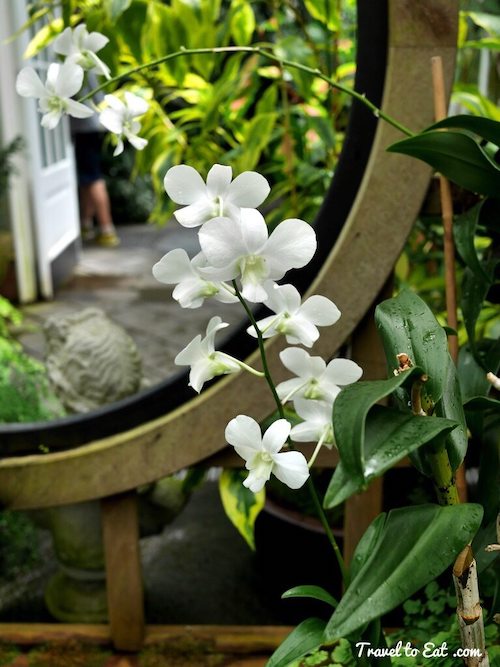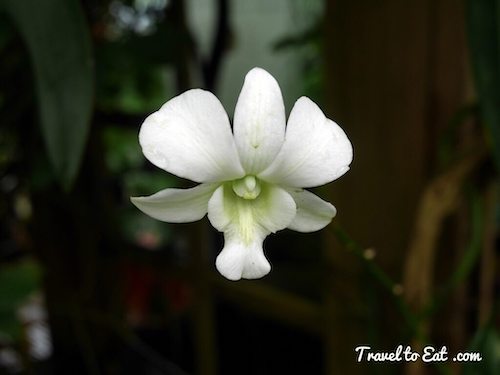 Dendrobium is a huge genus of orchids. It was established by Olof Swartz in 1799 and today contains about 1,200 species. The genus occurs in diverse habitats throughout much of south, east, and southeast Asia, including China, Japan, India, the Philippines, Indonesia, Australia, New Guinea, Vietnam, and many of the islands of the Pacific. The name is from the Greek dendron ("tree") and bios ("life"); it means "one who lives on trees", or, essentially, "epiphyte".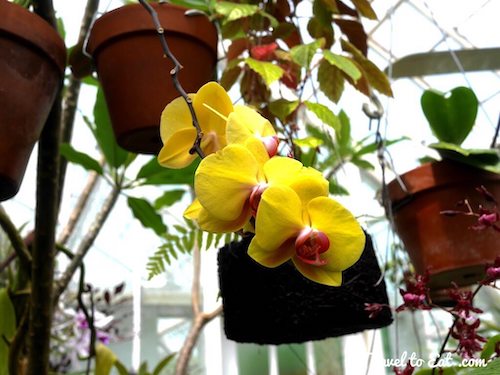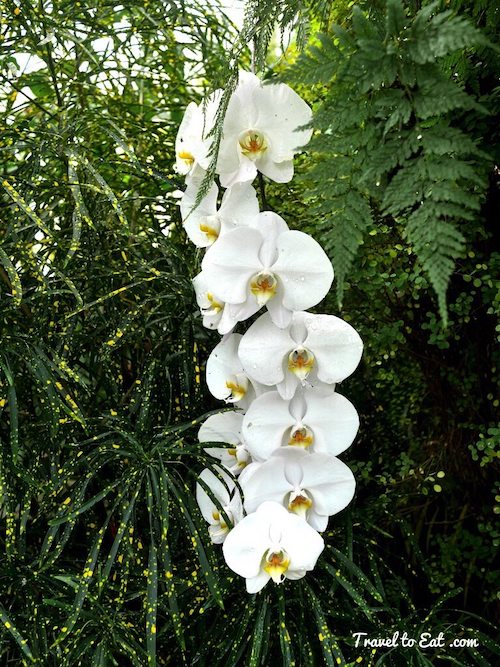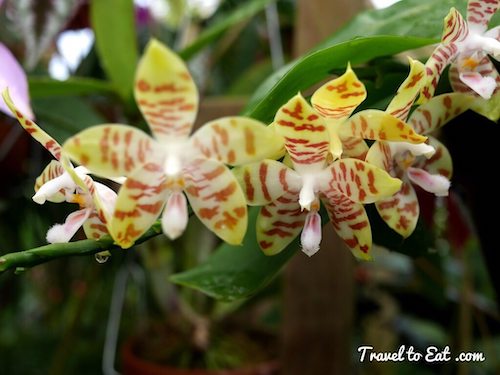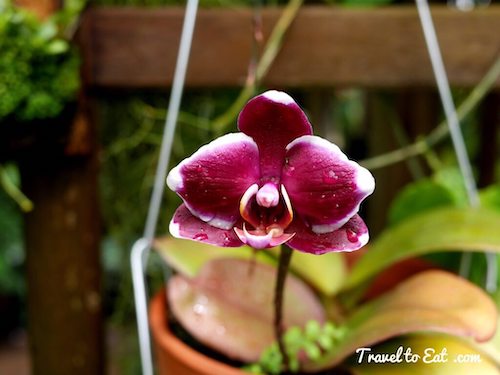 Phalaenopsis, known as the Moth Orchid, abbreviated Phal in the horticultural trade, is an orchid genus of approximately 60 species. Phalaenopsis is one of the most popular orchids in the trade, through the development of many artificial hybrids. The generic name means "Phalaen[a]-like" and is probably a reference to the genus Phalaena, the name given by Carl Linnaeus to a group of large moths; the flowers of some species supposedly resemble moths in flight. For this reason, the species are sometimes called Moth Orchids. They are native throughout southeast Asia from the Himalayan mountains to the islands of Polillo, Palawan and Zamboanga del Norte in the island of Mindanao in the Philippines and northern Australia. Orchid Island of Taiwan is named after this genus.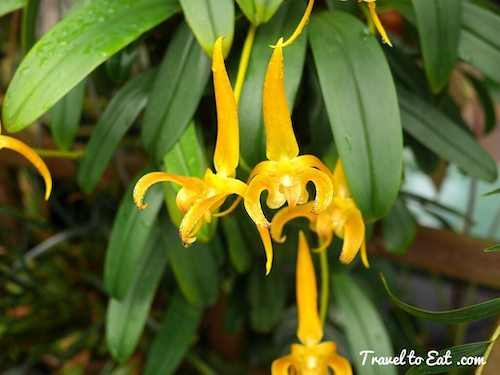 Bulbophyllum is the largest genus in the orchid family Orchidaceae. With more than 2,000 species, it is also one of the largest genera of flowering plants, exceeded only by Astragalus. This genus is abbreviated in the trade journals as Bulb. This genus was first described by Louis-Marie Aubert du Petit-Thouars (botanical abbreviation Thouars) in his book Histoire particulière des plantes orchidées recueillies sur les trois Iles Australes d'Afrique, de France, de Bourbon et de Madagascar, describing 17 Bulbophyllum species. There are now more than 2,800 records (accepted names and synonyms) for this genus. This large number and the great variety of its forms make the genus a considerable challenge for taxonomists: 120 sections and subgenera have been listed. The center of diversity of this genus is in the montane forests of Papua New Guinea (more than 600 species) which seems to be the evolutionary homeland, though the genus is pantropical and widespread, occurring in Australia, Southeast Asia (with over 200 species in Borneo), India, Madagascar (with 135 species, some endemic), Africa and in tropical central and South America.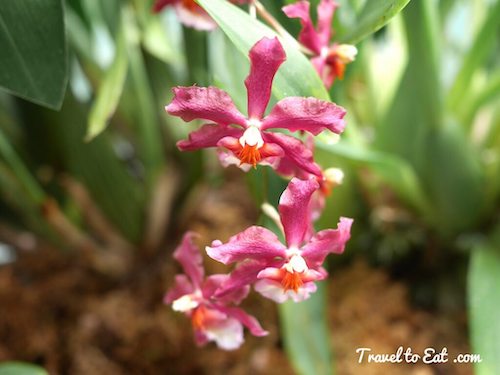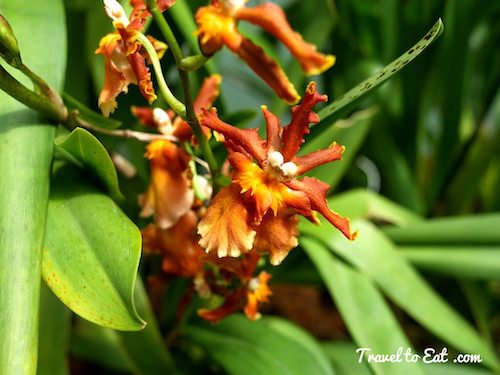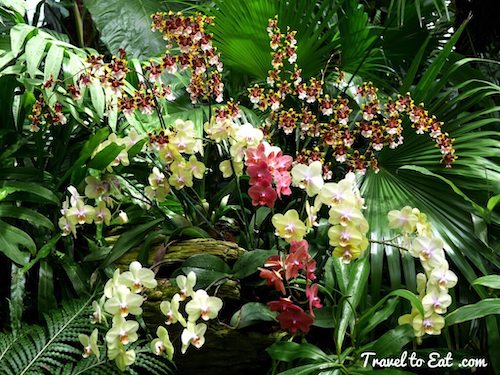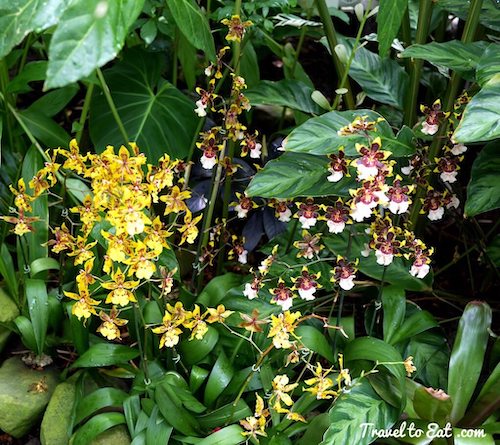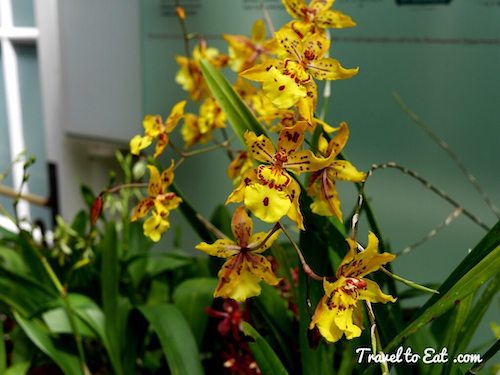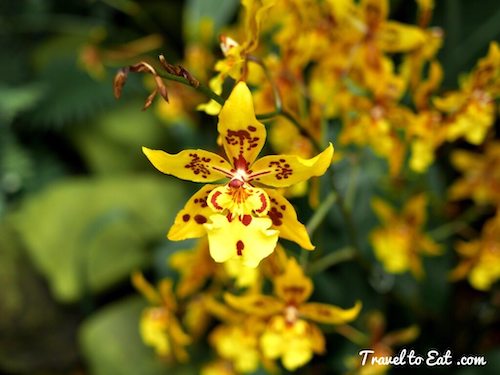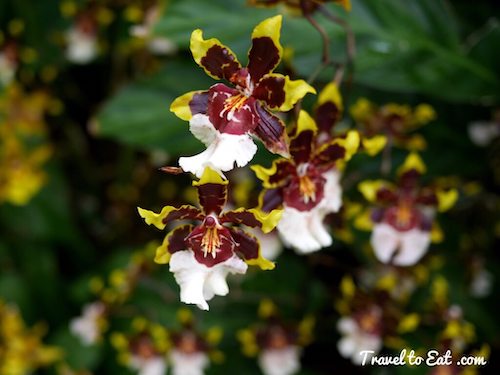 Oncidium is a very large and confusing (taxonomically) genus of popular and beautiful orchids, these are commonly known as "Dancing Ladies". This artificial grouping of a few hundred species is found from southern Florida, through the Caribbean, Mexico and Central America, the majority coming from South America. All species have inflorescenses that arise from the side of circular to oval, somewhat flattened pseudobulbs, and some species can have several hundred flowers on a spike.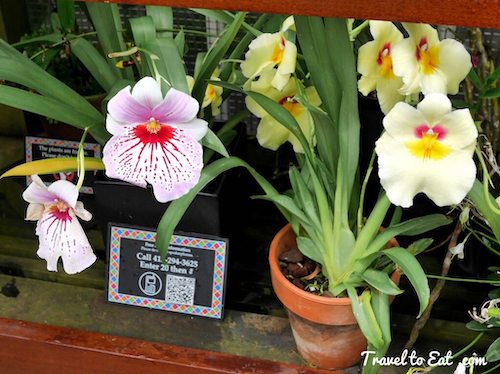 These striking orchids, which are also known as pansy orchids, owing to their similarity to garden pansies, are enjoying increasing popularity. Miltoniopsis are cool-growing orchids that originate in the higher elevations of the Andes in Colombia, Panama and Ecuador. The flowers of Miltoniopsis not only smell like heaven, the beautiful smell went 10-15 feet, but they also look dainty and innocent. Their grassy leaves are light green and look beautiful enough to stand up on their own without any flowers. The warmer-growing species, properly miltonias since 1976, originate from the Minas Gerais area of Brazil and more closely resemble large-flowered oncidiums. Their flowers can be brilliantly patterned.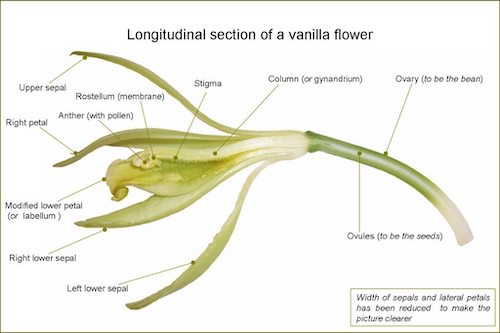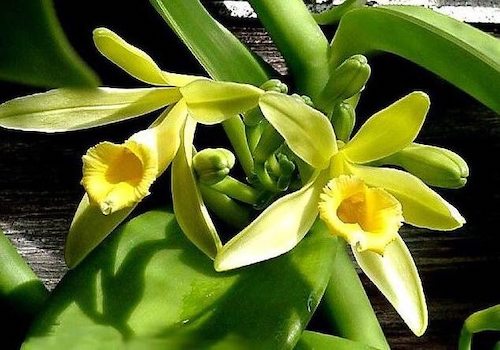 Vanilla, the vanilla orchids, form a flowering plant genus of about 110 species in the orchid family (Orchidaceae). The most widely known member is the Flat-leaved Vanilla (V. planifolia), from which commercial vanilla flavoring is derived. It is the only orchid widely used for industrial purposes (in the food industry and in the cosmetic industry). Another species often grown commercially but not on an industrial scale is the Pompona Vanilla (V. pompona). The plant had no flowers or pods when I visited, so the picture is from Florida Hills Nursery, where you can actually buy the plants.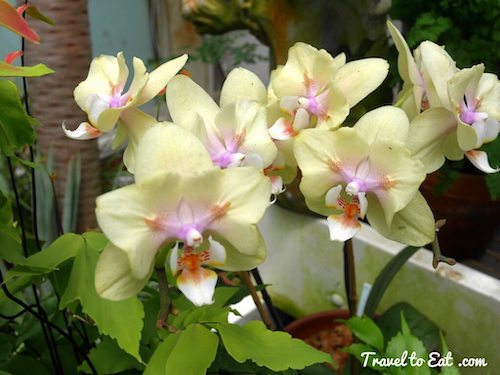 I have done my best to classify these orchids but the taxonomy is difficult with such a large family of plants. If I have made any mistakes or even if you just have something to add, as always, please leave a comment below.
References:
The Orchid Mall: http://www.orchidmall.com/
List of Bulbophyllum Species: http://en.wikipedia.org/wiki/List_of_Bulbophyllum_species
Orchid Pictures: http://www.slipperorchid.com/
Flower Shots: http://www.flowershots.net/index.html
American Orchid Society: http://www.aos.org/
Vanilla Nursery: http://www.floridahillnursery.com/orchids-c-10/vanilla-planifolia-orchid-p-249