Last year I visited Madagascar and got to see some amazing chameleons. In the reptile world, there are some bizarre shapes and colors, but some of the most striking variations are found in the chameleons. These colorful lizards are known for their ability to change their color; their long, sticky tongue; and their eyes, which can be moved independently of each other. How chameleons change color is a fascinating and complicated process. First of all, they don't really change color to match their surroundings, and they cannot change to any and all colors. For example, if a chameleon is sitting on a red-and-white polka dot tablecloth, it will not turn red and develop round, white spots. Chameleons don't look at what they're sitting on and deliberately decide to match it. Instead, each chameleon species has a group of patterns and colors that it is able to display. Blending seamlessly into one's surroundings is known as being "chameleon-like" for a good reason, chameleons shift the colors and patterns of their skin to hide from predators in plain sight, or to communicate during social interactions with other chameleons. But there's a secret, illuminated layer to chameleons' colorful signaling: Scientists recently discovered that the lizards' bones, particularly on their heads and faces, fluoresce through their skin, creating glow-in-the-dark patterns.
Parson's Chameleon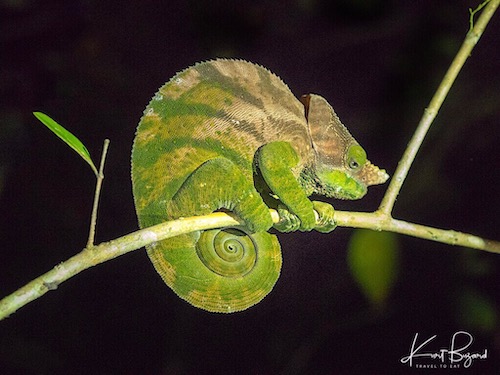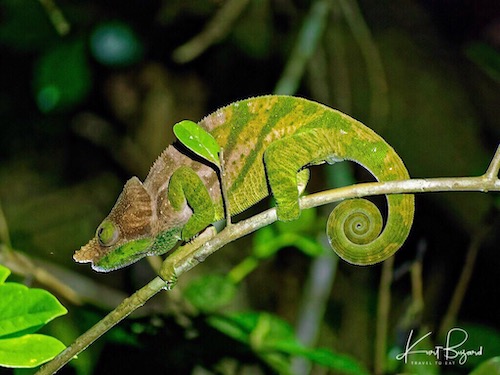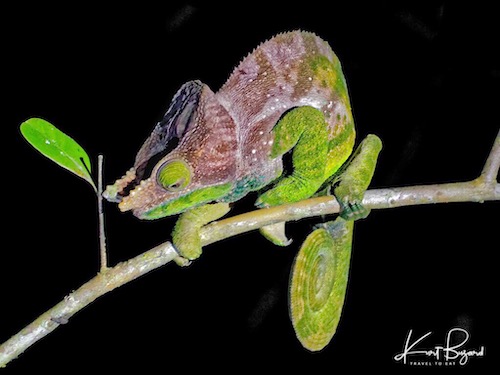 Because of their ability to change their color, chameleons are often difficult to identify. In Madagascar this can be facilitated by noting where the chameleon is found. I found this Parson's chameleon in Ranomafana National Park in Madagascar on the eastern coast. Parson's chameleon (Calumma parsonii) is a large species of chameleon that is endemic to isolated pockets of humid primary forest in eastern and northern Madagascar. Among the largest chameleons in the world (usually considered the largest by weight, but shorter than the Malagasy Giant Chameleon which holds the title for the largest by length), Calumma parsonii males have ridges running from above the eyes to the nose, forming two warty horns.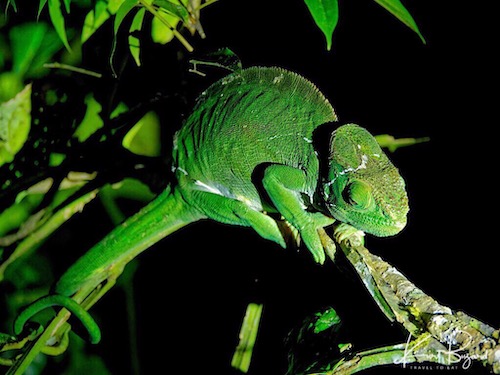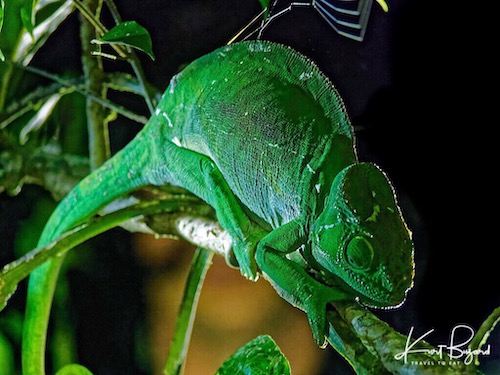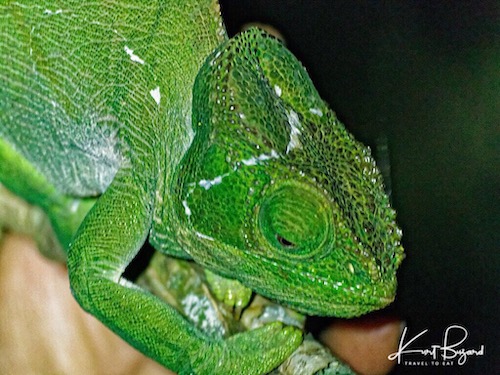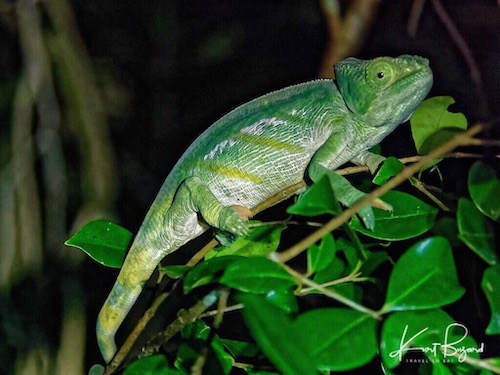 The females have no horns and I think are a little more plain green, at least this one was. The immature Parson's Chameleon has a smoother skin and less coloration overall. I saw these two at the Perinet/Analamazoatra reserve, one of the two main sectors of Andasibe-Mantadia National Park. These photos nicely illustrate a common characteristic of all chameleons, the fingers and toes are fused into two groups, two on one side and three on the other. Thus they climb around with something like "oven mits" for grasping branches.
O'Shaughnessy's Chameleon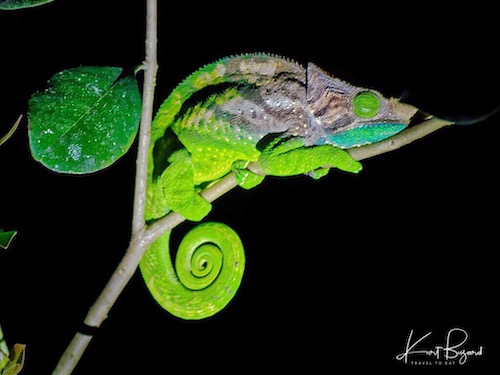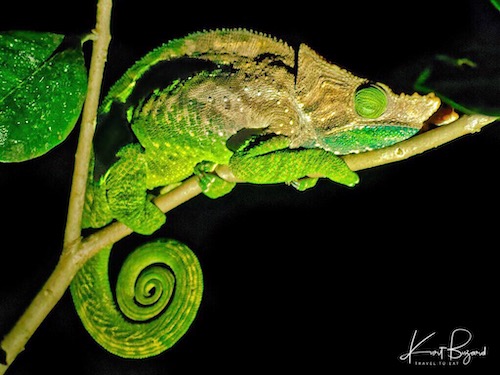 O'Shaughnessy's Chameleon (Calumma oshaughnessyi) is a species of chameleon endemic to Madagascar. one of the interesting things about taking pictures of chameleons at night is that you can see them change color right before your eyes. here, the chameleon was originally gray with green but gradually became more brown with more yellow details in the tail. It is found in rainforest bushes of south-central Madagascar. Reports of northern populations are unconfirmed. This species is dependent on relatively intact humid forest and densities are lower in selectively logged forest. In an observational study at Ranomafana, adult O'Shaughnessy's Chameleons were most active during late morning and early evening but spent most time stationary. While not diagnostic, when I observed this chameleon in Ranomafana National Park in Madagascar, it did not move, unlike the Parson's Chameleons. Parson's Chameleon have triangular heads, but O'Shaughnessy's Chameleon has flaps of skin at the back of the head (occipital lobes) that are absent in Parson's Chameleon. Body scales are heterogeneous particularly near the mouth with a basic coloration of dull green with blue-green highlights, again especially under the mouth. in fact, a turquoise color under the mouth is almost diagnostic for O'Shaughnessy's Chameleon.
Carpet Chameleon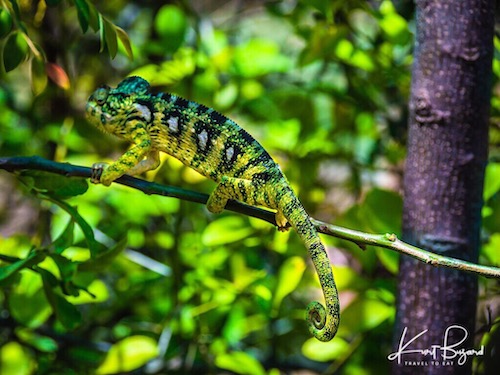 The Carpet Chameleon (Furcifer lateralis), also known as the Canvas or Jeweled Chameleon, is a unique and brightly colored species that has become one of the most popular chameleons in the exotic pet trade. Furcifer lateralis, also known as the carpet chameleon or the white-lined chameleon, is a species of chameleon that is endemic to Madagascar. It was described in 1831 by John Edward Gray. Just to avoid confusion, Furcifer campani, is also referred to as the jeweled chameleon. Like more than half the known chameleon species on our planet, the carpet chameleon is native to the island of Madagascar. A highly successful species, the Carpet Chameleon is one of the most common and plentiful types of chameleons found on Madagascar. The species is found around the entirety of Madagascar except the northern part. It can be found between 394 and 6,316 ft (120 and 1,925 m) above sea level and has been estimated to be found over an area of 180,554 sq mi (467,634 square km). Both sexes of Furcifer lateralis can reach a maximum length of anything between 6.7 and 9.8 in (17 and 25 cm). The males are largely green and females are heavier-bodied and have a wider range of colors, including bands of white, yellow and orange. Both sexes have stripy throats and lips. They can change their color depending on their mood and environmental factors and they usually start the day with a dark color to enable them to warm up rapidly by exposing themselves to sunlight. This species is one of the smallest "true" species of chameleon, and they are timid and shy.
Cryptic Chameleon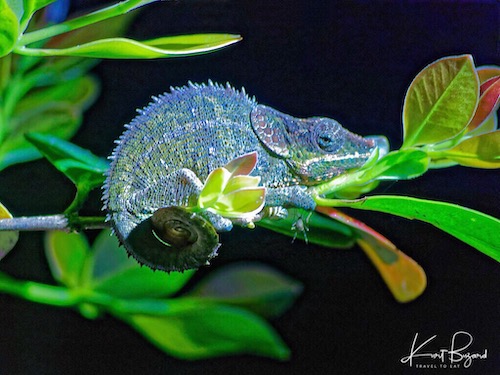 The Calumma crypticum, commonly known as the Cryptic Chameleon and also the Blue-Legged Chameleon was previously included within the Short Horned Chameleon (Calumma brevicorne) until 2006. It has the same large flaps on the back of the head (occipital flaps) although the Cryptic Chameleon is considerably more colorful as seen above in blues and greens. It is listed as "Least Concern" as the species is widespread in eastern Madagascar. This is a forest chameleon that occurs in mid-altitudes between 1,050 and 1,850 m elevation, where it appears to be more abundant in semi-open areas associated with trails, gaps and rivers. I saw this specimen in Ranomafana National Park in Madagascar.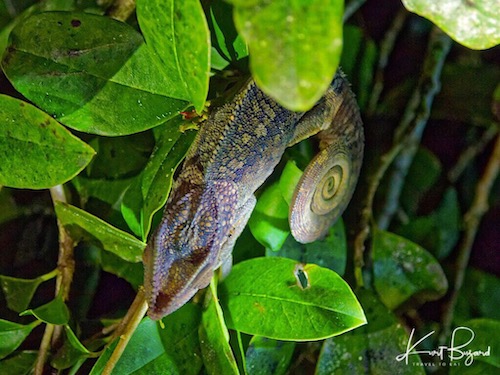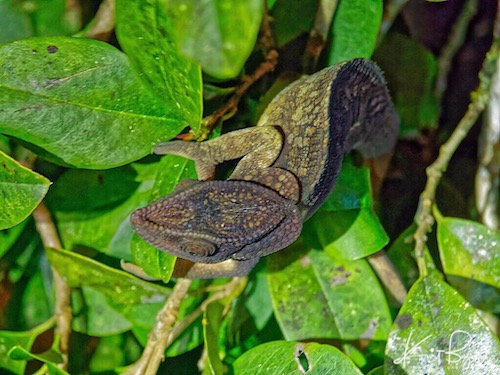 The female Cryptic Chameleons have no nose horn and tend to be plain brown. The locals call them "big ears" which I assume applies to both Cryptic and Short Horned Chameleons. Both male and female Short Horned Chameleons (Calumma brevicorne) have nose horns. I saw this one in the Perinet/Analamazoatra reserve, one of the two main sectors of Andasibe-Mantadia National Park.
Short Horned Chameleon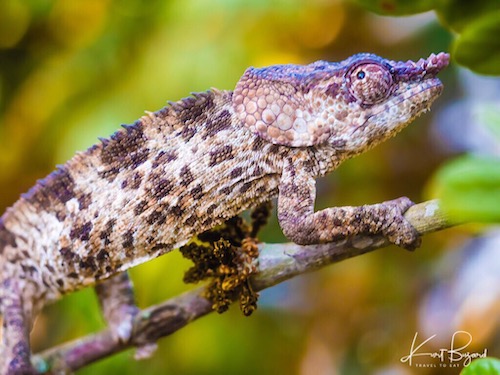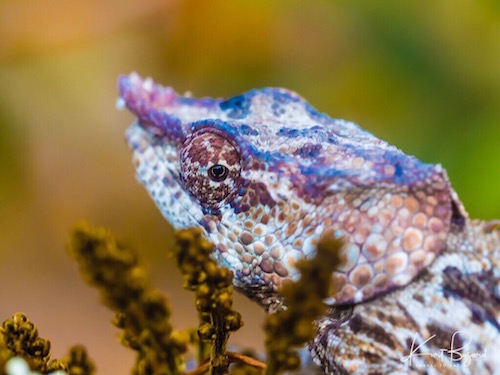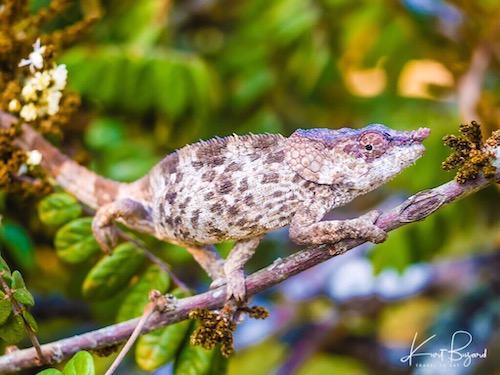 The Short-Horned Chameleon (Calumma brevicorne) has a compressed body, spindly limbs, grasping feet and a prehensile tail allowing it to negotiate the branches and twigs of its arboreal habitat. The most distinctive features of the short-horned chameleon are its large, ear-like occipital lobes, and the short bony appendage that projects from the snout of the male. When threatened, it raises its ear-like flaps to increase its apparent size and attacks with an open mouth. This chameleon looks a lot like the Cryptic Chameleon (Calumma crypticum) although the male Short-Horned Chameleon has a slightly longer brick-red nose horn. Both sexes are generally less colorful than the Cryptic Chameleon, more brown-and-grey, though females may be inseparable. I saw this chameleon in Vakona Forest Lodge in Andasibe-Mantadia National Park in Madagascar.
Perinet Chameleon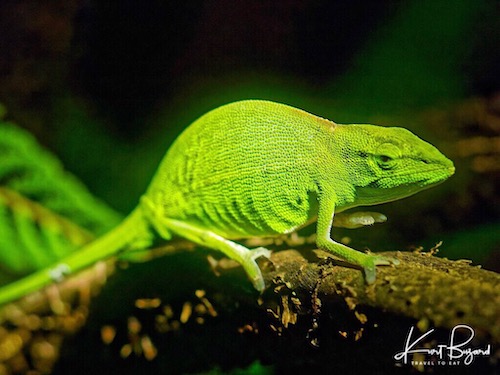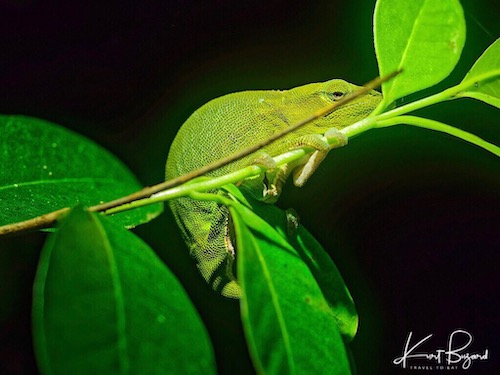 The Perinet Chameleon (Calumma gastrotaenia), also known as the Malagasy side-striped chameleon, is a small species of chameleon endemic to humid primary forests, particularly along rivers, in eastern and central Madagascar at elevations between 2000 and 5000 ft (600–1,530 m). Perinet chameleons are small and slender, reaching 6–8 in (15–20 cm), with elongated heads and bodies. They have smooth, uniformly green, brown or yellow skin with white undersides. Perinet chameleons are small and graceful reptiles, with smooth, vivid green skin, which can make them almost invisible in their lush, green habitat. A thin stripe runs from their tail bases along the sides of their bodies and across their eyes, and may include white spots.
Blue-Nosed Boettger's Chameleon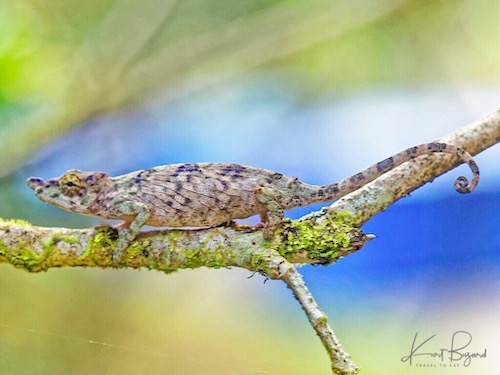 Calumma boettgeri, commonly known as Boettger's chameleon or the blue-nosed chameleon, is a chameleon species endemic to northern Madagascar, and common in the forests of Nosy Be. The specific name, boettgeri, is in honor of German herpetologist Oskar Boettger. This is a small chameleon with a small casque/helmet, but a big horn on the nose of both sexes. It is quite variable in color, but usually shows bands on the tail. The Big Nose Chameleon (Calumna nastrum) is very similar, but lacks the small flap at the back of the head (occipital lobe) shown by Boettger's Chameleon. This small chameleon is part of a very diverse species complex with possible overlap with the Big Nosed Chameleon (Calumna nastrum). While I am reasonably sure that this is a Boettger's Chameleon, it's presence in the Vokona Forest Lodge would put it at the southern limit of it's range. Columna linotum usually has a bright blue nose horn but only seems to live on Amber Mountain.
Warty Chameleon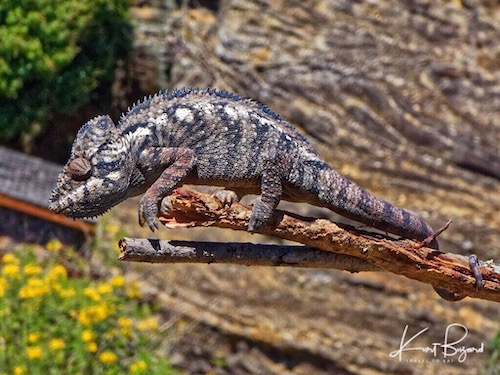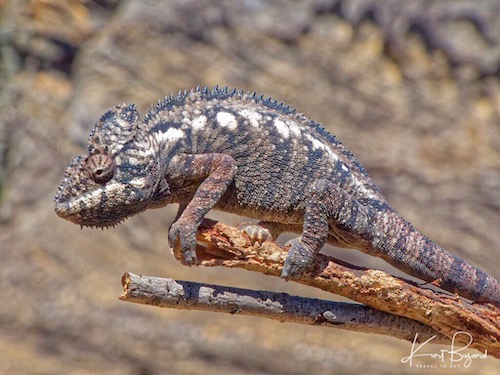 Furcifer verrucosus, also known as the warty chameleon, spiny chameleon or crocodile chameleon, is a fairly heavy species endemic to southern and southwestern Madagascar even in degraded habitats and human populated areas at lower than 120 meters above sea level. This terrestrial species actually favors arid disturbed land. It was first described by Georges Cuvier in 1829. The warty chameleon is a large species with males growing to a total length of 22 in (56 cm) and females reaching 8 in (21 cm). On its head it has a casque, a helmet-like crest formed from scales. A small crest runs along a raised ridge from its eyes to its snout. A distinctive crest of up to forty, large 0.16 in (4 mm) spines, runs along the back in males but this is cut short in females, continuing along the spine as tubercles. The long tail is prehensile (it can grab branches). The general color of this chameleon is grey or brown variously blotched or indistinctly banded, with a white intermittent streak along each side. It also has a white band up to the tip of the mouth. Females are usually paler in color. This is a large and generally dull-colored chameleon that can easily be mistaken for Oustalet's Chameleon. I think the difference is most easily seen as the Oustalet's Chameleon is heavier, has more prominent dorsal spines and has a white line to the tip of the mouth like a Panther Chameleon (Furcifer pardalis).
Malagasy Giant Chameleon or Oustalets's Chameleon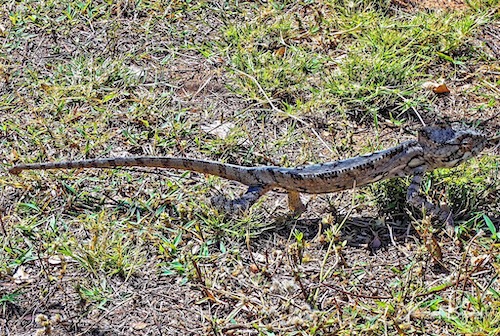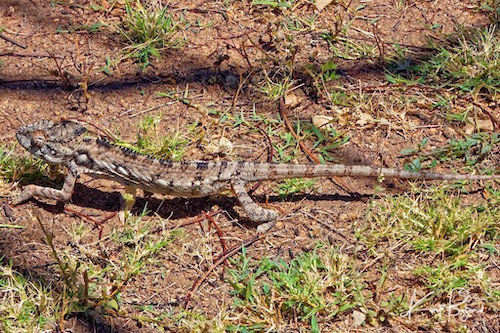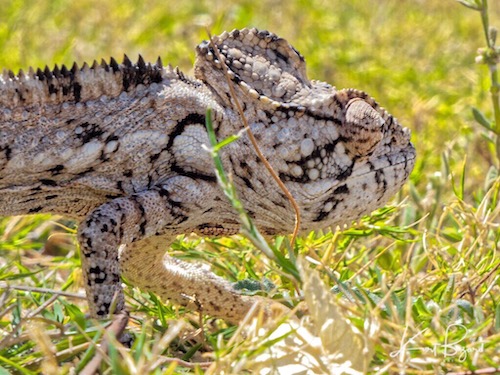 The Malagasy Giant Chameleon or Oustalets's chameleon (Furcifer oustaleti ) is a very large species of chameleon which is endemic to Madagascar. With a maximum total length (including tail) of 27 in (68.5 cm) in males and 24 (61 cm) in females, the Giant Chameleon is considered the largest species of chameleon, but that claim is occasionally contested by the Parson's Chameleon (Calumma parsonii) as the Parsons tends to be more heavily built but slightly shorter in length. The Malagasy Giant Chameleon is found in the coastal lowlands of Madagascar. It is found all over the island, but its occurrence in the eastern part of Madagascar is linked to the relatively high temperatures there. The species is well adapted to the hot savannah climate and hence has benefited from alterations to the landscape resulting from human activity (deforestation). There is supposedly an introduced population in Kenya (Ngong Forest near Nairobi) and a breeding population also exists in southern Florida.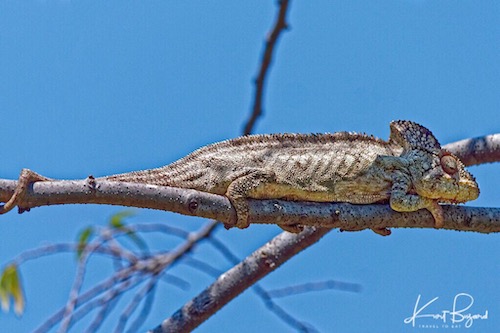 The male Warty Chameleon has larger spikes on the throat and along the spine; it has fewer than 40 spikes on the spine, whereas Oustalet's Chameleon has more than 45 (apparently someone counts them). The female generally lacks spikes along the spine, unlike female Oustalet's Chameleon which has prominent spikes, although some may be indistinguishable.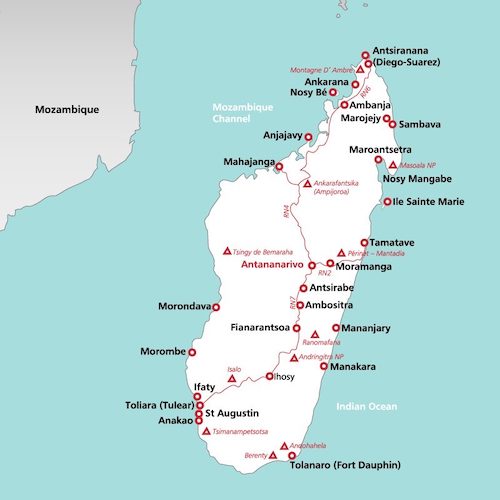 There are many Malagasy beliefs and traditions that concern chameleons. In some places, chameleons are revered as reincarnations of the ancestors, and it is forbidden to point at them, except with a curled finger. Some people fear them and believe that you will be cursed if you touch a chameleon, and will die a death as slow as the chameleon's gait. I hope you enjoyed the post, chameleons are extremely popular as pets and I find them both beautiful and mysterious, please leave a message.
References:
Zoo O'Shaughnessey's Chameleon Photo
Short Horned Chameleon Red List