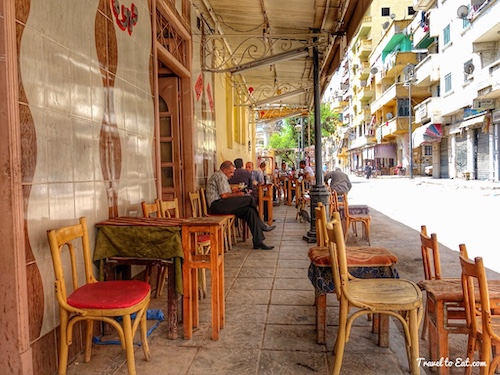 When I was in Alexandria last summer, I had a little time to kill and stopped in at the local coffee house. In Egypt there is a coffee shop on every corner. Sometimes in the middle of the block, too, and even right next to another one. They're all different and yet similar, open to the street, often old, with feral cats prowling underfoot and ceiling fans slowly turning overhead. Men drink tea, smoke water pipes, play table games, and talk or read the newspaper. Some cafes are tiny holes in the wall; others are large and sprawling. Often they fill whole alleyways, especially at night. Like most Arabic world coffeehouses they serve strong Turkish coffee and tea. Called qahwas or ahwas (from the Arabic word for coffee, قهوة qahwah), the shops are an Egyptian institution. Women can be seen in the more modern places but for most traditional local places, you'll find only men.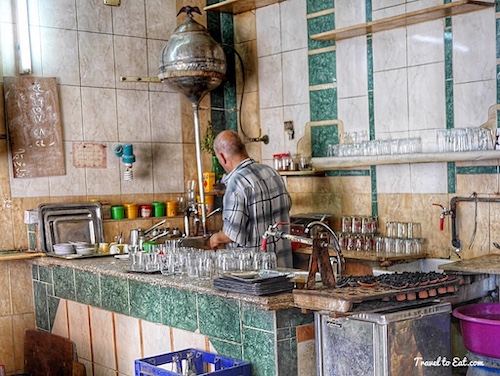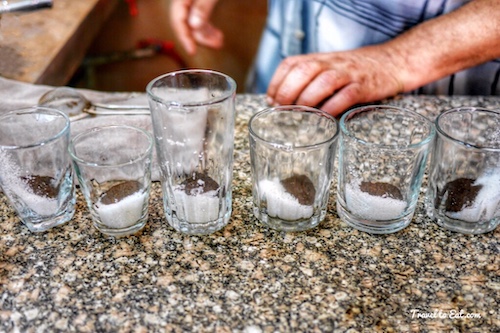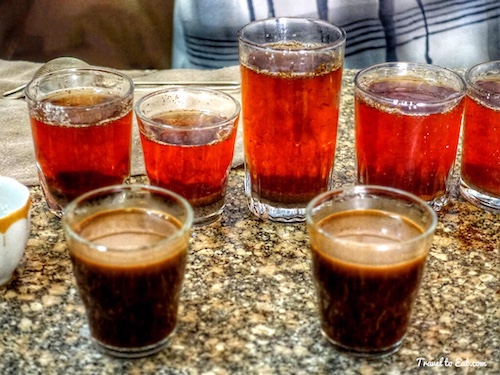 I went inside to order and saw the assembly line, sort of like Starbucks on a busy day but in Egypt. Like most Arabic or Turkish coffee houses, the coffee (qahwa قهوة) or tea (shay شاي) is sweetened when you order. Usually the options are no sugar (Qahwascitto), normal sweet (Qahwamazboot) and extra sweet (Qahwaziyada) for coffee. Sweet tea with sugar on the side is (ShaySokkar Bosta). They also have tea with milk added to it (Shaymenno feeh). The milk is heated and then tea and sugar is added without added boiling water. Unlike Turkish tea, made in a double boiler, both coffee and tea are made in the kanakah with grounds in both. This is why sugar is added at the time of preparation, stirring would disturb the tea or coffee grounds.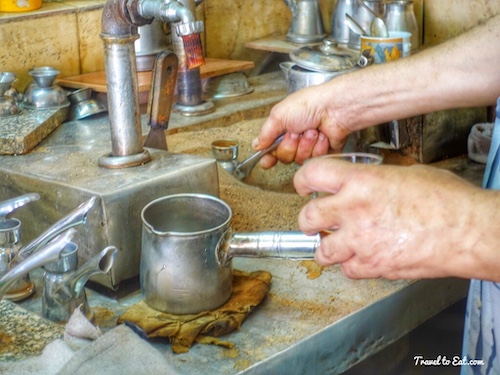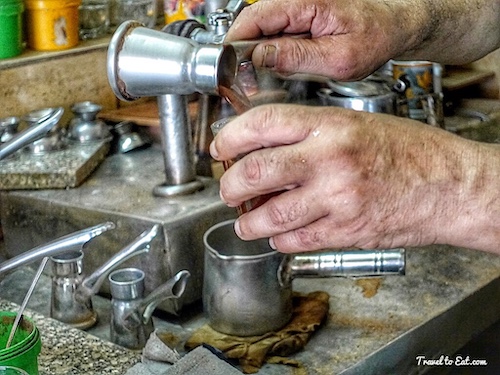 Turkish coffee is a method of preparation, not a kind of coffee. Therefore, there is no special type of bean. Beans for Turkish coffee are ground or pounded to the finest possible powder. The grinding is done either by pounding in a mortar (the original method) or using a burr mill. Most domestic coffee mills are unable to grind finely enough, traditional Turkish hand grinders are an exception, as I have discussed in a previous post. Here they used sand on a cooktop to surround the aluminum pots (called kanakah كنكه in Egypt) for an even and uniformly quick way of making each cup of coffee. The kanakah are kept on top of the cooktop (or sand) to keep warm, and when you want them to boil you push them down through the sand to make direct contact with the hot plate underneath. There is an art to all of this, boiling too long or too hot can cause the coffee to become bitter and/or lose the foam. The kanakah is filled with water to the bend in the little pot, heated until the coffee starts to rise. When you see the coffee foam rising and about to spill over, take it off and pour it into a cup. If it just begins to boil again then you should probably start all over, because it is too hot to have a proper foam.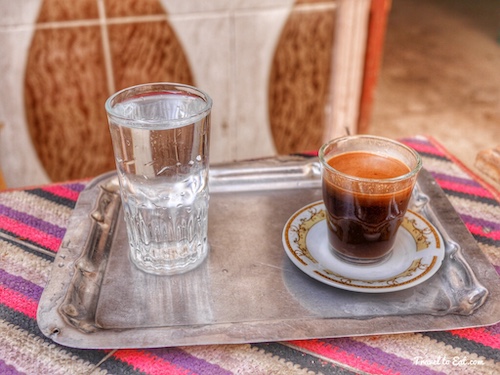 The coffee and/or tea is served on a tray with a glass of water. Five centuries of Turkish coffee tradition have resulted in the ways to prepare and serve coffee which ensure it does not go cold too soon and you can enjoy it longer. First, Turkish coffee comes with a thick foam on top which seals it so the coffee keeps its temperature; a good coffee cook is easy to spot by the thickness of that foam. Second, the grind of Turkish coffee is very fine and some of the coffee grounds will be mixed with water making the coffee thicker and makes the heat stay longer. Finally, the coffee grounds at the bottom provide additional padding and keep coffee hot for longer period of time. Keeping the coffee hot in Egypt is really not a problem, it is hot enough out in the sun to keep it hot for hours.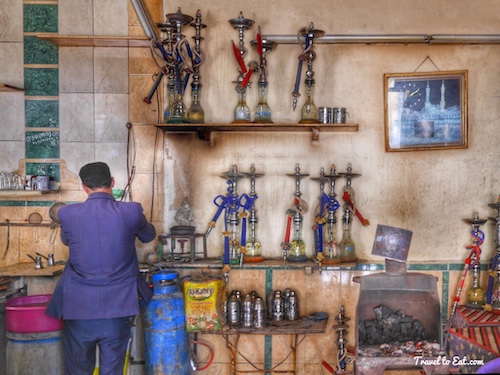 In Egypt smoking the Shisha or hooka is synonymous with the coffee house. Many of the various names of the hookah are of Indian, Turkish, Uzbek, Persian or Arab origin. "Narghile" is from the Persian word nārgil, or "coconut", and in Sanksrit nārikera, since the original nargile came from India and was made out of coconut shells. "Shisha" is from the Persian word shishe, or "glass" (this is the correct literal translation, not bottle). "Hashishe" is also an Arabic word for grass, which may have been another way of saying tobacco. Hookah may stem from Arabic uqqa, meaning small box, pot, or jar. Both names refer to the original methods of constructing the smoke/water chamber part of the hookah. "Narghile" is the name most commonly used in Turkey, Lebanon, Syria, Greece and Israel, though the initial "n" is often dropped in Arabic. In Iran it is called ghalyoun or ghalyan and in Pakistan it is referred to as huqqa. "Shisha" is the name used in Egypt.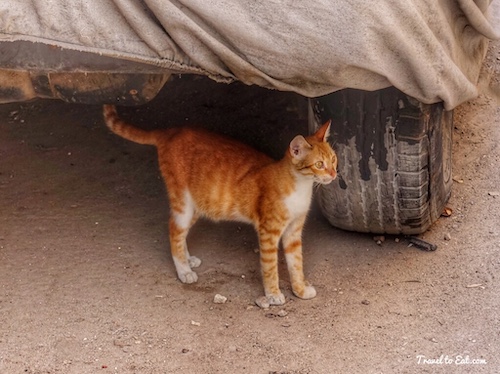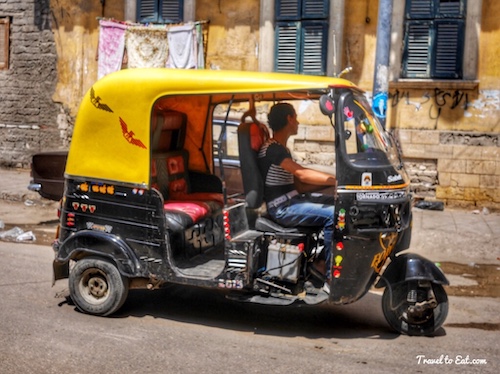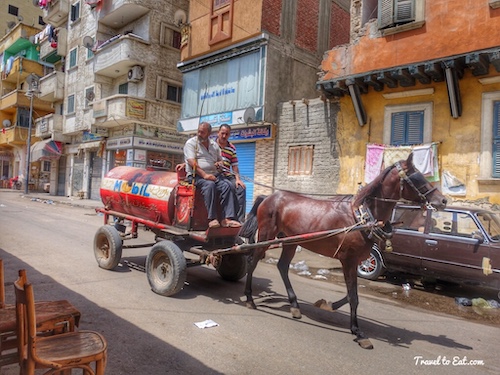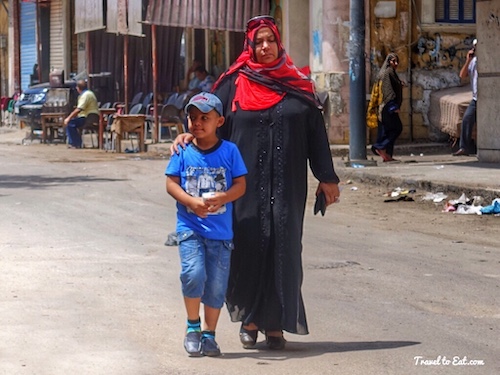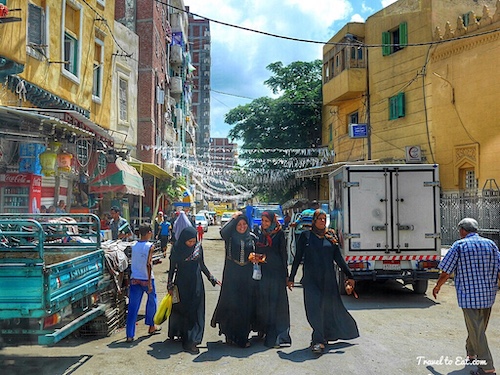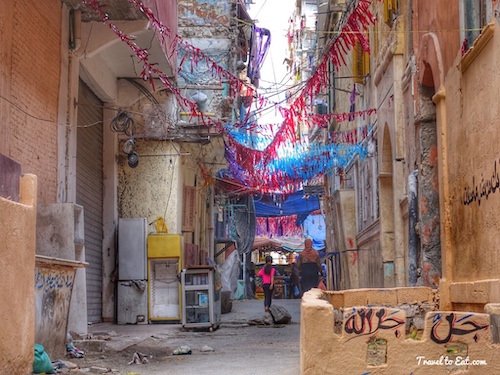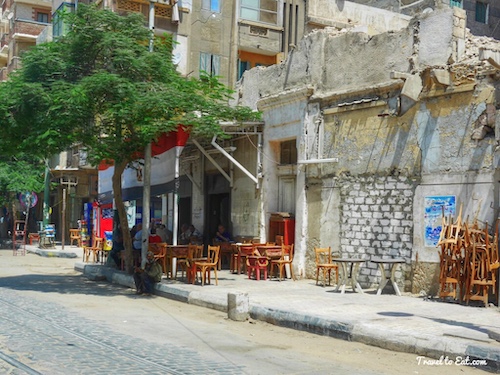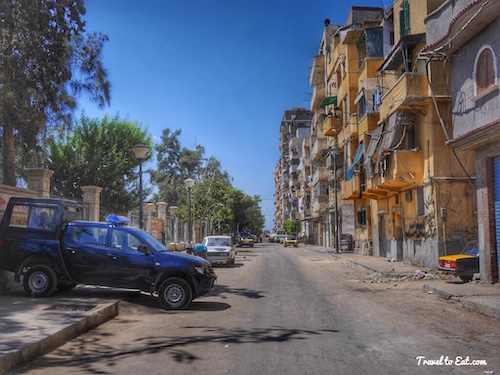 The (Q)awha is a great place to watch life pass by and this one was no exception. Around 500,000 tuk-tuks circulate in the Egyptian streets and 1.5 million citizens work as tuk-tuk drivers, according to the first official study in 2015. It was hilarious to see a horse drawn gas tanker. It was at the edge of a busy shopping district so plenty of people passed by. As always, I hope you enjoyed, please leave a comment.
References:
Turkish Coffee: /turkish-coffee-and-tea-turkey/
Egyptian Ahwa: http://abissadacooks.blogspot.com/2011/09/turkish-coffee-ahwa-and-tea-shay.html
Shisha History: http://www.shishainfo.com/hookah-shisha-history.htm
Tuk Tuks in Egypt: http://www.al-monitor.com/pulse/originals/2015/09/egypt-tuk-tuk-ban-traffic-security-problems.html
Tuktuk Factory: http://www.tuktukfactory.nl/
Etuk USA: http://www.etukusa.com/