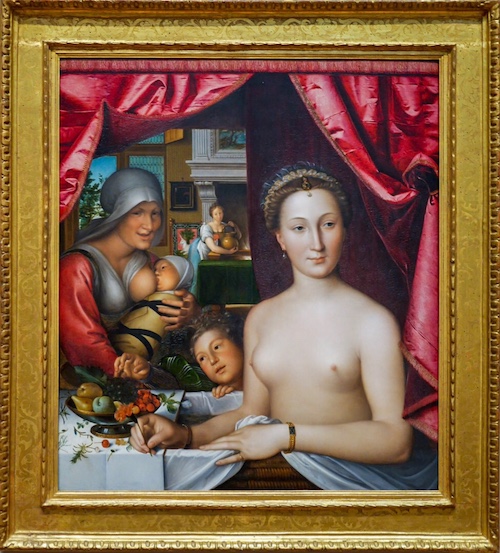 When we visited Washington DC, we had the privilege of seeing the National Gallery of Art. Ever since Lafayette, some connection between America and France, however tenuous, has existed. One of the strongest bonds between the two countries is the American love of French art. When we think of French art today, we instantly imagine the Impressionists. Our National Gallery of Art, in Washington, DC, however, houses one of the finest collections of 15th to 18th century French art in the world, thanks in part to the benefactors who saw something of America in those French artworks. French Paintings of the Fifteenth through the Eighteenth Century documents the rich and varied collection of artworks and shows how this French connection tells us as much about American history as it does about French history. The painting above, of Diane Poitiers topless, is one of the masterpieces of the collection. A replica hangs in the Château de Chenonceau and is a reminder of the beautiful mistress of Henry II of France, Diane de Poitiers. I would call this portrait the "Mona Lisa" of France.
Leonardo da Vinci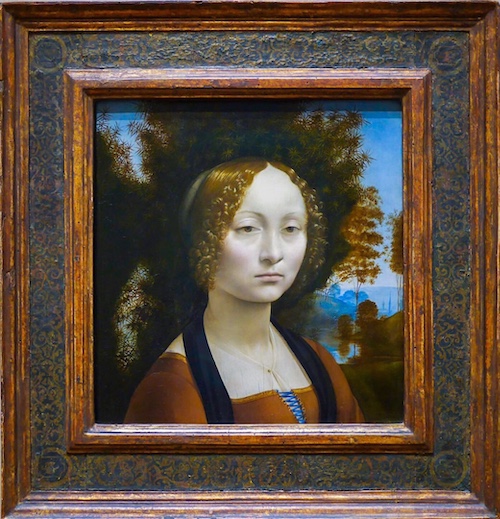 Ginervra de' Benci was the daughter of a wealthy Florentine banker, and her portrait, the only painting by Leonardo da Vinci in the Americas, was probably commissioned about the time of her marriage at age 16. Leonardo himself was only about six years older. The portrait is among his earliest experiments with the new medium of oil paint; some wrinkling of the surface shows he was still learning to control it. Still, the careful observation of nature and subtle three dimensionality of Ginevra's face point unmistakably to the new naturalism with which Leonardo would transform Renaissance painting. Note the similarity to the face of Diane de Poitiers, transformed with the famous enigmatic Da Vinci smile of the Mona Lisa. I might also point out that posing topless in 1571 would have been pretty scandalous and Diane de Poitiers has nipples more like a man rather then the floral expression of the female nipple. Thus, she probably did not pose nude for the painting.
Alexandre-François Desportes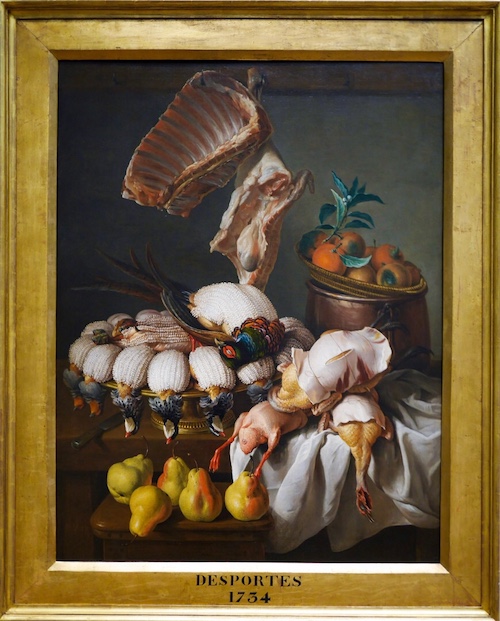 Alexandre-François Desportes (1661-1743) was a French painter and decorative designer who specialised in animals. This striking still-life painting was created by one of the greatest French artists of the genre, Alexandre-François Desportes (1661-1743). Desportes's career immediately precedes that of Jean Siméon Chardin (1699-1779), whose still-life paintings and genre scenes are among the great strengths of the Gallery's collection of French paintings. While displaying these painters' virtuosic skill in rendering texture and color, these paintings also announce their nobility in referring to the traditional leisure pursuit of the landed gentry, the hunt. The artist's careful delineation of contrasting (and potentially distasteful) subject matter forces the spectator to acknowledge the sheer artistic prowess with which this virtuoso, and highly original, tour de force self-consciously negotiates the uneasy relationship of beautiful and bizarre. The painting's simple period frame bears the name of the artist at the bottom in capital letters.
Jean Siméon Chardin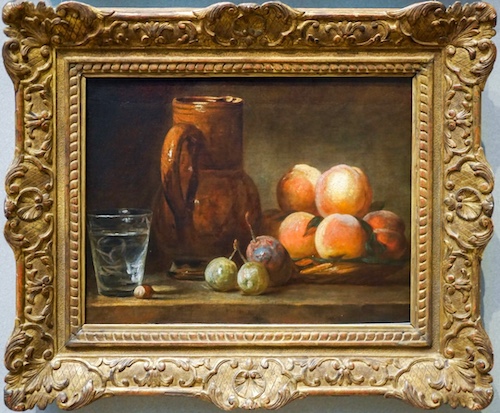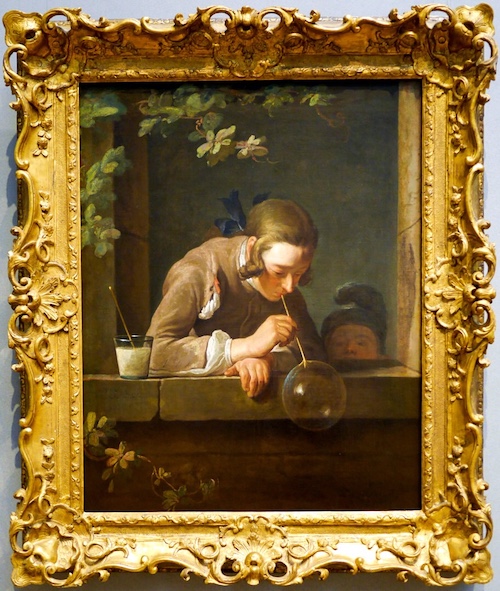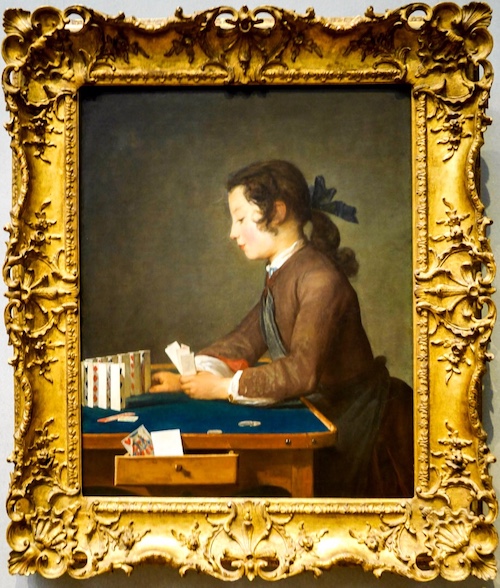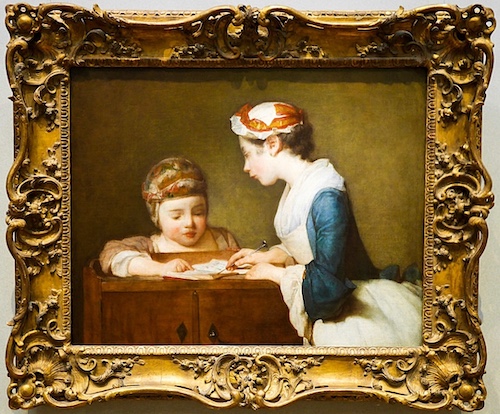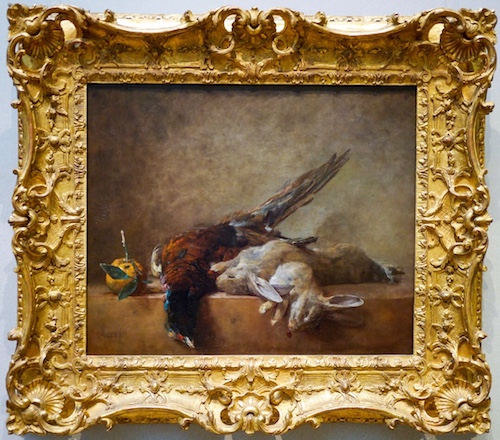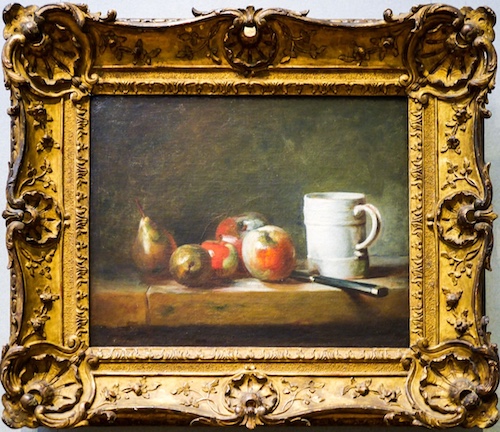 Jean-Baptiste-Siméon Chardin (1699-1779) was an 18th-century French painter. He is considered a master of still life, and is also noted for his genre paintings which depict kitchen maids, children, and domestic activities. Carefully balanced composition, soft diffusion of light, and granular impasto characterize his work. In 1752 Chardin was granted a pension of 500 livres by Louis XV. At the Salon of 1759 he exhibited nine paintings; it was the first Salon to be commented upon by Denis Diderot, who would prove to be a great admirer and public champion of Chardin's work. In 1756 he returned to the subject of the still life. Chardin worked very slowly and painted only slightly more than 200 pictures (about four a year) total. Chardin's work had little in common with the Rococo painting that dominated French art in the 18th century. At a time when history painting was considered the supreme classification for public art, Chardin's subjects of choice were viewed as minor categories. He favored simple yet beautifully textured still lifes, and sensitively handled domestic interiors and genre paintings. Simple, even stark, paintings of common household items, similar to Dutch painters of the golden age such as Johannes Vermeer, Frans Hals, Jan de Bray, Jacob van Loo, Jacob van Steen, Adriaen van Ostade or Gerrit Dou.
Jean-Marc Nattier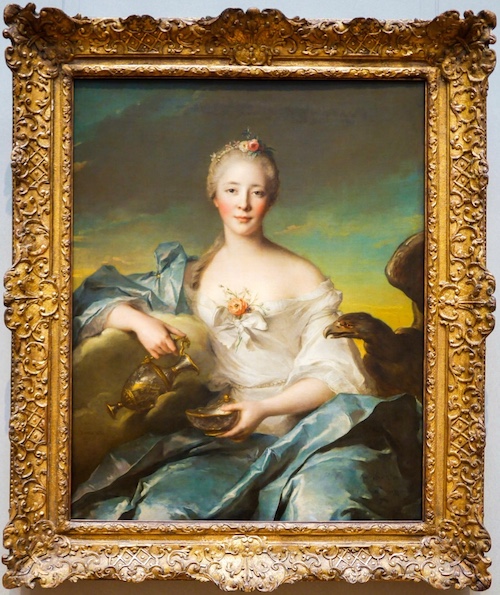 Jean-Marc Nattier (1685-1766), a French painter, was born in Paris, the second son of Marc Nattier (1642–1705), a portrait painter, and of Marie Courtois (1655–1703), a miniaturist. He is noted for his portraits of the ladies of King Louis XV's court in classical mythological attire. Nattier aspired to be a history painter. Between 1715 and 1720 he devoted himself to compositions like the "Battle of Pultawa", which he painted for Peter the Great, and the "Petrification of Phineus and of his Companions", which led to his election to the Academy. The financial collapse of 1720 caused by the schemes of Law all but ruined Nattier, who found himself forced to devote his whole energy to portraiture, which was more lucrative. He became the painter of the artificial ladies of Louis XV's court. He subsequently revived the genre of the allegorical portrait, in which a living person is depicted as a Greco-Roman goddess or other mythological figure. Nattier's graceful and charming portraits of court ladies in this mode were very fashionable, partly because he could beautify a sitter while also retaining her likeness. Many of his pictures are in the public collections of France.
Charles-Amédée-Philippe van Loo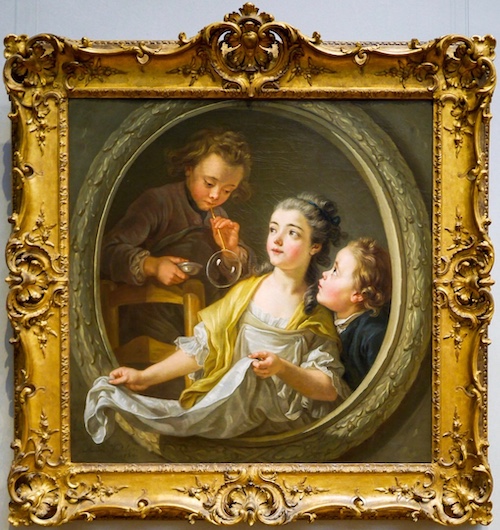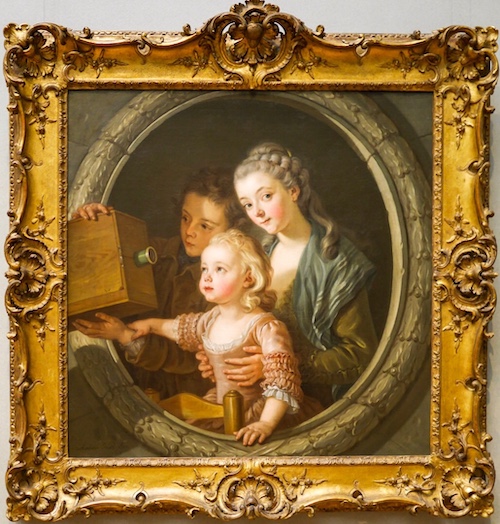 Little is known about Charles Amédée Philippe Van Loo (also known as Amédée Van Loo), one of a family of Flemish artists settled in France. He studied under his father, the painter Jean-Baptiste van Loo, at Turin and Rome, where in 1738 he won the Prix de Rome, then at Aix-en-Provence, before returning to Paris in 1745. The next significant date in Amédée's career is 1748, the year that his uncle, Carle (1705-1765), was invited to the Prussian court of Friedrich II (Frederick the Great). The obligations of the older Van Loo, who had just become the director of the École royale des élèves protégés, opened the way for his young nephew to go in his stead. During the first and longer of his two extended stays in Berlin Amédée produced portraits of Friedrich (1740-1786) and members of his court, as well as paintings of a variety of subjects and genres. His style is reminiscent of Gerrit Dou, with the window treatments of his subjects.
Élisabeth Louise Vigée Le Brun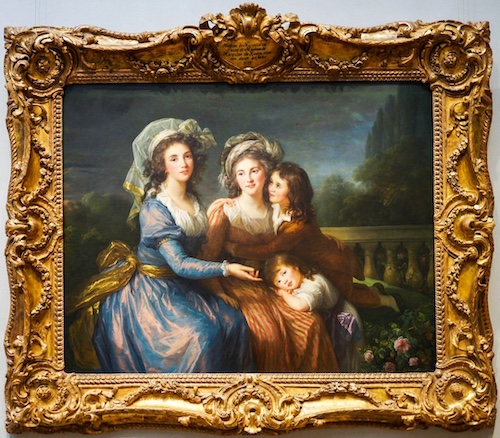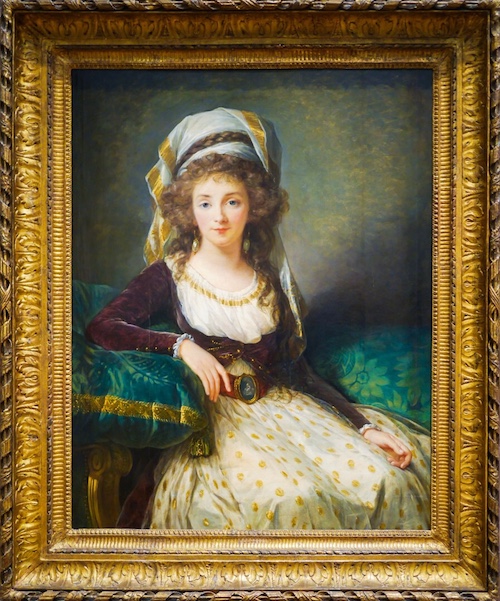 Élisabeth Louise Vigée Le Brun (1755-1842), also known as Madame Lebrun, was a prominent French painter. Her artistic style is generally considered part of the aftermath of Rococo, while she often adopts a neoclassical style. Vigée Le Brun cannot be considered a pure Neoclassicist, however, in that she created mostly portraits in Neoclassical dress rather than the History painting. While serving as the portrait painter to Marie Antoinette, Vigée Le Brun worked purely in Rococo in both her color and style choices. Since Vigée Le Brun was close to the royal family, she was in danger during the French Revolution. After the arrest of the royal family during the French Revolution, Vigée Le Brun fled France with her young daughter Julie. Madame Vigée Le Brun was part of the world she painted and, like her aristocratic patrons, was under threat of the guillotine after the revolution. She was forced to flee Paris in disguise in 1789. She had been first painter to Queen Marie–Antoinette and her personal confidant. The queen had intervened to ensure her election to the Royal Academy of Painting and Sculpture, an honor accorded few women.
Pierre-Paul Prud'hon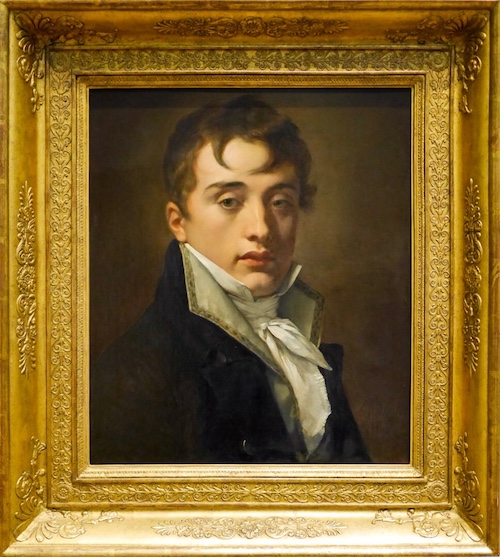 Pierre-Paul Prud'hon (1758-1823) was a French Romantic painter and draughtsman best known for his allegorical paintings and portraits. Prud'hon was at times clearly influenced by Neo-classicism, at other times by Romanticism. Appreciated by other artists and writers like Stendhal, Delacroix, Millet and Baudelaire for his chiaroscuro and convincing realism.
Jean-Auguste-Dominique Ingres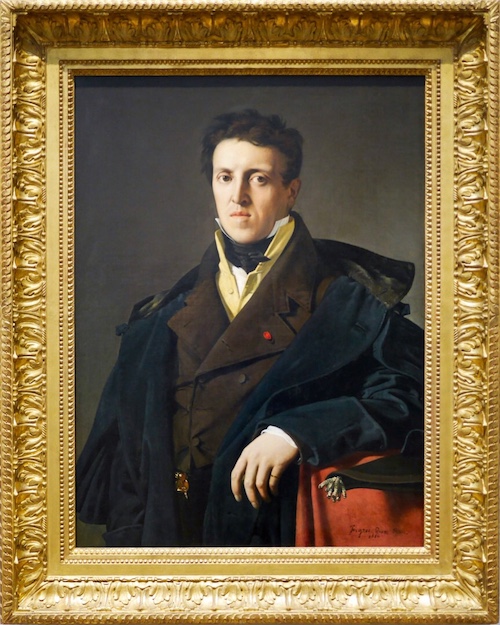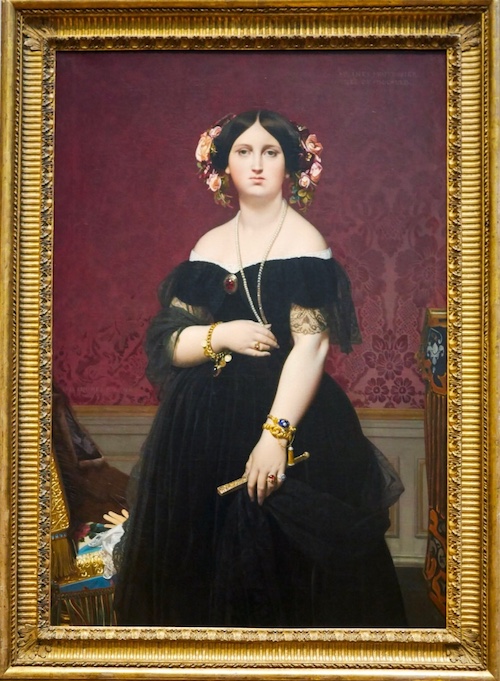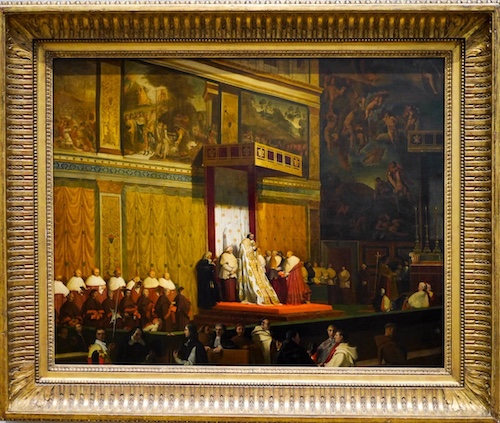 Jean-Auguste-Dominique Ingres (1780-1867) was a French Neoclassical painter. Although he considered himself to be a painter of history in the tradition of Nicolas Poussinand Jacques-Louis David, by the end of his life it was Ingres's portraits, both painted and drawn, that were recognized as his greatest legacy. A man profoundly respectful of the past, he assumed the role of a guardian of academic orthodoxy against the ascendant Romantic style represented by his nemesis, Eugène Delacroix. His exemplars, he once explained, were "the great masters which flourished in that century of glorious memory when Raphael set the eternal and incontestable bounds of the sublime in art … I am thus a conservator of good doctrine, and not an innovator." Nevertheless, modern opinion has tended to regard Ingres and the other Neoclassicists of his era as embodying the Romantic spirit of his time, while his expressive distortions of form and space make him an important precursor of modern art.
Jacques-Louis David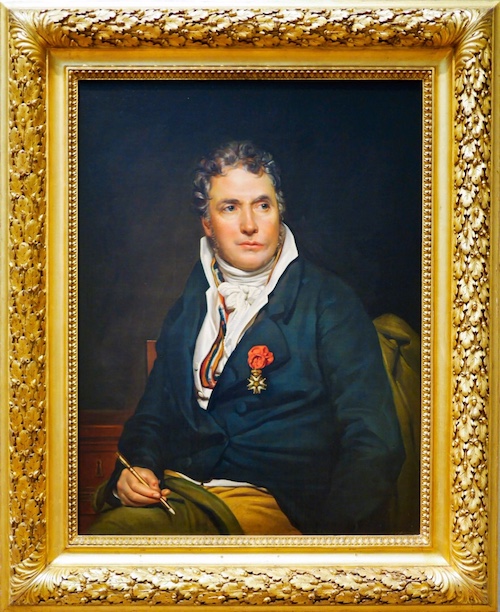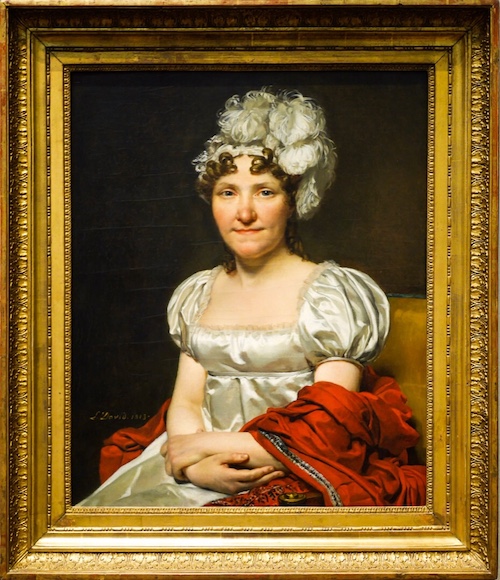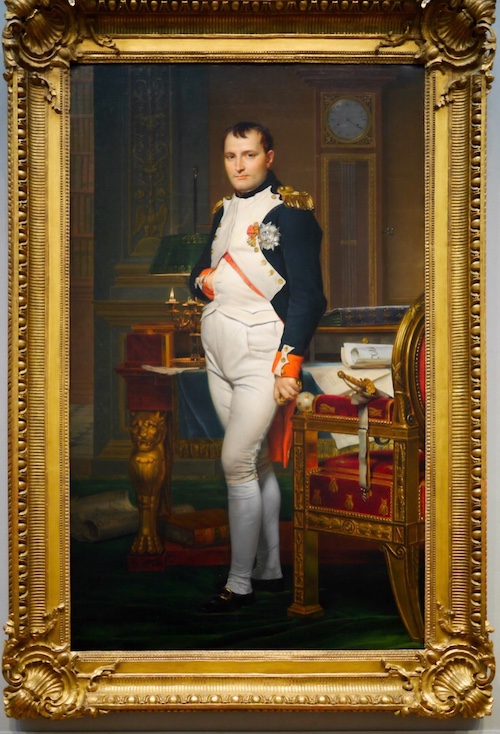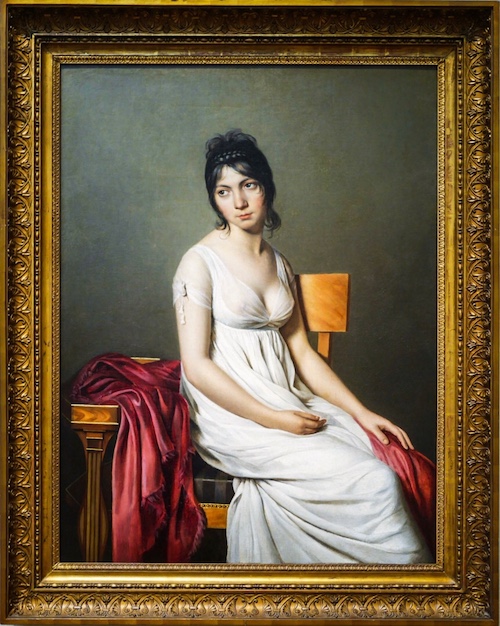 Jacques-Louis David (1748-1825) was a French painter in the Neoclassical style, considered to be the pre-eminent painter of the era. In the 1780s his cerebral brand of history painting marked a change in taste away from Rococo frivolity toward a classical austerity and severity, heightened feeling harmonizing with the moral climate of the final years of the Ancien Régime. In the beginning, David was a supporter of the Revolution, a friend of Robespierre and a member of the Jacobin Club. While others were leaving the country for new and greater opportunities, David stayed to help destroy the old order; he was a regicide who voted in the National Convention for the Execution of Louis XVI. It is uncertain why he did this, as there were many more opportunities for him under the King than the new order; some people suggest David's love for the classical made him embrace everything about that period, including a republican government. David had been an admirer of Napoleon from their first meeting, struck by Bonaparte's classical features. Requesting a sitting from the busy and impatient general, David was able to sketch Napoleon in 1797. David recorded the face of the conqueror of Italy, but the full composition of Napoleon holding the peace treaty with Austria remains unfinished. Bonaparte had high esteem for David, and asked him to accompany him to Egypt in 1798, but David refused, claiming he was too old for adventuring and sending instead his student, Antoine-Jean Gros. Jacques-Louis David was, in his time, regarded as the leading painter in France, and arguably all of Western Europe; many of the painters honored by the restored Bourbons following the French Revolution had been David's pupils.
Jean-Louis André Théodore Géricault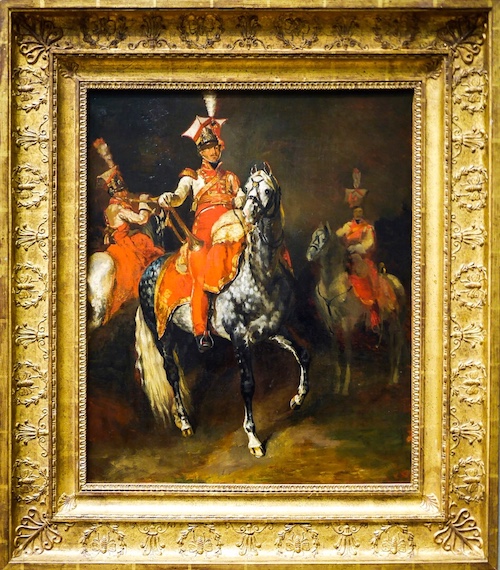 Jean-Louis André Théodore Géricault (1791-1824) was an influential French painter and lithographer, known for The Raft of the Medusa and other paintings. Although he died young, he was one of the pioneers of the Romantic movement. Géricault's fiery, daring personality and short life fit the mold of Romantic artists of his era and, along with his controversial paintings, profoundly influenced nineteenth-century art. Despite about three years of studio training, Géricault was largely self-taught. He copied paintings in the Louvre and traveled to Rome, where he discovered Michelangelo's works and the exuberance of Baroque art. I personally think the horse in the above painting is one of the most beautiful depictions I personally have ever seen.
Ferdinand Victor Eugène Delacroix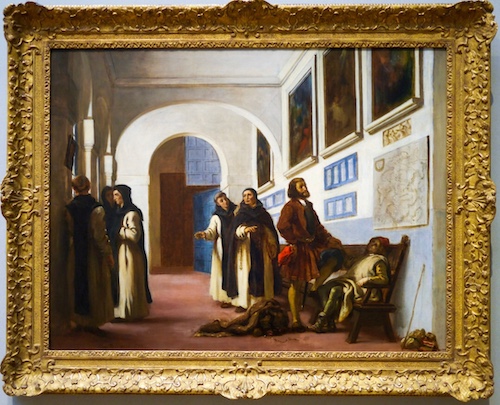 Ferdinand Victor Eugène Delacroix (1798-1863) was a French Romantic artist regarded from the outset of his career as the leader of the French Romantic school. In contrast to the Neoclassical perfectionism of his chief rival Ingres, Delacroix took for his inspiration the art of Rubens and painters of the Venetian Renaissance, with an attendant emphasis on colour and movement rather than clarity of outline and carefully modelled form. Dramatic and romantic content characterized the central themes of his maturity, and led him not to the classical models of Greek and Roman art, but to travel in North Africa, in search of the exotic. He is particularly well known for his harem scenes.
While there are collections of French painting with more depth, this assembly at the National Gallery is remarkable, both for the quality of the paintings and the span of time represented. As you pass by these faces from centuries past, you get a real sense of French history as well as the changing schools of painting. If you visit Washington DC, you really should take the time to visit. As always, I hope you enjoyed the post, please leave a comment.
References:
National Gallery of Art, French Paintings: http://bigthink.com/Picture-This/french-connection-french-painting-at-the-national-gallery-of-art
Ginervra de' Benci: http://www.nga.gov/content/ngaweb/Collection/art-object-page.50724.html
Chardin: http://www.nga.gov/content/ngaweb/Collection/artist-info.1127.html
Charles-Amédée-Philippe van Loo: http://www.nga.gov/content/ngaweb/Collection/artist-info.1491.html
Élisabeth Louise Vigée Le Brun: http://www.nga.gov/content/ngaweb/Collection/art-object-page.50215.html
Sent from my iPad