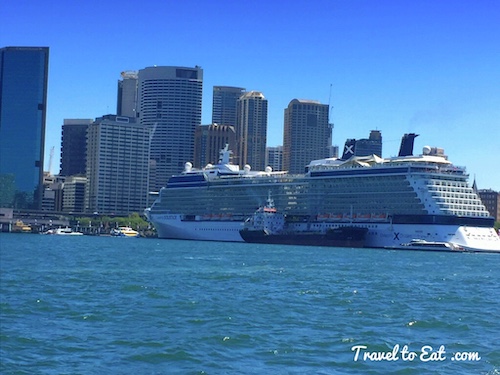 When Lisa and I decided to visit Australia and New Zealand we considered doing the visit overland via railways and airplanes. After a bit of research we decided that this approach was too overwhelming for our first encounter with these nations. Instead we decided upon a cruise ship that for two weeks would take us to various ports and give us an overview of both countries. Neither Lisa or myself have ever been on a cruise ship and yet we decided that this would give us the best opportunity to see both Australia and New Zealand, both large countries with most of the populations located on the coasts. As it turns out this was an good decision and one of our most enjoyable vacations, the cruise experience was nothing like we had imagined and in fact exceeded our expectations. It is true that you do not get the immersive experience of actually staying in the cities we visited but we spent a week in Sydney and Aukland and some of the locations we visited on the cruise would have been hard to get to in any case. I have compiled a group of photos that reflect our experience, not meant to be comprehensive.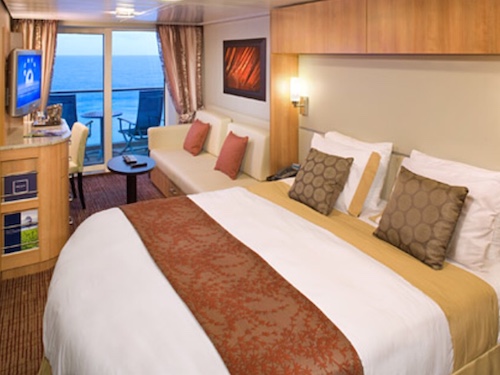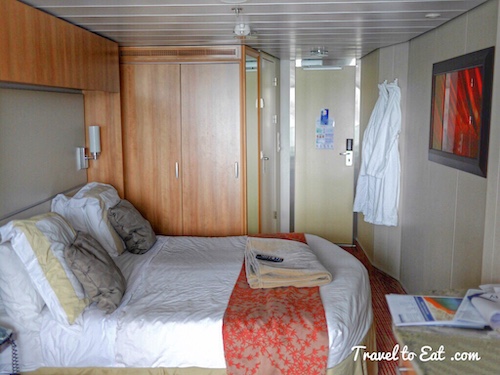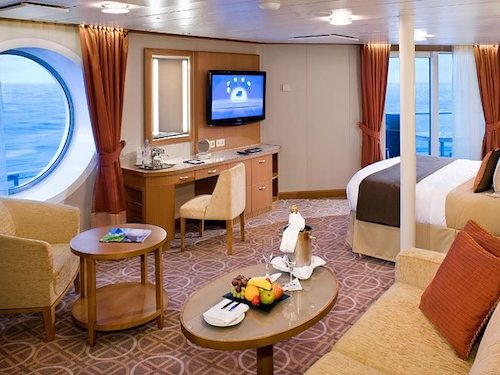 We decided on the Celebrity Solstice cruise ship and concierge class with a veranda. The room was small but so nicely outfitted that we really did not notice. The veranda made a huge difference; interior rooms are a little larger but have no windows. Oceanview class rooms have a window but no veranda. The suite rooms are larger and not that much more expensive if you book well in advance. This whole game of what class to get and what room size can be managed by looking for deals and making reservations well in advance to minimize costs. Just for informational purposes, according to our friends, Solstice class ships are the best for Celebrity and among the best that they have traveled on. There are about 2800 passengers on the Solstice class ships, but it did not feel crowded and had plenty of room for everyone given the many restaurants and activities available.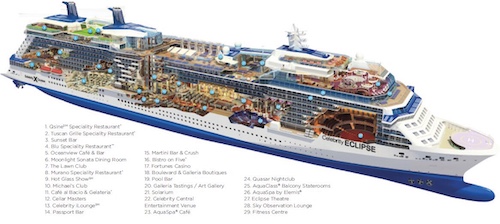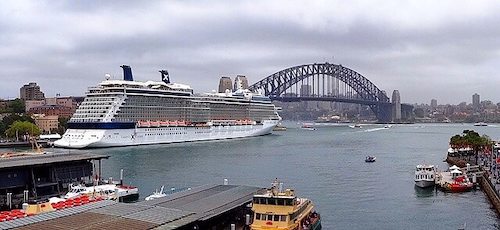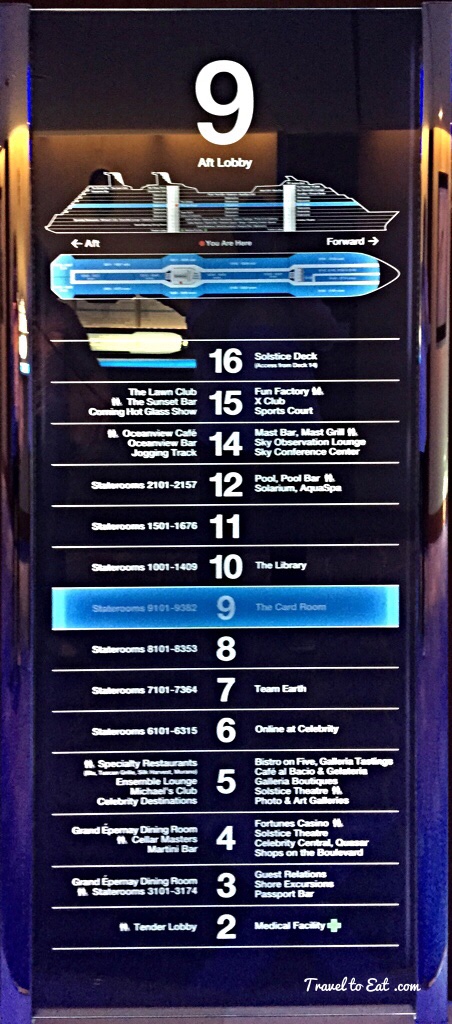 Celebrity has 11 ships ranging in class from Solstice, Millenium, Century and Xpedition. The newest class is Solstice, voted Voted Best PremiumCruise Line voted six years in a row by Travel Weekly's Readers' Choice Awards.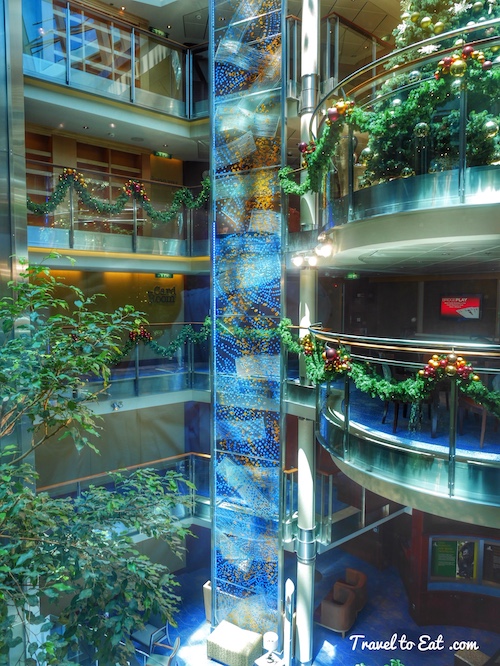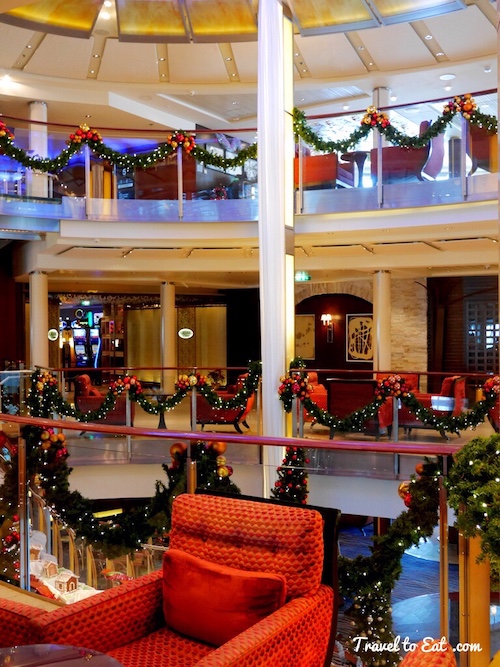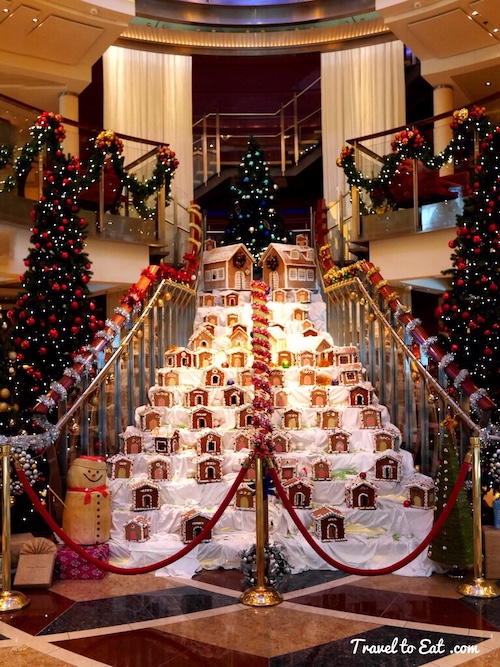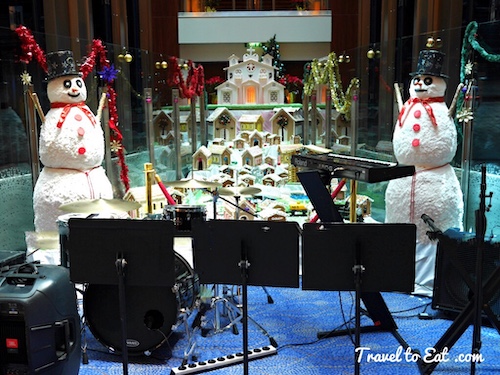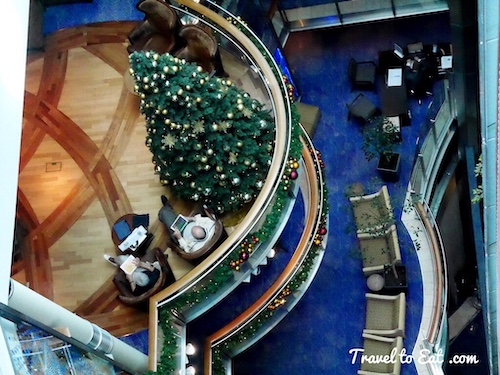 The ship was decked out for Christmas since we went before Christmas and after New Years. Both the decorations and the ship were beautiful. Moreover there was live music at the lowest floor (Floor 3) of the elevator that permeated the ship.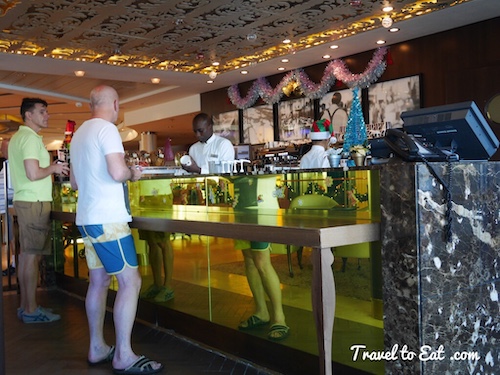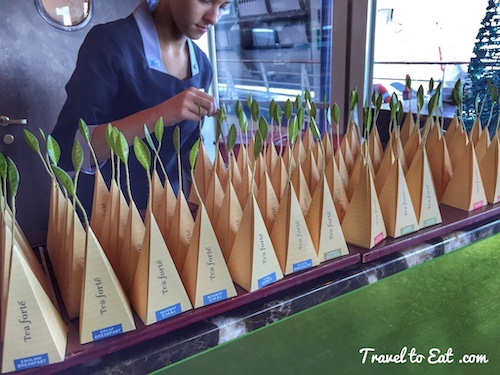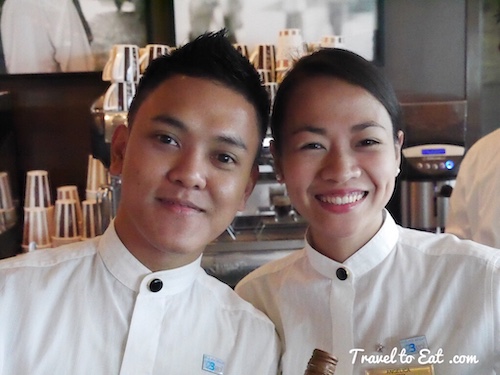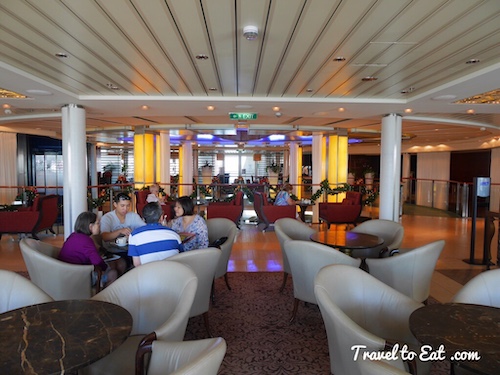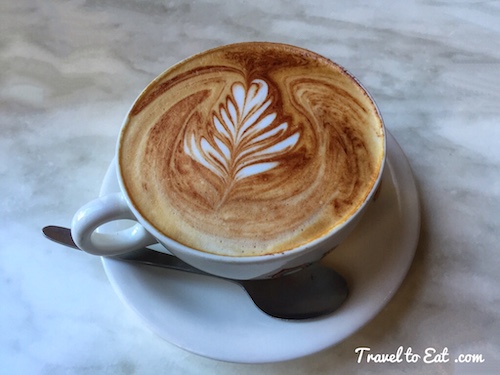 The coffee bar on the fifth floor, Café Al Bacio and Gelateria, was a busy area with pastries and coffee on one end and gelato on the other.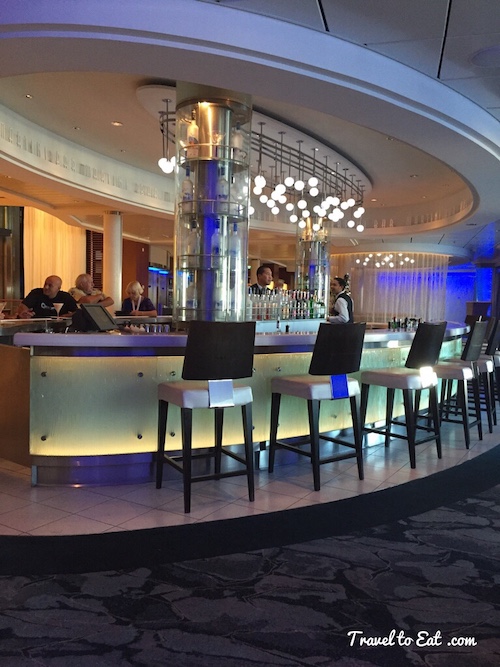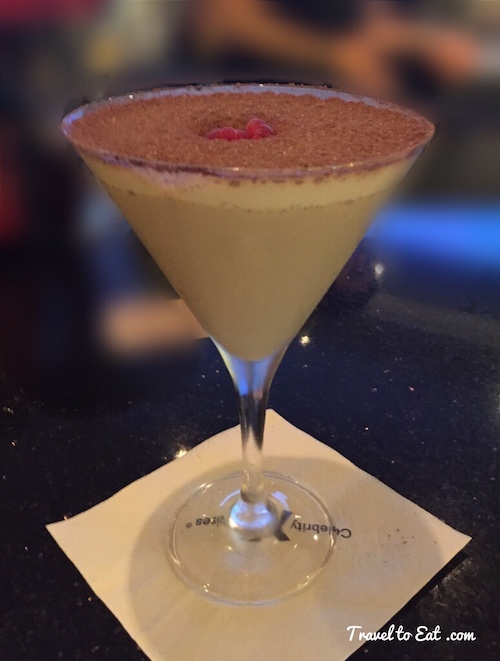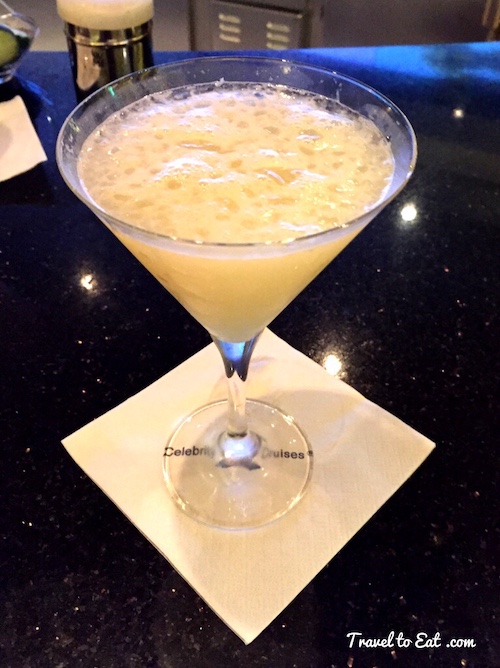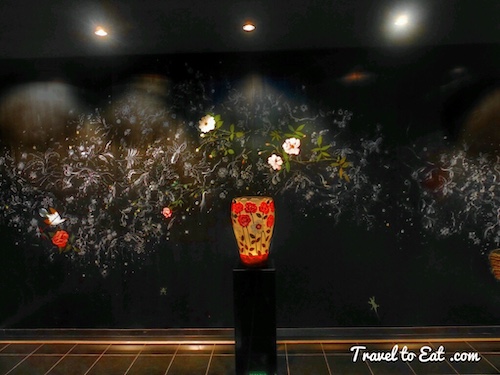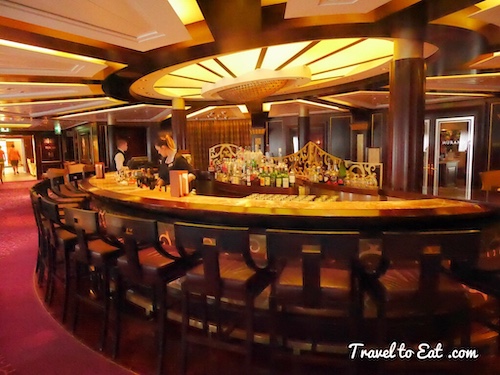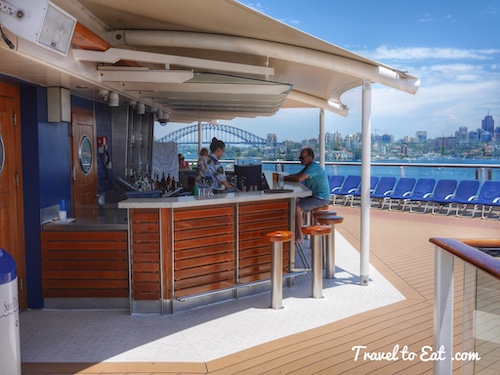 There are bars scattered around the ship, most open very late. On the top floor there is the Sunset Bar at the rear of the ship. Aft from the atrium on Deck 5, the Ensemble Vestibule a dark, opulent room reminiscent of the offbeat art and decor of Celebrity's early days — is the entryway into the Ensemble Lounge, an energetic, convivial watering hole ideal for pre-dinner drinks. Also on deck 5 is the molecular bar of Junior Merino who is proclaimed as the best mixologist on the planet by various publications around the world. As the founder of the fusion of the kitchen and the bar, he brings mixology to another level. Best known as the Liquid Chef, his passion and talent to combine art while indulging the senses leads into his appropriately titled slogan, 'Taste the Art, Drink with All Your Senses'. Our favorite was the Chocolate Indulgence made with raspberry liqueur.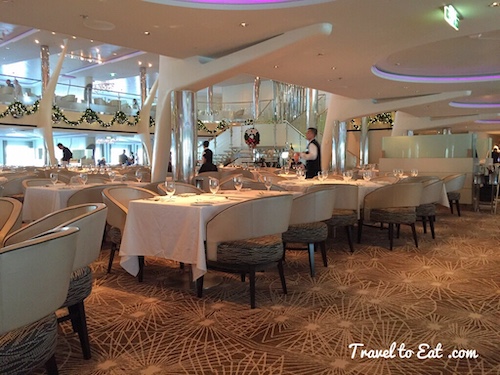 The Grand Epernay Dining Room is the assigned room for dinner. Dining choices abound aboard Solstice. Besides the main dining room, passengers can dine in three specialty dinner restaurants, a restaurant reserved exclusively for passengers in Aqua Class staterooms, a crepe and panini bistro, a lido buffet with specialty stations, a poolside grill, a spa cuisine buffet and grill, and a coffee bar and gelateria. Of the 10 restaurants, six are open for breakfast, five for lunch (though its main restaurant is only open at midday on sea days) and six for dinner.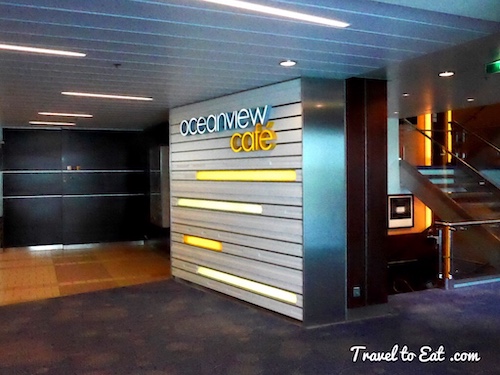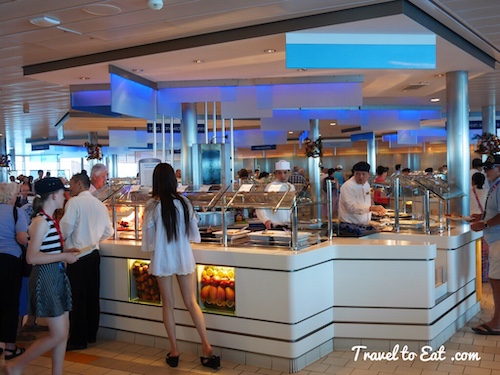 Nine decks directly above Grand Epernay is the Oceanview Cafe, a multi-station buffet for breakfast and lunch and an open-seating casual alternative venue for dinner. Other offerings include ice cream, pizza and pasta, sushi, afternoon tea and late night snacks (from 9:30 p.m. to 1 a.m.), all without additional charge. One of the most appealing buffet venues at sea, the Oceanview's layout is excellent, with many serving and prep stations situated as islands in the middle of the room rather than stretched along the walls. The result is a dependably uncrowded, spacious operation offering an extensive number of choices. This is where we had breakfast and most lunches.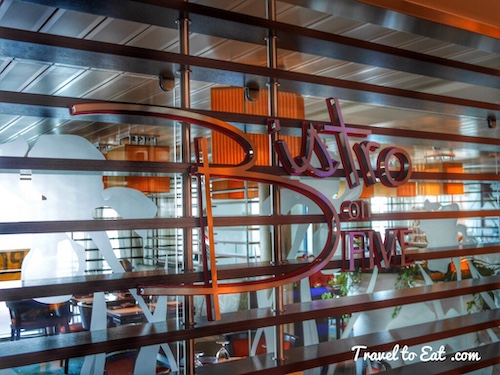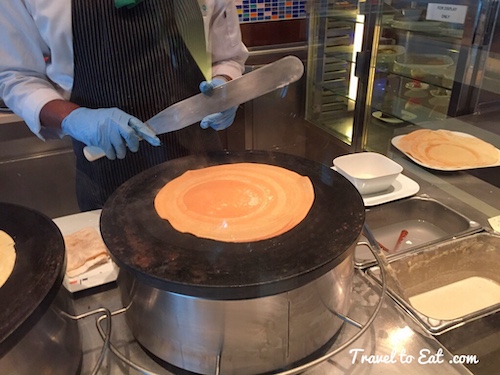 Deck 5 is the epicenter for specialty dining. Bistro's main fare is crepes, including breakfast, lunch, dinner and dessert crepes. Bistro on Five also features panini sandwiches (steak, chicken or vegetable), soups and salads. Since Bistro on Five opens early in the morning we found it a choice for a quiet, almost private, breakfast, especially in the early days of the cruise, before many passengers had discovered it. Surprisingly they did not have the crêpe avec confiture or with strawberry jam found throughout Paris, although they did have Nutella and bananas.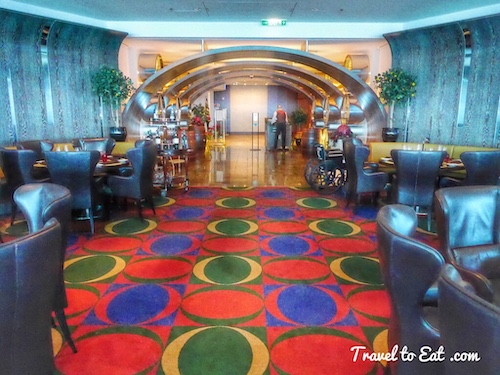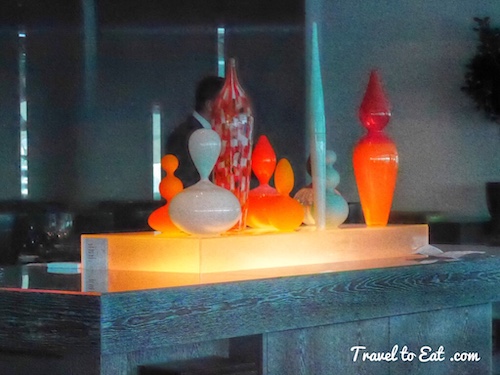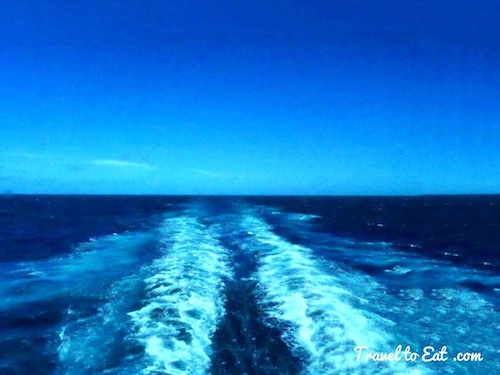 The ambiance of Tuscan Grille, Solstice's Italian steakhouse restaurant is described by Celebrity as "Napa-meets-Old-World-Italy," an impression that we agreed with as we entered through a "wine cave"-like archway into a room with ornate furniture and place settings. Tuscan Grille also has the best view of any restaurant aboard the ship, being situated all the way aft. A meal in Tuscan Grille, in our estimation, is best enjoyed on the early side, while there are still seats right up against the wall of glass facing the trailing wake of the ship, and before the sun has gone down. As we left Hobart, Tasmania, we enjoyed our meal against this same window and then watched the receding shoreline.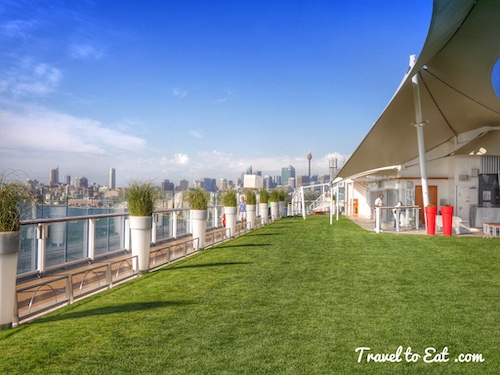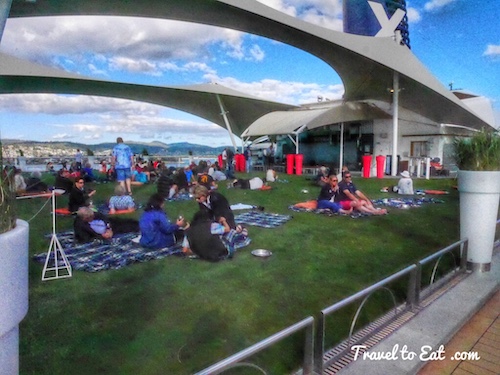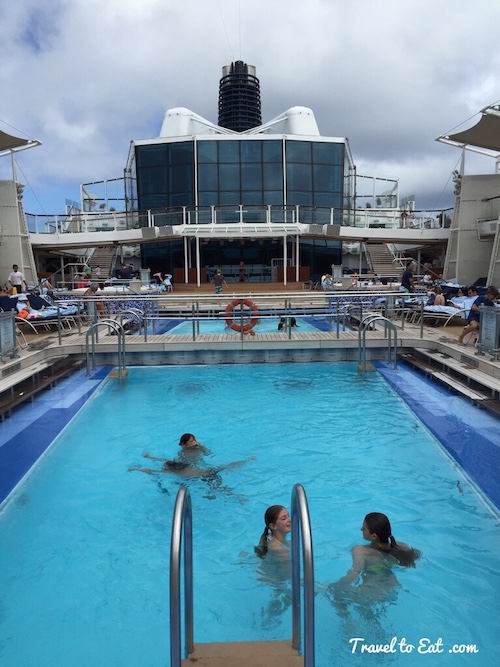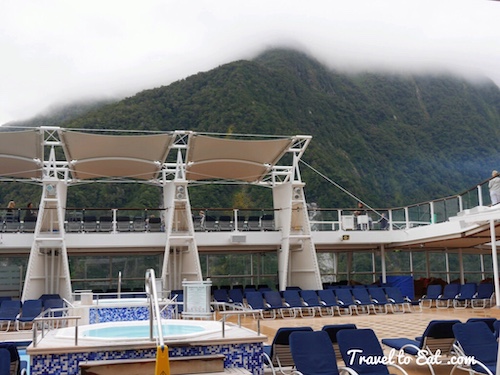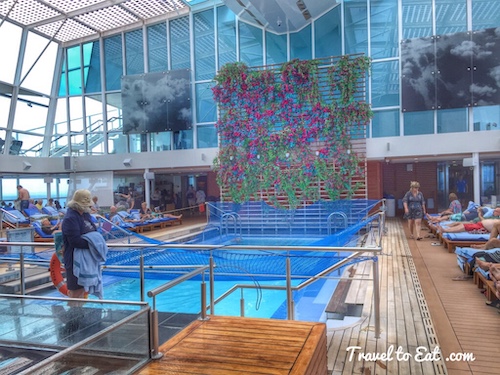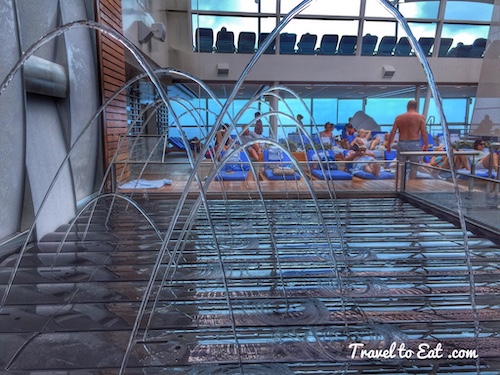 The top of the ship is covered in a real grass lawn, I kid you not. When I first saw it, I had to touch it to verify that it was real grass. Apparently they contract with a company to maintain it. The kids play soccer on it and as you can see, people come up here to picnic. It is a little windy on the 15th deck but two floors down on the 12th floor there is both an outdoor and indoor pool attached to the spa. Because the pools are in a depression in the ship, it is not usually windy and in fact is quite pleasant. As I said in the beginning of the post, I have tried to create an overview of the Celebrity Solstice cruise ship without showing everything, I will provide more posts in the future. Altogether we enjoyed the cruise for the places that we wanted to visit although we probably would not take a cruise for many of the places we visit due to cost and lack of the immersive experience of foreign travel.
References:
CQelebrity Solstice: http://www.celebritycruises.com/ships/celebrity-solstice?shipCode=SL&cid=ps_pgr_goog_gawsagsl_1204_ps8
Ship sizes: http://www.celebritycruises.com/ships
Solstice Restaurants: http://www.cruisecritic.com/reviews/review.cfm?ShipID=381&pgtype=dining
Junior Merino: http://www.theliquidchefinc.com