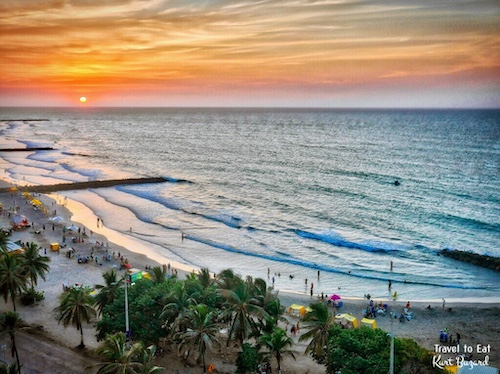 Cartagena de Indias is the undisputed queen of the Caribbean coast, a fairy-tale city of romance, legends and superbly preserved beauty lying within an impressive 13 kilometers of centuries-old colonial stone walls. Cartagena's old town is a Unesco World Heritage site, a maze of cobbled alleys, balconies covered in bougainvillea and narrow streets filled with shops, bars and of course people. It is a living memory of the America's Spanish conquest. Throughout its streets, ramparts and fortifications, it seems that still one can hear the fierce attacks by buccaneers and corsairs. As a wealthy city of trade, slaves and saints, oversized houses, churches and cloisters, whisper their over 500 years' secrets and legends. After our visit last Christmas to Machu Pichu, we opted for a few days of rest in Cartagena. Not that we were alone, New Years is booked months in advance by celebrities, Palm Beach socialites and most of Colo. García Márquez, affectionately called Gabo set Love in the Time of Cholera in a fictionalized Cartagena (the movie version, starring Javier Bardem, was filmed on location here), and his house, Casa del Escritor, is the work of Rogelio Salmona, Colombia's greatest architect.
Architecture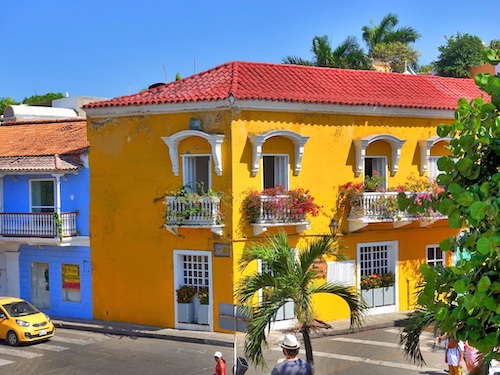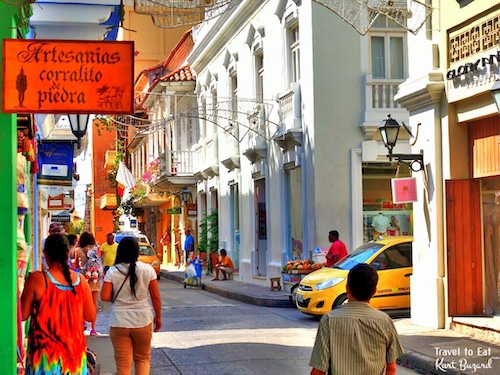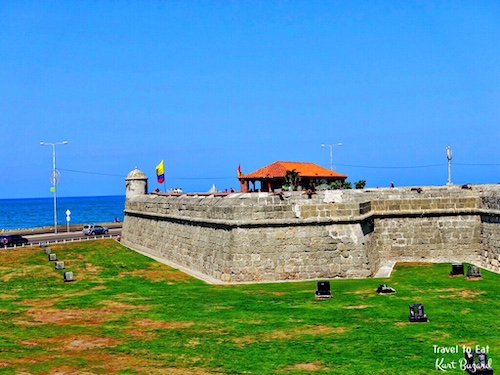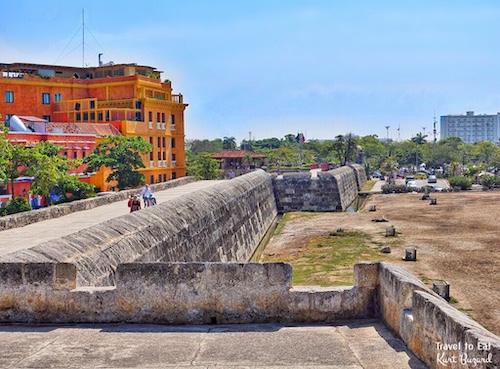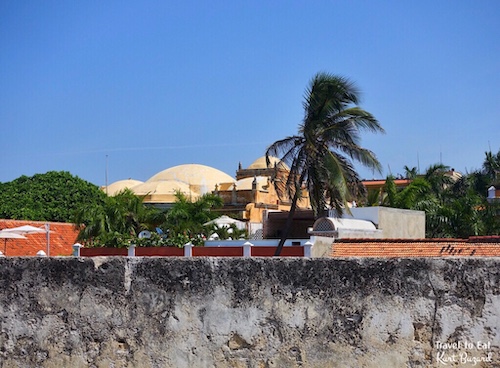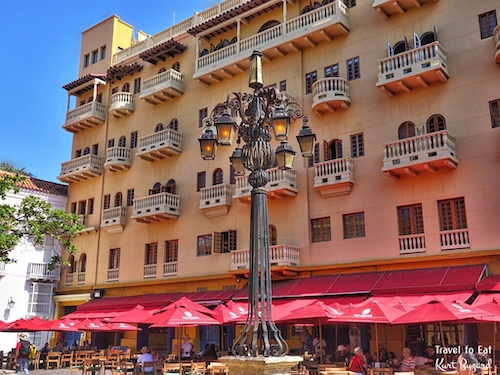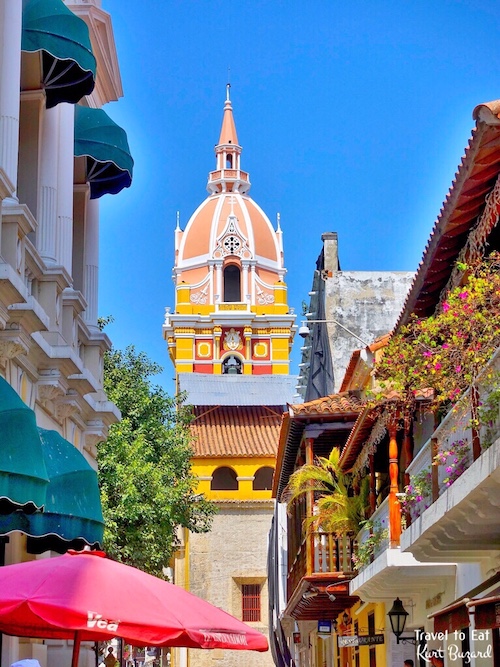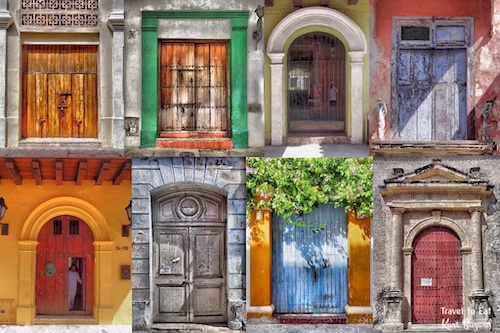 Cartagena's main attraction is its historic old town surrounded by the city wall. The walled city includes the neighbourhoods Centro, San Diego, Getsemaní and the modern part La Matuna. The oldest part of Cartagena is around Plaza Trinidad in Getsemaní. Cartagena's 500-hundred year-old coralstone (actually built from coral) forts and great parts of its walled city are admirably intact and represent some of the finest examples of civil and military architecture of the Spanish colonial times. The buildings are bright and colorful reminding you of the colonial past. The narrow streets are full of people, shops and bars. The walls aren't just a photogenic artifact, they're the reason Cartagena de Indias is still standing. Founded in 1533, the town was sacked repeatedly during its first 100 years, including a 1585 raid by Sir Francis Drake, known in these parts as El Pirata Drake. But then the cartageneros built the walls and finished the Castillo de San Felipe de Barajas, one of the largest fortresses in the Spanish empire.
Food, Fruit and Flowers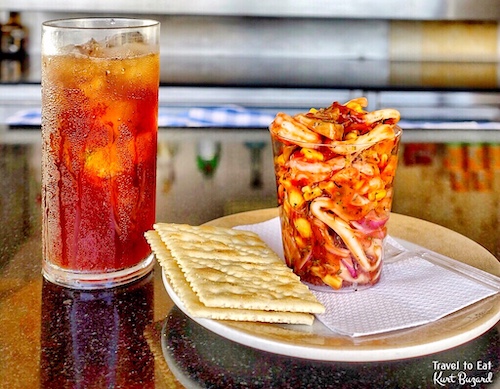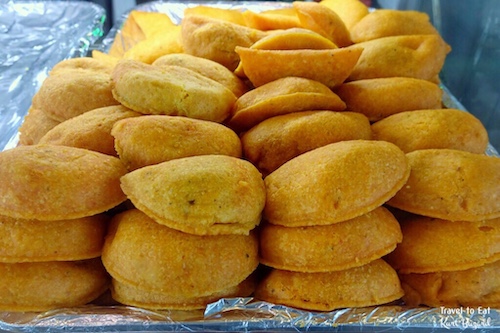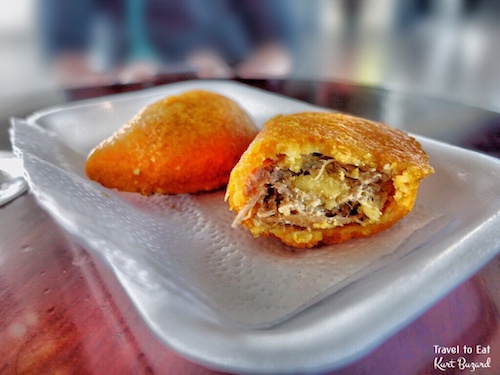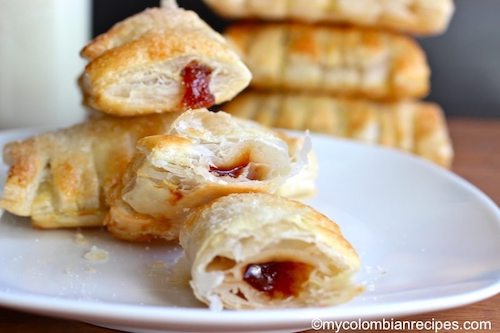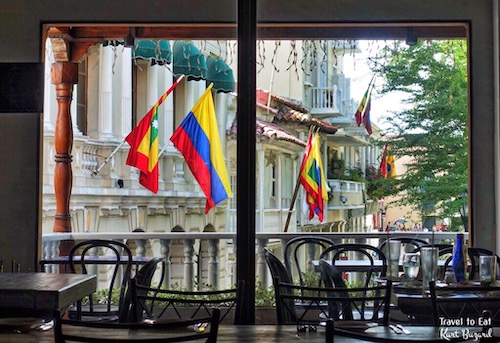 Most Latin American coastal countries have their version of ceviche, fresh chopped seafood dressed with citrus and herbs. In Cartagena with ridiculously fresh fish tossed with intensely bright mandarin orange and lime juices makes crevice come to life. I prefer to eat it with a Cubra Libra (coke, lime juice and dark rum) although Colombiana (a soft drink) and beer is also great. Cartagena may not be the official capital of Colombia, but some would argue that it's the culinary capital. The local seafood and tropical fruits serve as the foundation for the cuisine, and the unique blend of cultural influences, Spanish, African, and indigenous, give it a special edge. From delicious juices to hearty fish dishes, this coastal city has earned its spot on the culinary map. Arepas and empanadas can be found throughout the city. Arepas are popular throughout Colombia, but connoisseurs gravitate to Cartagena's version, which tends to be extra buttery and fluffy. If you can find them, you must try Chicharrones de Guayaba (Guava Paste Pastry) known in Bogata as Pastilas de Gloria. Puff pastry filled with sweet Guava (guayaba) paste, they are the perfect breakfast and snack food.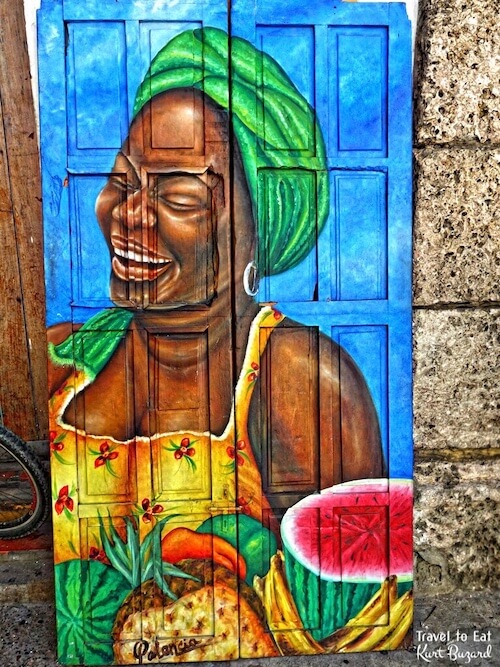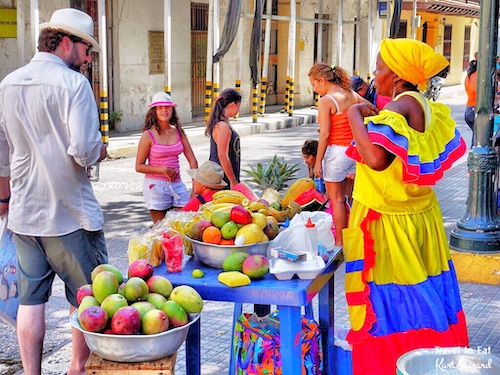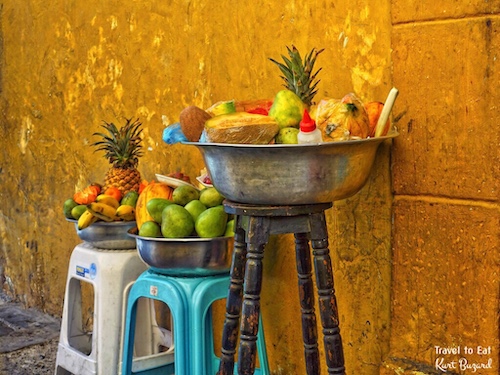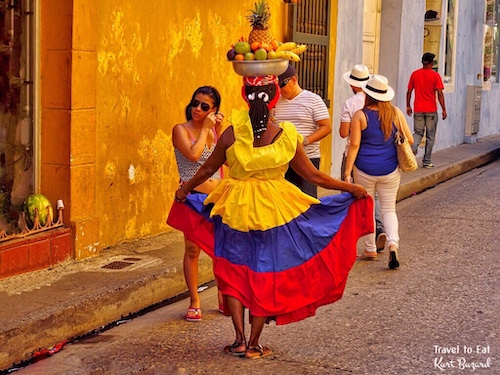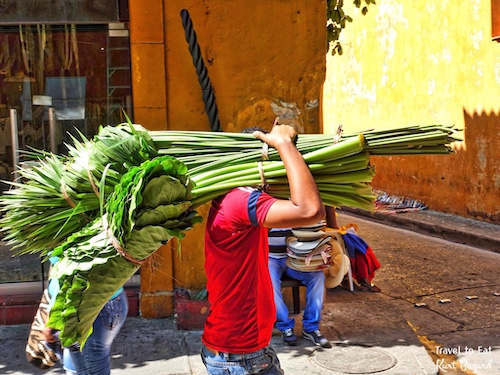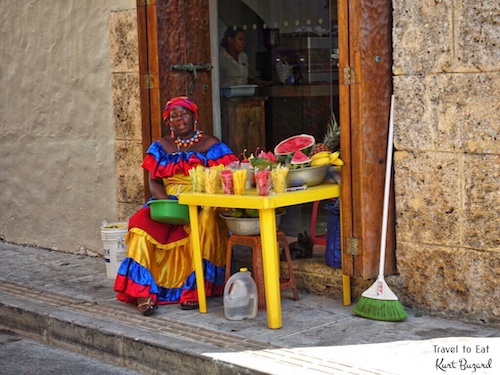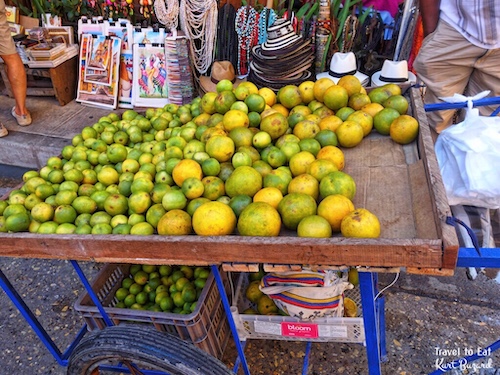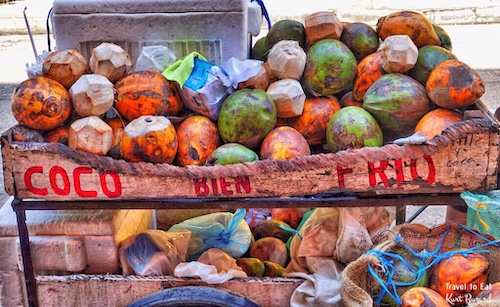 And then there is the perfectly ripe piece of exotic fruit from one of the palenqueras. The brightly clad women effortlessly balance bowls of fruit on their heads and make quick work of your fruit, chopping and slicing it into bite-size pieces. Cartagena's warm, gentle climate produces some of the tastiest sweet coconut, guava, mango, pineapple, and papaya you'll ever try.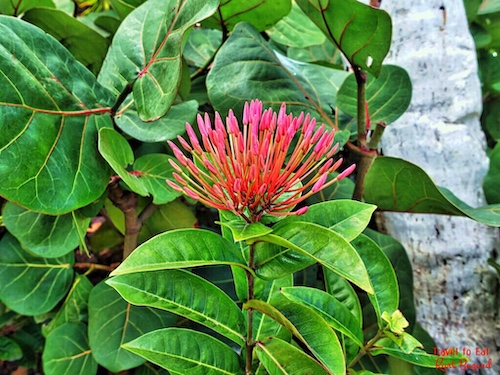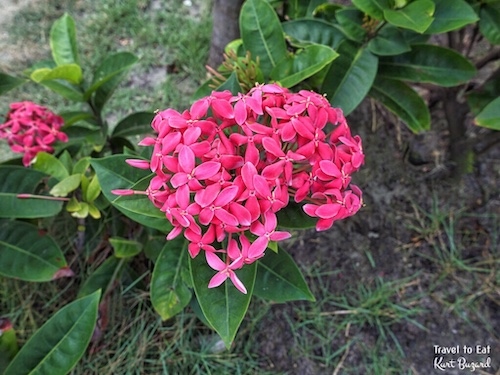 The Maltese Cross (Ixora coccinea) is with stems ending in grouped bunches of flowers in colors ranging from white to red. Its flowers are present all year round and its leaves are dark green. Although there are around 500 species in the genus Ixora, only a handful are commonly cultivated, and the common name, Ixora, is usually used for Ixora coccinea. It is used in warm climates for hedges and screens, foundation plantings, massed in flowering beds, or grown as a specimen shrub or small tree. Along with the ever present bougainvillea, these are are a beautiful accent to Cartagena streets and gardens.
Sculpture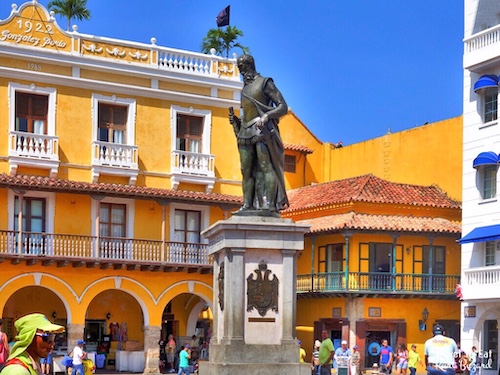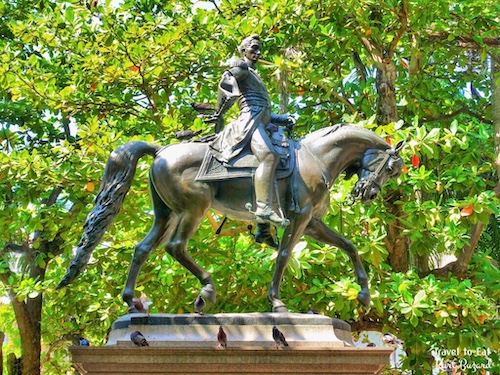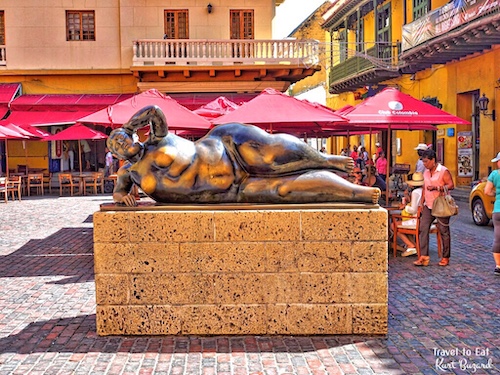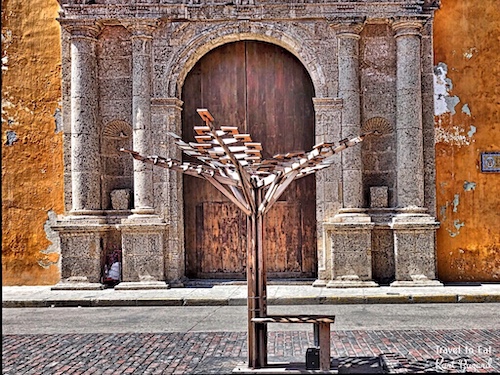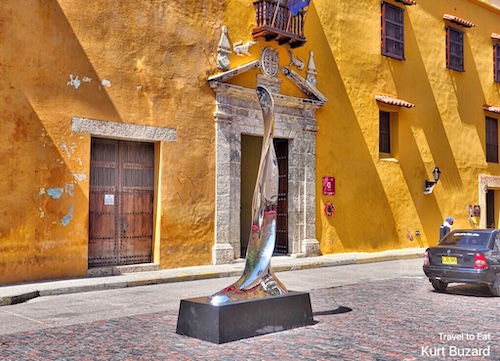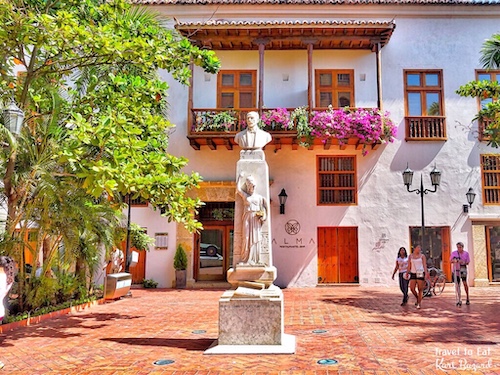 There are numerous historical and modern statues throughout the old city. Cartagena was founded in 1533 by Spanish commander Pedro de Heredia (1505-1554), in the former location of the indigenous Caribbean Calamarí village. The town was named after Cartagena, Spain, where most of Heredia's sailors had resided. The city began with 200 people in 1533. During the remainder of the 16th century there was rapid growth. A major factor was the gold in the tombs of the Sinú Culture which was rapidly plundered. Simón Bolívar (1783-1830), was a Venezuelan military and political leader who played a leading role in the establishment of Venezuela, Bolivia, Colombia, Ecuador, Peru and Panama as sovereign states, independent of Spanish rule. Fernando Botero Angulo (born 1932) is a figurative artist and sculptor from Medellín, Colombia. His signature style, also known as "Boterismo", depicts people and figures in large, exaggerated volume, which can represent political criticism or humor, depending on the piece. He is considered the most recognized and quoted living artist from Latin America.
The Beaches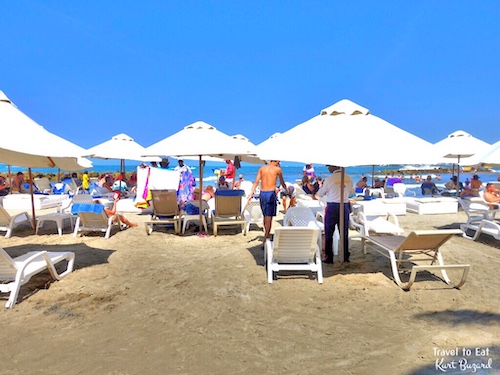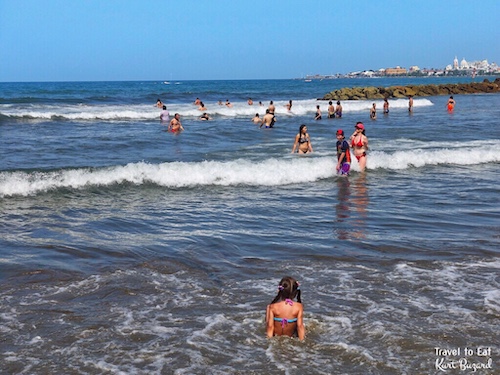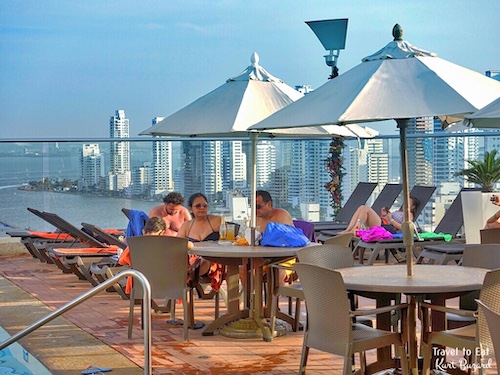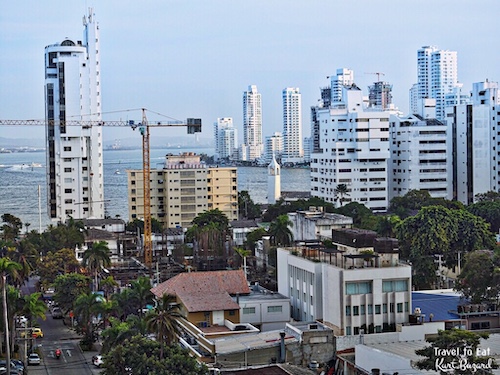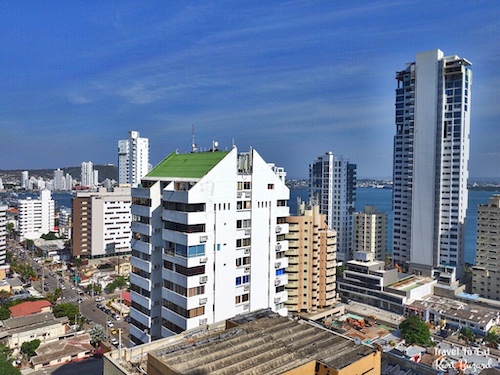 A few decades ago, Cartagena wasn't attracting many high-end voyagers. Wealthy locals had fled to modern neighborhoods outside the walls of the old city, transforming the colonial center into a dilapidated ghost town of abandoned mansions and flophouse youth hostels. Building the Sofitel in the old city in 1995 was a bold move for a town whose colonial center had been largely abandoned for crisp apartment towers in the nearby Bocagrande neighborhood, a curling finger of land with a skyline comparable to that of Panama City. Residents are still moving to Bocagrande, but over the past 20 years a cadre of taste-making Colombians has returned to the city inside the ancient walls. One reason to be in Bocagrande is the beaches, absent in the old city. A Miami Beach vibe pervades Bocagrande, the visitors' beach of choice thanks to its convenient location just outside Old Town. Equally accessible to Bocagrande, El Laguito, located on the opposite side of the peninsula offers another option. The Rosario Islands, a group of 27 islets, are about an hour away by boat. Even better is Baro Island, on a peninsula that juts out from the city, a 45-minute boat trip away. Here there's a public beach, Playa Blanca, open to day trippers.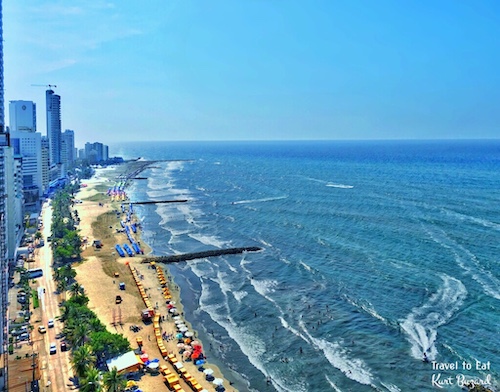 I hope you enjoyed the post, please leave a comment.
References:
Cartagena Site: http://www.cartagenadeindias.travel/?la=en
Unesco: http://whc.unesco.org/en/list/285
Travel and Leisure: http://www.travelandleisure.com/articles/cartagena-a-hidden-retreat
Lonely Planet: https://www.lonelyplanet.com/colombia/caribbean-coast/cartagena
Food and Wine: http://www.foodandwine.com/slideshows/cartagena-10-plates
New York Times: http://www.nytimes.com/2014/09/14/travel/things-to-do-in-36-hours-in-cartagena-colombia.html
Pastilas de Gloria: http://www.mycolombianrecipes.com/chicharrones-de-guayaba-guava-paste-pastry
Montesacro: http://www.restaurantemontesacro.com/
Flora in Cartagena: http://www.hotel-lm.com/en/flora.cfm