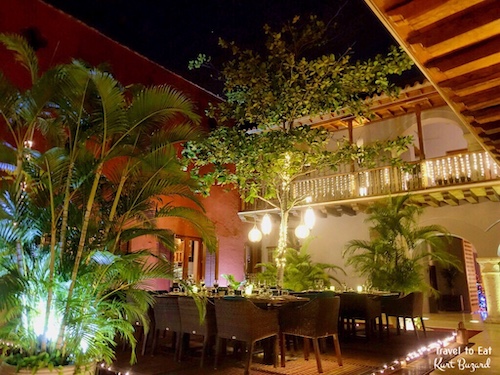 When we decided to visit Cartagena, there were two excellent reasons for the trip, one was to enjoy the bright, beautiful and warm Caribbean Colombian coast, but equally important was for the food. Cartagena has seen a surge of interesting new eateries opening up around the old city and in neighboring Getsemaní. There's a level of culinary diversity spreading around the city, partly by local restaurateurs opening up new spaces and chefs from Bogota and Medellin expanding into the city for the first time. Californians Rob Pevitt and Carmen Pevitt, who graduated from culinary school at Le Cordon Bleu of San Francisco, opened the restaurant Carmen in Medellin in 2011 and it quickly became one of the most popular eateries in that city for their fusion of Asian/California/Colombian ingredients and techniques. In early 2013 they opened a second restaurant in Cartagena, on the ground floor of the Anandá Hotel Boutique in the picturesque courtyard. There was a problem with our reservation but they kindly seated us anyway. This was the best food by far that we had in Cartagena.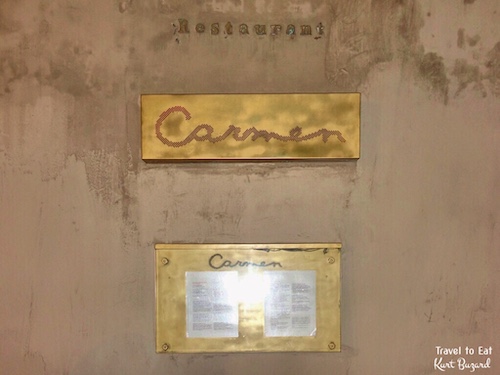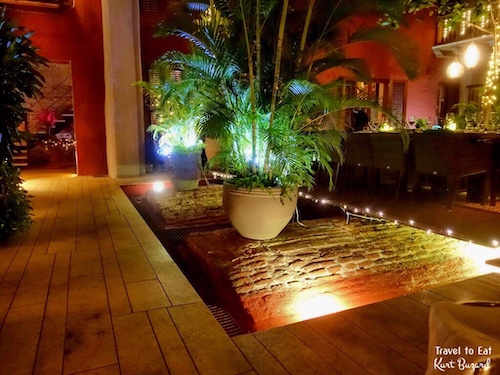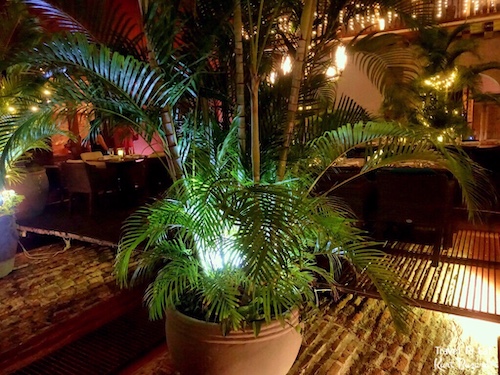 The Colombian port town of Cartagena has become an unlikely food destination, attracting the kind of culinary travelers who spend their vacations in Rome and Paris. And what they find is a city far more exotic, but no less adroit at catering to sophisticated palates, 200 year-old Spanish colonial mansions refurbished with crisp interiors, trendy bistros that elevate plantains to haute fare, and theatrical rooms buzzing with dignitaries in starched collars and Windsor knots sipping minty rum drinks. Cartagena cultivated its own taste. Menus are sprinkled with bright vegetables and pungent spices, like cumin and coriander. With the Caribbean warming its shores, fish is abundant and the house specialty is always freshly caught something, rubbed with the fiery flavors so celebrated in this corner of the world.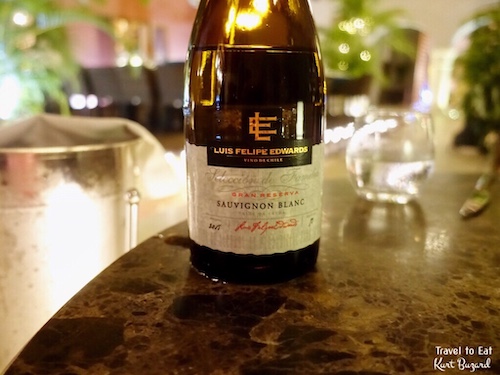 They have an amazing wine cellar at Carmen and our sommelier recommended a great Sauvignon Blanc with a grapefruit finish. Luis Felipe Edwards bought his first vineyard, the 60-hectare Fundo San José estate in the Colchagua Valley, in 1976 and has since grown his winery into the largest family-owned winery in Chile, with vineyards throughout Colchagua, Maule and Leyda. Thoroughly citrussy on the nose, with fresh lime and lemon forming the aromatic backdrop. More citrus/grapefruit on the palate, accompanied by a riper hint of pineapple, and mouthwatering acidity.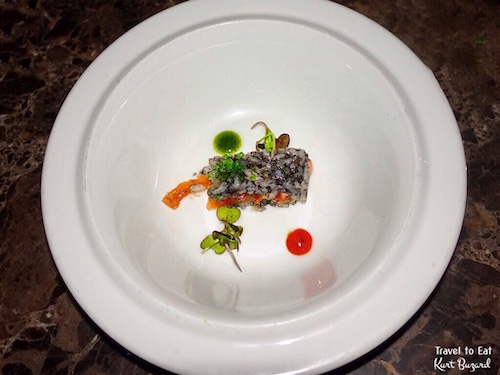 The "Amuse Bouche" was a complex bite with seafood, rice, squid ink and some gastronomic artistry in the form of herb pearls/caviar. It was delicious as well as plated perfectly.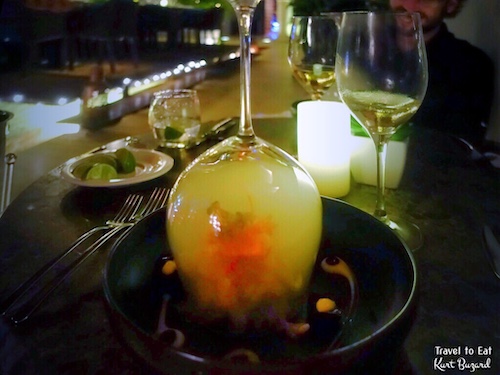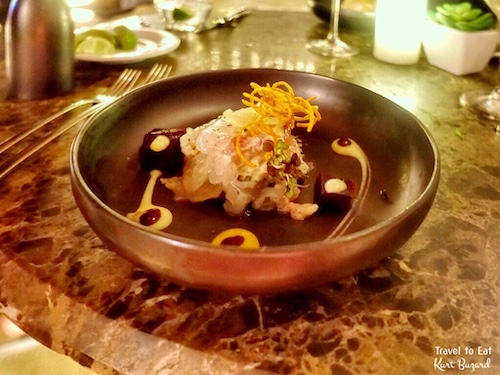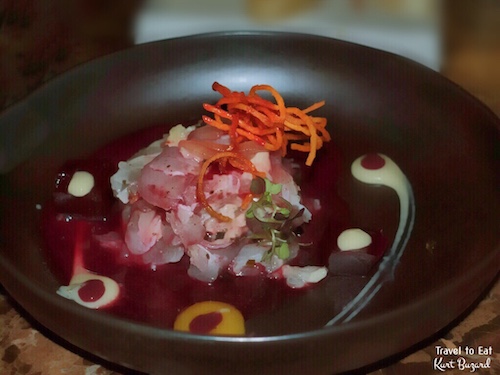 Rather than do the tasting menu we decided to order "á la carte". We began with the coconut smoked ceviche. The dish is actually served at the table with coconut smoke contained in a a wine glass. It consists of finely sliced seafood in tamarind, kombu and mango. Kombu is an edible kelp widely eaten in East Asia. Seaweeds are becoming more widely known as a healthy food with few calories and rich minerals. Kombu kelp, however, possesses something that other edible seaweeds do not, and this is what makes kombu kelp the "King of Seaweed". Not only is Kombu kelp delicious on its own, but it is different from other seaweed in that it produces Dashi stock. No other seaweed has that gift. This exclusive characteristic of kombu kelp is extremely important and is indispensible to Japanese cuisine. Dashi is the base of several dishes and valued as a vital and rich ingredient.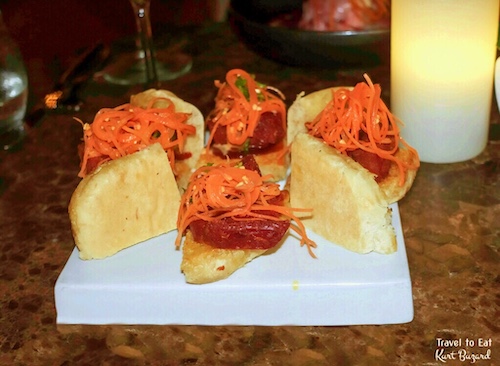 The Banh Mí de Cerdo consisted of a Vietnamese style pork belly sandwich, with Asian barbecue sauce, spicy aioli topped with cilantro and carrot salad with a mint vinaigrette. It was, to say the least, amazing, life changing and delicious.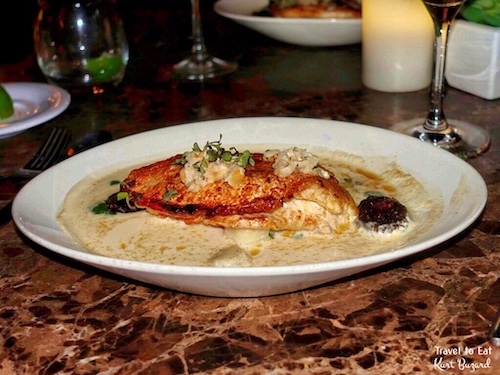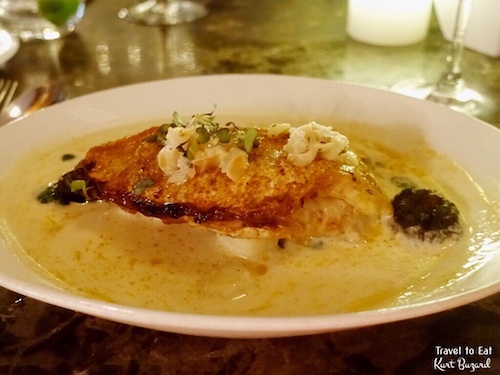 The Pargo Platero is a sublime version of a popular Cartagena fish dish, red snapper prepared with a crust of cachaça fermented pineapple. Served in a smooth yellow curry with Colombian yam and sweetened with black tempura banana, lychee chimichurri and a touch of coriander, the tasty fish platter is testimony to Carmen's dictum that "love is in the details".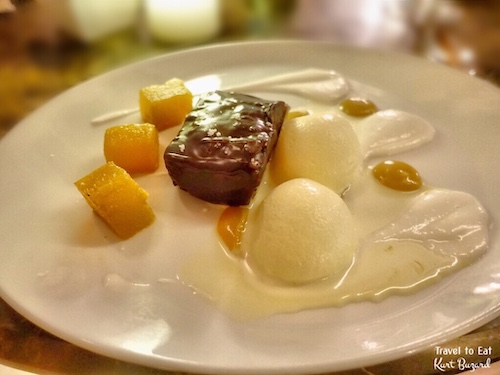 For dessert we ordered not one, but two desserts. The first was the Maui, a Macadamia nut financier covered in 70% chocolate ganache with honey and lavender ice cream and rum caramelized pineapple. The name financier is said to derive from the traditional rectangular mold, which resembles a bar of gold. Another theory says that the cake became popular in the financial district of Paris surrounding the Paris stock exchange.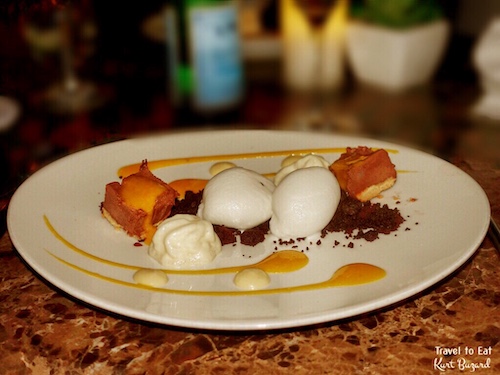 We also ordered the Túrron de Chocolate, with Colombian chocolate, chocolate soil, coconut lime ice cream and Amazonian copoazú espuma (Amazonian cupuazú foam). Cupuaçu (Theobroma grandiflorum), also spelled cupuassu, cupuazú, cupu assu, and copoazú, is a tropical rainforest tree related to cacao. Common throughout the Amazon basin, it is widely cultivated in the jungles of Colombia, Bolivia and Peru and in the north of Brazil. Both deserts were memorably delicious and reflect the ethnic diversity of the menu with the locally sourced ingredients.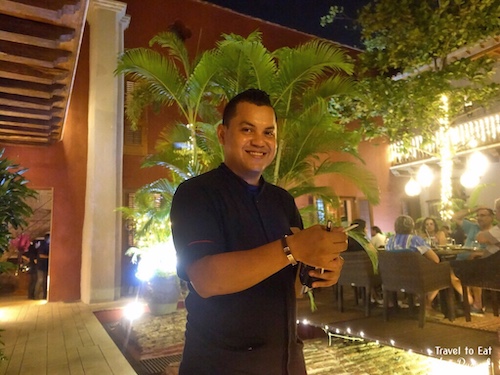 The bottom line is that Carmen serves up the best food in Cartagena, great service, incredible food and a memorable atmosphere under the stars. If you visit Cartagena you must visit. As always, I hoped you enjoyed, please leave a comment.
References:
Carmen Website: http://www.carmencartagena.com/en/
This is Cartagena: http://www.ticartagena.com/en/things-to-do/restaurants/dont-miss-carmens-culinary-delights/
NY Times: http://www.nytimes.com/2008/10/26/travel/26choice.html
Luis Felipe Edwards Sauvignon Blanc: https://www.nzwinesociety.co.nz/white/sauvignon-blanc/wine/luis-felipe-edwards-gran-reserva-sauvignon-blanc-EW1903