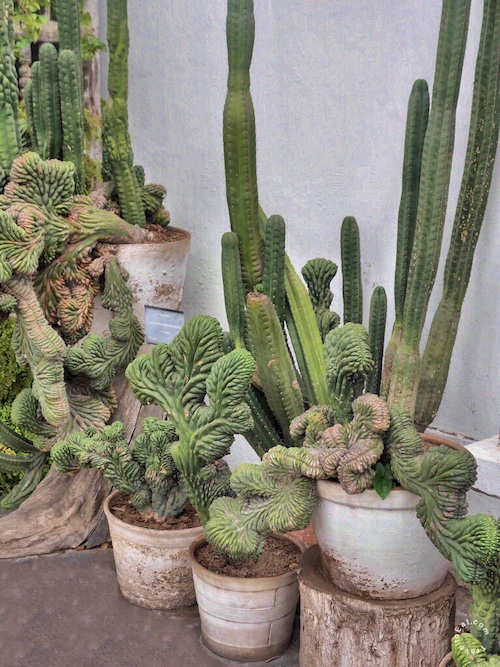 At the Larco museum in Peru, they had a collection of the most unusual cacti I have ever seen. Earlier in cactus taxonomy, Cereus was a name that had been applied to nearly all known cactus species that were ribbed, columnar plants. Many of these plants have since been moved out into separate genera. Consequently, the 30 or so plants that remain in the Cereus group are largely plants that have not been moved out of the genus rather than plants that have been included because they fit the description of Cereus. This inclusion-by-lack-of-exclusion makes for a very messy and unsatisfactory grouping. The name Cereus peruvianus has been applied to both C. hildmannianus and C. repandus which are both recognized as legitimate species today. The trouble is, neither of them resemble the many plants that we see labeled as Cereus peruvianus.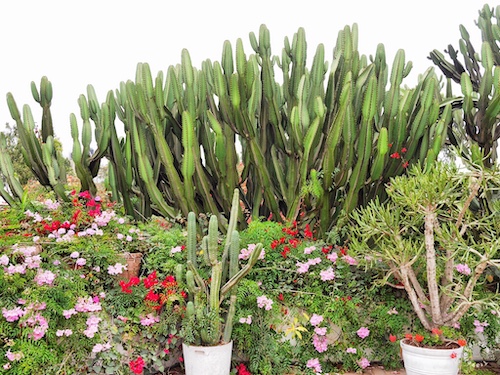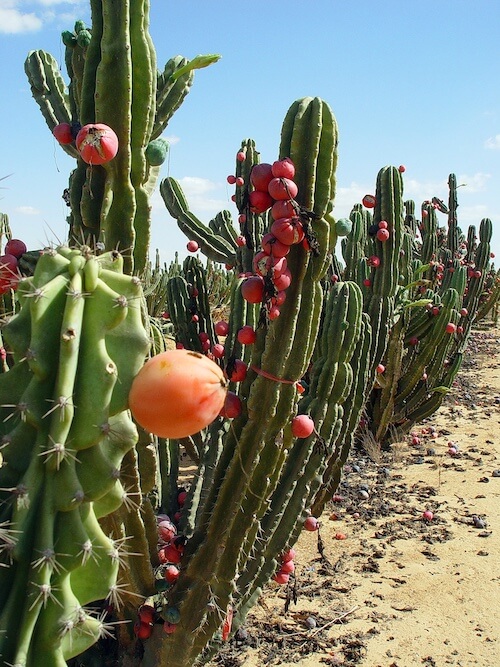 Cereus repandus (synonym Cereus peruvianus, Cereus hildmannianus), the Peruvian Apple Cactus, is a large, erect, thorny columnar cactus found in South America as well as the nearby ABC Islands of the Dutch Caribbean. It is also known as Giant Club Cactus, Hedge Cactus, cadushi, and kayush. Cereus repandus is an unresearched, under-utilized cactus, grown mostly as an ornamental plant. However, in Lima you see them everywhere. The cereus fruit is definitely not as sexy looking as its cousin the Dragon Fruit. However, it is just as tasty (if not more so). The flavors are very subtle fruity/floral and very very subtly tart.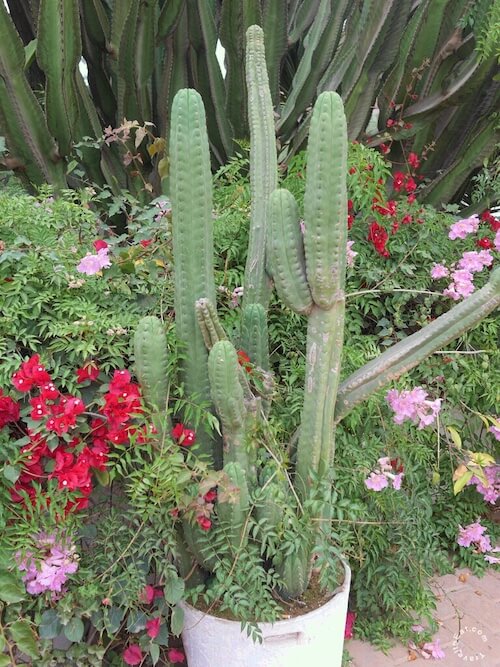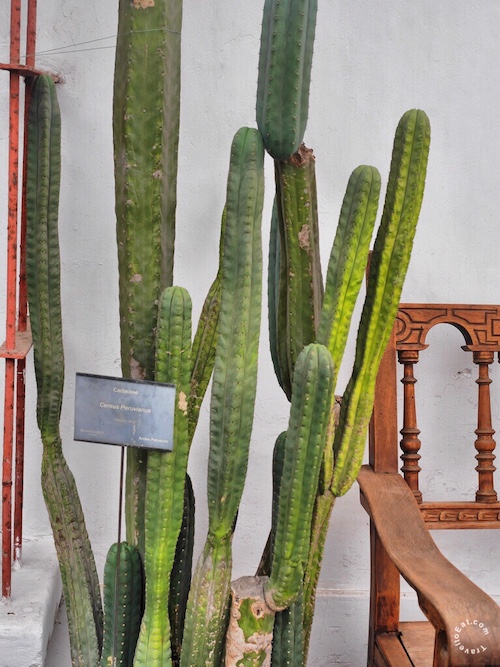 Cereus comarapanus Cárdenas, is a plant species in the family of Cactaceae. It is endemic to Bolivia in the Department of Santa Cruz and rare wildlife. It is a cactus tree reaching up to 4 m in length with the trunk of 1.5 m and 6 ribs, with three to four spines 0.5 to 2 cm long. Cereus comarapanus was described by Cardenas and published in succulenta (Netherlands) 1956: 5. 1956. It has white flowers of 13 cm and purple fruit 9 cm long. Martín Cárdenas Hermosa (November 12, 1899 – 1973) was a Bolivian botanist. Cárdenas is considered one of the most important botanists in Bolivia's history. He is responsible for recording some 6,500 species of plants in his native country.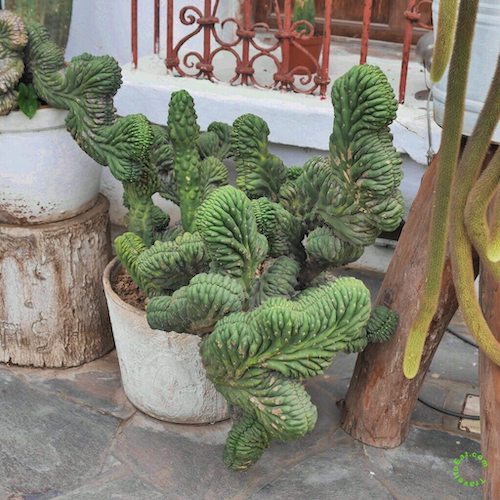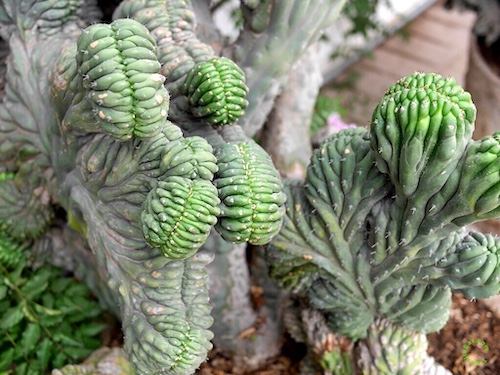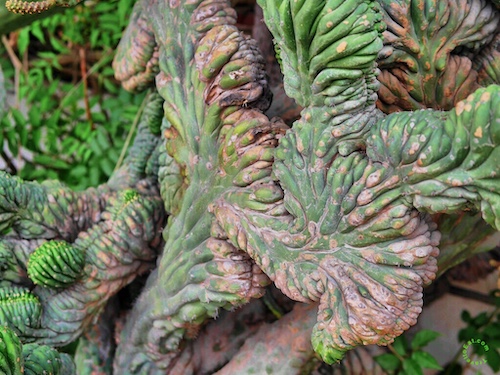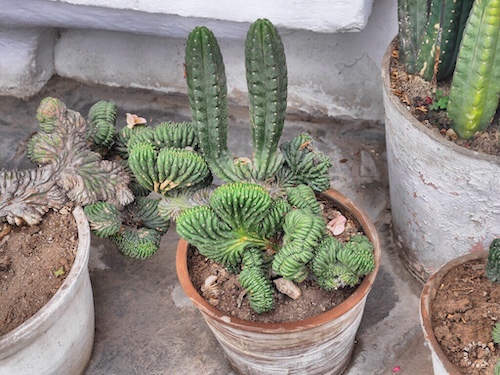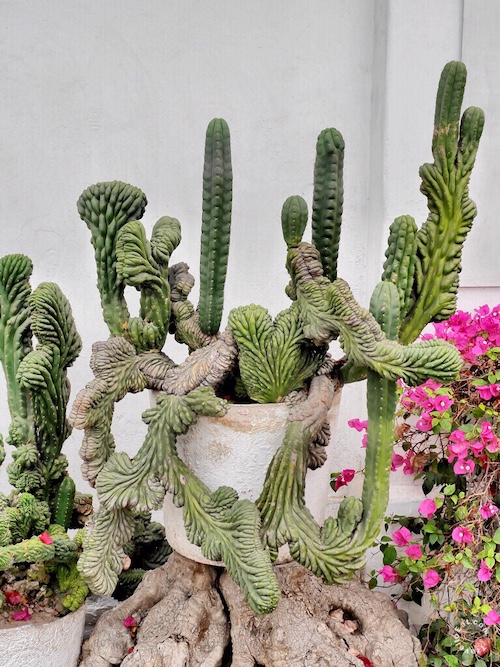 Cereus peruvianus "Monstrosus", commonly known as the monstrose apple cactus, is a cactus with a branching, treelike form. In any batch of Cereus peruvianus seedlings there may be at least one specimen of a naturally occurring form known as Cereus peruvianus monstrosus – a disordered form often sought after by collectors. Instead of having one center of growth at the top of the stem, this plant has numerous growing points and becomes covered with irregular, knob-like structures. It grows much more slowly than the usual species and is harder to maintain in cultivation, for it apparently lacks the tolerance of adverse growing condition characteristic of most types of Cereus peruvianus. If it is grown in badly drained soil, for example, Cereus peruvianus monstrosus is very likely to gradually lose its roots and rot away. Without any proof, it looks to me like Cereus peruvianus "Monstrosus" is a genetic mutation of Cereus comarapanus Cárdenas.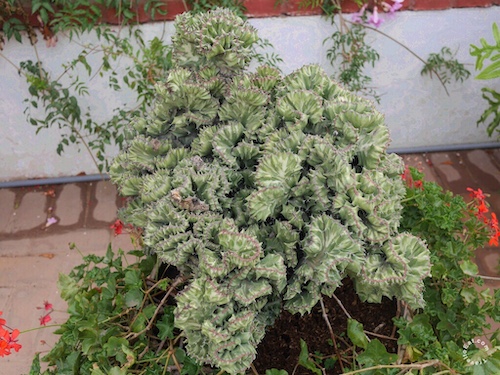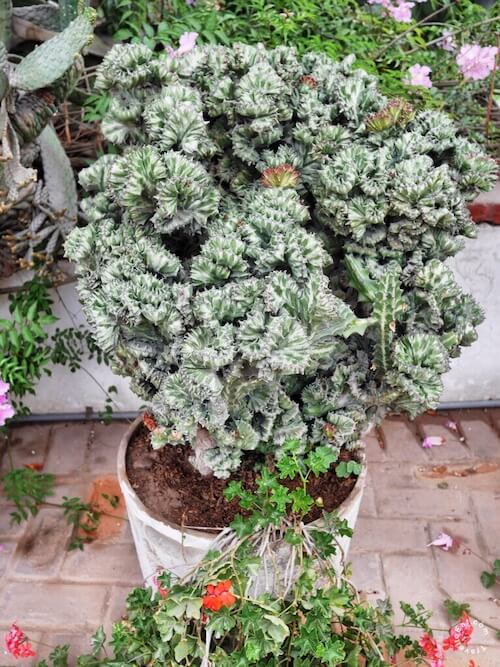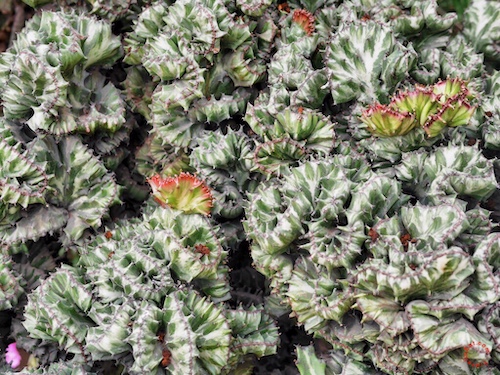 This plant goes under many different common names, coral cactus, elk horn cactus, dragon bones, false cactus, candelabra plant and brain cactus. White Ghost is the cultivar name given to the white variegated form of lactea. A Euphorbia is not a cactus, despite their similar appearance. This is a case of "convergent evolution", where a family, genus or species is not related, but develop similar characteristics in response to similar conditions. The Euphorbia genus can be thought of as an "African/Asian cactus", but it's a cactus in the human mind only. Euphorbias evolved in African and Asian deserts, cactus evolved in American deserts. In both cases, the genus is still evolving, which gives us a wide variety of looks and styles in an individual species. Cristate (or Crested) and Monstrose plants are fascinating freaks of nature. Normal plants usually grow from a single point at the tip of the stem, or an areole in the case of cacti that branch or offset. Cristate plants grow along many points along a line that usually undulates and twists. Monstrose plants grow from random points and usually produce plants that are assymetrical and covered in knobby bumps and whorls. This produces some very interesting effects. When this occurs along with variegation a spectacular plant can be produced, such as the variegated crested Cereus ferbambuscensis below. Many of these plants can be strangely beautiful and for this reason are highly desired and prized by collectors.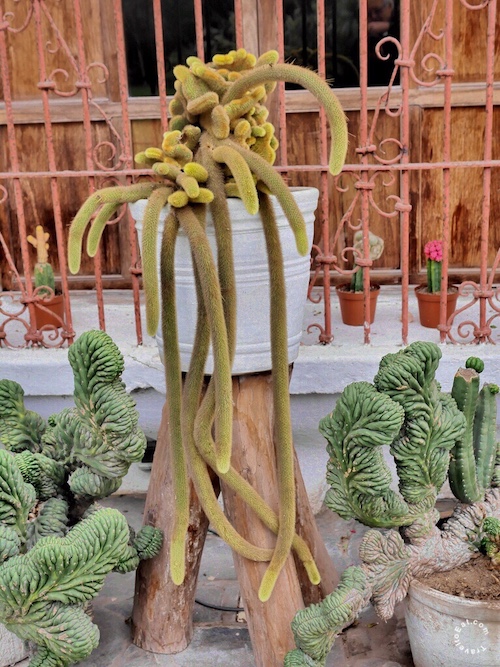 Golden Rat Tail Cactus (Cleistocactus winteri) is a pretty creepy-looking cactus in person. It is native to South America. I'm not fond of rats, so anything that has rat-like qualities is disturbing. Since this cactus appears like tentacles crawling along the ground, it needs to be staged. However, it does make an interesting subject for photographs. Cleistocactus winteri is a succulent of the Cactaceae family. Its common name is the golden rat tail. It is one of three species referred to as rat tail cactus. This plant forms huge tangled mounds of fairly rapid growth. It has many short bristly golden spines that literally cover the surface of the stems.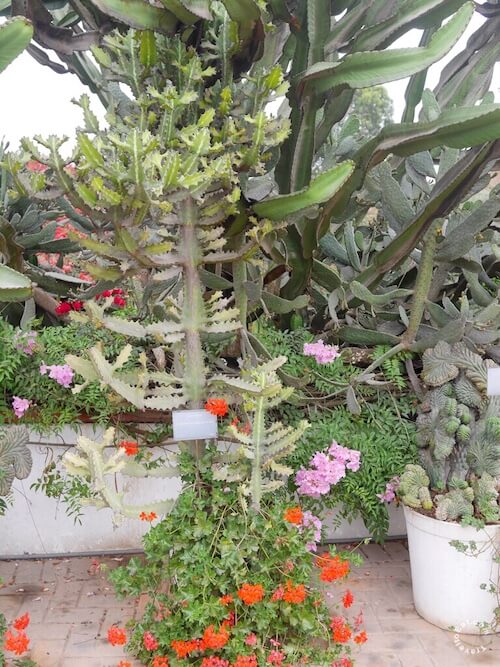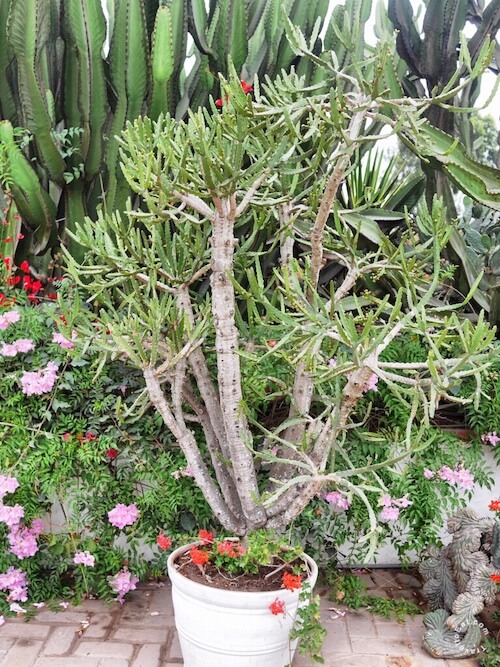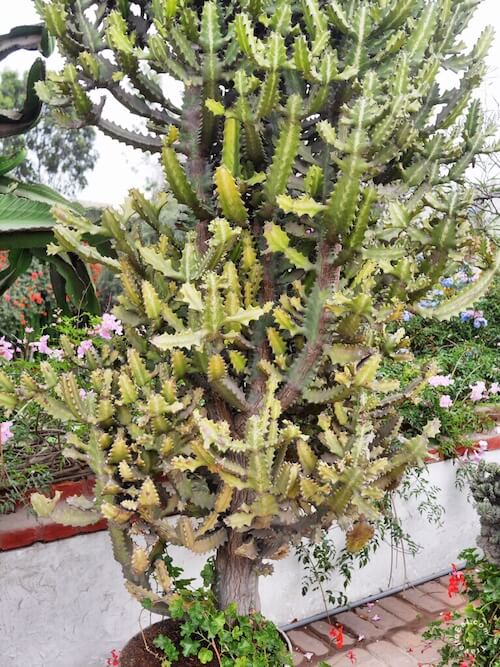 Euphonia candelabra lactea is a species of spurge native to tropical Asia, mainly in India. Common names include Mottled Spurge, Frilled Fan, Elkhorn, candelabra spurge, Candelabrum tree, Candelabra cactus, Candelabra plant, dragon bones, false cactus, hatrack cactus, Milkstripe euphorbia and Mottled Candlestick.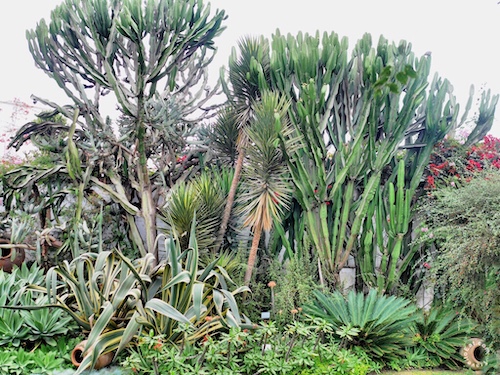 I hope you enjoyed these unusual cacti, please leave a comment.
References:
If you choose one guide, consider the Cacti Guide for reference, it is that good.
Cacti Guide: http://cactiguide.com/
Cereus peruvianus: http://cactiguide.com/article/?article=article3.php
Peruvian Apple Cactus: http://tastylandscape.com/2013/04/24/a-very-tasty-cactus-cereus-peruvianus/
Cereus hildmannianus: http://www.llifle.com/Encyclopedia/CACTI/Family/Cactaceae/8120/Cereus_hildmannianus_f._monstruosus_cv._Fairy_Castles
Golden Rat Tail Cactus: http://davesgarden.com/guides/pf/go/63457/
Cristates: http://www.tucson-gardener.com/graphics/Galleries/Crested/Crested.html
Euphorbia: http://www.krkosska.com/houseplants/pages/Euphorbia-lactea-crest-1.html