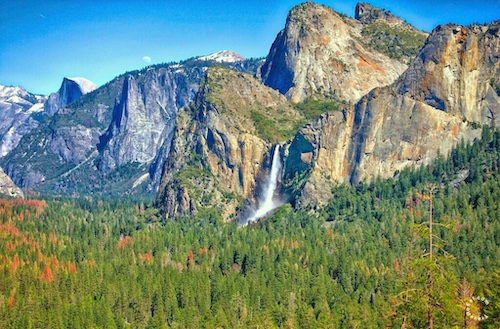 El Capitan to the left, Bridaveil Fall to the right, and the rest of Yosemite Valley behind Tunnel View provides one of the most famous views of Yosemite Valley. From here you can see El Capitan and Bridalveil Fall rising from Yosemite Valley, with Half Dome in the background. This viewpoint is at the east end of the Wawona Tunnel along the Wawona Road (Highway 41). This is often the first waterfall visitors see when entering Yosemite Valley. In spring, it thunders, during the rest of the year, look for its characteristic light, swaying flow. Bridalveil Fall is one of the most prominent waterfalls in the Yosemite Valley in California, seen yearly by millions of visitors to Yosemite National Park. The waterfall is 188 meters (617 ft) in height and flows year round. The Ahwahneechee tribe believed that Bridalveil Fall was home to a vengeful spirit named Pohono who guarded the entrance to the valley and that those leaving the valley must not look directly into the waterfall lest they be cursed. They also believed that inhaling the mist of Bridalveil Fall would improve one's chances of marriage.
Tunnel View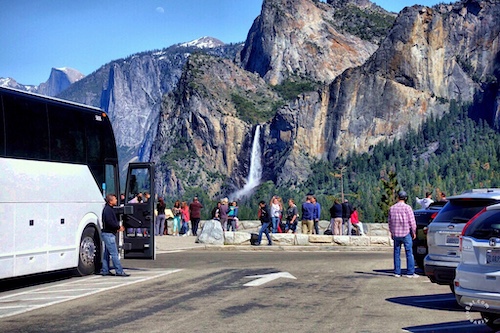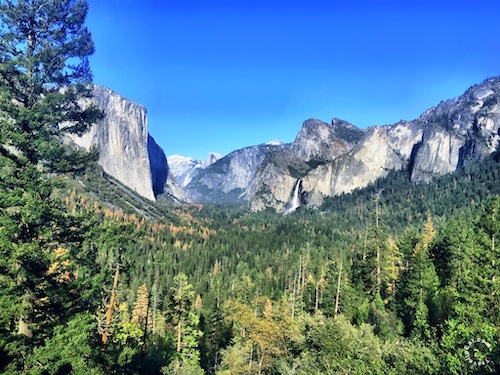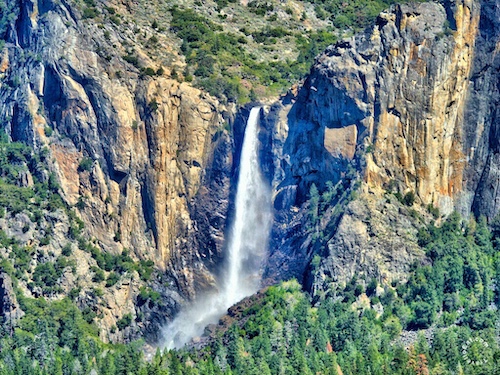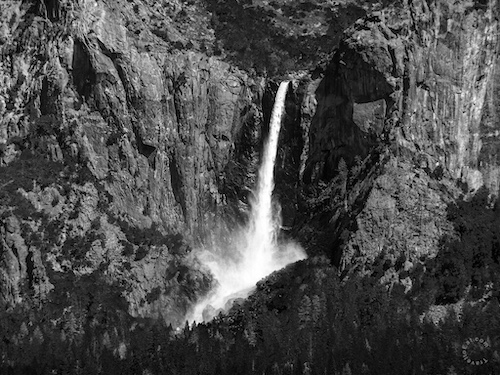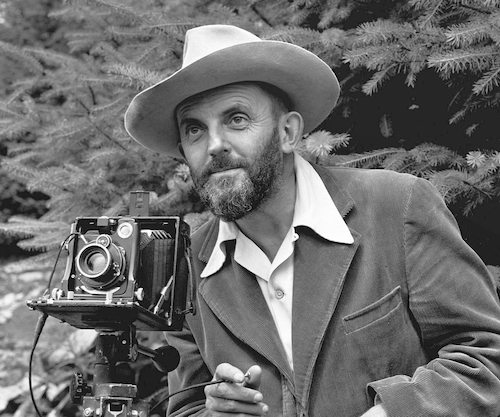 In a homage to Ansel Adams I have decided to include a number of black and white photos of Yosemite. Ansel Easton Adams (1902-1984) was an American photographer and environmentalist. His black-and-white landscape photographs of the American West, especially Yosemite National Park, have been widely reproduced on calendars, posters, and books. With Fred Archer, Adams developed the Zone System as a way to determine proper exposure and adjust the contrast of the final print. The resulting clarity and depth characterized his photographs. Adams primarily used large-format cameras because their high resolution helped ensure sharpness in his images. Thanks to the tunnel view, about a mile west on Highway 41 from the Bridalveil Fall parking lot, Bridalveil Fall is Yosemite's most photographed waterfall. Bridalveil Falls from the Tunnel View is a stellar shot. The biggest issue is elbowing enough people out of the way to find one of the spots where trees aren't obstructing the scene.
Chinquapin and Crane Flat Areas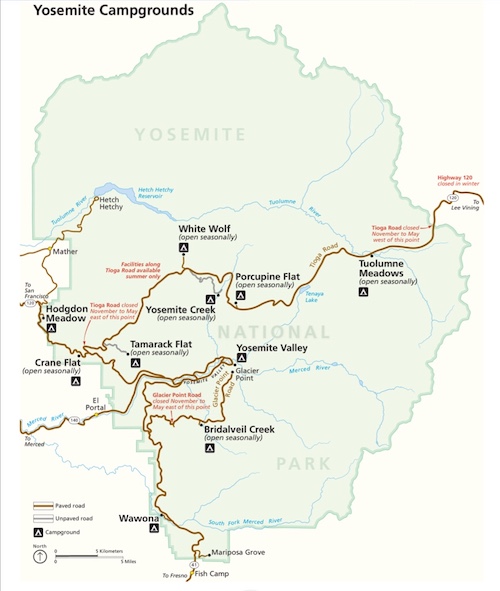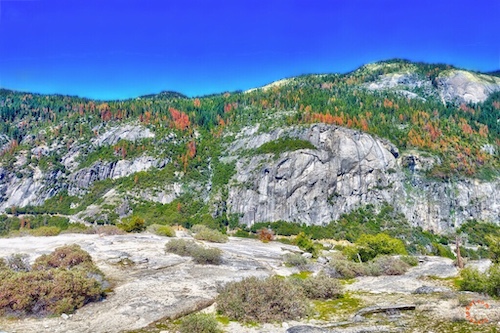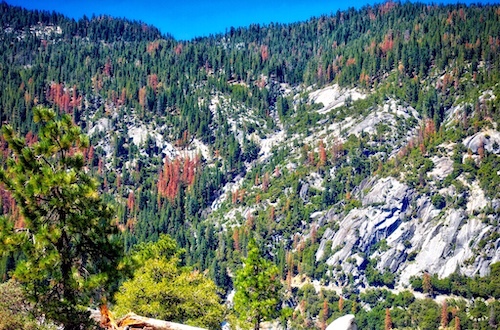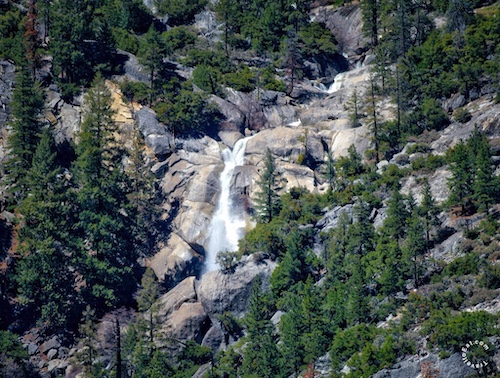 Coming into Yosemite from the south (from Fresno) you initially see landscapes with gently sloping rocks and vegetation. Even though Bridalveil falls are the star attraction, there are numerous smaller and equally beautiful falls all around. Visitors in the Chinquapin and Crane Flat areas of Yosemite may notice thin foliage, snag tops, and dead white fir trees in the forest. This is evidence of a recent outbreak of Douglas-fir tussock moth caterpillars. Over the course of about 3 years, tussock moth caterpillars defoliated almost 16,000 acres of white fir forests before the naturally-occurring virus that commonly controls their outbreaks spread widely enough to return populations to background levels. While this may look like an unhealthy forest, it is actually part of a natural process that thins out dense trees, provides habitat for birds, insects and squirrels in dead trees, and ultimately fertilizes the soil.
Bridalveil Falls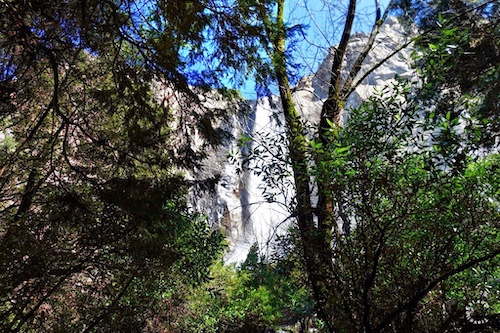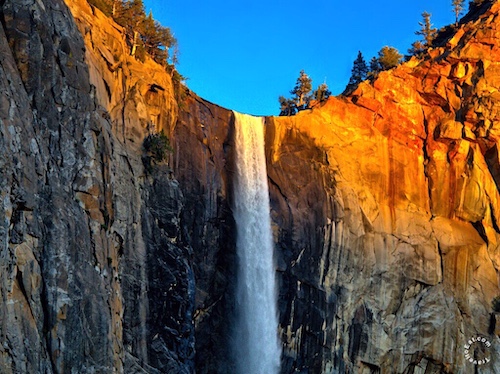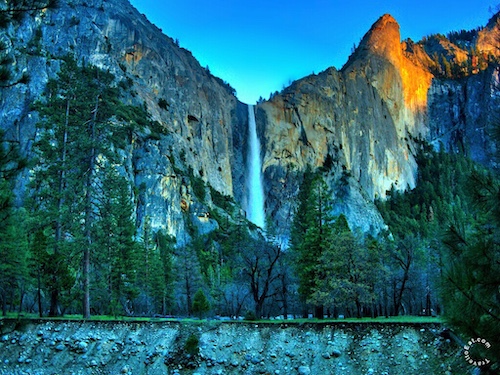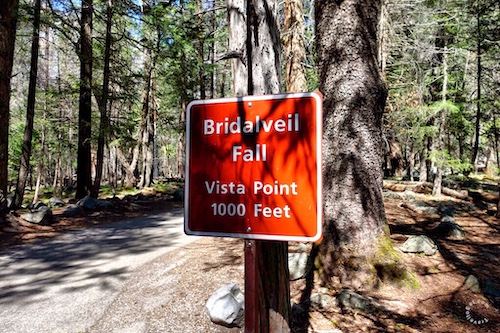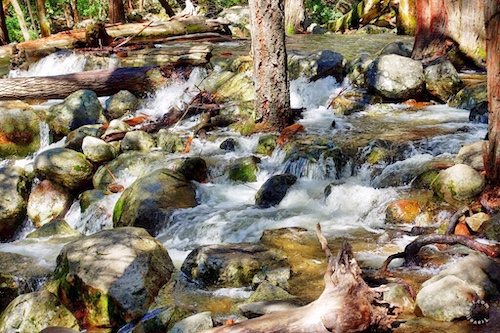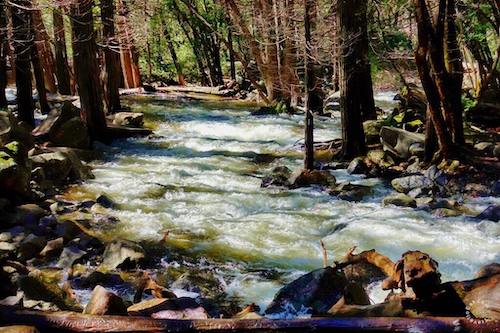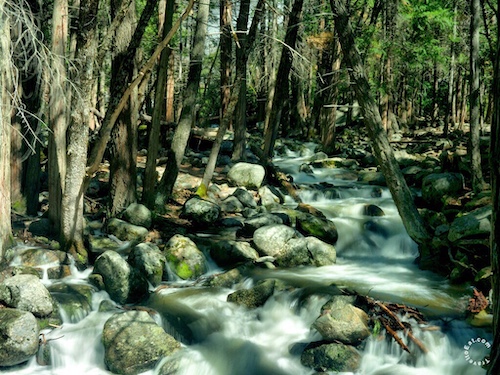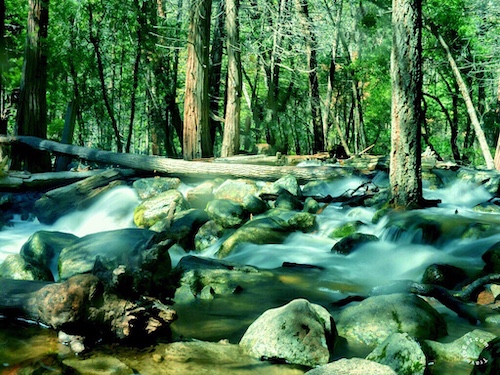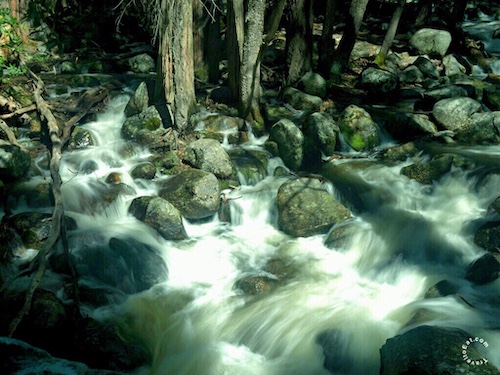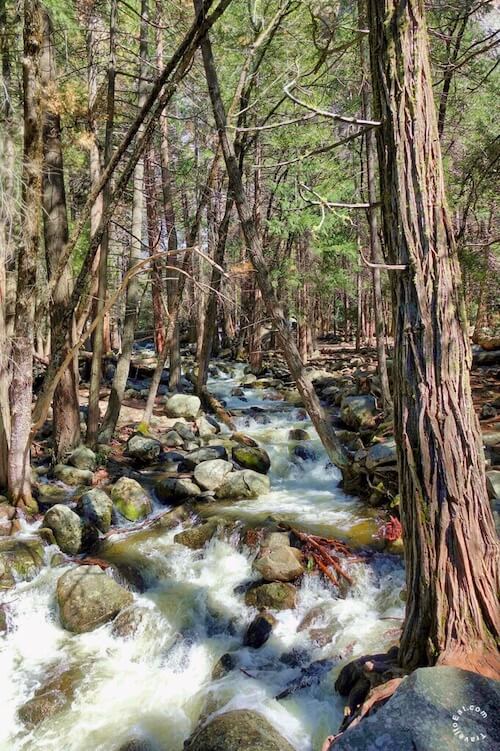 The primary source of Bridalveil Falls is Ostrander Lake, some 16 kilometers (9.9 mi) to the south. In a brisk wind, the falling water is often blown sideways, and when the flow is light, it may not reach the ground directly below. Because of this, the Ahwahneechee Native Americans called this waterfall "Pohono", which means "Spirit of the Puffing Wind".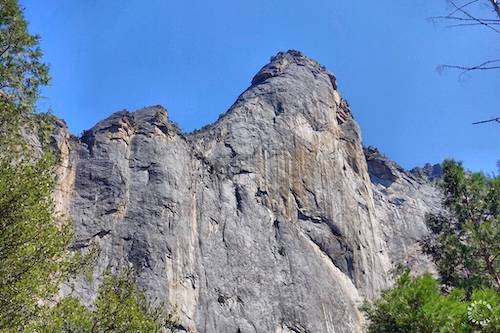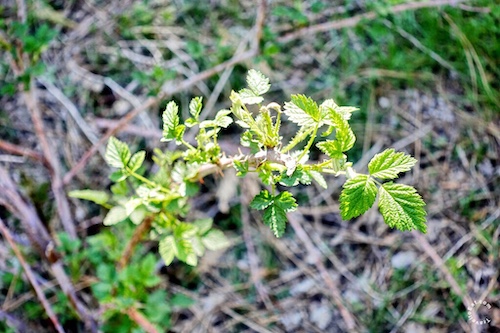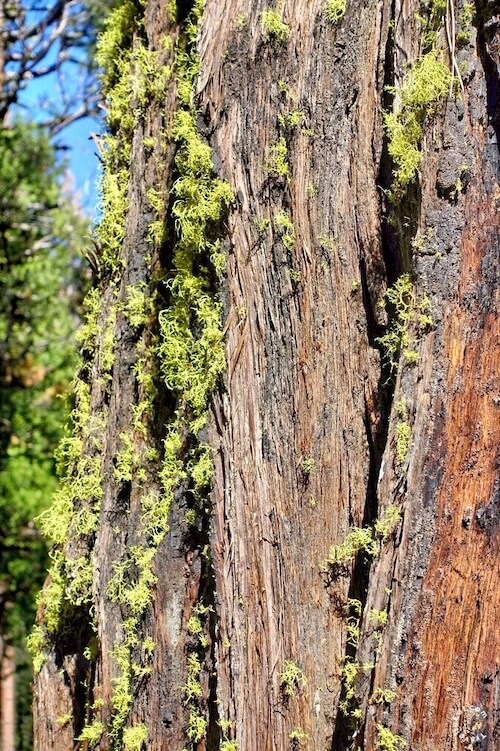 Mint is an ancient herb that was traditionally used for refreshment and to aid in digestion. It is characterized by leaves that grow opposite each other on square stems (wrap your fingers around the stem and you can feel the four square corners) and a distinct mint flavor and aroma when its leaves are crushed and torn. Hundreds of different lichen species adorn the Sierra Nevada. They can be found in almost any habitat, from trees and shrubs at the lowest elevation, to the exposed rock over 13,000 feet high at the summit of Mt. Lyell, Yosemite National Park's highest peak. Lichens significantly contribute to Yosemite's visual character by streaking colorful patterns on prominent cliff faces. Seasonally wet cliff faces, such as those near Bridalveil Falls in Yosemite Valley, become coated entirely jet black by moisture-loving Lichens. Scientists added more than 100 lichen species to Yosemite National Park's survey list in 2008. Lichens are fungi that live in intimate association with alga and/or species of cyanobacteria (a kind of bacteria that photosynthesizes). While these algal or cyanobacterial partners may sometimes be found free-living, the fungus cannot live without its partners. As always, please leave a comment.
References:
Ansel Adams: http://www.thefamouspeople.com/profiles/ansel-adams-269.php
Dead Trees in Yosemite: https://www.nps.gov/yose/learn/management/upload/tussockmoth1007.pdf
Mint Family: https://theherbalacademy.com/herbal-remedies-the-medicinal-mint-family/
Foraging: http://www.foragelondon.co.uk/foraging-is-easy-learn-50-plants-in-just-10-minutes/
Lichens in Yosemite: https://www.nps.gov/yose/learn/nature/lichen.htm