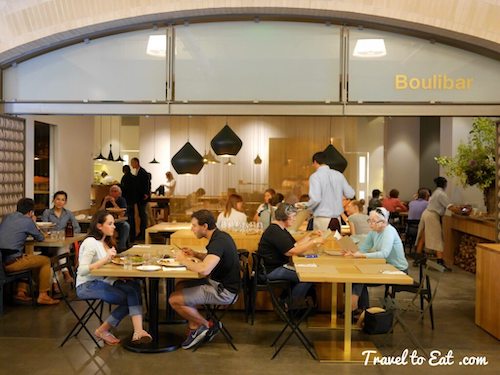 I took the ferry to meet Lisa's sister in Vallejo and decided to have lunch in the Ferry Building. I chose Bouli Bar on the advice of someone I met at another restaurant. Boulettes Larder was opened in 2004 by Chef Amaryll Schwertner and business partner, Lori Regis, as a restaurant that also sells its ingredients for use in the home kitchen. Throughout her 30-year career, Chef Schwertner has authored the cuisine in seminal restaurants in the Bay Area. The daily changing menus at Boulettes Larder reflect her commitment to using conscientiously produced farmstead ingredients and applying her research and curiosity in pursuit of spices and artisan oils, vinegars and grains. Bouli Bar is open from 11:30-3 pm for lunch, 11:00-3 on Saturdays. Evenings are reserved for intimate private dinners for groups. The lunch menu is largely salads and pizzas although there are daily changing appetizers, mains and vegetarian dishes along with a nice selection of wines and beers.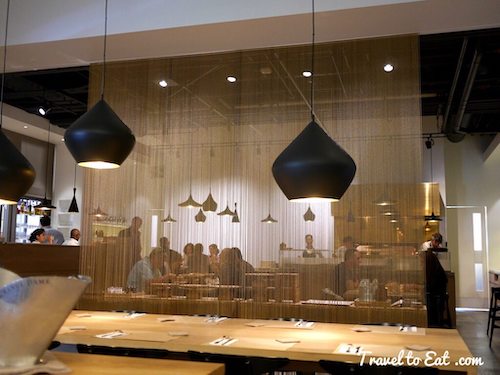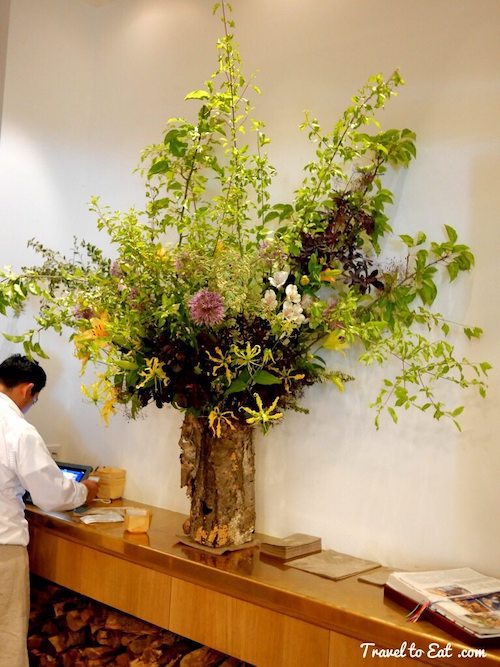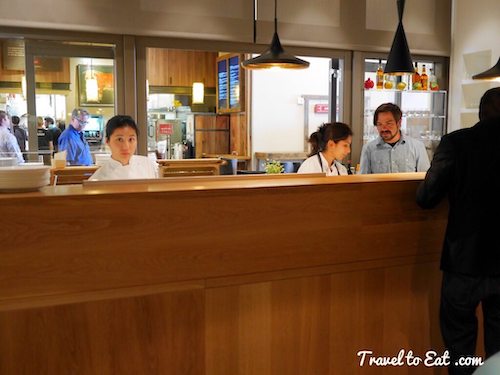 There are really two things going on here, Boulettes Larder, which has pioneered the idea of selling useful ingredients at play on the restaurant's menus and also some take home meals. The purchasing of ingredients edited with the experience and discretion of Chef Schwertner has a broad audience. They serve breakfast and brunch on Sundays at Boulettes Larder. Boulettes Larder's warm open kitchen features a communal table where breakfast and lunch are served, stories shared and new friends are introduced. Evenings are reserved for intimate private dinners. The retail larder offers the ingredients for a well-stocked pantry as well as complete meals to enjoy at home. Chef Schwertner has dedicated much of her life to researching the spices, salts, oils, and culinary products and processes that give each region its distinctive dishes and regional cuisine and subsequently has a deep knowledge of ingredients. Over the years she has developed an extensive archive of small production, traditionally produced products that are rarely available in the United States.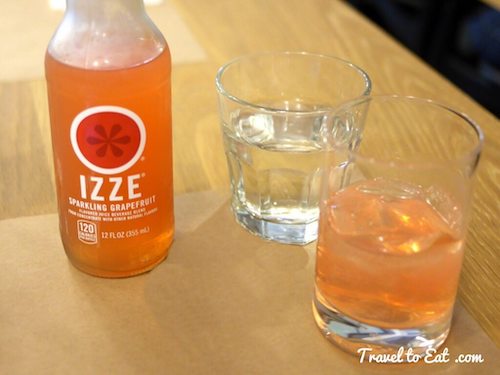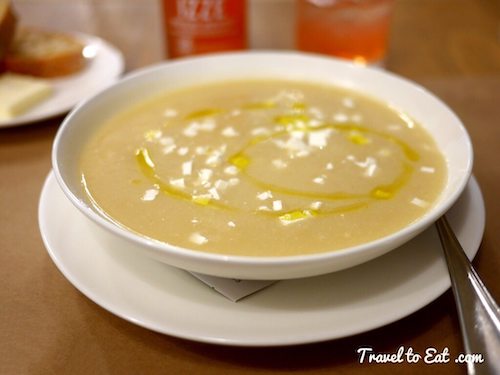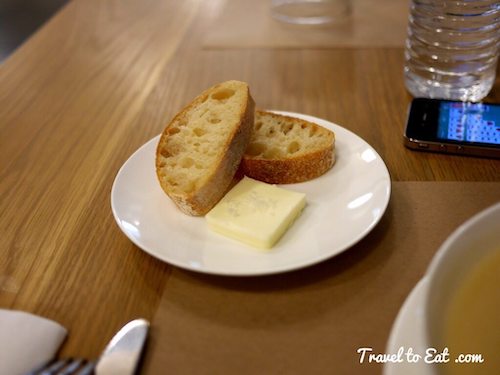 They had one of my favorites, Izze Sparkling Grapefruit soda. I really like all forms of grapefruit juice, for the last few years I have had a craving for it perhaps partly based on its French name, pamplemousse, which just sounds lovely to me. I decided on the chilled celery root and Gravenstein apple soup with lemon olive oil and ricotta cheese for an appetizer. The soup was deliciously cold and tasted equally good, especially with the little chunks of ricotta cheese mixed in. For me cold soups, like gazpacho and this one, should have a textural component, like croutons or a nice French bread, which in fact was provided. My only complaint was that I only received two small pieces and had to ask for more. In Paris, you almost always get a basket of bread. I was briefly concerned when ordering, that the apples would overpower the delicate taste of the celery root but I was very pleasantly surprised at the lovely combination of flavors with a faint apple finish.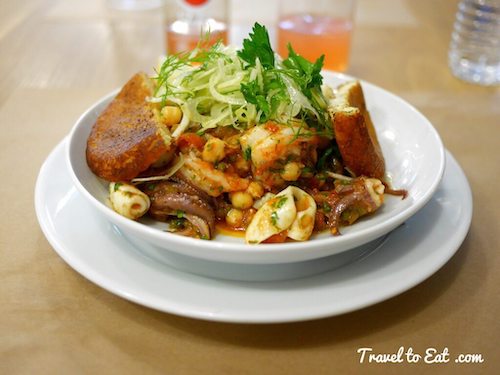 For my main, I ordered the chilled seafood with socca. This consisted of gulf shrimp and local calamari in a livornese sauce with chickpeas, shaved fennel and peppercress with socca. Livornese is now used as a name for a sauce, it is really a method for cooking fish originating in Livorno in Tuscany. Pieces of fish are fried in extra virgin olive oil flavored with garlic, these are then served with a garlic and tomato sauce, sometimes generously covered with chopped parsley. This version was made with tomato, chili, fennel, anchovy and dill, with peppercress, dill and shaved fennel replacing the parsley. This was absolutely delicious and the most tender calamari I think I have ever had. The shaved fennel and greens on top gave the dish a unique and wonderful flavor and texture. I ate the entire thing and considered a second helping. Unfortunately, the socca was a completely different experience.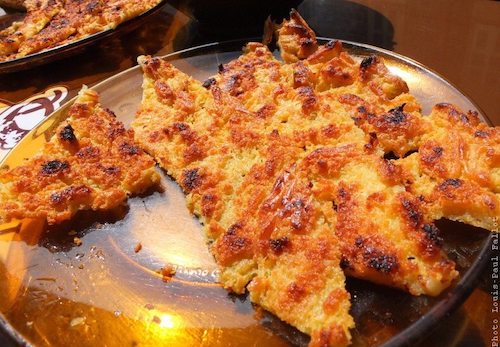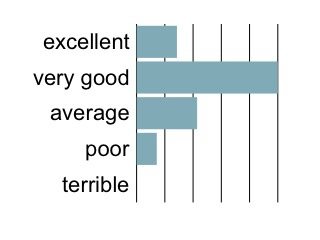 Farinata, socca, torta di ceci or cecina is a sort of thin, unleavened pancake or crêpe of chickpea flour originating in Genoa and later a typical food of the Ligurian Sea coast, from Nice to Pisa. Many cultures have a form of chickpea "pancakes"– from Genoa's Farinata, the socca of Nice and the Côte d'Azur and Algeria's karantita to the cecina of Tuscany and the national dish of Gibraltar called calentita. In Argentina and Uruguay (where many thousands of Ligurian people emigrated between the 19th and the 20th centuries) farinata is known as fainá, similar to the original Genoese name fainâ. Since this was called Socca on the menu, I expected the thin, slightly burnt version that is so typical of street food in Nice. In this version it is cooked in a large pan in a pizza oven, thin, slightly burnt and served piping hot, preferably with fresh ground pepper. What I got was too thick, cooked in a tiny pan, undercooked (no tasty burnt bits at all), served cold with no pepper in sight. Still it retained some of the nutty flavor of real socca. By the way, my vote for the best socca in the world goes to Chez Pipo in Nice, pictured above. They had fresh beignets among other things for desert but I was too stuffed to eat anything else.
So my final thoughts on Bouli Bar are mostly favorable. The food was delicious, layered with complex flavors and expertly prepared, with the exception of the socca which is commonly interpreted differently all over the world. Service was good, it was really busy at lunch and they could have used more staff. The prices were consistent with the quality of food, not astronomical but not inexpensive. I would definitely return, perhaps to the Larder, especially to try the beignets.
References:
Official Website: http://www.bouletteslarder.com/
Socca Bread NY Times: http://query.nytimes.com/gst/fullpage.html?res=9E05E6D7153FF93AA25753C1A9639C8B63
David Leibovitz: http://www.davidlebovitz.com/2009/06/socca-enfin/
Kitchn: http://www.thekitchn.com/how-to-make-socca-a-naturally-gluten-free-chickpea-flatbread-169513
Chez Pipo: http://www.louispaulfallot.fr/archive/2013/07/18/la-socca-chez-pipo-a-nice-5123828.html