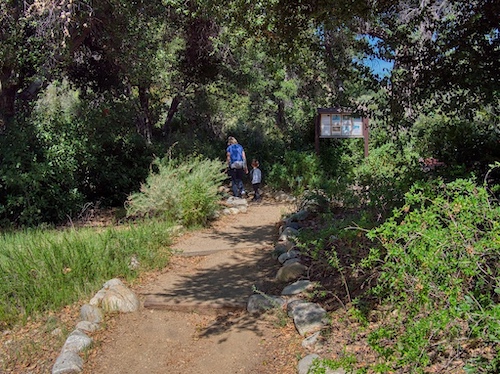 Since I spend a fair amount of time in Santa Clarita in California I thought that I would write some posts on good nature viewing locations near Santa Clarita. One of the nearest and also one of the best places for birdwatching, plants/flowers and hiking is Placerita Canyon. Placerita is an east-west running canyon featuring cool, shaded oak groves, a willow and sycamore-lined seasonal stream and numerous other interesting plant and animal communities. Placerita Canyon State Park encompasses oak woodland, chaparral, and riparian plant communties on the north side of the San Gabriel Mountains southeast of the City of Santa Clarita. The park not only serves to conserve a slice of the wild environment but also endeavors to educate the public on the value of undisturbed flora and fauna through wild animal presentations, nature hikes, and self-guided educational trails. Also, if you continue up the canyon, you can enter the San Gabriel Mountains, another great nature location.
Placerita Canyon State Park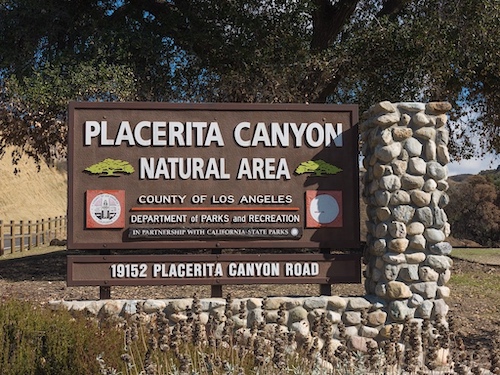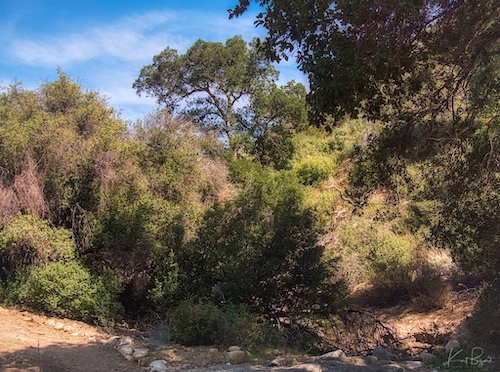 The original purpose of Placerita Canyon State Park, was to preserve and protect the site of the first discovery of gold in California, in 1842. Designated as a State Historic Landmark, the park is situated in the transition zone between the San Gabrial Mountains and the Mojave Desert, and contains sandstone formations, seasonal streams and riparian oak woodlands, as well as stands of cottonwood and native sycamore trees. The park is a good size with many trails of varying length and a nice visitor center with some educational displays with dioramas and some beautiful live birds. This appears to be a popular location for school trips and every time that I have been there during the week that were groups of school children. Many of the trails have very mild inclines and are more than suitable for kids and older people. In the spring it is shady and cool, with plenty of things to keep everyone in the family occupied.
Acorn Woodpecker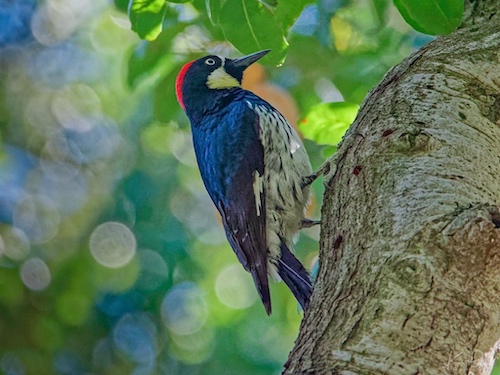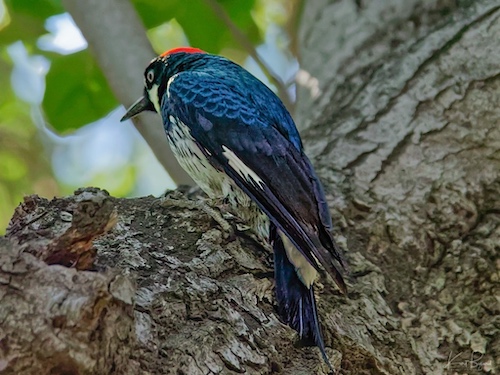 The acorn woodpecker's habitat is forested areas with oaks in the coastal areas and foothills of Oregon, California, and the southwestern United States, south through Central America to Colombia. This species may occur at low elevations in the north of its range, but rarely below 1,000 m (3,300 ft) in Central America, and it breeds up to the timberline. Conservation of this species is dependent on the maintenance of functional ecosystems that provide the full range of resources upon which the species depends. These include mature forests with oaks capable of producing large acorn and nut crops and places for the woodpeckers to nest, roost, and store food. Residents are encouraged to preserve mature oak and pine-oak stands of trees and to provide dead limbs and snags for nesting, roosting, and granary sites to help preserve the acorn woodpecker's population.
California Scrub Jay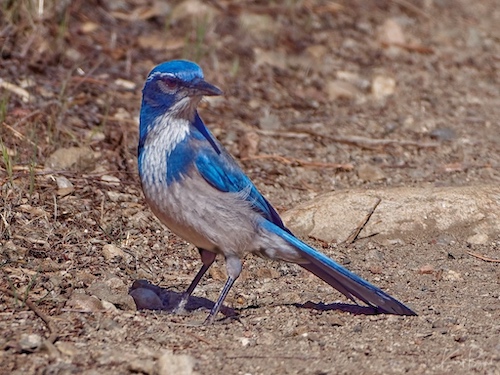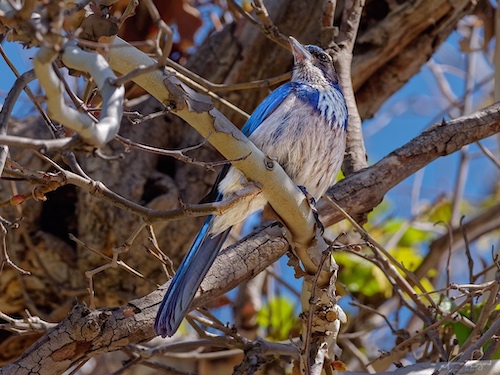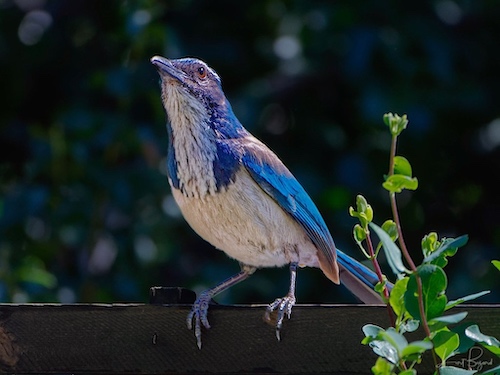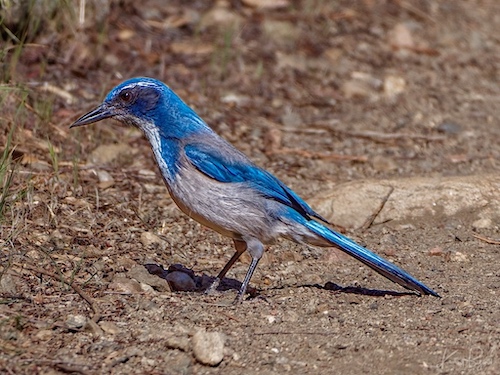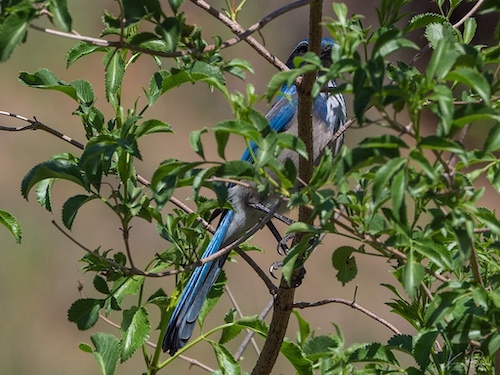 The California Scrub Jay (Aphelocoma californica) is a species of scrub jay native to western North America. It ranges from southern British Columbia throughout California and western Nevada near Reno to west of the Sierra Nevada. The California scrub jay was once lumped with Woodhouse's scrub jay and collectively called the western scrub jay. The group was also lumped with the Island scrub jay and the Florida scrub jay; the taxon was then called simply the scrub jay. The California scrub jay is nonmigratory and can be found in urban areas, where it can become tame and will come to bird feeders. While many refer to scrub jays as "blue jays", the blue jay is a different species of bird entirely. There are 6 subspecies.
Western Bluebird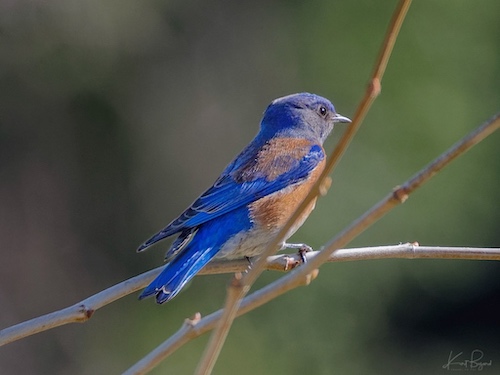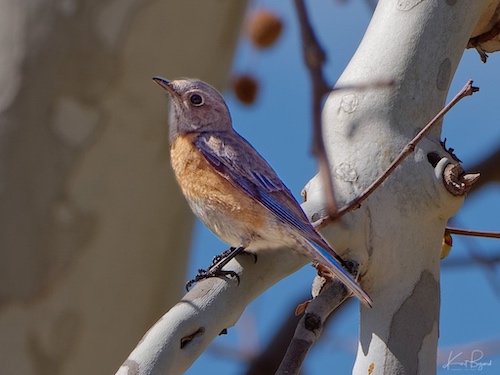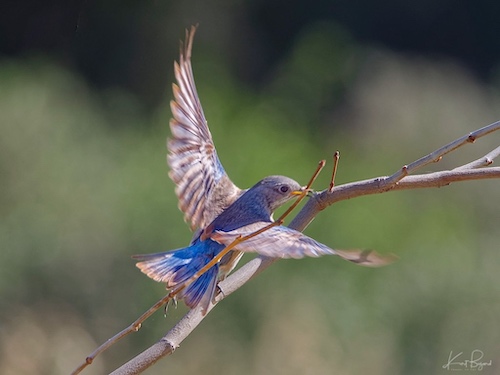 The Western Bluebird (Sialia mexicana) is a small thrush, about 15 to 18 cm (5.9 to 7.1 in) in length. Adult males are bright blue on top and on the throat with an orange breast and sides, a brownish patch on back, and a gray belly and undertail coverts. Adult females have a duller blue body, wings, and tail than the male, a gray throat, a dull orange breast, and a gray belly and undertail coverts. Immature western bluebirds have duller colors than the adults, they also have spots on their chest and back. These color patterns help play a part in the mating ritual, when males compete for breeding rights to females. The year-round range includes California, the southern Rocky Mountains, Arizona, and New Mexico in the United States, and as far south as the states of Oaxaca and Veracruz in Mexico.
Anna's Hummingbird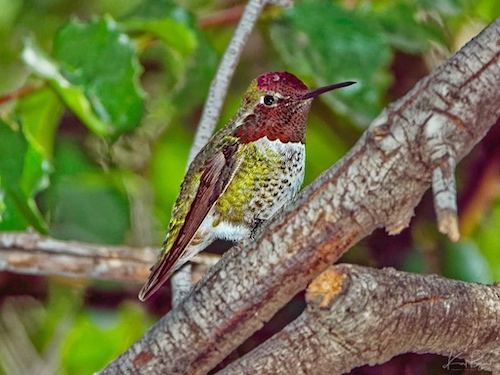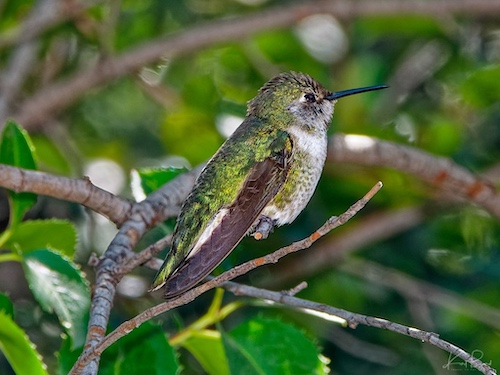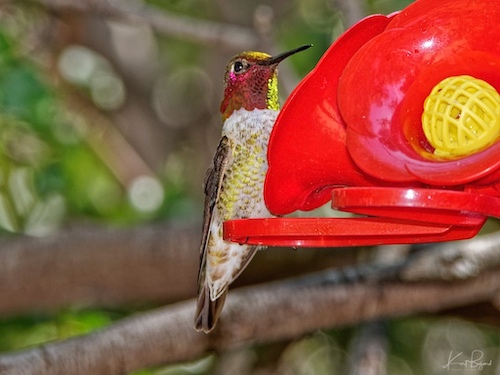 They have a few hummingbird feeders at the park that are fairly active. Anna's hummingbird (Calypte anna), a medium-sized hummingbird native to the west coast of North America, was named after Anna Masséna, Duchess of Rivoli. In the early 20th century, Anna's hummingbirds bred only in northern Baja California and southern California. The transplanting of exotic ornamental plants in residential areas throughout the Pacific coast and inland deserts provided expanded nectar and nesting sites, allowing the species to expand its breeding range.
Fuchsia-Flowered Gooseberry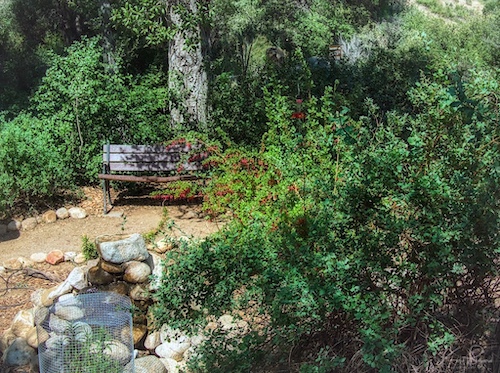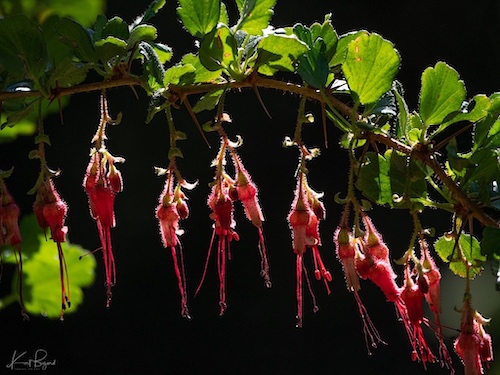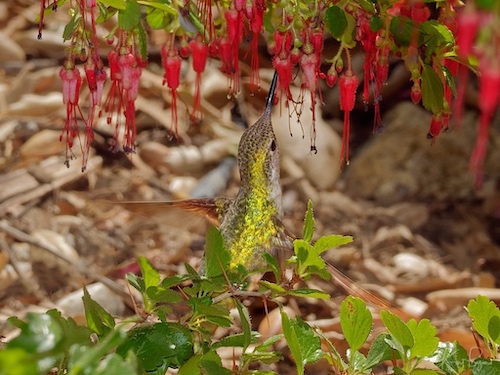 Fuchsia-Flowered Gooseberry (Ribes speciosum) is one of the most spectacularly blooming native California shrubs during the wet season, with beautiful fuchsia red flowers hanging down in abundance from the branches throughout the bush. The tube shaped flowers with their protruding stamens and stigmas look a little like red dressed ballerinas dancing in a line. The plant grows in a somewhat more upright mounding form, quickly reaching 6–10 feet in height, and 3–8 feet in width under favorable conditions. Its leaves are a beautiful bright green in the wet season, turning dark green as the soil dries. It produces a red-orange berry about a centimeter long, and lots of thorns. The flowers are an important source of food for hummingbirds, and the gooseberry fruit is eaten by many other birds and small mammals. This plant's natural geographic range extends all along the coast and western foothills of southern and central California, from Baja California up to Salinas, and also in the foothills around San Jose. It tends to grows in full or nearly full shade, and in slightly moister spots such as north facing slopes, slope bottoms or near natural drainages.
Coast Live Oak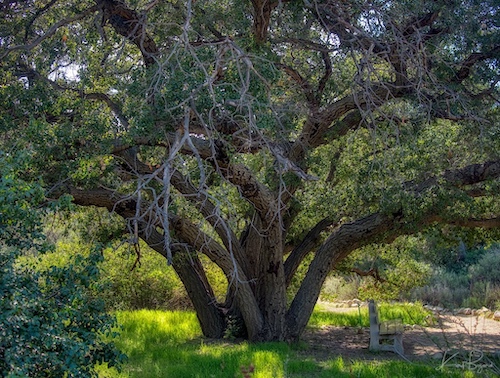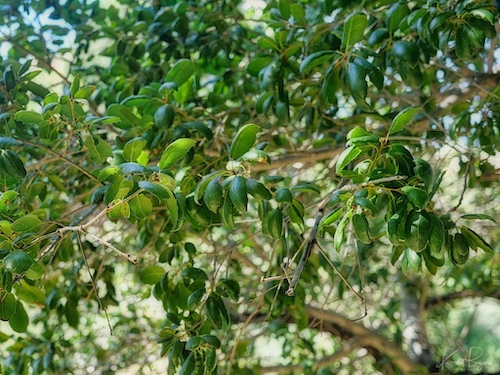 The Coast Live Oak is one of the only California native oaks that actually thrives in the coastal environment, although it is rare on the immediate shore; it enjoys the mild winter and summer climate afforded by ocean proximity, and it is somewhat tolerant of aerosol-borne sea salt. The coastal fog supplies relief from the rainless California summer heat. It is the dominant overstory plant of the Coast Live Oak woodland habitat, often joined by California Bay Laurel and California Buckeye north of Big Sur. Associated understory plants include Toyon, various manzanitas, and Western Poison-oak. Normally the tree is found on well drained soils of coastal hills and plains, usually near year round or perennial streams.
Toyon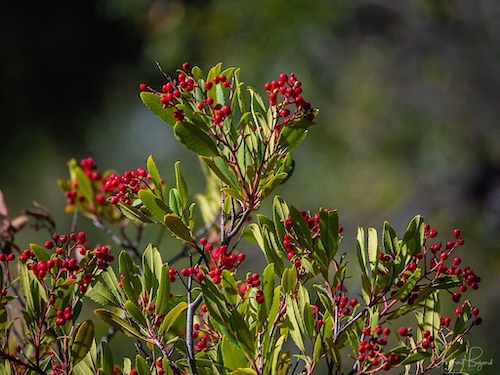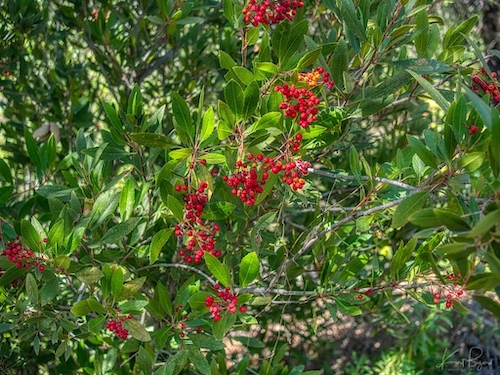 Toyon is a beautiful perennial shrub native throughout the western part of California and the Sierra foothills. It is a prominent component of the coastal sage scrub plant community, and is a part of drought-adapted chaparral and mixed oak woodland habitats. It is also known by the common names Christmas berry and California Holly from the bright red berries it produces. The city of Hollywood was named for this plant. Toyon berries are acidic and astringent, and contain a small amount of cyanogenic glycosides (cyanide), which breaks down into hydrocyanic acid on digestion. This is removed by mild cooking. Raw berries are mealy, astringent and acid, though were eaten fresh, or mashed into water to make a beverage by Native Americans. The fruit are consumed by birds, including mockingbirds, American robins, cedar waxwings and hermit thrushes.
Buckbrush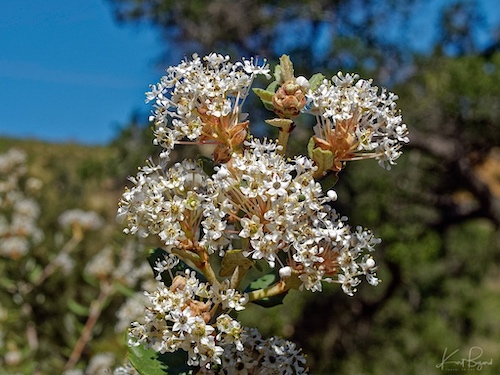 Ceanothus cuneatus is a species of flowering shrub in the Rhamnaceae (Buckthorn) family known by the common names Buckbrush and Wedgeleaf Ceanothus. This Ceanothus is native to Oregon, California, and northern Baja California, where it can be found in a number of habitats, especially chaparral. It is one of the most common and widespread native plants in California. It is a spreading bush, rounded to sprawling, reaching up to 3 meters in height. The evergreen leaves are stiff, tough and fleshy, and may be slightly toothed along the edges. The bush flowers abundantly in short, thick-stalked racemes bearing rounded bunches of tiny flowers, each about half a centimeter wide. The flowers are white, sometimes tinted strongly with blue or lavender. The fruit is a round capsule with horns.
Sugar Sumac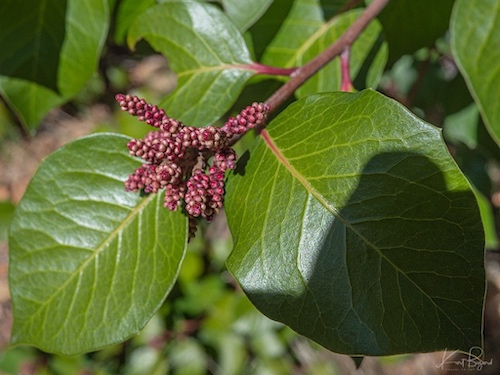 Rhus integrifolia, also known as lemonade sumac, lemonade berry, or lemonadeberry, is a shrub to small tree. It is native to the Transverse and Peninsular Ranges and the South Coast regions of Southern California. This extends from Santa Barbara County and the Channel Islands to San Diego County and extending into north-central Pacific coastal Baja California and its offshore islands such as Cedros Island. Rhus integrifolia leaves are simple (unusual in a genus where most species are trifoliate), alternating, evergreen and leathery, ranging from two to four centimeters wide on reddish twigs; length of leaves is five to seven centimeters. The flowers which appear from February to May are small, clustered closely together, with five green sepals, five white to rosy-pink petals, and five stamens. The small flowers are only six millimeters across.
Bluewitch Nightshade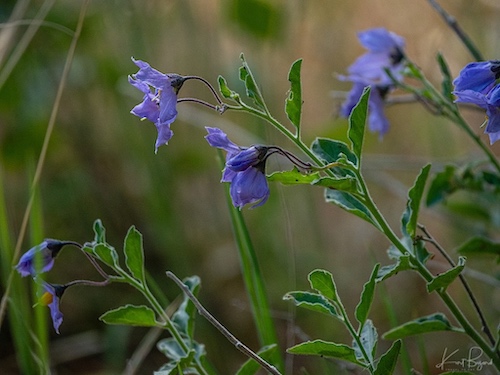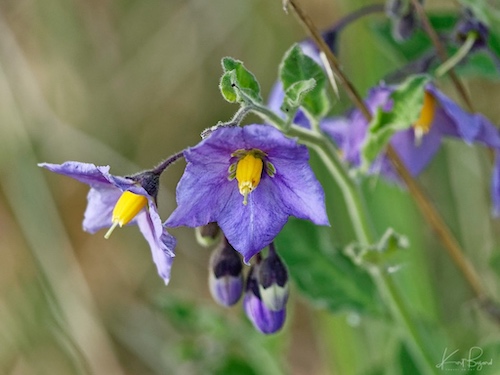 Bluewitch Nightshade (Solanum umbelliferum) is a native shrub Solanaceae (Nightshade) family that is widespread in California in various habitats and vegetation communities, at elevations from sea level to 5,200 feet. The stems are densely hairy and branched. The leaves are grey-green, elliptical to oval, and typically smooth edged. The flower is blue to purple in color, consisting of five petals fused together, with contrasting yellow anthers. The fruit is a sphere 12–14 mm in size. Its habit is mounding or sometimes vining, often found climbing up through more woody shrubs. All parts of the plant are toxic to people and some animals.
California Sun Cup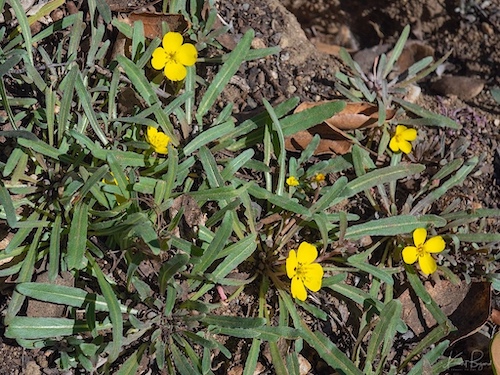 Camissoniopsis bistorta is a species of flowering plant in the evening primrose family known by the common names southern suncup and California suncup. It is native to southern California and Baja California, where it grows in several types of plant community along the coast and in the coastal hills and mountain ranges. This is a hairy annual or perennial herb spreading from a basal rosette with stems reaching up to 80 centimeters long. Leaves are lance-shaped to narrowly arrowhead-shaped and sometimes toothed, and 1 to 12 centimeters in length. Toward the end of the spreading stems are nodding inflorescences of flowers, each flower with four bright yellow petals dotted with red at their bases. At the center are stamens and a protruding, nearly spherical stigma. The fruit is a straight or slightly coiled capsule up to 4 centimeters long.
Wild Cucumber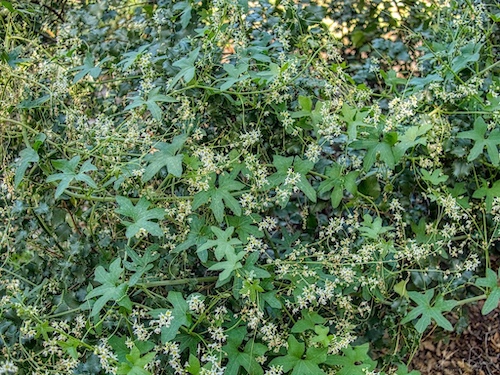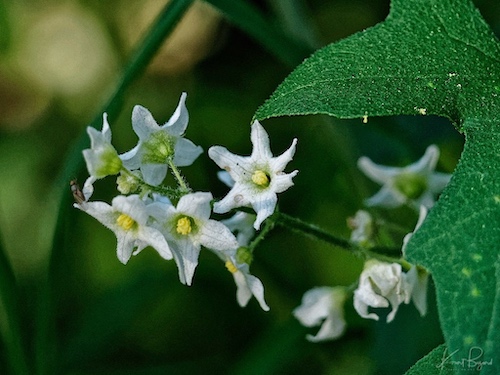 Wild Cucumber is native to Southern California and Baja California. Its range extends from the Transverse Ranges and Channel Islands through the Peninsular Ranges. It grows by streams, in washes, and on slopes in chaparral and oak woodlands, at elevations up to 900 m (3,000 ft). It will tolerate a variety of soil types and acidities, but it requires seasonally moist soil. Vines can grow in full-sun to partially shaded conditions. It emerges soon after winter rains begin, grows until late spring, and dies back completely in the heat and dryness of summer. All parts of the plant have a bitter taste (this is the meaning of the genus name Marah, which comes from Hebrew). Despite this, the leaves have been used as a vegetable. The large tuber of the manroot can be processed for a soap-like extract. There are three subspecies.
San Gabriel Mountains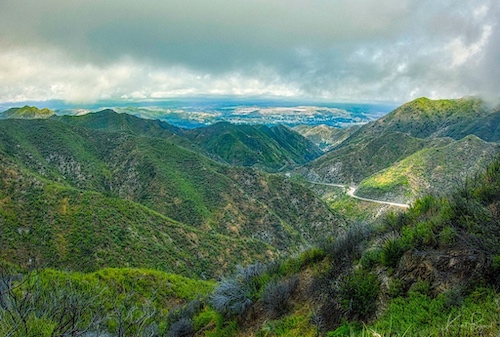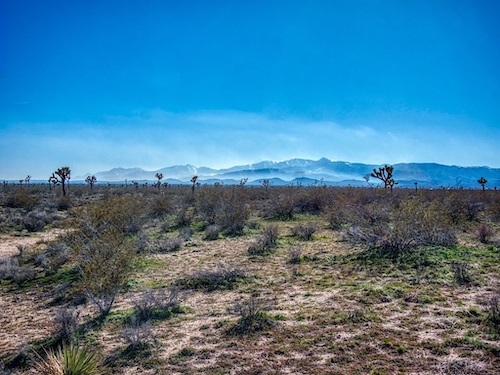 If you follow Placerita Canyon road to the end and turn right on Sand Canyon Road, you begin to go up into the San Gabriel Mountains. Not only is it cooler and sometimes a little misty but you can also see some nice wildflowers on the side of the road. Not many birds though, probably not much water around in that area. I thought I would throw in a photograph of the San Gabriel Mountains from last winter, covered in snow as seen from Pearblossom highway in the Mohave Desert.
Yellow or Golden Yarrow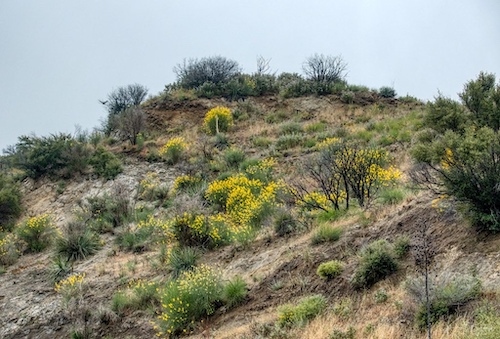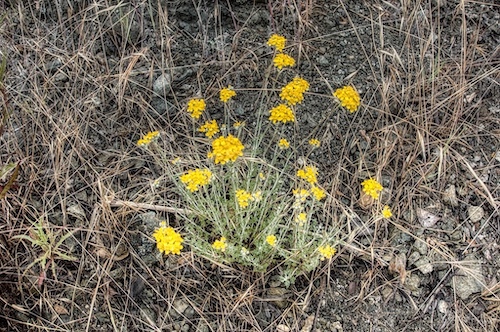 Golden Yarrow is a flowering plant in the daisy family which is also known by the common name yellow yarrow. This is a highly variable plant which can be either an annual, perennial or small shrub. It is native to California from the San Francisco Bay Area to San Diego County and Baja California, as well as the foothills of the Sierras. It can be found in a number of plant communities and habitats including chaparral, coastal sage shrub, and southern oak woodland. The plant grows in large clumps or stands of many erect stems often exceeding 3 feet in height. It has greenish to gray-green stems and foliage, the leaves sharply lobed and divided. The top of each stem is occupied by a flower cluster of up to 30 flower heads, each bright golden yellow head with a large center of disc florets and usually a fringe of rounded to oval ray florets. Its long blooming season makes it welcome in the garden. The variety Eriophyllum confertiflorum var. tanacetiflorum is found in the Sierra Nevada foothills and San Gabriel Mountains.
Thickleaf Yerba Santa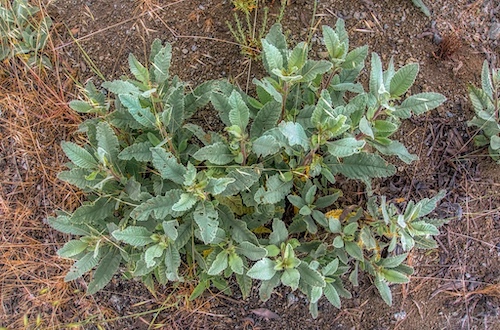 Thickleaf Yerba Santa is a shrub in the Borage family (formerly in the Hydropyllaceae or Waterleaf family). It is endemic to California, where it grows in several types of habitats in the coastal and inland hills and mountains below 6,000 ft., mainly in the southern part of the state. It is a hairy to woolly shrub growing one to three meters tall. The leaves are up to 17 centimeters long by 6 wide, gray-green with a coat of woolly hairs, and sometimes toothed along the edges. The lavender, bell shaped flowers consisting of 5 fused petals are held in a cluster at the top of the upright stems.
Island Morning Glory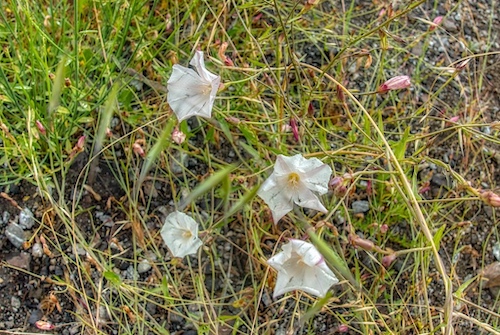 Island Morning Glory is native to California coastal sage and chaparral habitats, along the coasts in Southern California and into Baja California, Mexico. It is found on all the Channel Islands, the source of its common names. It is also commonly found in the Peninsular Ranges, Transverse Ranges, and Outer Southern California Coast Ranges. There are six subspecies.
As always, I hope you enjoyed the post. This is not meant to be comprehensive, rather a first piece on a place I will revisit over the year. Since it is early in the year, I expect many more flowers, birds and eventually fruits as time goes on.
References:
Identification Notes on California and Woodhouse's Scrub Jays
Clarita Plants: 365 Species in 365 Days