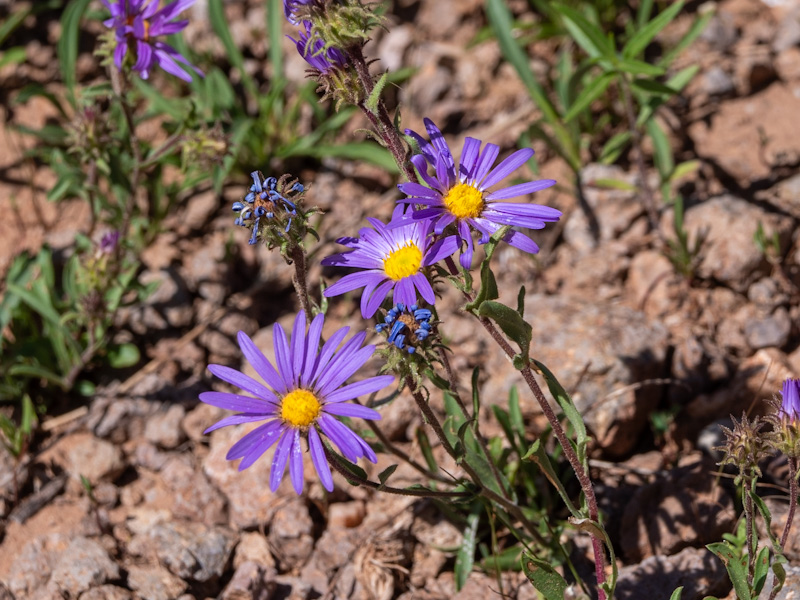 Common Names: Bigelow's Tansyaster, Sticky Aster
Synonyms: Dieteria bigelovii var. commixta, Machaeranthera pattersoni
Taxonomy: Daisy (Asteraceae)
Habit: perennial forb, herb
Size: up to 4'
Flowers: violet
Bloom: Jun, Jul, Aug, Sep, Oct
Leaves: alternate
Fruit: cypsela
Description:
Tall, rigid, branched, brownish stems bearing a sparse covering of thin leaves, topped by pink-purple flowers, each consisting of around 30 ray florets (ranging from 12 to 60) surrounding a yellow center of tiny disc flowers. The flower head is about 1.5 inches in diameter. The leaves are 2-4" (5–10 cm) long with sharp teeth. The blue or purple ray florets are female, while the yellow disc florets are bisexual. The ray florets close upwards in shade. The fruit is seedlike, with bristles at the tip.
Distribution: AZ, CO, NM, NV, OK, UT, WY
Seen: UT
Habitat: Plains and openings in coniferous forests