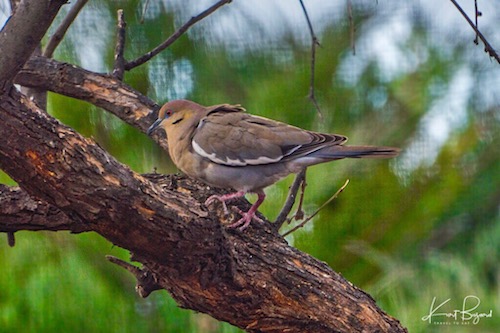 I got a new Sony camera about a month ago and decided to visit Sierra Vista Arizona to try it out on the beautiful birds that I have heard about. Southeastern Arizona is an eco-crossroad with five life zones within five miles. Habitats and species from the Sierra Madres of Mexico, the Rocky Mountains, and the Sonora and Chihuahuan deserts can all be found in these "Sky Islands." The bird watching and wildlife viewing areas are world-renowned. The San Pedro Riparian National Conservation Area has nearly 40 miles of riparian/riverbank vegetation and this 56,000-acre area is teeming with plant and animal life. The San Pedro River's cottonwood-shaded corridor provides critical stopover habitat for millions of migrating birds each year. It is one of only two major rivers that flow north out of Mexico into the United States and is one of the last large undammed rivers in the Southwest. The San Pedro River basin is home to 84 species of mammals, 14 species of fish and 41 species of reptiles and amphibians. It has been said that over half of all the breeding species of birds can be seen in this area.
House Sparrow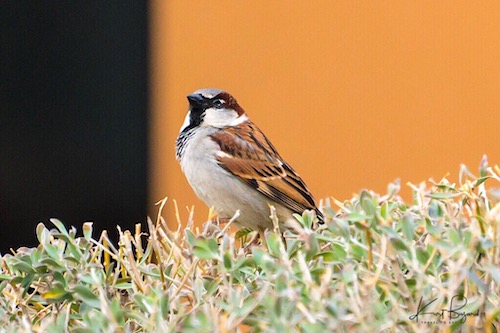 Most people, at the mention of sparrows, think first of the House Sparrow (Passer domesticus). That bird is familiar enough, it thrives in urbanized areas, including southwestern cities but it belongs to a family that is native to the Old World. The first of many successful introductions to North America occurred when birds from England were released in New York City, in 1852 to control the ravages of the linden moth. The house sparrow now occurs from the Northwest Territories to southern Panama, and it is one of the most abundant birds in North America. The sparrows that occur naturally on this continent are a much more diverse group, many with distinctive patterns and musical songs. All of them have short thick bills designed for cracking open seeds, a major part of their winter diets, but all eat many insects as well, especially in warm weather.
Song Sparrow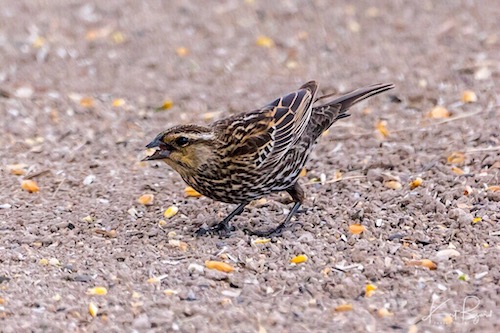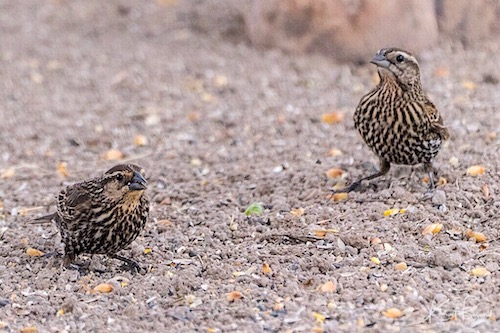 The song sparrow (Melospiza melodia) is easily one of the most abundant, variable and adaptable species. Scientists recognize 24 subspecies of Song Sparrows and have described some 52 forms: they are one of the most regionally variable birds in North America. In general, coastal and northern birds are darker and streakier, with southern and desert birds wearing paler plumages. They are 4.7–6.7 in (12–17 cm) in length and weigh 0.4–1.9 oz (12–53 g). In the field, they are most easily confused with the Lincoln's sparrow and the Savannah sparrow. The Lincoln sparrow can be recognized by its shorter, grayer tail and the differently-patterned head, the brown cheeks forming a clear-cut angular patch. The Savannah sparrow has a forked tail (even though it is not shown, the tail is square on these) and yellowish flecks on the face when seen up close.
White Crowned Sparrow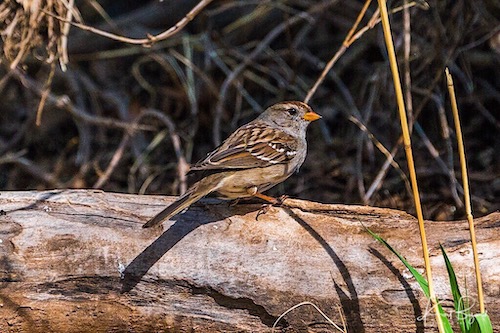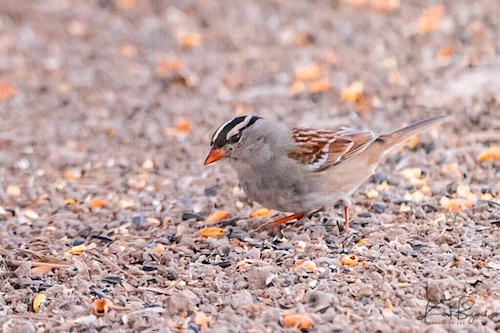 The White-Crowned sparrow (Zonotrichia leucophrys) is a medium-sized sparrow native to North America. Adults are 7 in (18 cm) long and have black and white stripes on their head, a gray face, brown streaked upper parts and a long tail. The wings are brown with bars and the underparts are gray. Their bill is pink or yellow. They are similar in appearance to the white-throated sparrow. The smart black-and-white head, pale beak, and crisp gray breast combine for a dashing look – and make it one of the surest sparrow identifications in North America. There are five currently recognized subspecies of white-crowned sparrow (pugetensis, gambelii, nuttalli, oriantha, and leucophrys), varying in breeding distribution migratory route. Birds of the subspecies nutalli are permanent residents in California, while birds of the subspecies gambelli may migrate as far as the Arctic Circle during the summer breeding season. Northern birds migrate to the southern United States.
Pine Siskin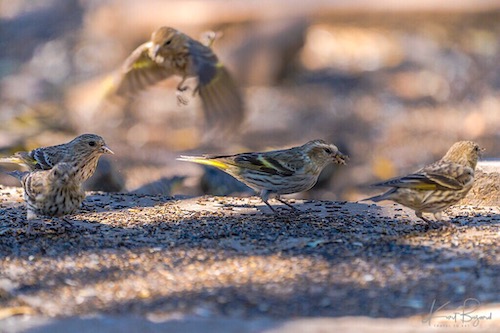 The Pine Siskin (Spinus pinus) is a North American bird in the finch family. Their breeding range spreads across almost the entirety of Canada, Alaska and, to a more variable degree, across the western mountains and northern parts of the United States. Adults are brown on the upperparts and pale on the underparts, with heavy streaking throughout. They have short forked tails. Their bills are conical like most finches but are more elongated and slender than those of other co-occurring finches. Variably, pine siskins have yellow patches on their wings and tails, which may also consist of white streaks on the wings. Although they can be confused for other finches or even American sparrows, pine siskins are distinguished by their heavy streaking, relatively slender bills, notched tail, yellow or whitish patches on the wings and smallish size. Migration by this bird is highly variable, probably related to food supply. Large numbers may move south in some years; hardly any in others. This species is one of a few species that are considered "irruptive winter finches" because of the high variability of their movements based on the success of crops from year to year.
Western Purple Finch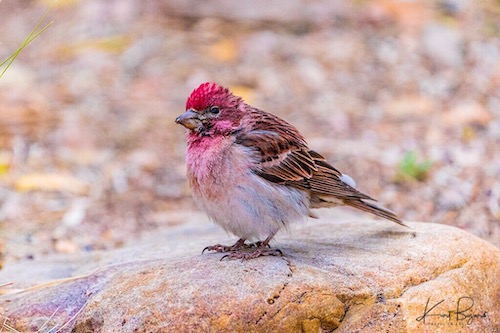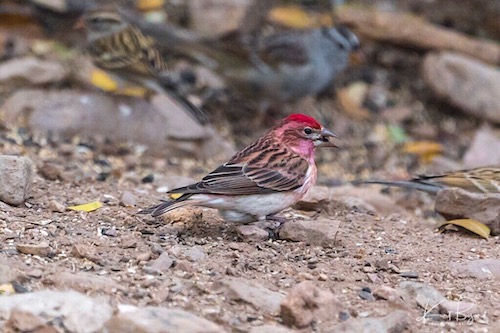 Among the small forest birds like chickadees, kinglets, and nuthatches, the Purple Finch (Haemorhous purpureus) is large and chunky. It is 4.7–6.3 in (12–16 cm) in length and weighs 0.6–1.1 oz (18–32 g). Their powerful, conical beaks are larger than any sparrow's. The tail seems short and is clearly notched at the tip. While the name is "Purple Finch" male Purple Finches are delicate pink-red on the head and breast, mixing with brown on the back and cloudy white on the belly. Female Purple Finches have no red. They are coarsely streaked below, with strong facial markings including a whitish eyestripe and a dark line down the side of the throat. There are two subspecies, Haemorhous purpureus purpueus on the east coast and Haemorhous purpureus californicus on the west coast. This species is common in the North and East, and along the Pacific seaboard, but it is very rare in much of the Rocky Mountains region.
House Finch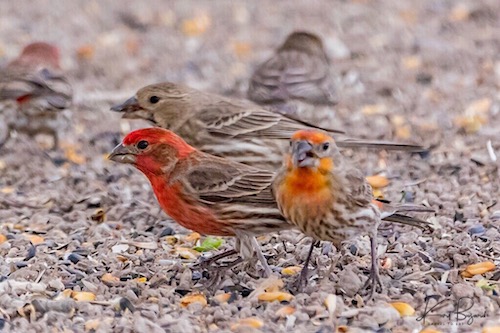 The House Finch (Haemorhous mexicanus) is a moderately-sized finch. Adult birds are 4.9 to 5.9 in (12.5 to 15 cm) in length and weight can vary from 0.56 to 0.95 oz (16 to 27 g), with an average weight of 0.74 oz (21 g). It is native to western North America, and has been introduced to the eastern half of the continent and Hawaii. The House Finch and the other "American rosefinches" are placed in the genus Haemorhous. Male House Finches are generally red, but under certain certain circumstances they may be orange or yellow instead. Different subspecies may show color variations, but differences in color are also attributed to diet. When a bird is molting, its diet will determine the colors of its new feathers.
Originally only a resident of Mexico and the southwestern United States, they were introduced to eastern North America in the 1940s. The birds were sold illegally in New York City as "Hollywood Finches", as a marketing scheme. To avoid prosecution under the Migratory Bird Treaty Act of 1918, vendors and owners released the birds. They have since become naturalized; in largely unforested land across the eastern U.S., they have displaced the native purple finch and even the non-native house sparrow. In 1870, or before, they were introduced to Hawaii and are now abundant on all its major islands.
Lesser Goldfinch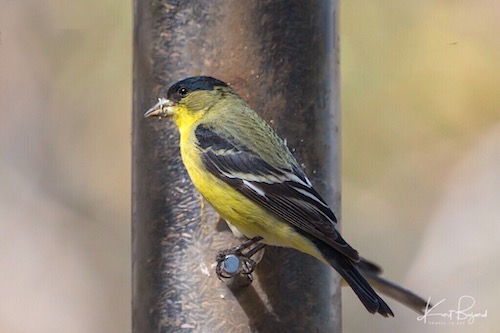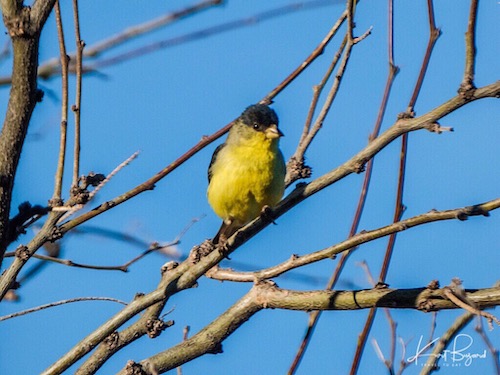 The Lesser Goldfinch (Spinus psaltria) is a very small songbird of the Americas. This petite species is not only the smallest North American Spinus finch, it may be the smallest true finch in the world. This species ranges from 3.5 to 4.7 in (9 to 12 cm) in length and can weigh from 0.28 to 0.41 oz (8 to 11.5 g). There is also considerable variation in the amount of black on head and back in males, and thus three subspecies have been proposed. But this variation too seem to be simple and clinal changes in allele frequency, and thus the "subspecies" might be better considered morphs or geographical forms. Male Lesser Goldfinches in the eastern part of their range in the U.S. tend to have black backs. Along the West Coast, their backs are green, with only a black cap. Elsewhere, the amount of black varies, with many birds having partly green backs. South of central Mexico, all of the males are black-backed. The Lesser Goldfinch ranges from the southwestern United States, along the coast to as far north as extreme southwestern Washington, south to Venezuela and Peru. It migrates from the colder parts of its U.S. range.
Yellow Warbler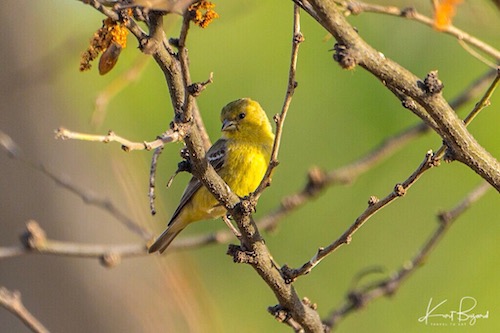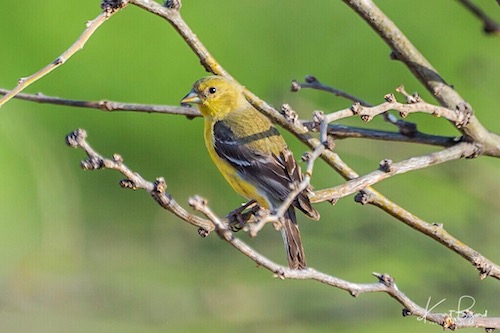 The Yellow Warbler (Setophaga petechia) is the most strikingly yellow among North American wood-warblers. North America has more than 50 species of warblers, but few combine brilliant color and easy viewing quite like the Yellow Warbler. The females and immatures aren't as bright, and lack the male's rich chestnut streaking, but their overall warm yellow tones, unmarked faces, and prominent black eyes help pick them out. There are 35 subspecies of true American Yellow Warblers which can be divided into three main groups according to the males' head color in the breeding season. The American yellow warbler may be between 3.9 and 7.1 in (10 and 18 cm) long, with a weight of 0.25–0.88 oz (7–25 g), varying between subspecies. American yellow warblers breed in most of North America from the tundra southwards, but they do not range far southwestwards and avoid the Gulf of Mexico coasts also. The mangrove and golden warblers occur to the south of it, to the northern reaches of the Andes. American yellow warblers winter to the south of their breeding range, from southern California to the Amazon region, Bolivia and Peru.
Yellow-Rumped Warbler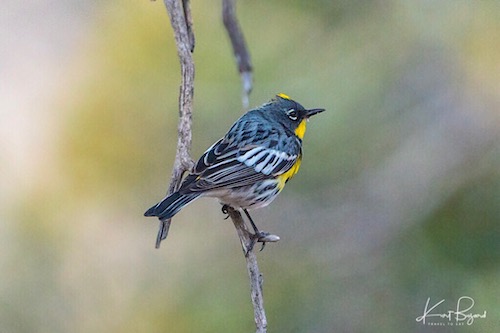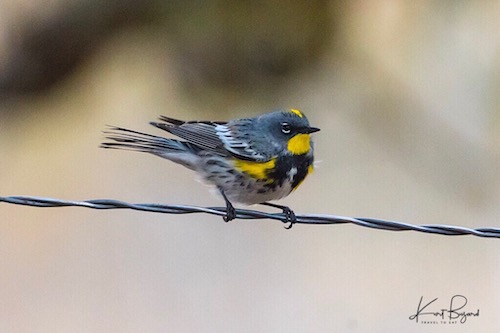 The Yellow-Rumped Warbler (Setophaga coronata) is a common North American bird with four closely related subspecies: the eastern myrtle warbler (ssp coronata); its western counterpart, Audubon's warbler (ssp group auduboni); the northwest Mexican black-fronted warbler (ssp nigrifrons); and the Guatemalan Goldman's warbler (ssp goldmani). Audubon's warblers breed in western North America. Males have a yellow throat and gray head and chest (as seen above). This is a mid-sized New World warbler, though it is one of the largest species in the Setophaga genus. In total length, the species can range from 4.7 to 5.9 in (12 to 15 cm) long, with a weight from 0.35 to 0.62 oz (9.9 to 17.7 g), though it averages between 0.39 and 0.49 oz (11 and 14 g). The yellow-rumped warbler breeds from eastern North America west to the Pacific, and southward from there into Western Mexico. Yellow-rumped warblers spend the breeding season in mature coniferous and mixed coniferous-deciduous woodlands (such as in patches of aspen, birch, or willow). In the western U.S. and in the central Appalachian Mountains, they are found mostly in mountainous areas.
Cactus Wren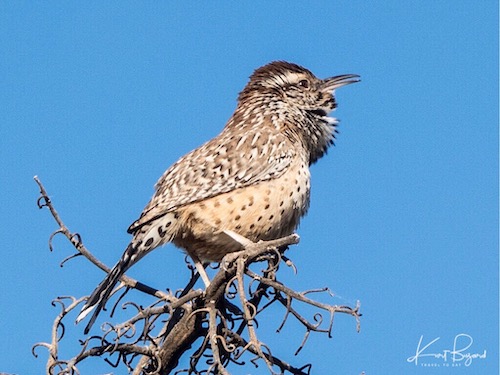 The Cactus Wren (Campylorhynchus brunneicapillus) is a large chunky wren with a long heavy bill, a long, rounded tail, and short, rounded wings. The Cactus Wren is the largest wren in the United States and is similar in size to a Spotted Towhee. I think the breast is reminiscent of the pattern of ostrich cowboy boots. It measures 7.1–8.7 in (18–22 cm) in length and 1.1–1.7 oz (32–47 g) in weight. It is a bird of arid regions, and is often found around yucca, mesquite or saguaro; it nests in cactus plants, sometimes in a hole in a saguaro, sometimes where its nest will be protected by the prickly cactus spines of a cholla or leaves of a yucca. The cactus wren is the state bird of Arizona.
Vermillion Flycatcher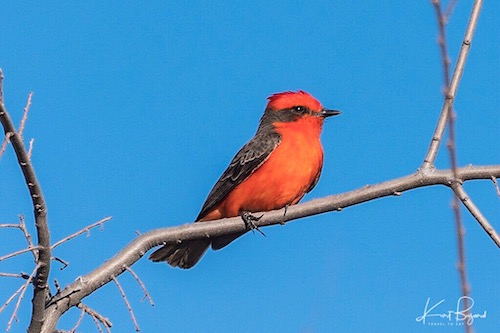 Most flycatchers are drab, but the male Vermilion Flycatcher is a brilliant exception. In length it is 5.1–5.5 in (13–14 cm) weighs
0.4–0.5 oz (11–14 g). Vermilion flycatchers generally prefer somewhat open areas, and are found in trees or shrubs in savannah, scrub, agricultural areas, riparian woodlands, and desert as well, but usually near water. It is usually seen perched fairly low in open areas near water, dipping the tail gently like a phoebe. As if the male's bright colors were not advertisement enough, he also displays by puffing up his feathers and fluttering high in the air while singing repeatedly. Fairly common in parts of the southwest, the Vermilion Flycatcher is also widespread in Central and South America. Females have a peach-colored belly with a dark gray upperside, and are similar to Say's phoebe.
Northern Cardinal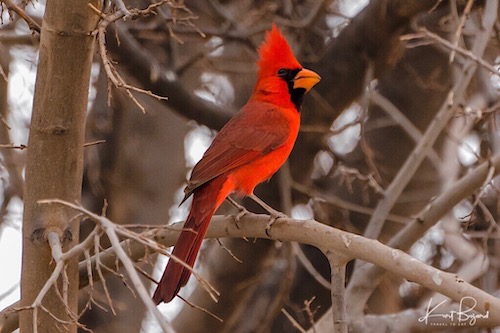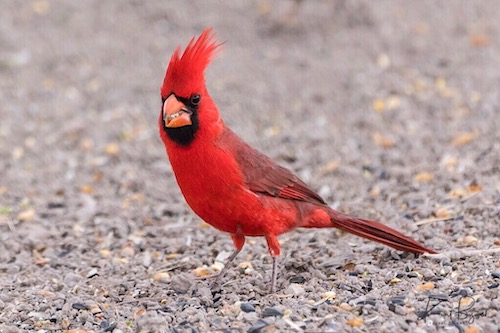 Many people may be surprised that Northern Cardinals (Cardinalis cardinals) are found in Arizona. Their range covers the entire Eastern half of the US, most of Mexico and only a tiny slice of Southeastern Arizona. Phoenix is located in South Central Arizona, so cardinal sightings are rare there. The northern cardinal is a mid-sized songbird with a body length of 8.3–9.1 in (21–23 cm). It has a distinctive crest on the head and a mask on the face which is black in the male and gray in the female. The male is a vibrant red, while the female is a dull reddish olive. Believe me when I tell you, the brilliant red of this bird is hard to miss. The common name, as well as the scientific name, of the northern cardinal refers to the cardinals of the Roman Catholic Church, who wear distinctive red robes and caps. 19 Subspecies of Cardinalis cardinalis have been recognized. They are mostly distinguished based on the color of the females' face masks, which range from very pale to nearly black. Also, cardinals occurring in the south central range are said to be considerably brighter than their east coast counterparts. The Cardinalis cardinals superbus subspecies lives in the southwestern USA, from extreme southeastern California, east through Arizona to southwestern New Mexico and south to northwestern Mexico (northern Sonora).
Pyrrhuloxia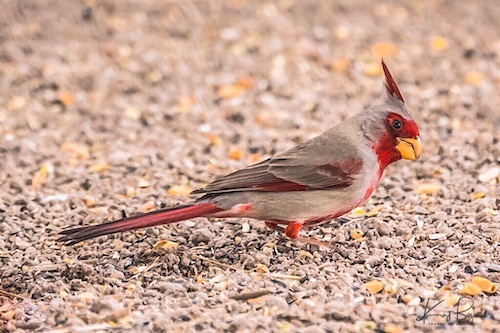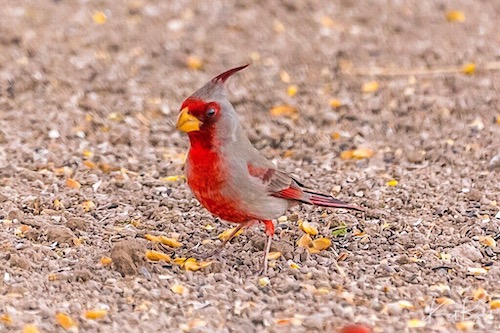 The pyrrhuloxia or desert cardinal (Cardinalis sinuatus) is a medium-sized North American song bird found in the American southwest and northern Mexico. It has a length of 8.3 in (21 cm)
and a weight of 0.8–1.5 oz (24–43 g). This distinctive species with a short, stout bill, red crest and wings, closely resembles the northern and the vermilion cardinals which are in the same genus. Pyrrhuloxias are habitat specialists, so look for them in desert scrub of the Southwest, where they look (and sound) like crisp, gray-and-red cardinals. The short, curved, yellow bill and long crest are good points to distinguish it from the Northern Cardinal, which can also occur in the desert.
Gila Woodpecker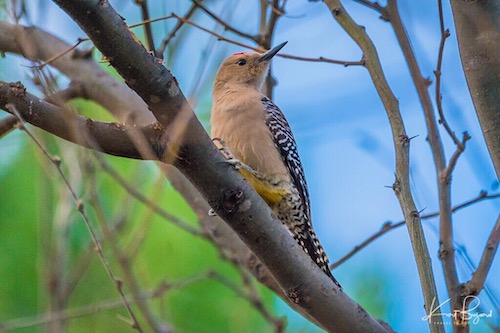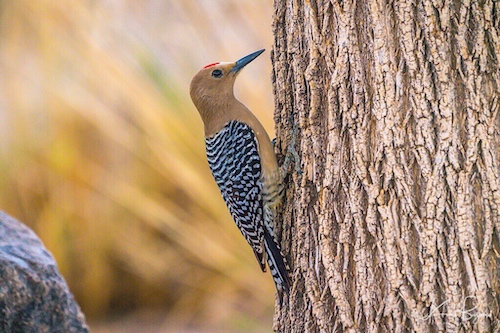 The Gila Woodpecker (Melanerpes uropygialis) is suited to living in deserts, unlike other woodpeckers which prefer wooded areas. It is 9.4 in (24 cm) in length and weighs 1.8–2.8 oz (51–79 g). It is found across southwest US and central Mexico. It likes to sit on cacti and large dead trees, and makes nests in large cacti. Both males and females dig holes to make the nest. This is done without injuring the plant, so that it continues to produce fruit, which the woodpecker eats. Once the woodpeckers have abandoned their nests, other species of birds, including owls and flycatchers, use the holes to build their own nests. The back and wings of this bird are spotted and barred with a black and white zebra-like pattern. The neck, throat, belly and head are greyish-tan in color. The male has a small red cap on the top of the head. Females and juveniles are similar, but both lack the red cap of the adult male.
Ferruginous Pygmy Owl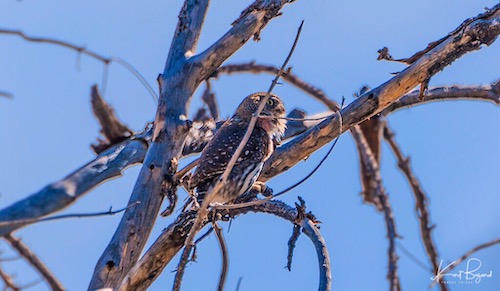 The ferruginous pygmy owl (Glaucidium brasilianum) is a small owl that breeds in south-central Arizona in the United States, south through Mexico and Central America, to South America into Bolivia, Paraguay and Argentina. The ferruginous pygmy owl is small, typically 5.9 in (15 cm), and stocky with disproportionately large talons. The crown has elongated white/buff spots or streaks, the wing coverts have white spots, and the underparts are heavily streaked white. The northernmost subspecies, G. b. cactorum, commonly called the cactus ferruginous pygmy owl, was a listed Endangered species under the U.S. Endangered Species Act. This protected it in south-central Arizona from loss of habitat and buffel grass fires. Buffel grass catches fire very easy, which spreads to cacti, burning the owl's primary habitat. It is not a great photo but I would not have seen it at all if my guide, Ted Mouras, had not heard the call and deftly located it.
Arizona Gray Squirrel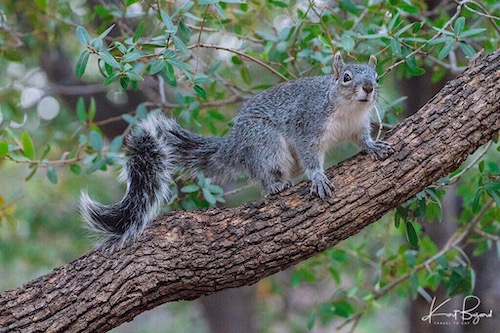 I believe Sierra Vista lived up to its reputation, these beautiful birds were all seen in a three day visit in May, not even the high migrant season. In addition to the many beautiful birds, animals such as the friendly squirrel pictured above are also on display. As long as this post was, I did not include the hummingbirds, more to come. I hope you enjoyed the post, please leave a comment.
References:
Sierra Vista Birdwatching Areas
Immature White Crowned Sparrow
Subspecies of the Purple Finch
Four Forms of the Yellow-Rumped Warbler