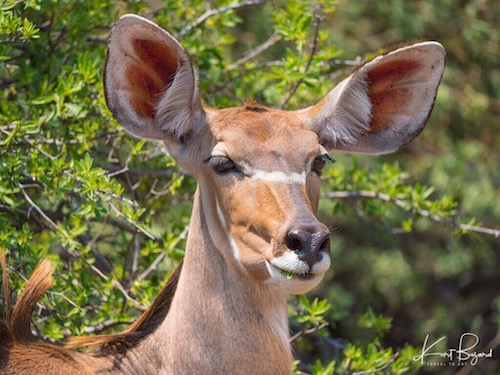 Since I had a fair amount of time on my hands when I was in Africa, I came to sort of an informal classification of the antelope based on their appearance and behavior, with no scientific basis whatsoever, and since this is my post, I thought I would share. The Impala are the beautiful children of the savanna, they leap, they congregate and they run. The tiny Steenbuck with their giant eyes are, of course, the infants. The elegant Kudu are the parents, bigger, slower but also responsible and watchful. The Lechwe and Tsessebe are the rumpled uncles and aunts, not seen as often but also watchful. In particular the Tsessebe are like the clueless uncle everyone seems to have had. The Wildebeests are the rumpled grandparents, they always look like they are having a bad day. All of these are "ungulates", plant eating animals with hooves. Ungulates are members of a diverse group of large mammals that includes odd-toed ungulates such as horses and rhinoceroses, and even-toed ungulates such as cattle, pigs, giraffes, camels, deer, and antelope. Most ungulates walk on the tips of their toes, actually their toenails or hooves.

Antelope vs Deer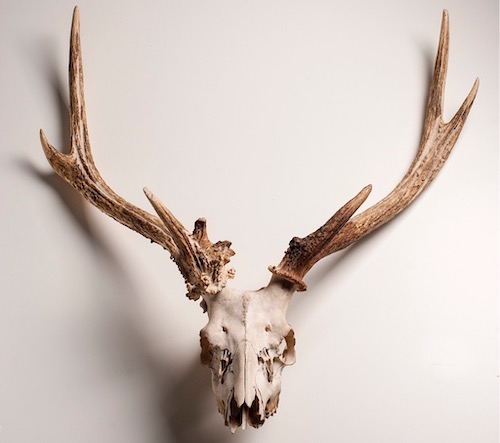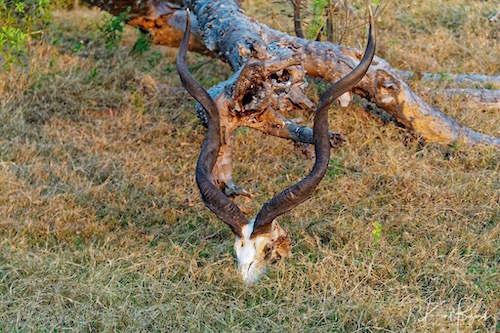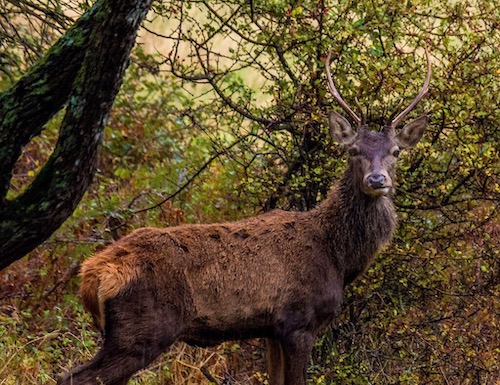 Despite similar appearances, deer and antelope belong to two different scientific families. While both are members of the order Artiodactyla, which is composed of even-toed hoofed animals, deer belong to a family known as Cervidae, which is composed solely of 47 deer species. Antelope belong to the Bovidae family, which includes 135 species of miscellaneous cattle, goats and antelope. The vast majority of antelope are in Africa, where 71 species are native to the continent. They are also common in Asia, which has 14 native antelope species. Only the pronghorn antelope is native to North America. Deer are widely distributed, with indigenous representatives in all continents except Antarctica and Australia, though Africa has only one native deer, the Barbary stag, a subspecies of red deer that is confined to the Atlas Mountains in the northwest of the continent. The most prominent difference between antelopes and deer is that male deer have antlers which they shed and grow every year while antelopes have horns that are permanent. Another difference is that deer antlers are branched and antelope horns are not.
Impala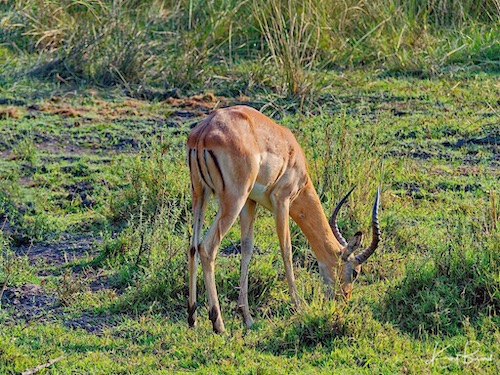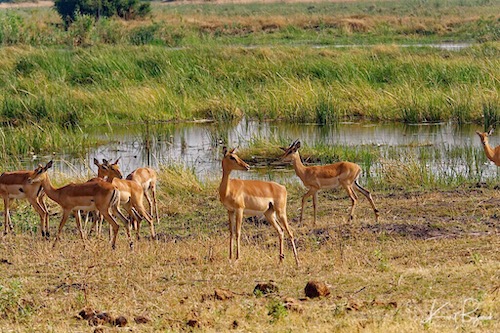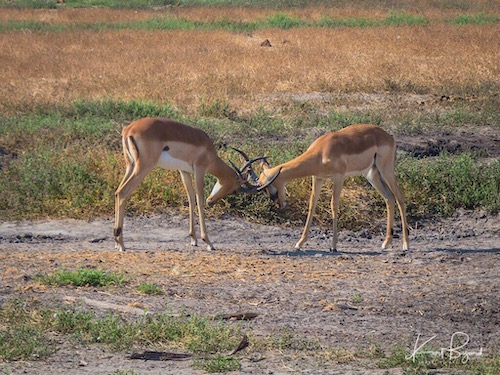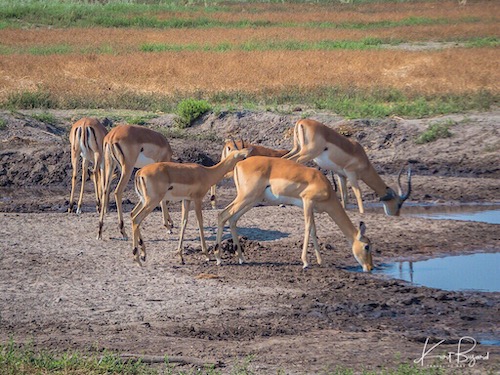 The Impala (Aepyceros melampus) is a medium-sized antelope found in eastern and southern Africa. It is one of the most common and most graceful of all Africa's antelopes. A slender, agile creature, it can clear formidable obstacles and run at speeds faster than 40 m/hr (60 km/h). They use their tremendous speed and agility to avoid predators, and seemingly for pure enjoyment. The impala has a remarkable response when it feels threatened, as the impala is able to jump over 30 ft (9m) in distance and over 6 ft (2m) high! The head-and-body length is around 51 in (130 cm). Males reach approximately 30–36 in (75–92 cm) at the shoulder, while females are 28–33 in (70–85 cm) tall. Impalas weigh around the same amount as a large dog at 117–168 lb (53–76 kg) for males and 88–117 lb (40–53 kilograms) for females. Males grow slender, black twisted horns 18–36 in (45–92 cm) long. The strongly ridged horns are circular in section and hollow at the base. Their twisted structure allows interlocking of horns, which helps a male throw off his opponent during fights and protects the head. The impala is thought to be one of the most adaptable animals living in the African savanna, as the impala is able to change its eating habits with the seasons depending on what is available in the near surroundings.
Greater Kudu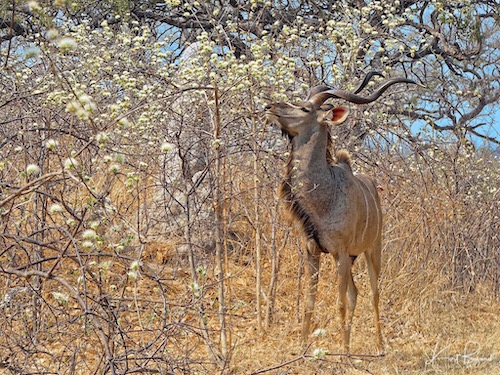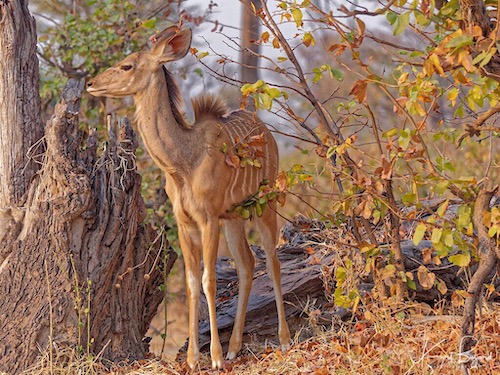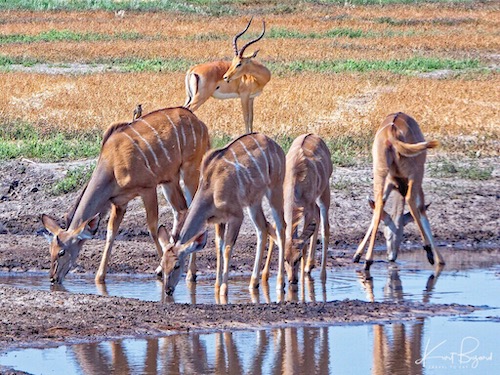 The greater kudu (Tragelaphus strepsiceros) is a woodland antelope found throughout eastern and southern Africa. Despite occupying such widespread territory, they are sparsely populated in most areas, due to a declining habitat, deforestation and poaching. This is one of the largest species of antelope. Bulls weigh 420–600 lb (190–270 kg), with a maximum of 694 lb (315 kg), and stand up to 63 in (160 cm) tall at the shoulder. The ears of the greater kudu are large and round. Cows weigh 260–460 lb (120–210 kg) and stand as little as 39 in (100 cm) tall at the shoulder. They have no horns and no beard or nose markings. Females usually form small groups of 6–10 with their offspring, but sometimes they can form a herd up to 20 individuals. Male kudus may form small bachelor groups, but they are more commonly found as solitary and widely dispersed individuals. Solitary males will join the group of females and calves (usually 6–10 individuals per group) only during the mating season (April–May in South Africa). Kudu have the longest and sharpest horns and have the ability to take all the big cats and any other animal which is a threat to the kudu, kudu herd or offspring.
Red Lechwe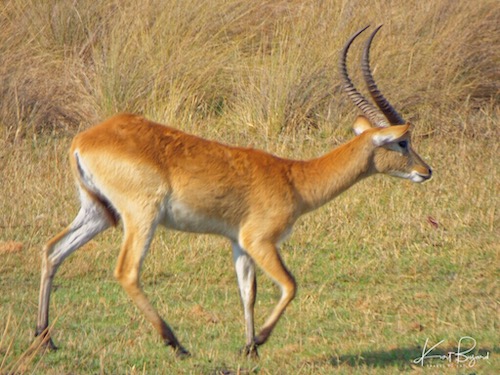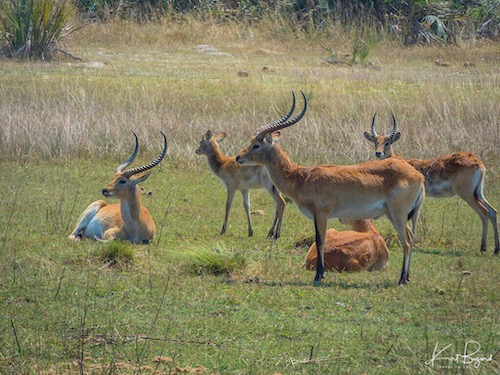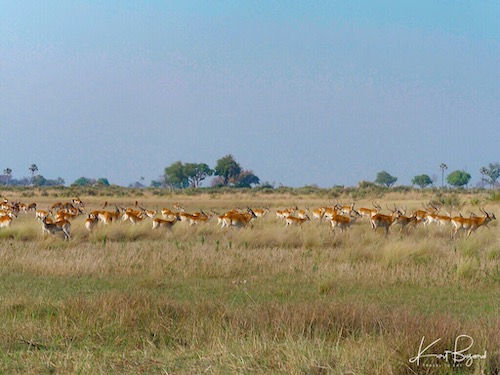 The Red Lechwe (Kobus leche), or Southern Lechwe, is an antelope closely related to the Waterbuck. Lechwe stand 35–39 in (90–100 cm) at the shoulder and weigh from 150–260 lb (70–120 kg). They are golden brown with white bellies. Males are darker in color, but general hue varies depending on subspecies. The long, spiral-structured horns are only found in males. The hind legs are somewhat longer in proportion than in other antelopes, to ease long-distance running in marshy soil. Lechwe are found in marshy areas where they eat aquatic plants. They use the knee-deep water as protection from predators. Their hooves are adapted for swampy terrain and their legs are covered in a water-repellant substance which allows them to run quite fast in knee-deep water. While lechwe do not have scent glands, their coats are greasy and have a distinct odor. Lechwe are and gather in herds which can include many thousands of individuals. Red Lechwe are found in the Okavango Delta, and along rivers in Botswana, Zambia, Namibia and Angola.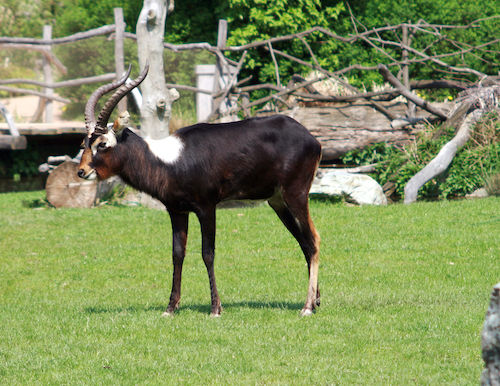 The African subfamily Reduncinae is a group of medium to large sized grazers, most of which have strong ties to water. Geographical separation has lead to the evolution of three North-South species-pairs; kob and puku, bohor and southern reedbuck, and the Nile lechwe and red lechwe. Unfortunately, the Nile Lechwe is an endangered species. The Nile Lechwe is found only in South Sudan and Ethiopia. An aerial survey carried out by the Wildlife Conservation Society (WCS) in the early dry season in southern Sudan in 2007 yielded an estimate of 4,291 animals, a population deeply affected by ongoing human conflict in these areas.
Southern Reedbuck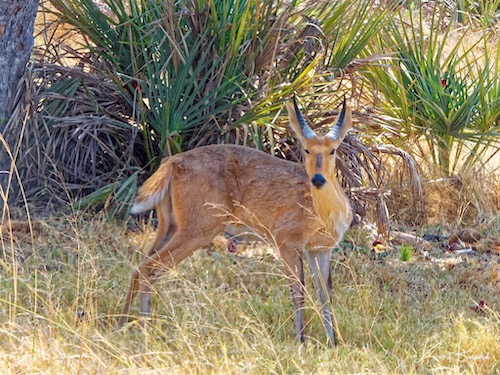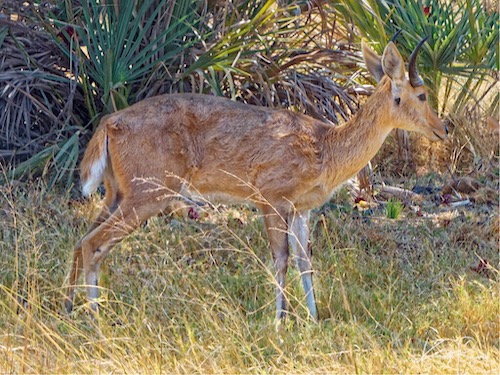 The Southern Reedbuck, Rietbok or Common Reedbuck (Redunca arundinum) is another member of the African subfamily Reduncinae. This medium sized antelope has a shoulder height of 32–37 in (80–95 cm) with a weight of 110–155 lb (50–70 kg).
The average horn length is 12 in (30 cm). The name comes from their habit of hiding in reeds and the tall grass of marshes during the day. When alarmed they give a distinctive, shrill whistle produced by closing their mouths and blowing through their nostrils. They have a characteristic bushy white tail when running and have an unusual white tube over the base of each horn. The body color of the common reedbuck varies from a buffy-grey to a light greyish-brown or buffy-yellow. These colors act as an efficient camouflage as they blend in with the grass and reed environments of their habitat. A dark brown tint on the front of the forelegs is distinctive. The underside of the body is white and the flanks show a gradient of gentle color transition. A black spot can be seen below the base of each ear.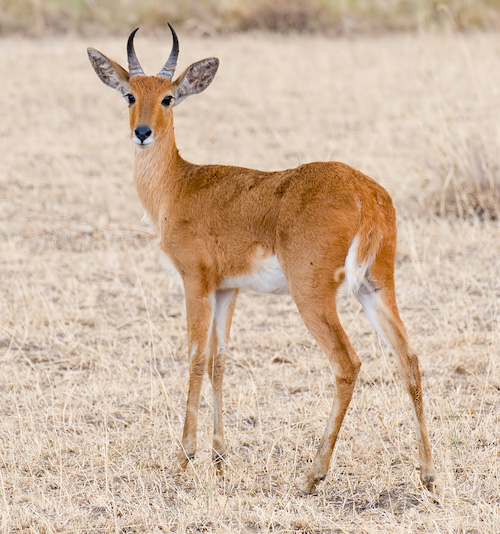 The northern cousin of the Southern Reedbuck is the Bohor Reedbuck (Redunca redunca), native to central Africa. Not only do they look very similar but their preferred habitat is similar. The Bohor Reedbuck prefers grasses and tender reed shoots with high protein and low fiber content. This reedbuck is dependent on water, though green pastures can fulfill its water requirements.
Cape Bushbuck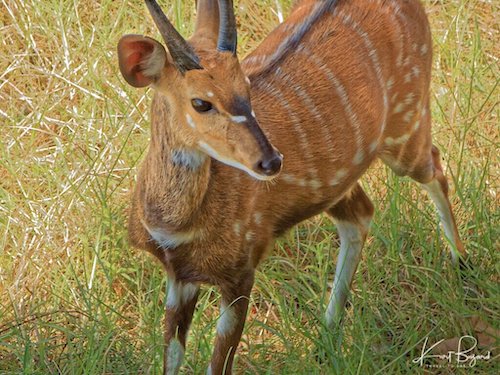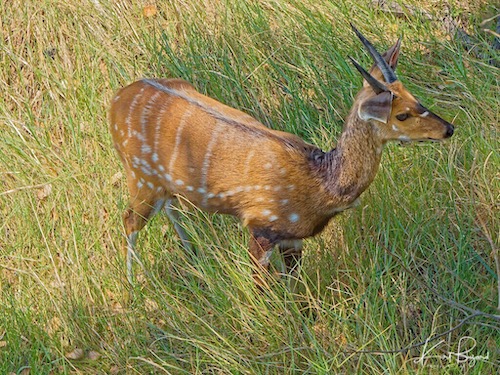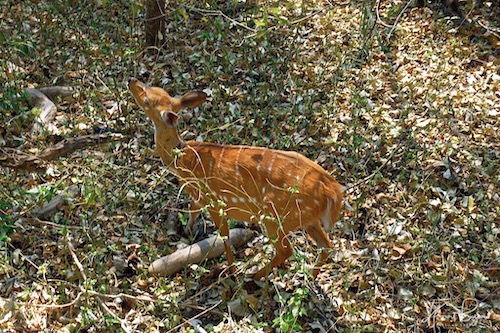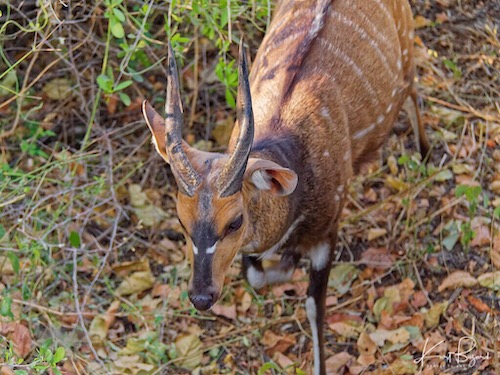 The Imbabala or Cape Bushbuck (Tragelaphus sylvaticus) is a widespread species of antelope in Sub-Saharan Africa. Formerly, two species were recognized under the generic name "bushbuck"; the Kéwel (Tragelaphus scriptus) and the Imbabala (Tragelaphus sylvaticus). Both species are more closely related to other members of the tragelaphine family than to each other (the imbabala to the bongo and the sitatunga, and the kéwel to the nyala). Bushbuck are found in rain forests, montane forests, forest-savanna mosaics, and bush savanna forest and woodland. Imbabala stand about 35 in (90 cm) at the shoulder and weigh from 99–176 lb (45–80 kg), depending on sex. They have a light brown coat, with up to seven white stripes and white splotches on the sides. The white patches are usually geometrically shaped and on the most mobile parts of their body such as the ears, chin, tail, legs and neck. The face has a black stripe punctuated by two white bars and the horns, found only on the males, can reach over 20 in (50 cm) with only one twist.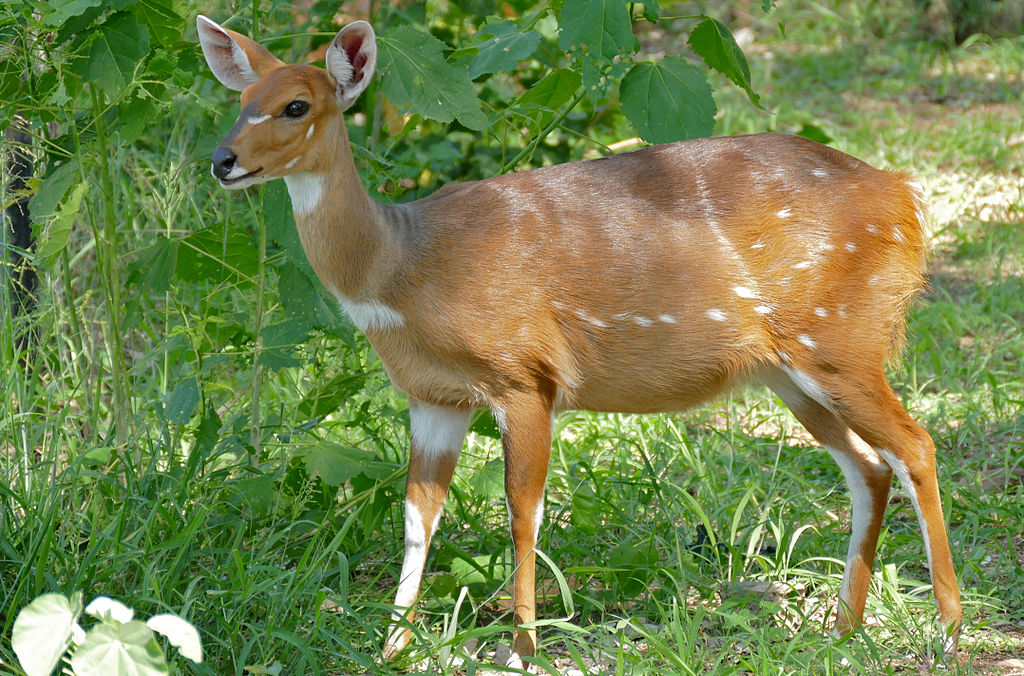 The Harnessed Bushbuck or Kéwel (Tragelaphus scriptus) is a small to medium-sized antelope widespread in west and central Africa. It is visibly striped and features patterns with no sexual dimorphism in terms of ground coloration. It can be noted that most of the bushbuck studies have centered Imbabala and little is known about the Kewel's biology. The name Kéwel is extracted from the Wolof dialect that is found in Senegal. The Imbabala derives its name from the language of the Xhosa of South Africa.
Steenbok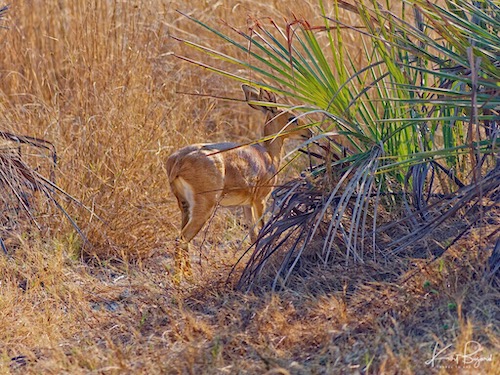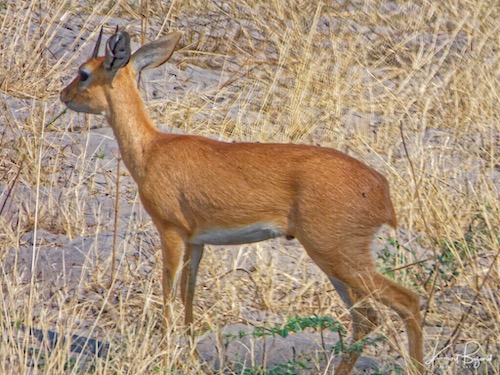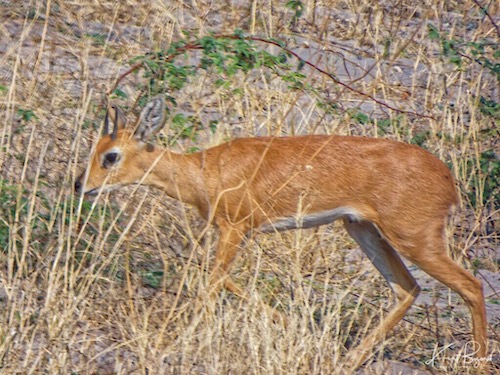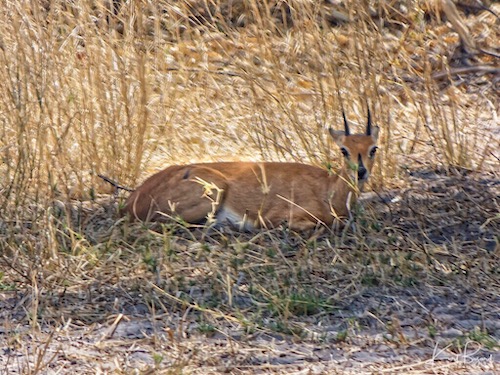 Also known as the Steinbuck or Steinbok, the Steenbok (Raphicerus campestris) is probably the most common of the "tiny 10 antelope". An average Steenbok will stand around 20″ tall at the shoulder and weigh around 20 pounds. Their color is anywhere from fawn to brown, typically rather orange. The underside, including chin and throat, is white, as is the ring around the eye. Ears are large with "finger-marks" on the inside. Males have straight, smooth, parallel horns 2.5–7.5 in (7–19 cm) long. There is a long black bridge to the glossy black nose, and a black circular scent-gland in front of the eye. The tail is not usually visible, being only 1.5–2.5 in (4–6 cm) long. Steenbok live in a variety of habitats from semi-desert, such as the edge of the Kalahari Desert and Etosha National Park, to open woodland and thickets. Steenbok show a distinct preference for Acacia tortilis savannah throughout the year, with no tendency to migrate to moister areas during the dry season. Due to their small stature, they will often graze on flowers. During cool periods, steenbok are active throughout the day, however during hotter periods, they rest under shade during the heat of the day. While resting, they may be busy grooming, ruminating or taking brief spells of sleep. They may be seen in Namibia, South Africa, Botswana, Mozambique, Zambia, and Zimbabwe.
Tsessebe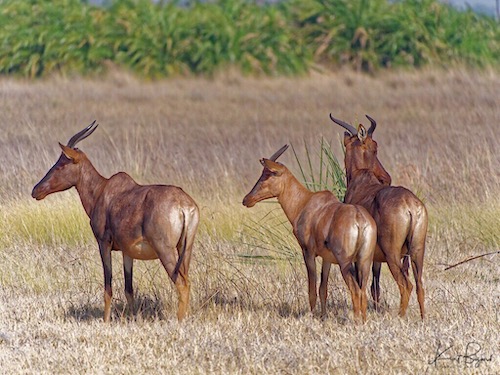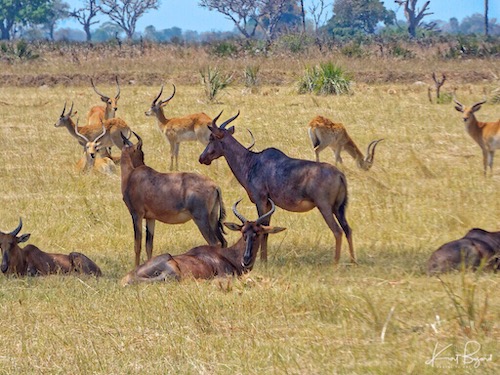 The common tsessebe or sassaby (Damaliscus lunatus lunatus) is somewhat comical in appearance with high, sloped shoulders that descend to a small rump that does not look particularly strong. However Tsessebe are the fastest antelope in Africa and can run at speeds over 60 m/hr (90 km/h). Adult tsessebe are quite large animals, with males weighing 300 lb (137 kg) and females weighing 165 lb (120 kg) and are 60–90 in (150–230 cm) in length. Their horns range from 15–16 in (37–40 cm), smaller in females than males. Their bodies are chestnut brown. The fronts of their faces and their tail tufts are black, the forelimbs and thighs are greyish or bluish-black. Their hindlimbs are brownish-yellow to yellow and their bellies are white. There are a group of related Damaliscus lunatus subspecies, the topi, korrigum, coastal topi and tiang which all look pretty much the same. Not only do they look funky but several of their behaviors strike scientists as peculiar. One such behavior is the habit of sleeping tsessebe to rest their mouths on the ground with their horns sticking straight up into the air. Male tsessebe have also been observed standing in parallel ranks with their eyes closed, bobbing their heads back and forth. A strange antelope all the way around.
Blue Wildebeest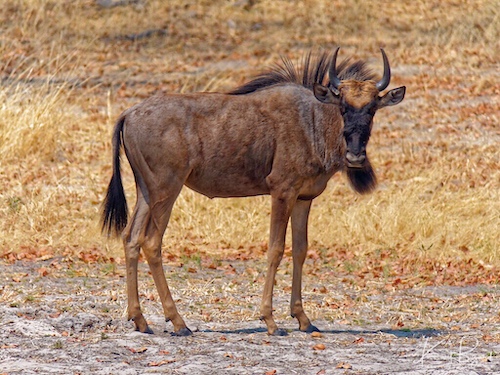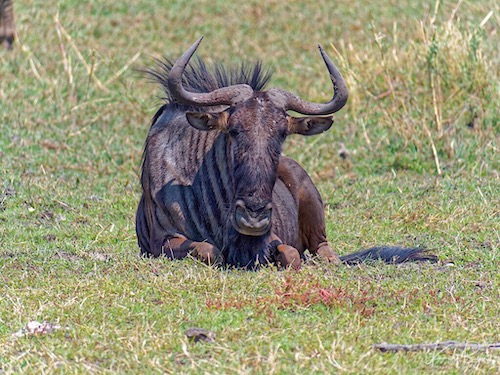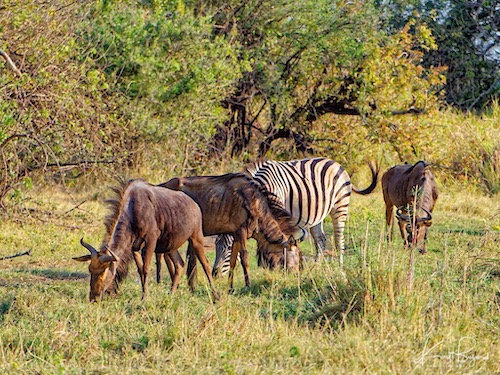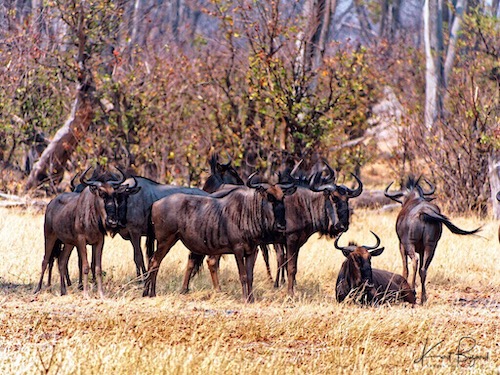 Dutch settlers first discovered wildebeest in about 1700, on their way to the interior of South Africa. Due to their resemblance to wild cattle, these people called them "wild ox" or "wildebeest". The wildebeests, also called gnus, are a genus of large antelopes, which includes two species, both native to Africa: the black wildebeest, or white-tailed gnu (Connochaetes gnou) and the blue wildebeest, or brindled gnu (Connochaetes taurinus). They belong to the family Bovidae, which includes antelopes, cattle, goats and sheep. The blue wildebeest remained in its original range and changed very little from the ancestral species, while the black wildebeest changed more in order to adapt to its open grassland habitat in the south. The most obvious way of telling the two species apart are the differences in their coloring and the color of the tail. Wildebeest often graze in mixed herds with zebra which gives heightened awareness of potential predators. They are also alert to the warning signals emitted by other animals such as baboons. The local tribesmen of the Serengetti refer to wildebeests as sifuri ubongo — "zero brains" in Swahili. Another name is gnu, a moniker coined by the Khoisan people in reference to the irritating ga-noo sound wildebeests make at all times but most frequently during their massive sex parties. Wildebeest are perhaps best known for "The Great Wildebeest Migration" which refers to the huge annual movement of vast numbers of wildebeest accompanied by large numbers of zebras and gazelles searching for food and water between Tanzania and Kenya.
Sable Antelope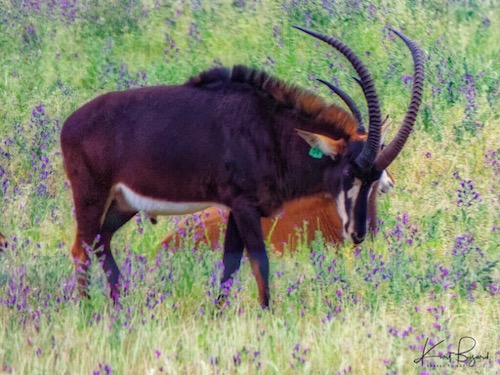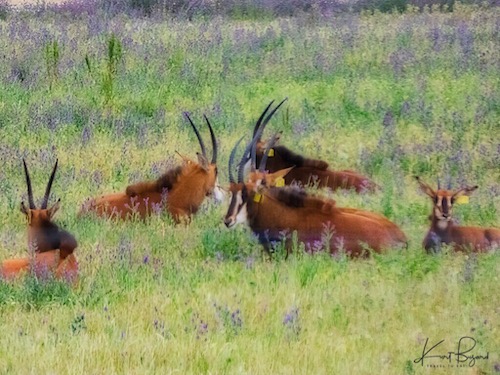 The Sable Antelope (Hippotragus niger) inhabits wooded savannah in East Africa south of Kenya, and in Southern Africa. Bulls are black and cows are mainly brown but occasionally black. They have vertical white lines on the face, white stomach, white inner thighs and buttocks. Both sexes have horns. These large antelope have a shoulder height of (135 cm) and an average weight of 510 lb (230 kg). Hippotragus niger niger, the southern sable or black sable (also known as the Matsetsi, south-Zambian and common sable) is regarded as the "typical" sable, as it was the first to be described and named in 1838. Often referred to as the black sable because it tends to have the darkest coat, this subspecies occurs south of the Zambezi River, particularly in northern Botswana and in large numbers in the Matsetsi valley of Zimbabwe, but is also found in South Africa. In South Africa, most of the commercial sable farmers crossed their Matsetsi sables (indigenous to South Africa) with western Zambian sables in the hope to move nearer to the nearly extinct giant sable (that was larger with bigger horns). Currently, only about 15% pure Matsetsi sables are thought to exist in South Africa. The Matsetsi sable population in Zimbabwe is only 450 (down from 24,000 in 1994). The sable population in South Africa is about 7,000 (commercial and in reserves). Therefore, the Matsetsi sable population apparently is less than 1,500 and declining. Fortunately, most of the sables in the reserves are pure Matsetsi sables. I saw these in South Africa on a private reserve which makes a profit selling Sable antelope for $8000 per animal.
I hope you enjoyed the post, please leave a comment.
References:
The Great Migration, Month by Month
36 Things to Know about the Great Migration