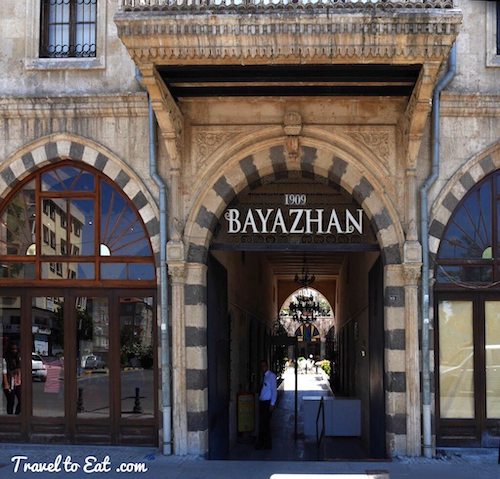 For lunch after the Zeugma Mosaic Museum we decided to go to downtown Gaziantep. Bayazhan is a converted caravansarai, built in 1904-1909 by tobacco dealer, Bayesian Ahmed Aga and was the site of the first movie exhibition and British headquarters during WWI. A caravansarai is a building to house an overnight stop-over of a caravan, which is a body of merchants who travel together for greater protection. These buildings are generally known in Turkish as "hans" or a "kervansarays". More than just overnight inns along the road, these structures were often palatial and offered many services to their guests. In addition to their trade purposes, it can also be considered that these buildings served as depots for goods, treasuries for collected taxes, postal relay stops, military lodging, depots for military equipment and military guard posts. The typical Seljuk han is a monumental stone building with a large, highly-decorated main portal which provided access to an open courtyard and a vaulted hall to the rear. Even though the place is relatively deserted for lunch, being a night-time hotspot, it is one of the few places to have wine with lunch in Gaziantep.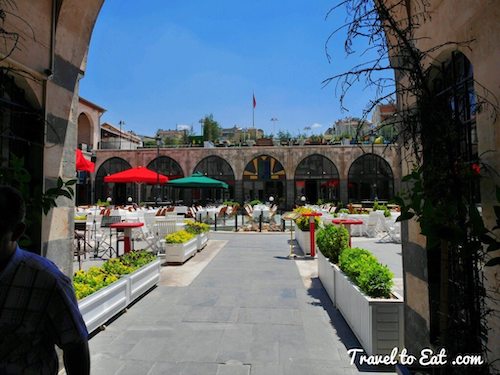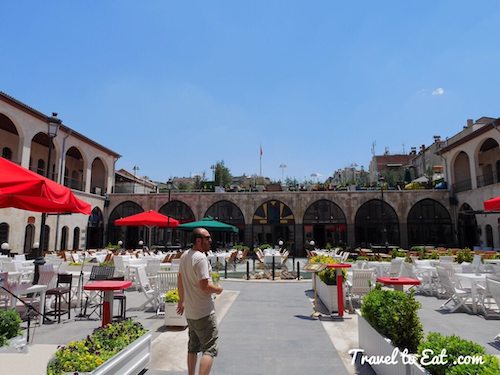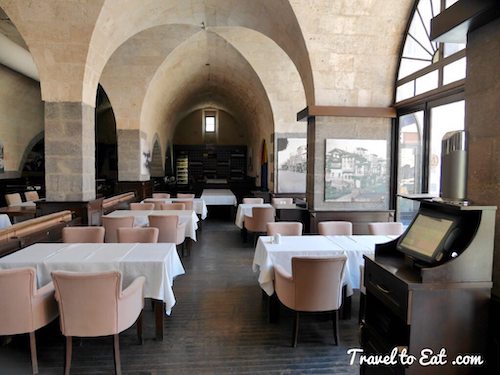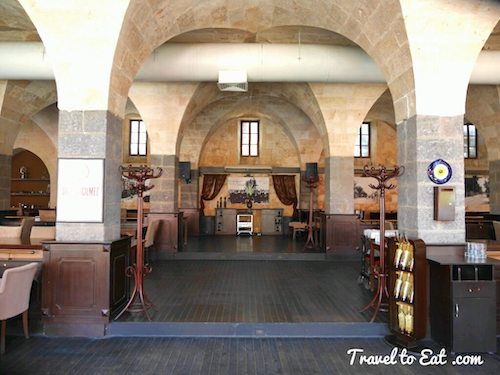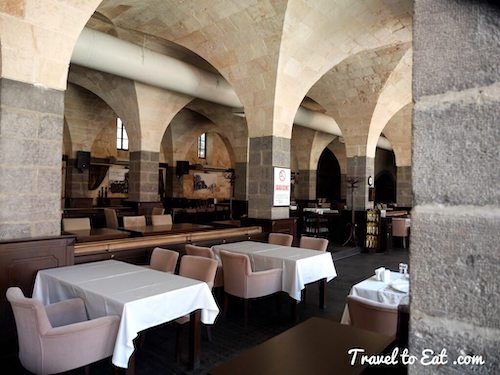 Since we were the only patrons for lunch, we ate in the main restaurant building in the rear of the courtyard. At night, especially on the weekends, this place is packed. The prices are a little inflated but the food is good and the ambiance is great.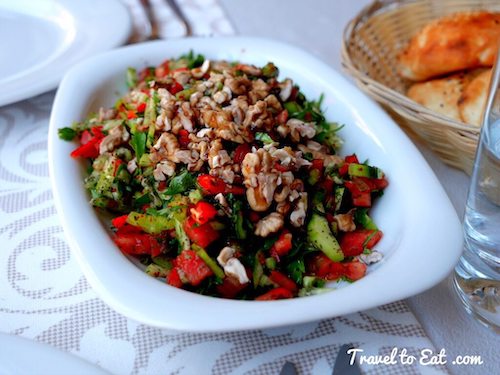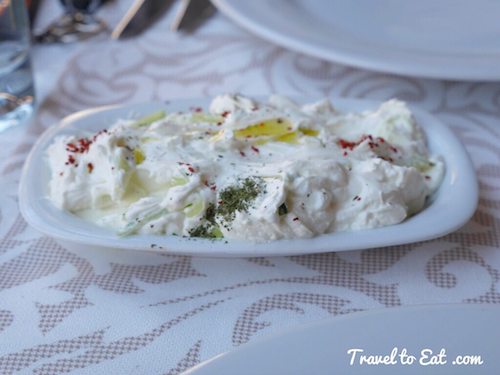 We ordered one Gavurdagi salad, a simple shepherd salad (cucumbers, tomatoes and onions) with pomagranade sauce, dry mint and fresh walnuts and one Mezeler/Meze, Antep Cacigi (cucumber, mint and yoghurt). The salad was just OK but the Meze had too little cucumber and mint.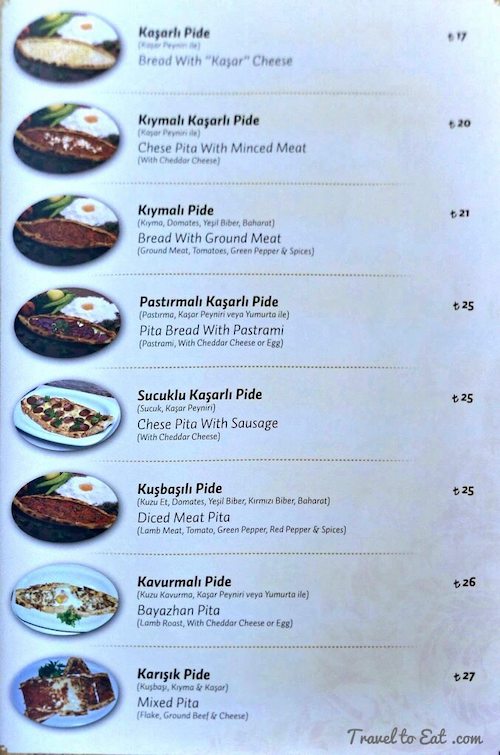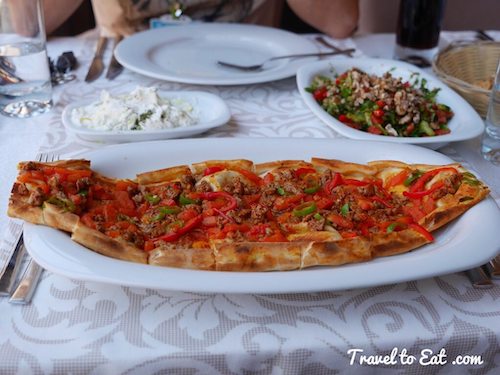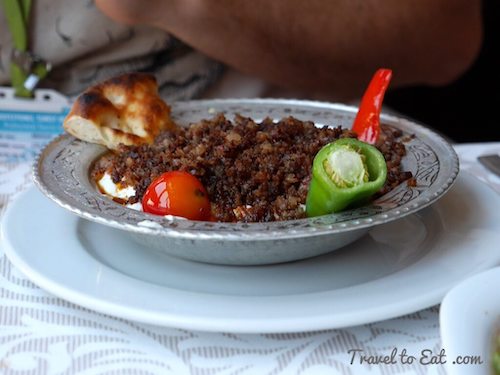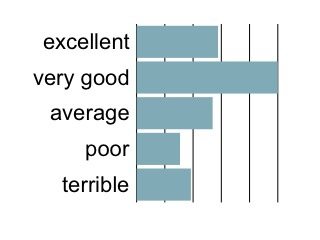 For our main course I ordered a lamb meat Pide and my guide ordered Alinazik which is baked eggplants mixed with youghurt and garlic underneath topped with chopped lamp meat. In Turkey, local pita is called pide, which also refers to another pizza-like food made of pide dough topped with different ingredients. Regional variations in the shape, baking technique, and topped materials create distinctive styles for each region. Such pides may include pastırma, sucuk, chicken, chopped or ground beef, kavurma (meat, generally mutton or beef, fried with suet and salt and kept for later use), cheese, potatoes, mushrooms and many other ingredients, just like pizza. Also made in Turkey are the pizza-like foods called lahmacun. They are made with round-shaped pieces of thin Arabian pita dough topped with finely chopped meat and herbs before baking until crispy. I have to say, this pide had a crust better than any pizza I have ever had, except perhaps Naples. Altogether, this restaurant has both positives and negatives. It is a little more expensive than comparable offerings in the neighborhood. However, the ambiance and historical impact of the building in addition to the availability of alcohol may offset the increased prices.
References:
Bayazhan Website: http://www.bayazhan.com.tr
TripAdvisor: http://www.tripadvisor.com/Restaurant_Review-g297998-d1816102-Reviews-BAYAZHAN-Gaziantep_Gaziantep_Province.html
Peter Sommer: http://www.petersommer.com/turkey-travel-country/turkish-food-cuisine/pide-pizza/