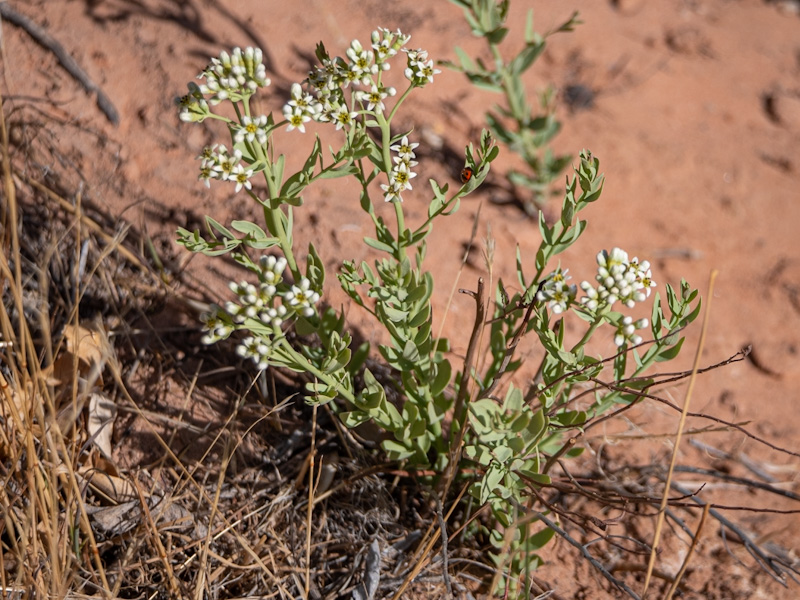 Common Names: Bastard Toadflax, Umbellate Bastard Toadflax, and Common Comandra
Synonyms: Comandra umbellata
Subspecies: californica, pallida, umbellata
Taxonomy: Santalaceae (Mistletoe)
Habit: perennial subshrub
Size: up to 13 inches
Flowers: white, yellow
Bloom: Mar, Apr, May, Jun, Jul
Leaves: alternate
Fruit: drupe 4–6 mm thick
Description:
Comandra is a monotypic genus containing the single species Comandra umbellata. Although a photosynthetic plant that manufactures its own food, it is also a parasite, obtaining some of its nutrients from the roots of trees and shrubs. Comandra is a perennial herb growing from rhizomes, often in drier or semi-sandy soils, to about 3-13 inches (8-34 cm) tall. The leaves are up to 1 inch (3.3 cm) long and are alternately arranged. Growing in flat or roundish clusters, the flowers lack petals, but have five greenish-white sepals. The flowers contain both male and female structures, and are insect-pollinated. The fruit is a drupe 4–6 mm thick.
Distribution: All 49 States and parts of Canada
Seen: NV (Calico Basin)
Habitat: dry rocky areas, upper desert areas, pine communities. 4000-9400 feet