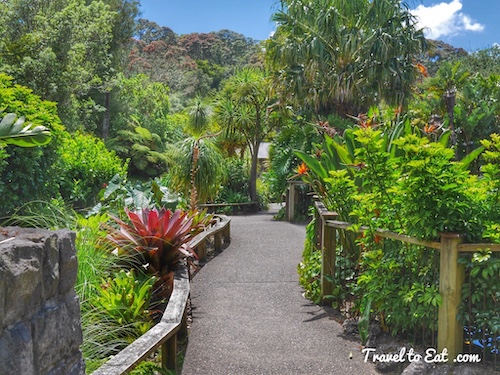 The Auckland Zoo is currently home to over 875 animals representing 138 species, and covers 16.35 hectares (40 acres) of lush parkland and is just minutes from central Auckland. Auckland Zoo is home to the largest collection of native and exotic animals in New Zealand, organized into exhibition areas grouped by region of origin, taxonomy, or biome. The Auckland Zoo Conservation Fund was established in 2000 and provides financial support to conservation projects in 12 key regions in New Zealand and overseas. The six New Zealand regions are: the Coast, the Islands, the Wetlands, the Night, the Forest and the High Country. The six international regions are: Africa, Nepal, Pacific Islands, South America, Southeast Asia and Sri Lanka. Auckland Zoo supports conservation through captive breeding programs, education, advocacy and research. Zoo staff are also sent to assist projects in New Zealand and overseas, where they lend and develop their specialist skills. The zoo helps educate school children about their own environment and the animal kingdom in general at the Discovery and Learning Center. Other features offered by the zoo are function facilities including an overnight stay option and twilight tours (Safari Nights) as well as behind-the-scenes experiences.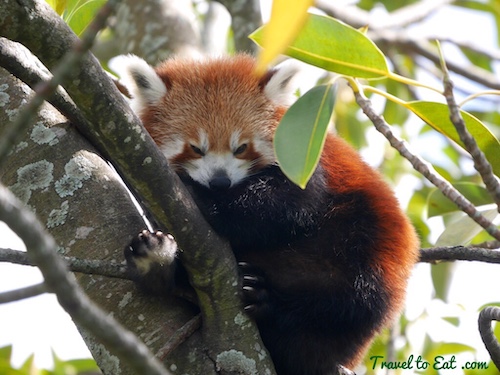 Red pandas have features of bears, cats and raccoons. This makes the species hard to classify – it is not even grouped with the giant panda. The red panda is dwarfed by the black-and-white giant that shares its name. These pandas typically grow to the size of a house cat, though their big, bushy tails add an additional 18 inches (46 centimeters). The pandas use their ringed tails as wraparound blankets in the chilly mountain heights. Red pandas are threatened because of the loss of their natural habitat. Where they live, in the eastern Himalayas and south-western China, the human population is growing fast. This leads to over population of the pandas' forest home, which is being destroyed for farms and for firewood. It is uncertain how many remain in the wild today, but estimates suggest it may be as low 2500 individuals. There are close to 500 individuals in zoos worldwide.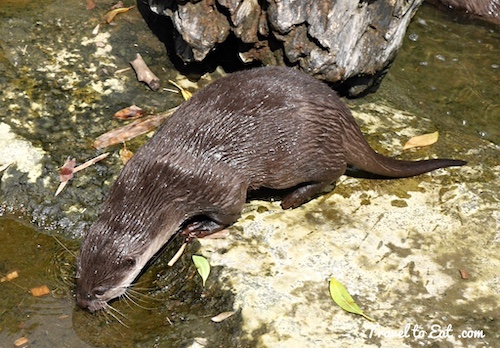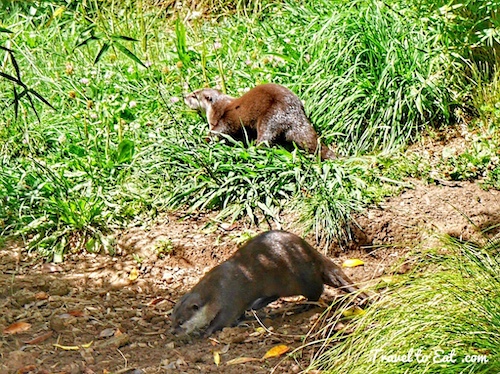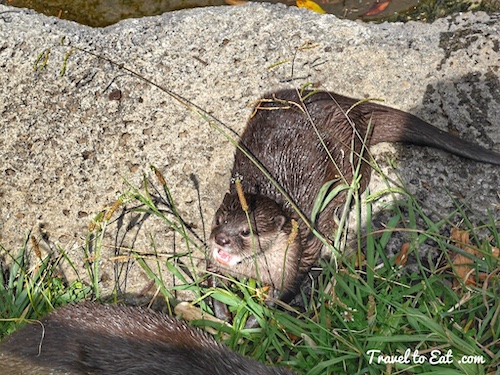 Otters are small amphibious mammals related to meerkats and skunks. Otters enjoy gymnastic rough and tumble – tobogganing on their stomachs in the mud! Asian small-clawed otters are the smallest of all otters in the world. The overall length can range from 70 to 100 cm (28–39 in), of which about 30 cm (12 in) is the tail. Weight can range from 1 to 5.4 kg (2.2-11.9 lbs). As its name suggests, the Small-Clawed Otter has claws that are much smaller than other otters'. Also unlike other otters, their paws are almost like hands, very slightly webbed, and they are capable and dexterous when using them. They are very strong swimmers using their tail to sweep from side to side, helped by their webbed feet. Otter species are threatened around the world because of loss of their ideal habitat, through pollution and deforestation.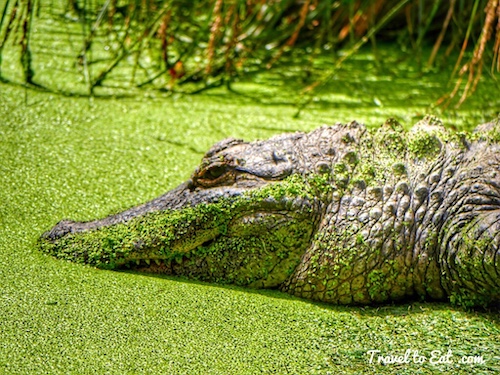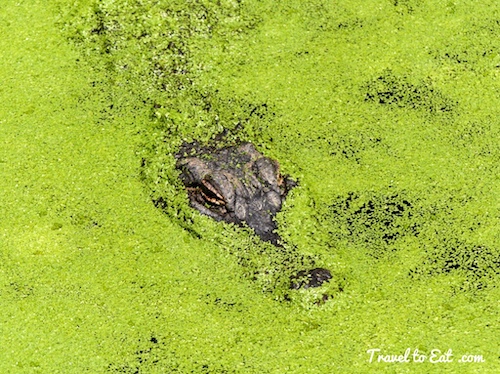 Alligators have a broader, blunter head and snout than their crocodilian cousins. Males can grow up to 5m and females up to 2.5m. Alligators are well designed for catching their prey with eyes, ears and nose positioned on top of their head.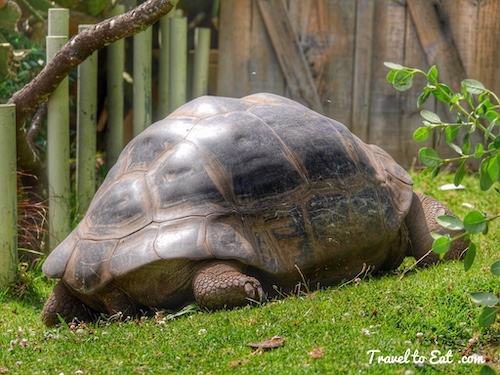 Galápagos tortoises live in the Galápagos group of islands off the east coast of South America made famous by Charles Darwin in 1835. Spanish sailors who discovered the archipelago in 1535 actually named it after the abundant tortoises; the Spanish word for tortoise is galápago. Giant tortoises are the longest-lived of all vertebrates, averaging over 100 years. The oldest on record lived to be 152. These huge animals are threatened in the wild by fire and introduced predators such as feral dogs and pigs. They evolved with no need for speed, as the Gálapagos Islands have no native predators for the tortoises. They are also the world's largest tortoises, with some specimens exceeding 5 feet (1.5 meters) in length and reaching 550 pounds (250 kilograms).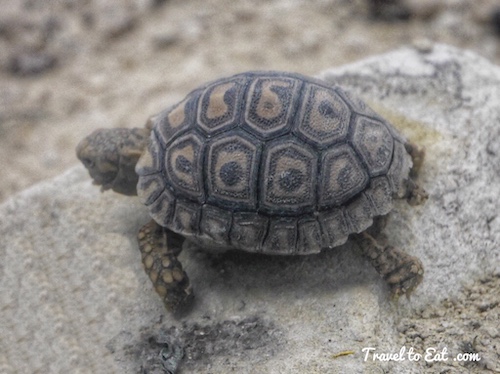 The leopard tortoise is the fourth largest species of tortoise in the world, with typical adults reaching 18-inches (460 mm) and weighing 40-pound (18 kg). Large examples may be 70-centimetre (28 in) long and weigh up to 120-pounds (54 kg). Grasses and succulents are favourite foods. Their striking shell pattern provides excellent camouflage from predators in their grassland habitat. Females reach sexual maturity at 5 to 6 years old and can lay up to 30 eggs at a time. Incubation time varies according to temperature. Eggs will rarely hatch in an incubator. Most successes have occurred when eggs are left in the ground, and when the climate is similar to the natural one for these tortoises.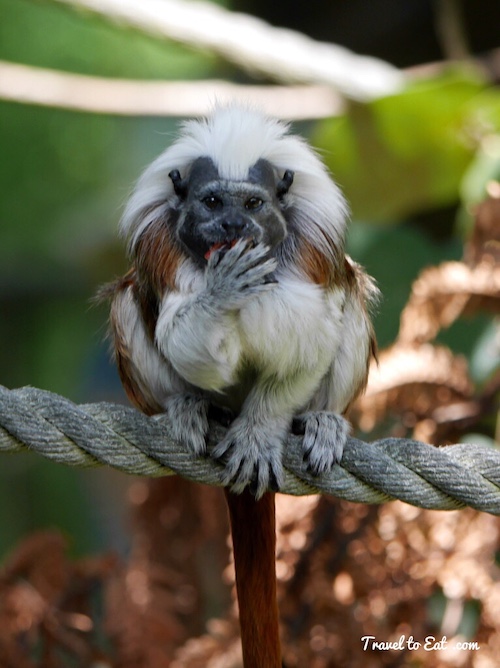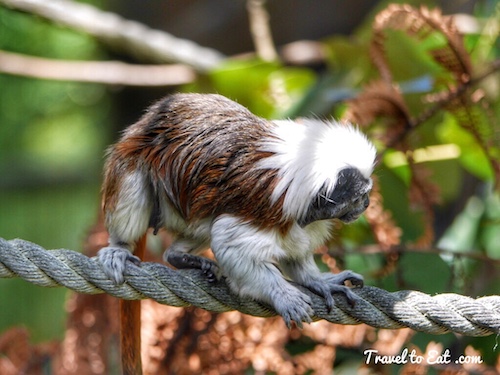 Cotton-top tamarins are arboreal (tree dwelling) in wet tropical forests (rainforests) or dry thorn forests in northern Colombia. They live in the mid to lower levels of the forest. These primates live in family groups of about 15 animals. Tamarins are monogamous animals (mate for life). Females dominate tamarin society and only one female has babies at a time in each group. Male cotton-tops care for the babies, he is even there to assist at the birth and looks after them throughout the early stages.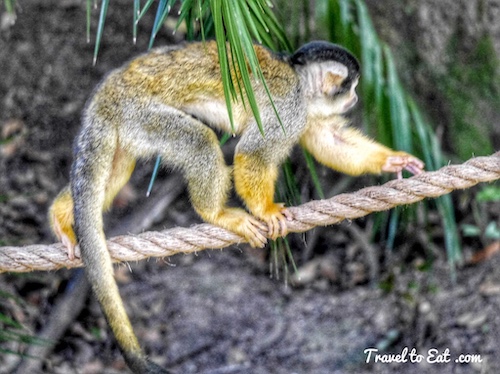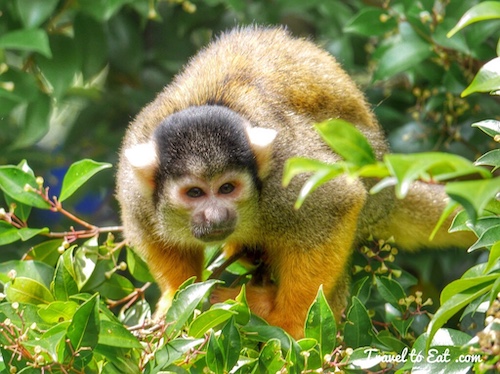 Squirrel monkeys live in the tropical forests of Central and South America. Squirrel monkeys are extremely agile and fast, making them hard to photograph. Unlike a spider monkey, their tail is not used for climbing, but as a kind of "balancing pole". They eat mainly fruit and insects but also invertebrates, flowers, leaves and seeds. During mating season, males have been known to gain considerable amounts of weight. This is known as "fattening". The fatter the animal the more attractive it is to a female. Note the inside of the palm, which is hairless and looks surprisingly like a child's hand.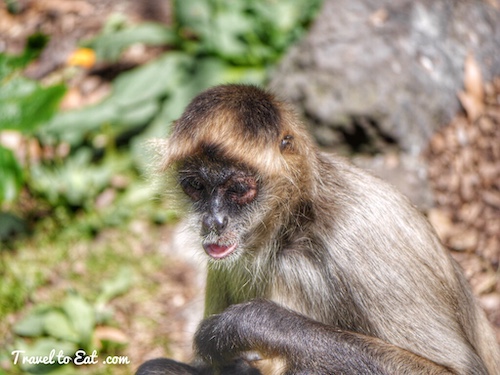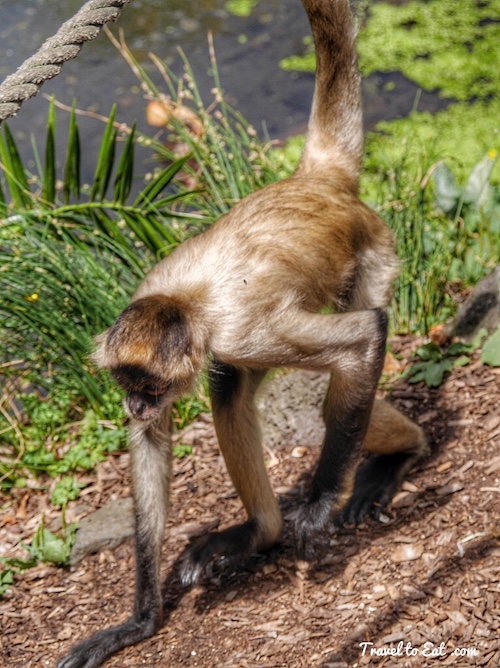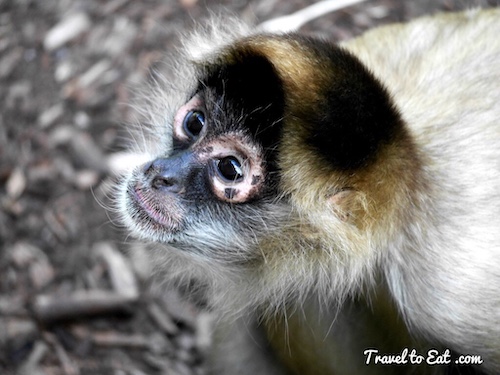 Geoffroy's spider monkey is one of the largest New World monkeys. Its length measures between 30 and 63 cm (12 and 25 in) and it weighs between 6 and 9 kg (13 and 20 lb). The tail is longer than the body at between 63 and 85 cm (25 and 33 in). Spider monkeys have prehensile tails, which means tails can grip branches, acting as an extra hand. The tail easily supports the monkey's weight – freeing up all four limbs for feeding. Geoffroy's spider monkey eats mostly fruit – preferably ripe and fleshy – and spends 70% to 80% of its feeding time eating fruit. Leaves make up most of the rest of its diet. Thumbs would get in the way of swinging so they have developed without them. Spider monkeys live in highly flexible groups, or troops, ranging from six to forty individuals, with females normally outnumbering males two to one. The larger group will break up into sub-groups, which move independently to one another within the same wider territory area. Within each sub-group, females are recognized as leaders, moving in front of the group when in search of food, and deciding the route to be taken. Not all females are leaders, and only the leading females possess the knowledge of food source locations. Sounds produced by Geoffroy's spider monkey include barks, whinnies, squeals, squeaks and screams. Each monkey makes a unique sound, which may allow monkeys to recognize each other through vocal communication alone. A study performed in 2007 concluded they were the third most intelligent nonhuman primate, behind only orangutans and chimpanzees, and ahead of gorillas and all other monkeys.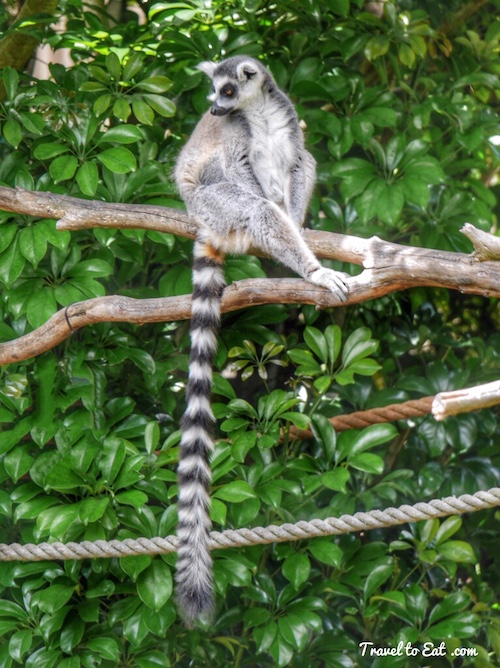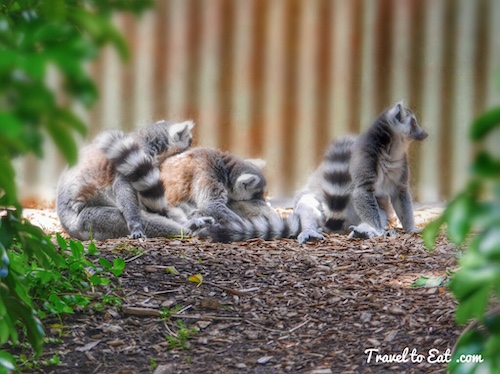 Lemurs live in Madagascar, an island off the eastern coast of Africa. Because of its geographic isolation, Madagascar is home to many amazing animals found nowhere else on Earth. Ring-tailed lemurs inhabit open scrubby areas in the north and south of the island. Lemurs live in a female-dominated society; males have to wait while the females drink and eat first, and it is the females who get to choose their partner. Males rub their scent glands along their tails and waft them at each other over access to the females. The striped tails are used for balance, to help carry their special smell and to make sure they do not lose sight of each other on the forest floor, as ring-tailed lemurs spend more time walking along the ground than other lemur species. Ring-tailed lemurs are endangered, largely because the sparse, dry forests they love are quickly vanishing.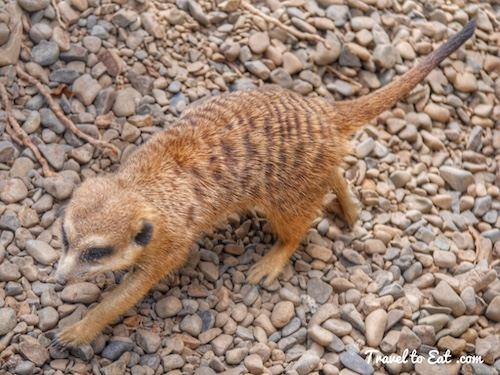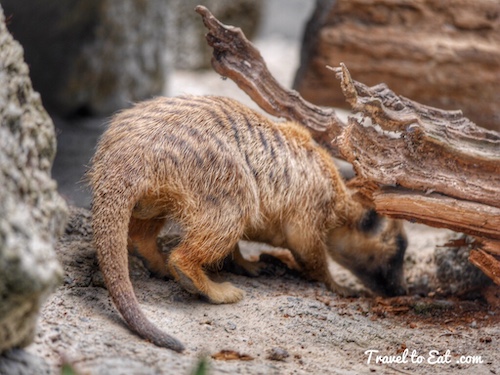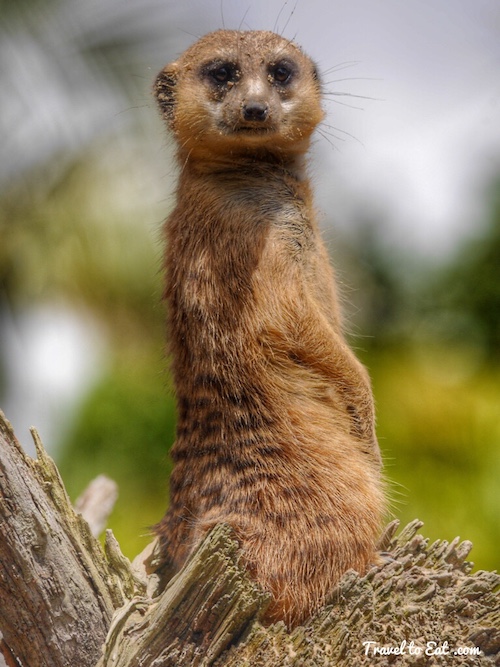 Meerkats are native to Africa's Kalahari Desert where summertime temperatures can reach 45 degrees Celsius and less than 200mm of rain falls each year. These gregarious animals are often seen in groups, and several families may live together in a large community. Squirrel-sized meerkats are mongooses famed for their upright posture. They often stand on their rear legs and gaze alertly over the southern African plains where they live. Mothers can even nurse their young while standing. Meerkats (also called suricates) work together in numbers. A few will typically serve as lookouts, watching the skies for birds of prey, such as hawks and eagles, that can snatch them from the ground. A sharp, shrill call is the signal for all to take cover. Meerkats will eat insects, lizards, birds, and fruit. Meerkat groups utilize several different burrows and move from one to another. Each burrow is an extensive tunnel-and-room system that remains cool even under the broiling African sun.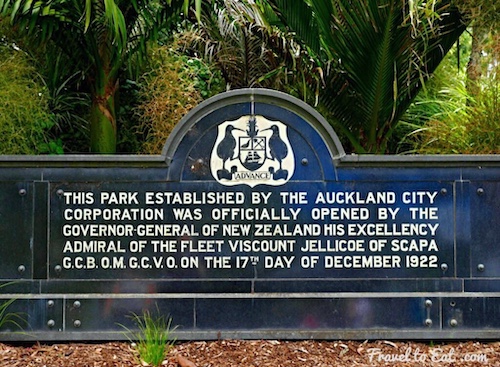 If you visit Auckland, plan a visit to the zoo, the grounds are like a lush garden, it is on flat ground and the animals seem very comfortable and well cared for.
References:
Auckland Zoo Website: http://www.aucklandzoo.co.nz/default
Red Panda: http://animals.nationalgeographic.com/animals/mammals/red-panda/
Asian Small-Clawed Otter: http://www.indonesianfauna.com/shortclawedotter.php
American Alligator: http://animals.nationalgeographic.com/animals/reptiles/american-alligator/
Galápagos Tortoise: http://animals.nationalgeographic.com/animals/reptiles/galapagos-tortoise/
Leopard Tortoise: http://ngm.nationalgeographic.com/ngm/photo-contest/2012/entries/179958/view/
Squirrel Monkey: http://pin.primate.wisc.edu/factsheets/entry/squirrel_monkey
Spider Monkey: http://animals.nationalgeographic.com/animals/mammals/spider-monkey/
Leake, D. & Dobson, R. (April 15, 2007). "Chimps Knocked Off Top of the IQ Tree". London: The Sunday Times
Ring-Tailed Lemur: http://animals.nationalgeographic.com/animals/mammals/ring-tailed-lemur/