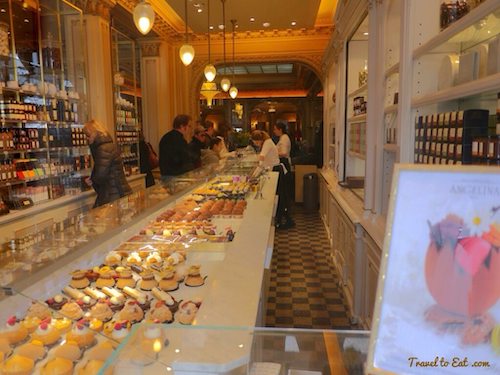 Since I was recently writing about Carette, we decided to go back to Angelina to have lunch and re-taste their chocolate chaud. This is their original flagship restaurant, located on Rue de Rivoli across from the Tuilaries gardens. As I mentioned in a previous post, Angelina was founded here in 1903 by Austrian confectioner Antoine Rumpelmayer and it was named for his daughter-in-law Angelina. The interior was designed by the famous Belle Époque architect, Edouard-Jean Niermans. It exudes elegance, charm and refinement and was the favorite of such notables as Marcel Proust and Coco Chanel.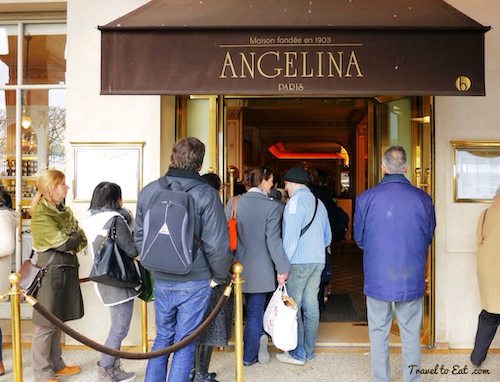 People really do line up to eat here, especially in the afternoon, but the line usually goes quickly. The restaurant has two floors.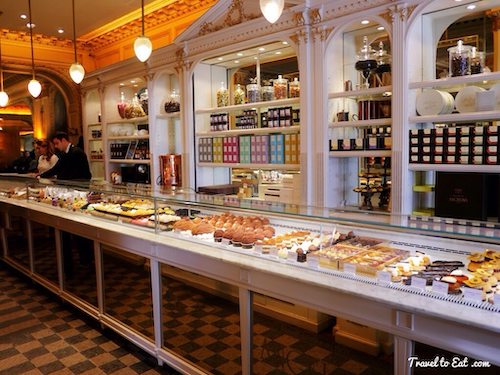 As you enter, you go past the line of sweets reminding you to save room for desert.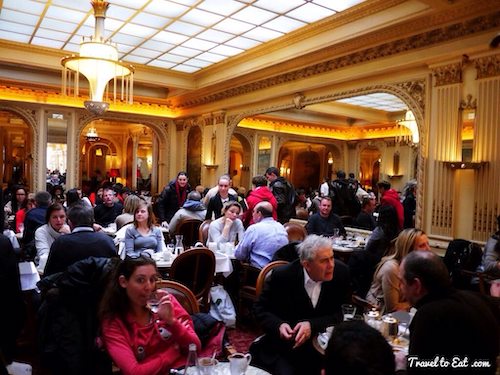 The restaurant is always packed, but the service is really good and with all the mirrors it seems bigger and lighter.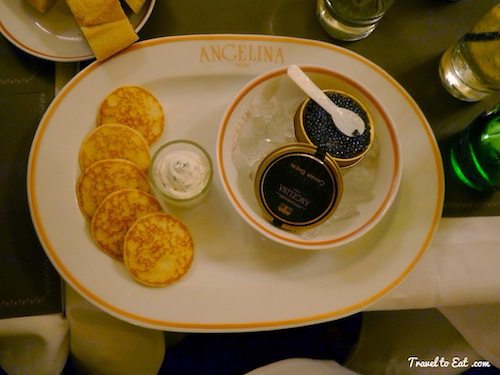 We decided to order some French Baeri Caviar to start. Baeri Caviar is farmed in France from Russian sturgeon and is the most common readily available caviar in France (and relatively inexpensive). Baeri tastes and looks something like Ossetra caviar. The farming of Acipenser Baerii began in the former USSR in the 1970s. It was also at this time that the first individuals (from parents that had originated in the River Lena) arrived in France. Because it can adapt to a wider range of habitats, it is easily grown on farms and begins to produce caviar faster than Acipenser gueldenstaedtii (the source of true Ossetra). Today France and Uruguay are the leading producers of Baeri Caviar. This was very good, with a nice service of blinis and crème fraiche mixed with chives (and of course a mother of pearl spoon).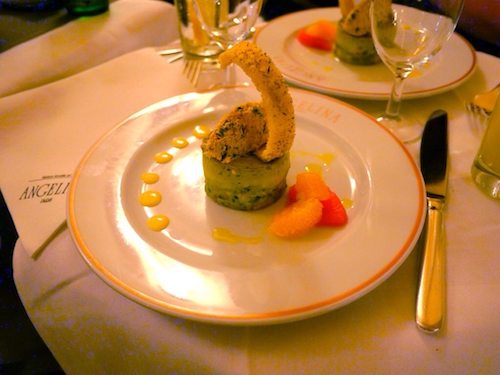 For our appetizer we both chose the avocado tartar with crab meat rillettes with citrus fruits. The term rillette (meaning on a plank) may refer to it's appearance when used as a spread on toast points. The soft, smooth texture is a deciding factor in determining a good rillette dish. In general most rillettes are served cold, as a spread with toast points, much like a pate. This rillette was certainly soft and smooth, as was the avocado. Honestly, when we ordered this, we expecting something like guacamole. This dish transformed the avocado to a remarkable degree. I have honestly never tasted anything so smooth and rich as this dish. The crab topped off the richness while the citrus provided little bursts of acidity. To say this was good is a vast understatement of fact.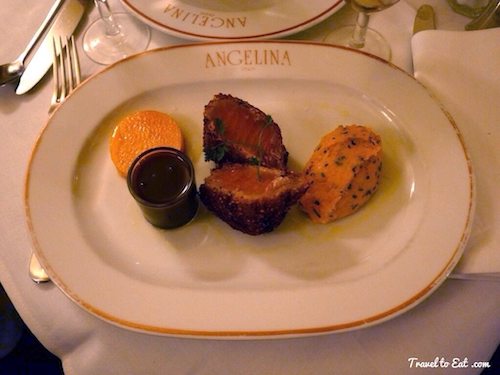 We decided to share the sesame crusted Ahi Tuna with sweet potatoes prepared two ways. This was another exceptional dish, I usually don't like sweet potatoes but these were delicious. The Ahi Tuna was similarly outstanding, the fish must have come from sushi grade tuna.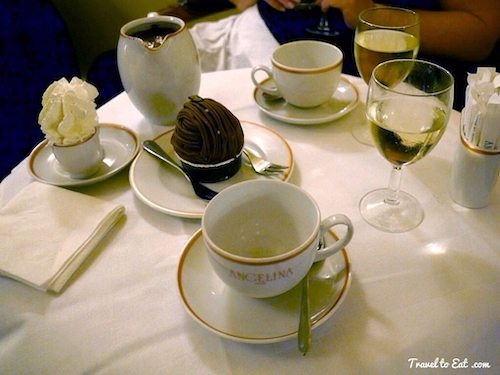 For desert, of course we had the Hot Chocolate L'African with a chocolate Mont Blanc.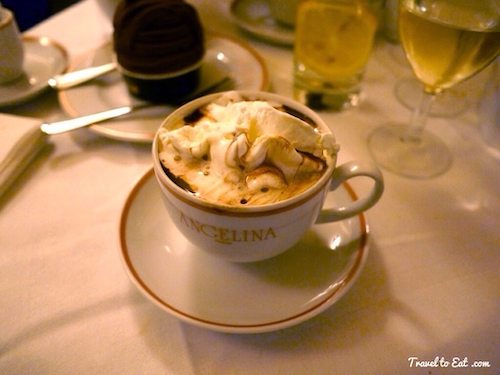 And here is the chocolate chaud, ready to be consumed. This drink is so sweet and rich both Lisa and I had to leave half of it behind.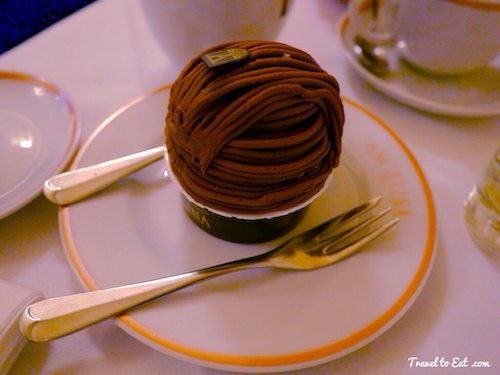 I am sad to report the same for the chocolate Mont Blanc. The frosting is not too sweet, and inside is sweetened whipped creme, but the meringue center was just too much. If you plan to eat sweets here, you cannot eat a meal and have the chocolate chaud, it is just too much good stuff.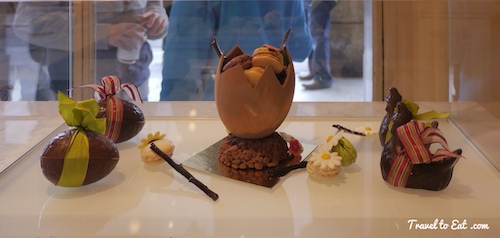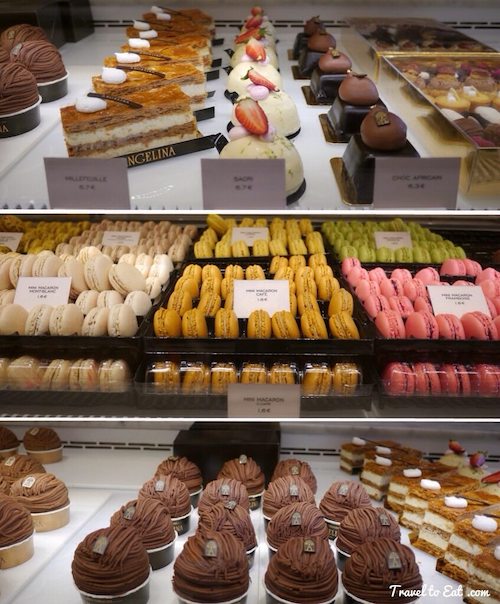 As we left I took some pictures of the pastries. If you are looking for lunch or just some sweets, you can't go wrong with Angelina.
References:
Angelina (flash required): http://www.angelina-paris.fr/en/
Acipenser Baerii: http://www.fao.org/fishery/culturedspecies/Acipenser_baerii/en