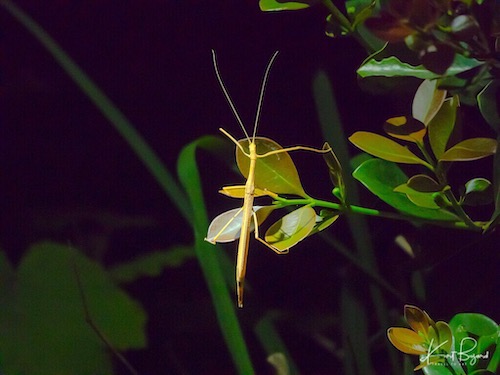 Madagascar is home to huge variety of insects, the majority of which are endemic (found only in Madagascar) and unique given the island's remote location. Thousands of species are present in some groups such as the beetles and moths. There are approximately 100,000 species of insects and counting in Madagascar. Famous and bizarre at the same time is the giraffe necked weevil.The males of this species have red wings and have a long, giraffe-like, black neck. The females' neck is shorter, but still extraordinary long. If you take a closer look, you can discover perfectly camouflaged stick insects in bushes and branches, who mimic thin branches with their bodies. Some species like the pink winged Sipyloidea sipylus spray a harmless defensive secretion if touched. You can also find different species of praying mantis, which capture skilfully smaller insects with their arms, everywhere in Madagascar.
Stick Insects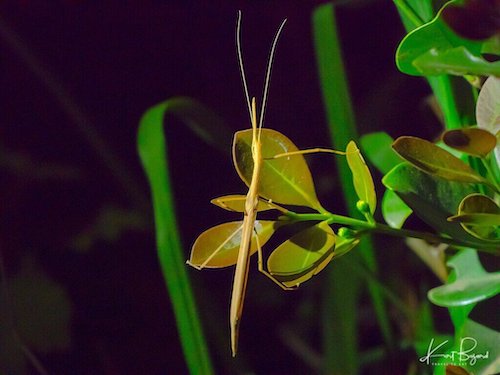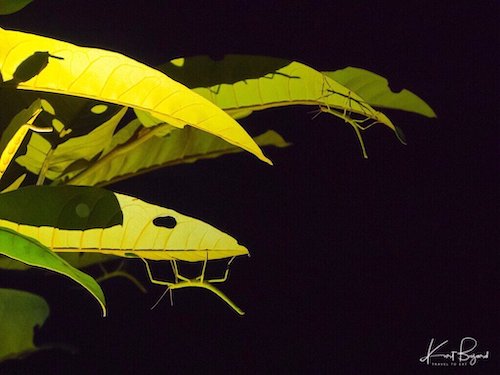 The scientific name of the Pink Wing Stick Insect is (Sipyloidea sipylus). The Pink Wing originates in Madagascar, and has been successfully been in culture for decades for use as pets (sounds amazing, I know). The Pink Wing is often mistaken for the Indian Stick insect, and with good reason. When both species are adult, the Pink Wing tends to be only a slightly lighter brown than the Indian Stick, a bit slimmer, and the same length. As nymphs it is a different story; the Pink Wing is bright green, while the Indian Stick nymphs are light beige to brown. Because the Pink Wing Stick Insect is nocturnal and has an incredible ability to camouflage and even play dead, they face less threat from predators than they do from the deforestation of their natural Madagascar home, which has put them on the endangered list. When threatened they spray a harmless chemical secretion that just smells funky. The secretion comes from two oval glands that measure about 1.5mm in length, situated dorsally and laterally to the gut. The pungent odor has a tinge of musty hay or wet grass.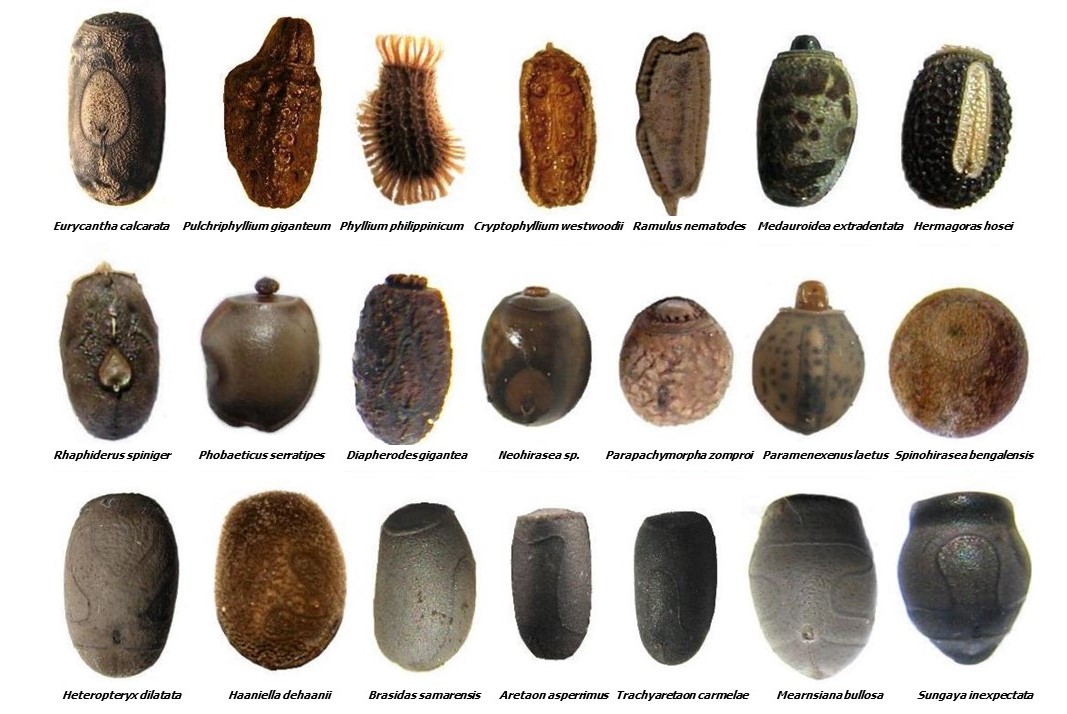 New research, published in BMC Evolutionary Biology, finds that Mauritian stick insects originated in Australasia. The Mascarene islands are Mauritius, Réunion and Rodrigues which are near Madagascar and often share insect populations. This means their ancestors made an incredible sea journey of over 5000km to reach the island. Even more surprisingly, they arrived in the region before Mauritius itself existed. How could a stick insect (which generally are poor fliers) travel such a long distance? Most likely, stick insect eggs, which are hard-shelled and seed like, floated along the ocean currents, whether directly in the water or attached to twigs or other plant material. Recent research has shown that modern day stick insect eggs can survive for several months while floating on seawater.
Flatid Leaf Bugs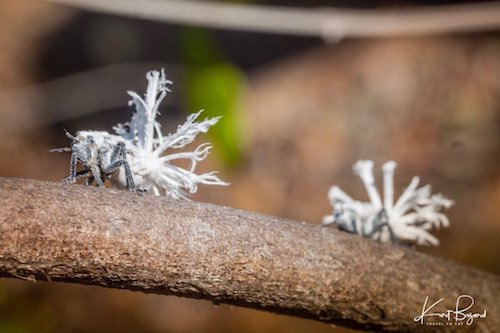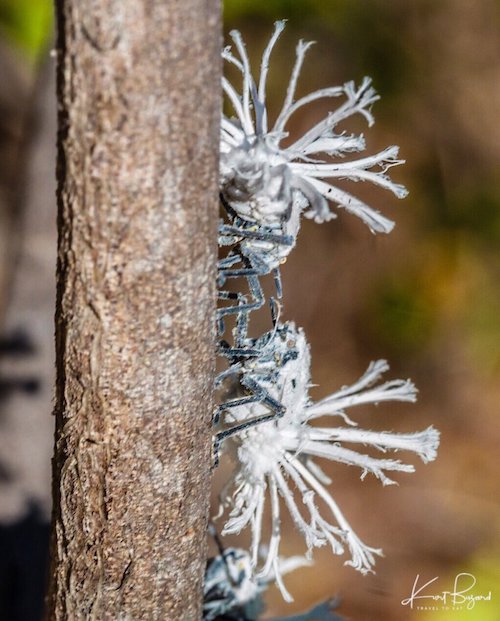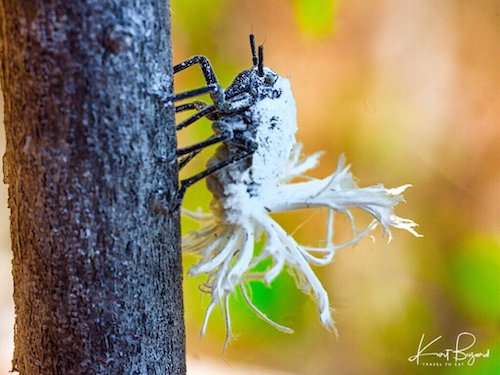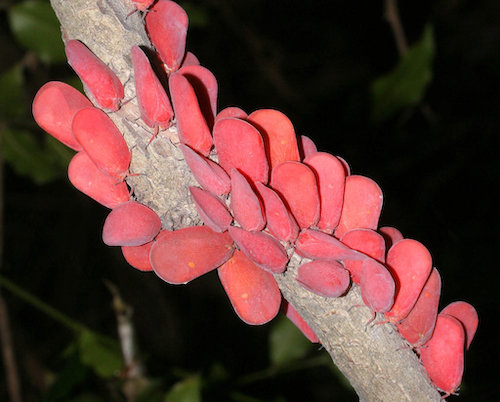 Flatidae are a family of fulgoroid planthoppers. They are found all over the world and are distinguished from others in the superfamily by a combination of characters. Adults of some species have brightly colored wings and are easily identified but the identification of species often requires dissection and comparison with identification keys. Unfortunately, I only saw the nymphs, so I included a photo from Wikipedia for the adult form.
Giraffe Weevil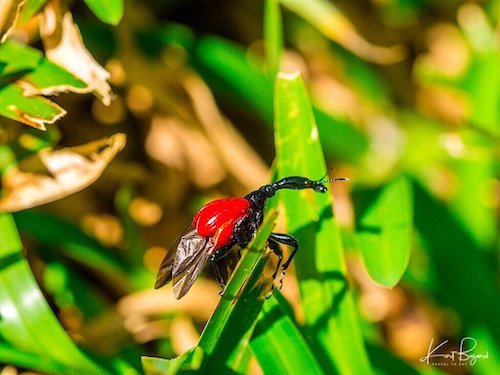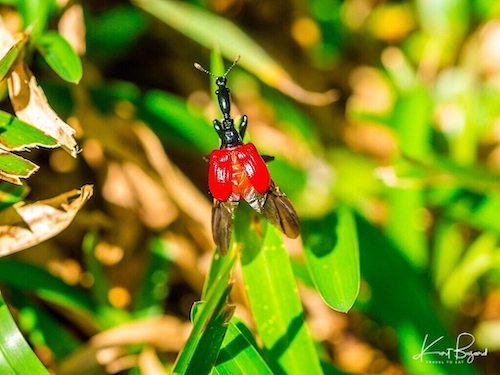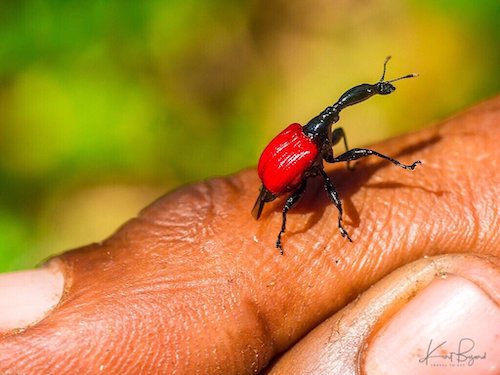 The Giraffe Weevil is endemic to Madagascar. It derives its name from an extended neck much like that of the common giraffe. The giraffe weevil is sexually dimorphic, with the neck of the male typically being 2 to 3 times the length of that of the female. Most of the body is black with distinctive red elytra covering the flying wings. The total body length of the males is just under an inch (2.5 cm), among the longest for any attelabid species. The extended neck is an adaptation that assists in nest building and fighting. When it comes time to breed, the mother-to-be will roll and secure a leaf of the host plant, Dichaetanthera cordifolia and Dichaetanthera arborea (a small tree in the family Melastomataceae), and then lay a single egg within the tube. She will then snip the roll from the remaining leaf in preparation of the egg hatching.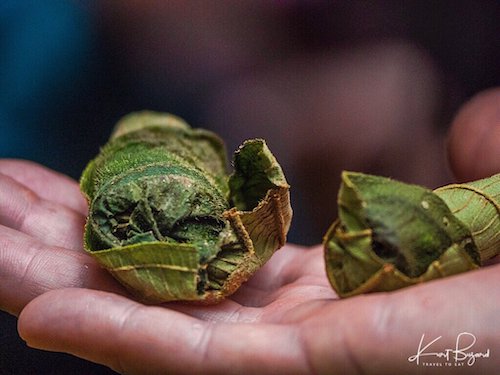 When it comes time to breed, the mother-to-be will roll and secure a leaf of the host plant, Dichaetanthera cordifolia and Dichaetanthera arborea (a small tree in the family Melastomataceae), and then lay a single egg within the tube. She will then snip the roll from the remaining leaf in preparation of the egg hatching. The whole pouch is pretty large and holds just one egg. Folly such a large leaf is quite an accomplishment for such a small insect.
Giant Dung Beetle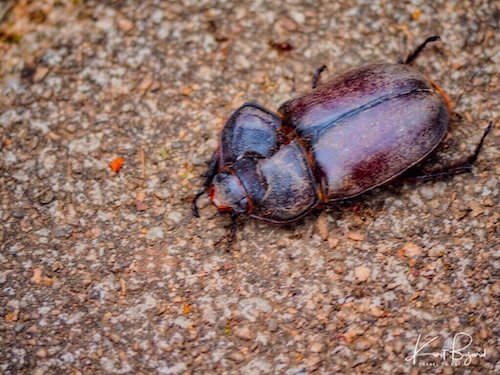 The family Scarabaeidae as currently defined consists of over 30,000 species of beetles worldwide, often called scarabs or scarab beetles. In Ancient Egypt, the dung beetle now known as Scarabaeus sacer (formerly Ateuchus sacer) was revered as sacred. Madagascar has a large number of dung beetles (Scarabaeinae and Aphodiinae) with almost 300 species described to date. Like most other animals in Madagascar, dung beetles are mostly unique to the island. Heliocopris (large dung beetles) is a genus of Scarabaeidae or scarab beetles in the superfamily Scarabaeoidea. Forty-seven of the fifty-two known species are found in Africa, but some are found in southern and Southeast Asia.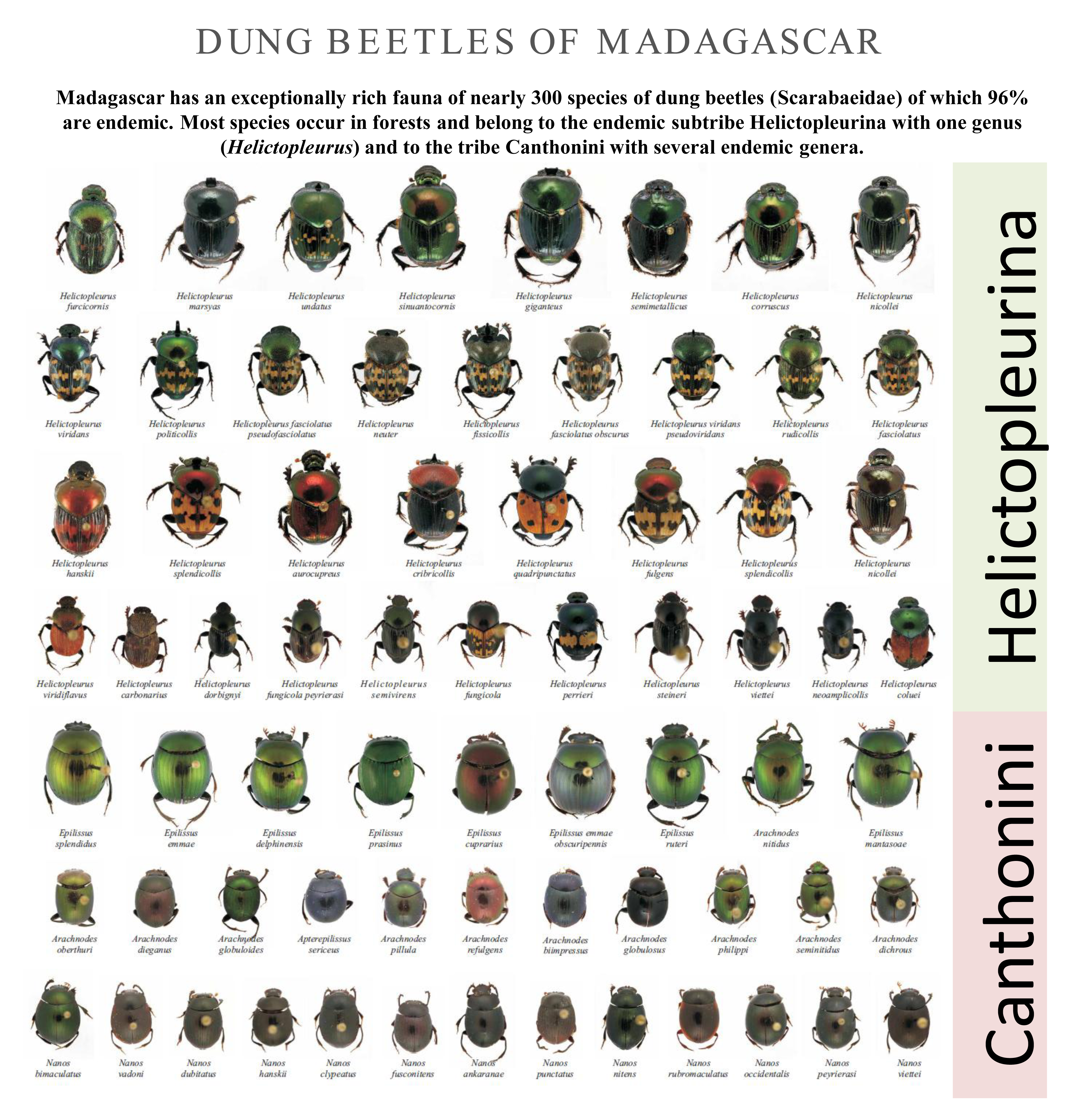 Based on molecular phylogenies, the existing dung beetles in Madagascar originate from eight historical colonizations, of which four have given rise to extensive radiations. The Heliocopris colonization occurred about 25–35 million years ago. The great majority of dung beetles in Madagascar are strictly forest inhabitants, mainly associated with the eastern tropical wet forests, while a small number of species occur in the western dry open and semi-open areas. As Madagascar lacks native large herbivorous mammals (think hooved animals like antelope), dung and carrion are produced by an exceptionally narrow range of species, mainly medium-sized lemurs, rodents and insectivores.
Aphids and Lady Beetles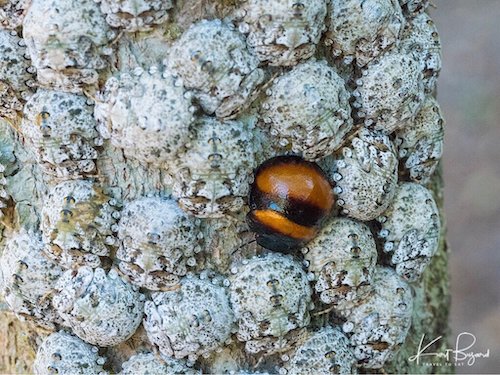 This is a photo of immature lady beetles who were deposited in this location as eggs and have been growing, covered with aphids and eating the aphids. One mature lady beetle has recently broken loose. "Aphid" is the common name for the insects belonging to the superfamily Aphidoidea, within the order Hemiptera. There is virtually no part of terrestrial plants that is not attacked by an aphid, either above or below ground; they can even feed on bark, as seen above. Aphids appear in many food chains for tomato, pests, parasitoids, and predators. However, it is interesting to note that a key role in the regulation of aphid populations is played by other insects, especially those feeding exclusively on aphid species, like lady beetles (like Coccinella septempunctata and Adalia bipunctata). Coccinellids are known as ladybugs in North America, and ladybirds in Britain and other parts of the English-speaking world. Entomologists widely prefer the names ladybird beetles or lady beetles as these insects are not classified as true bugs. Lady beetles are generally considered useful insects, because most species prey on aphids or scale insects, which are agricultural pests. Many lady beetles lay their eggs directly in aphid and scale insect colonies in order to ensure their larvae have an immediate food source. Among the world islands, only Madagascar (about 90 species) and New Guinea (about 40 species) have large number of endemic species of lady beetles (Epilachnini which are a sub-family of Coccinellids). You might notice that these "ladybugs" are much bigger than the American version and have no spots.
Malagasy Green Lynx Spider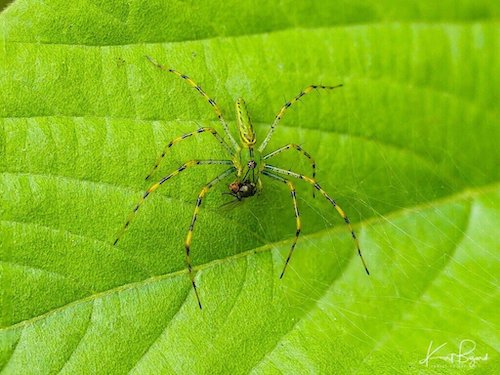 The Malagasy Green Lynx Spider (Peucetia madagascariensis) was first described by Vinson in 1863, and renamed by Simon in 1898. Lynx spider is the common name for any member of the family Oxyopidae. Most species make little use of webs, instead spending their lives as hunting spiders on plants. Many species frequent flowers in particular, ambushing pollinators, much as crab spiders do. They tend to tolerate members of their own species more than most spiders do, and at least one species has been identified as exhibiting social behaviour. There are several genera of Oxyopidae (including Peucetia) and they differ in their habits and adaptations. Most of them have large spiny bristles on their legs and in many species the bristles form almost a basket-like structure that may assist in confining the prey that they grasp, and protect the spider from its struggles. Six of the eight eyes of Oxyopid spiders are arranged in a hexagon-like pattern, more or less on a prominent hump on the front upper corner of the head (actually the cephalothorax or prosoma). The other two eyes are smaller, less conspicuous, and generally are situated in front of and below the other six.
Madagascar Golden Silk Orb Weaver Spider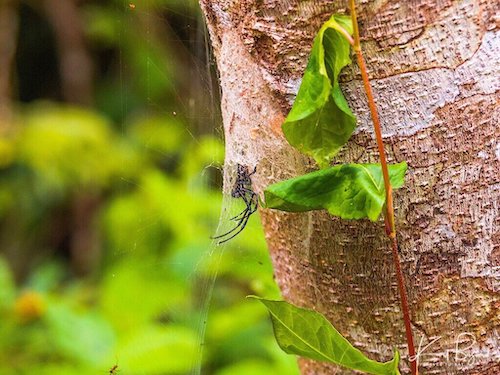 This is the most famous of the Malagasy spiders. The golden silk orb-weavers (Nephila) are a genus of araneomorph spiders noted for the impressive webs they weave. Nephila consists of numerous species found in warmer regions around the world. They are also commonly called golden orb-weavers, giant wood spiders, or banana spiders. Madagascar Golden Silk Orb Spiders weave large and beautiful orb webs of golden silk that reach lengths of up to 6' across, as you can see above.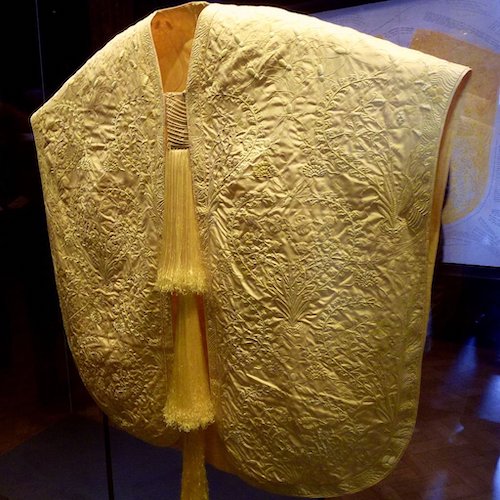 A rare textile made from the silk of more than a million wild spiders was created in 2009. To produce this unique golden cloth, 70 people spent four years collecting golden orb spiders from telephone poles in Madagascar, while another dozen workers carefully extracted about 80 feet of silk filament from each of the spiders. The resulting 11-foot by 4-foot textile is the only large piece of cloth made from natural spider silk existing in the world today. It was made into a Cape and exhibited in museums around the world.
Indian Ocean Satyr Butterfly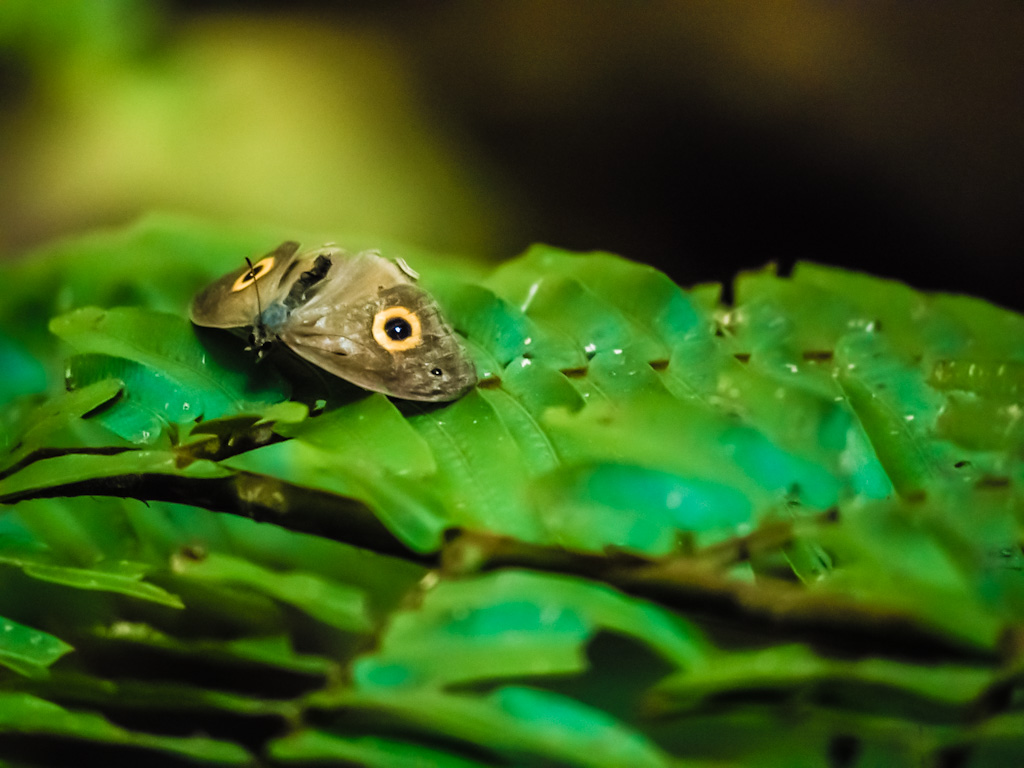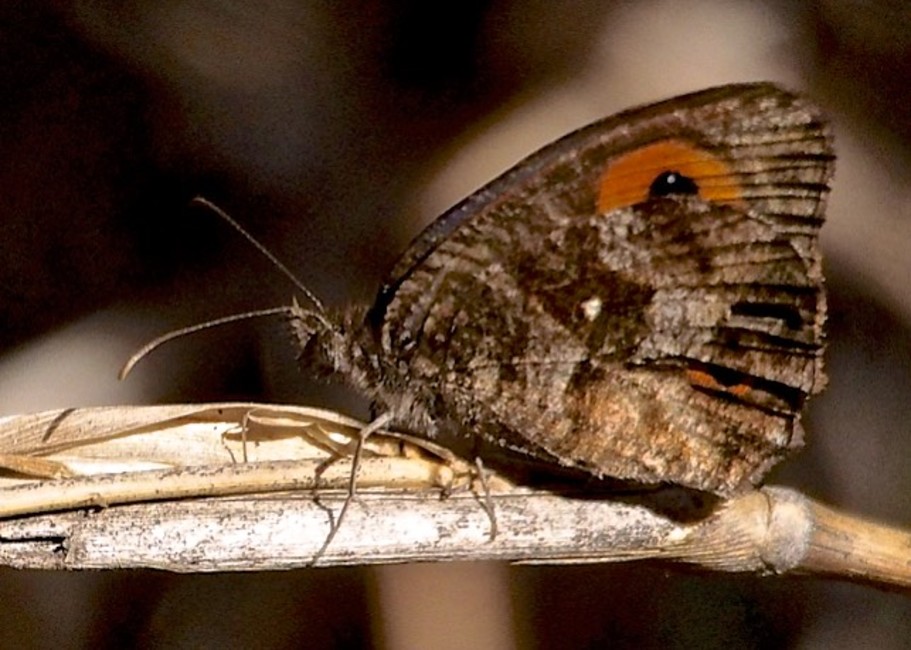 The Indian Ocean Satyr is actually a butterfly (sort of looks like a moth) in the genus Heteropsis, a large, endemic genus in Madagascar. Various species can be found all around the island. Most live in forest, but some occur in secondary habitat and grasslands. This particular species feed mainly on fruit. They are generally small and brown. They resemble the Madagascar Satyr Butterflies (genus Strabena, for example Strabena tamatavae) but in the Indian Ocean satyrs, the main eyespot is closer to the center of the forewing, and has only one whitish pupil inside the black iris. It has fairly weak, skipping flight, low to the ground.
These are among the few butterflies to be found on the floor of thick forests.
Hairy White and Pink Caterpillar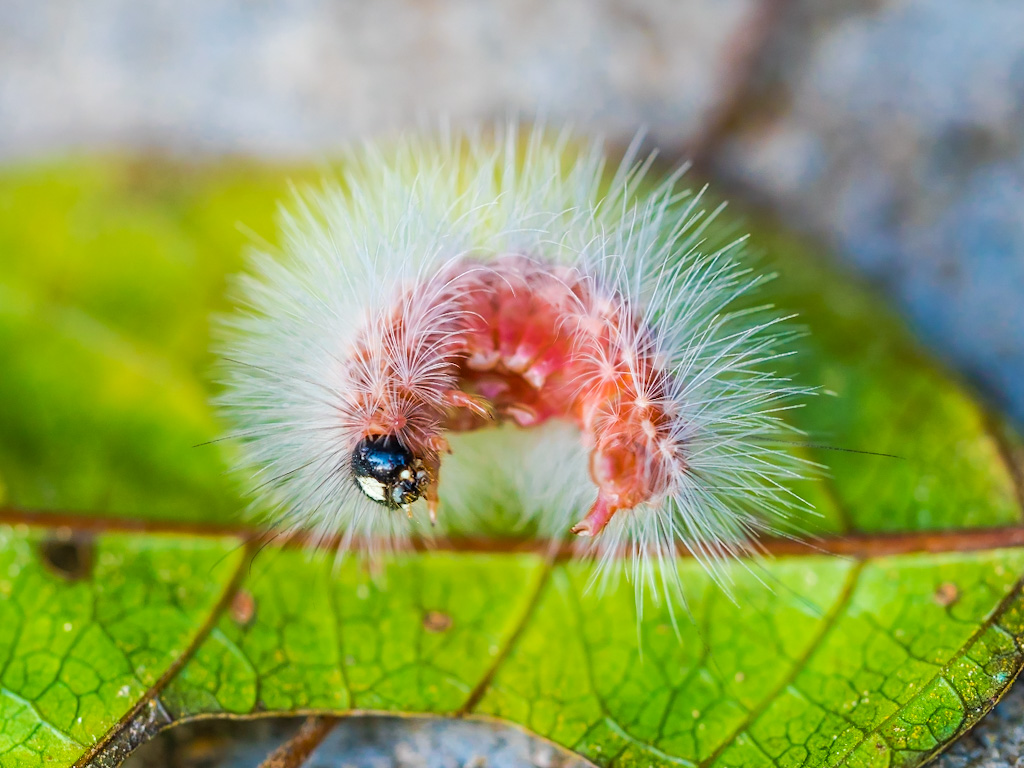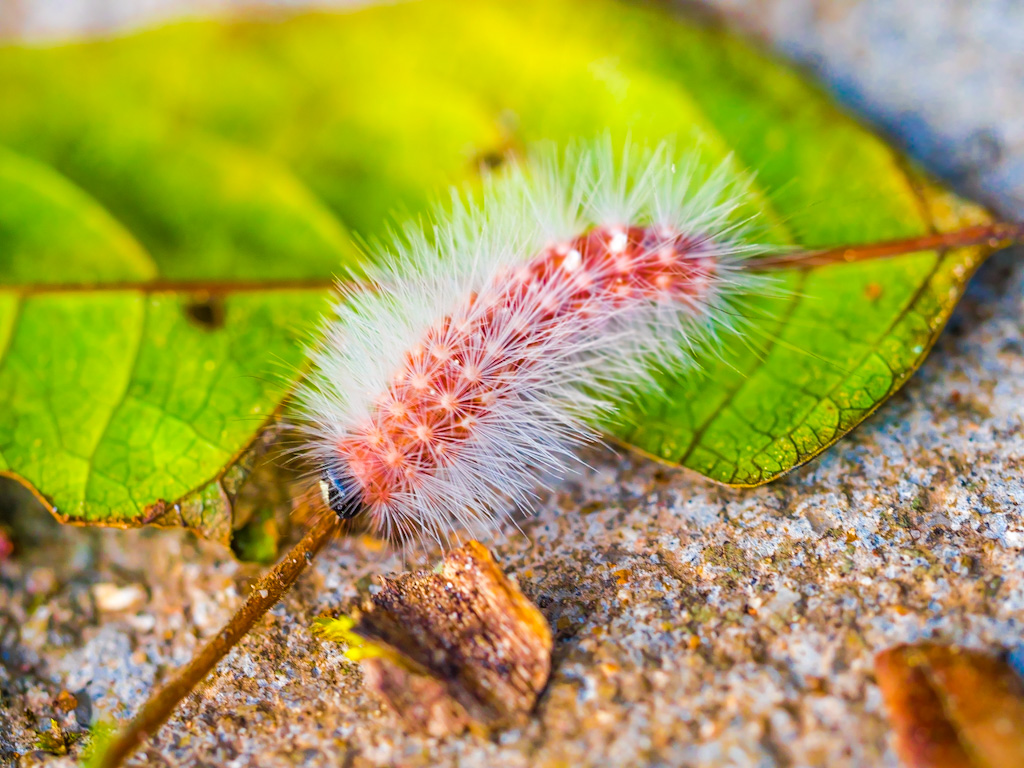 I really do not know the name of this beautiful caterpillar although it looks a lot like the laugher caterpillar (Charadra deridens), found only in the United States. I saw it in Ranomafana National Park in Madagascar at the end of September. If you can identify it, please leave a comment. I have asked my friends at "What's That Bug?" to have a try. If you want to know the name of an unusual bug you should ask them.
As always, I hope you enjoyed the post, please leave a comment.
References:
Golden Spider Silk from One Million Spiders
Simon, E. (1898a). Histoire naturelle des araignées. Paris 2, 193–380