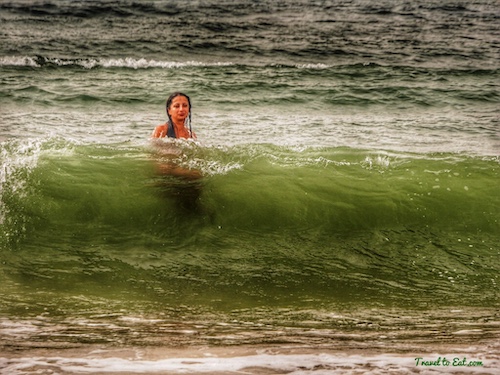 After a bit of additional travel, I have arrived at the beach in Tel Aviv in the middle of a puzzling dust storm which has enveloped the entire Middle East. The severe dust storm arrived in Israel on Tuesday with Jerusalem recording its worst air pollution levels ever, at 173 times normal levels. In some other parts of the country, air pollution levels were at their worst for 75 years. Israel's emergency medical service Magen David Adom reported that 340 Israelis received medical treatment as a result of the weather, including those suffering from asthma, respiratory problems, shortness of breath and heart issues. The result here is sweltering high humidity and heat getting up to 100 degrees Fahrenheit with nearly 100% humidity.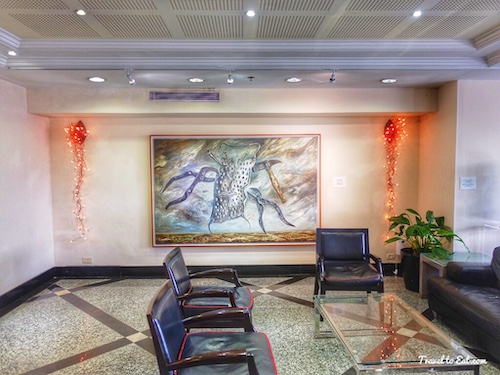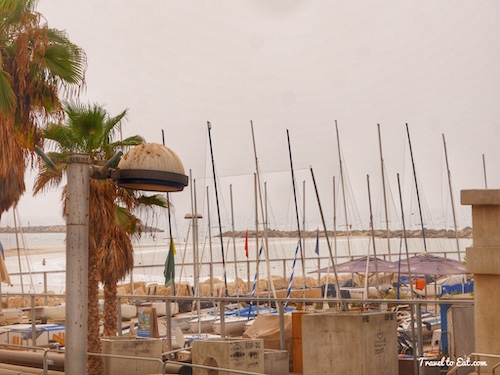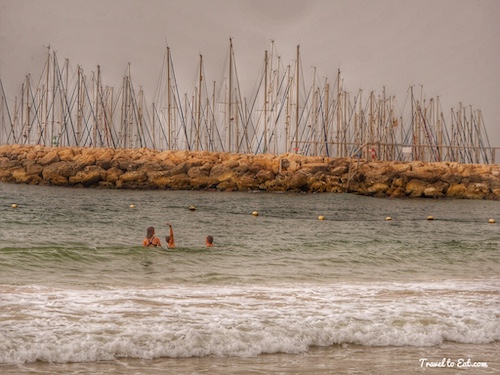 I am staying at the old Marina Hotel, now called the Leonardo Art Hotel. It is a funky older hotel, located just across from the marina, with walls literally covered with really good modern art on all the floors.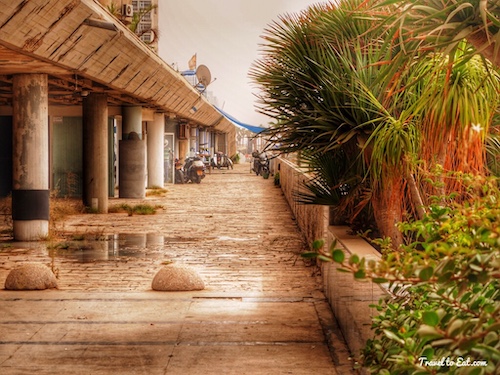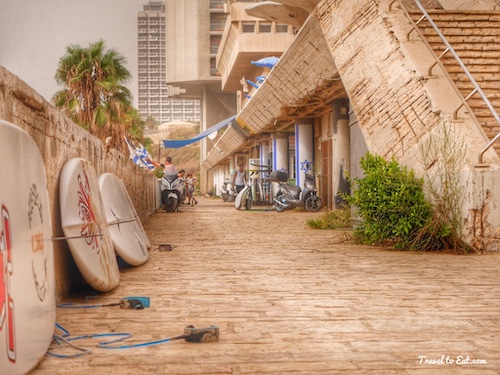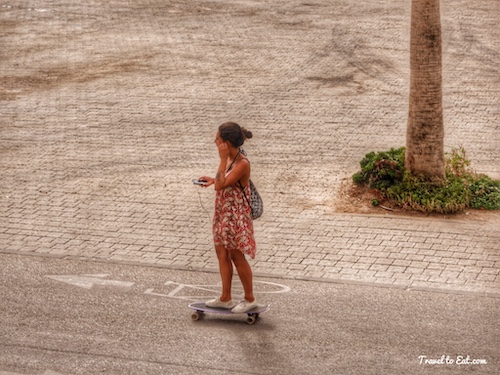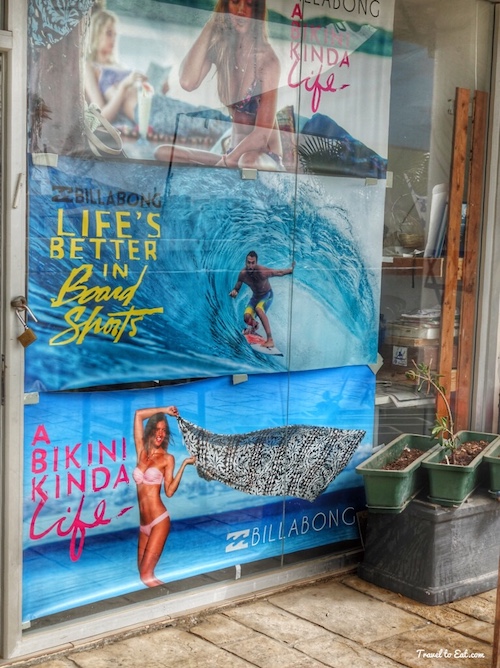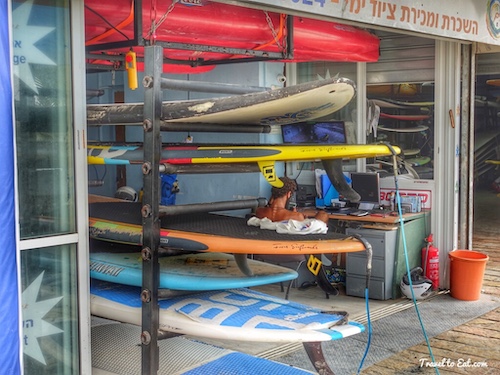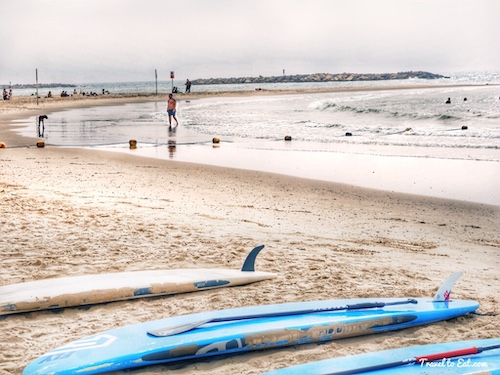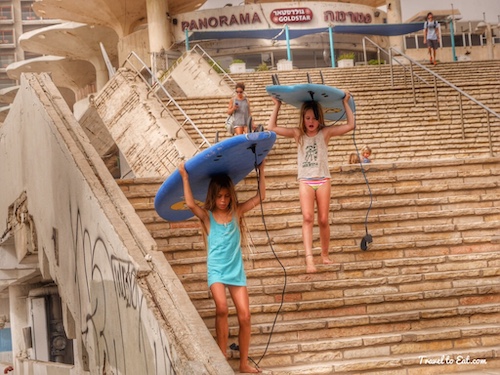 The area reminds me of Venice beach in Los Angeles with lots of surf shops, body building places, skateboards, motorcycles and buffed young people. It's a fun place with loud music and plenty of things to do including great people watching.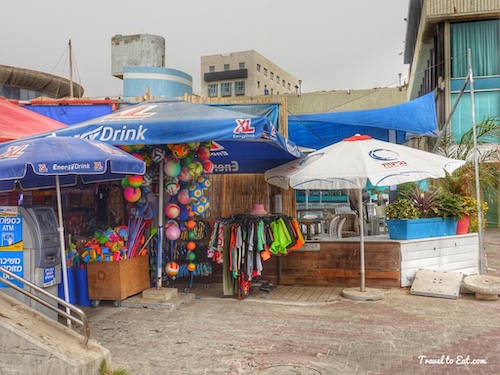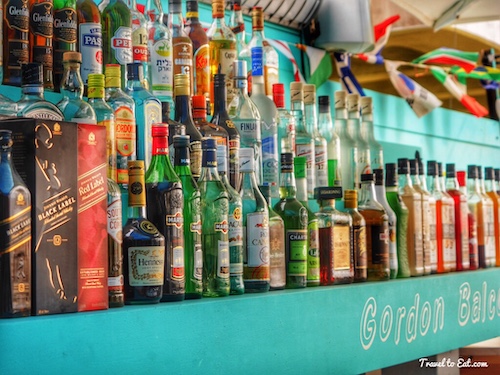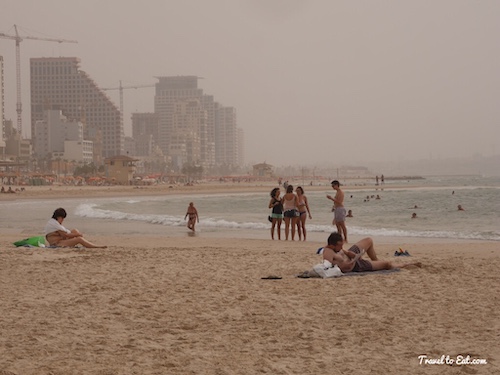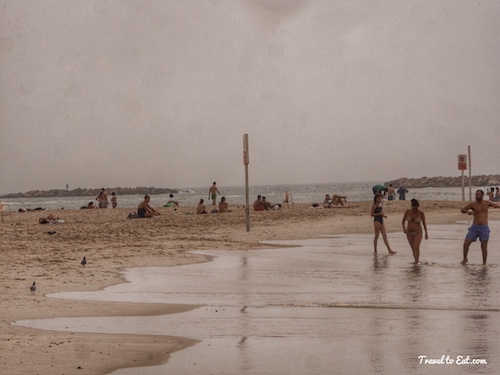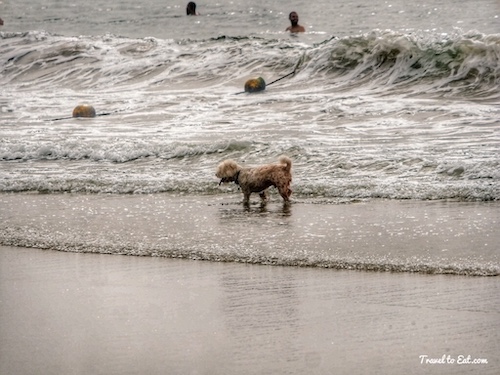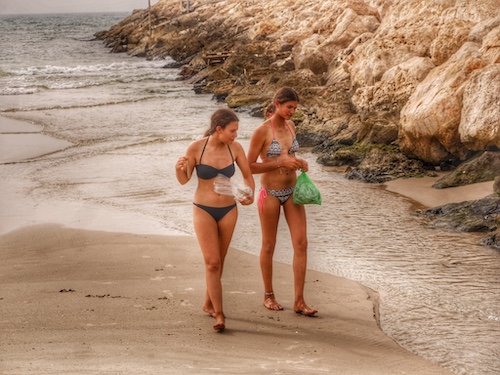 Just south of the marina, are 3 beaches; Gordon, Frishman and Bograshov each of which are stunning Tel Aviv beaches, very wide and sandy. During the summer, they are packed with touritsts since they are in the center of Tel Aviv's beachside hotel strip. You can sunbathe, frolic in the sea, or play volleyball and 'matkot' – which is Israelis' favorite beach sport – two players, two wooden racquets and a small, black ball. Gordon (right by my hotel) is one of the loveliest beaches in Tel Aviv, south of the marina and right near the well-known Gordon salt water pool and outdoor gym. Along each beach near the Tel Aviv Promenade are dozens of of bars and restaurants – great for enjoying one Tel Aviv's incredible sunsets.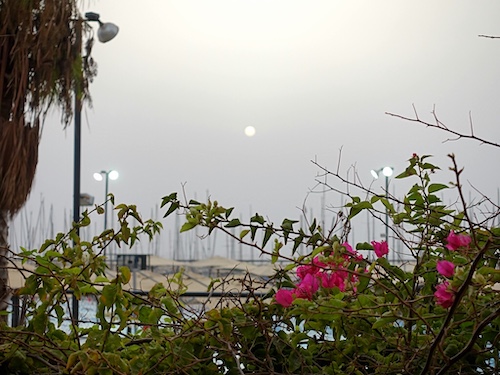 By about 3:30 in the afternoon, it got so dark the streetlights went on and the sun looked like the rising moon. Fortunately the forecast is for sunny weather in the next day or two. The temperatures and humidity are slated to fall and I am looking forward to a great time in Israel.
References:
Leonardo Art Hotel: http://m.fattal-hotels.com/tel-aviv-hotels/leonardo-art-hotel?gclid=CMXx4aPx7scCFUeZGwodFnQPnw
Israelis Break Power Record: http://www.timesofisrael.com/israelis-break-power-record-as-sandstorm-persists-into-third-day/
Sixteen Glorious Tel Aviv Beaches: http://www.go-telaviv.com/tel-aviv-beaches.html